Food
6 Scottish recipes you need to make for your Burns Night celebrations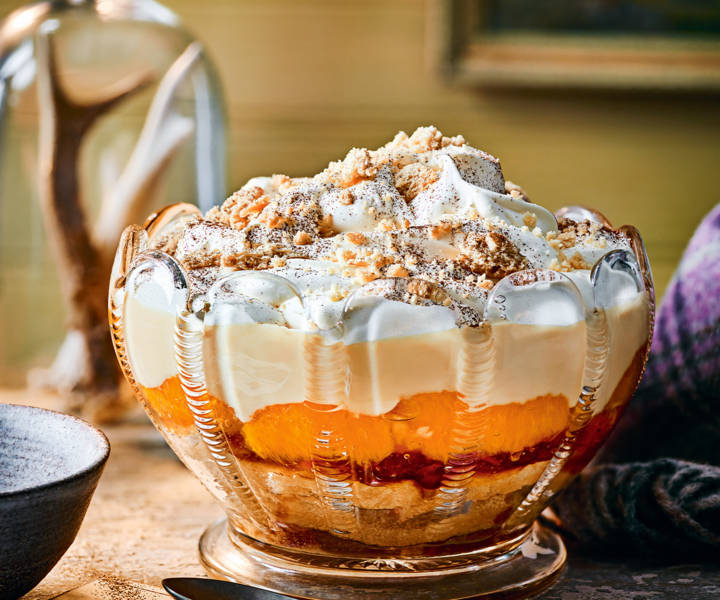 Image: Martin Poole
Make Burns Night 2023 an evening to remember with some of our favourite celebration dishes for a Scottish feast...
'If ever there was a month that needed a party to celebrate its culmination, it's got to be January. Fortunately, us Scots have just the excuse – step forward Burns Night,' says our food director Sarah Akhurst. 'Celebrating the life and works of Scottish poet Robert Burns, the traditional Burns Supper on 25 January is steeped in ceremony, with tartan donned, poetry recited and Auld Lang Syne sung with whisky-fuelled gusto.
'And of course, no supper would be complete without haggis. Whether you're Scottish or not, why not throw a little celebration this year? From James Cochran's crispy chicken and haggis escalopes with whisky butter sauce to my Drambuie-drenched tipsy laird trifle, we have everything you need to celebrate in style. We can only apologise in advance for any sore heads on the 26th…'

1. The Flying Scotsman cocktail
Named after the iconic train it was created for, this sophisticated cocktail was a regular tipple on the Flying Scotsman's route between London and Edinburgh.
Get the recipe for The Flying Scotsman.

2. Crispy chicken and haggis escalopes
These super tasty escalopes are served with a creamy whisky and chicken butter sauce. Just add your favourite greens on the side.
Get the recipe for crispy chicken and haggis escalopes.

3. Tattie and neep boulangère

4. Haggis, neeps and tatties tart
Feeding a crowd this year? Look no further than this easy tart made with all the classics. Don't forget a generous serving of homemade whisky gravy!
Get the recipe for haggis, neeps and tatties tart.

5. Chicken Balmoral pie
Chicken, bacon, haggis and whisky – the perfect combination for a richly decadent celebration pie.
Get the recipe for chicken Balmoral pie.

6. Tipsy laird trifle
This whisky-soaked version of a classic trifle is a must-serve party pud. Plus, it's made using our Scottish food director Sarah's mum's recipe for marmalade.
Get the recipe for tipsy laird trifle.
Don`t miss

---