Travel
Travel review: Morocco
by Abbie Schofield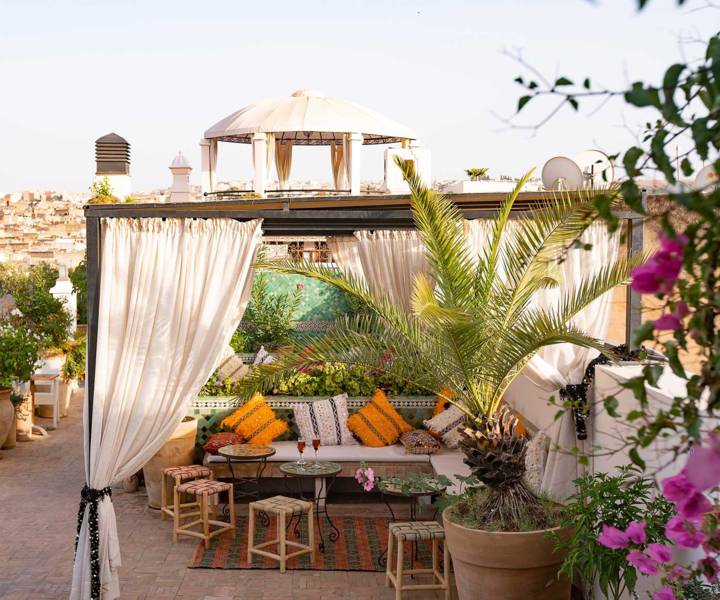 The rooftop bar at Palais Amani
The Moroccan city that gave its name to the hat is a beguiling destination for food-lovers, says Abbie Schofield
'Allez!' the smiling stranger commands, beckoning me through the doorway and up a steep flight of stone stairs barely wider than my shoulders. This looks like your typical doorway in Fez, Morocco. The city's medina, founded in the ninth century, is a maze of winding streets, narrow alleys and little nooks the average tourist would pass without a second glance. But this is the entrance to Abdullah's, one of the most popular local spots to have a cup of mint tea.
I climb the steps gingerly, brushing past huge pots that burst with greenery. At the top, I'm greeted by Abdullah himself, whose grinning face is wrapped up in a pink scarf and stripy beanie to protect against the February chill – his little rooftop café may be covered, but it's out in the open air.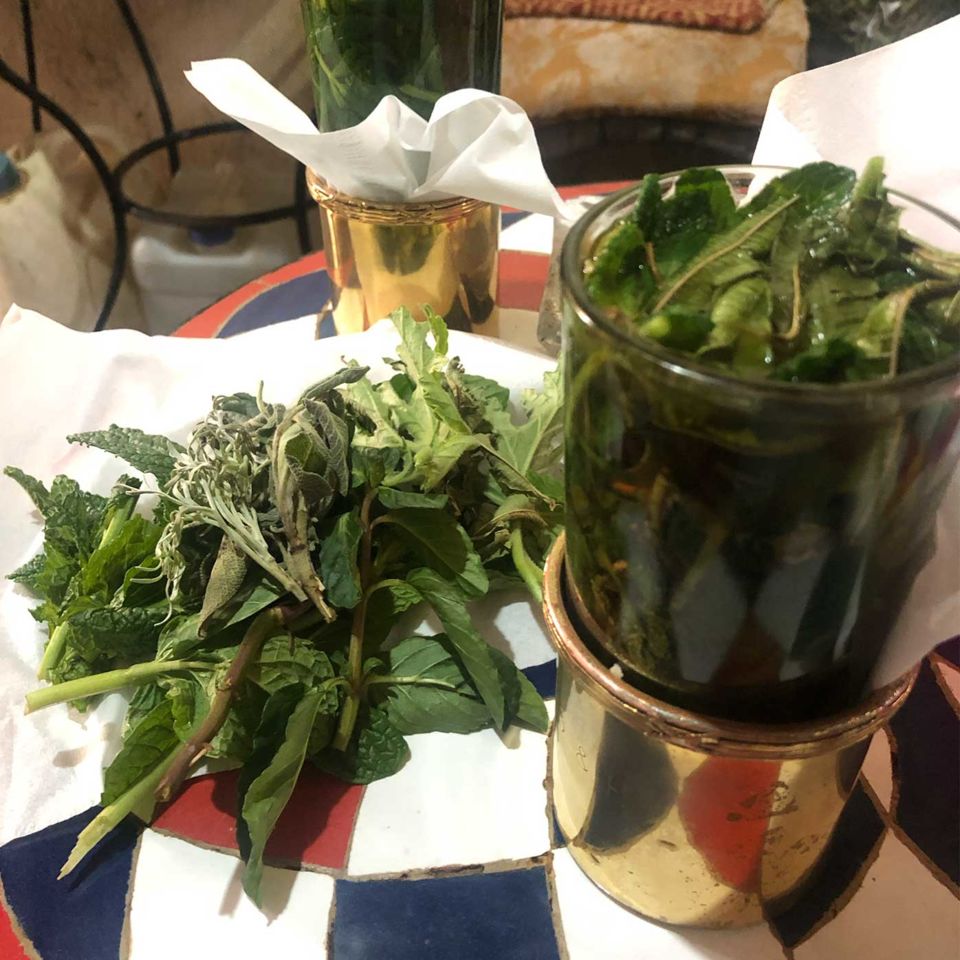 Abdullah's famous tea
Abdullah gestures for me to sit down on a rickety chair, slaps a bunch of mint and presses it into the palm of my hand, encouraging me to smell it. Then, one by one, he proudly presents me with his homegrown herbs: citrusy verbena followed by earthy sage, bitter absinthe and warming oregano. He cultivates the plants right here on his terrace, where mismatched chairs and tables are nestled amongst huge planters.
He gets to work, pouring water from a copper pot before adding his carefully crafted herbal blend and an alarming amount of sugar. The tea is steaming hot and sweet, the perfect pick-me-up after navigating the medina in the drizzle. That morning, armed with a good, old-fashioned paper map (even GPS can't navigate the medina's intricacies), I'd spent hours wandering the bustling souk, dodging puddles, and the occasional donkey.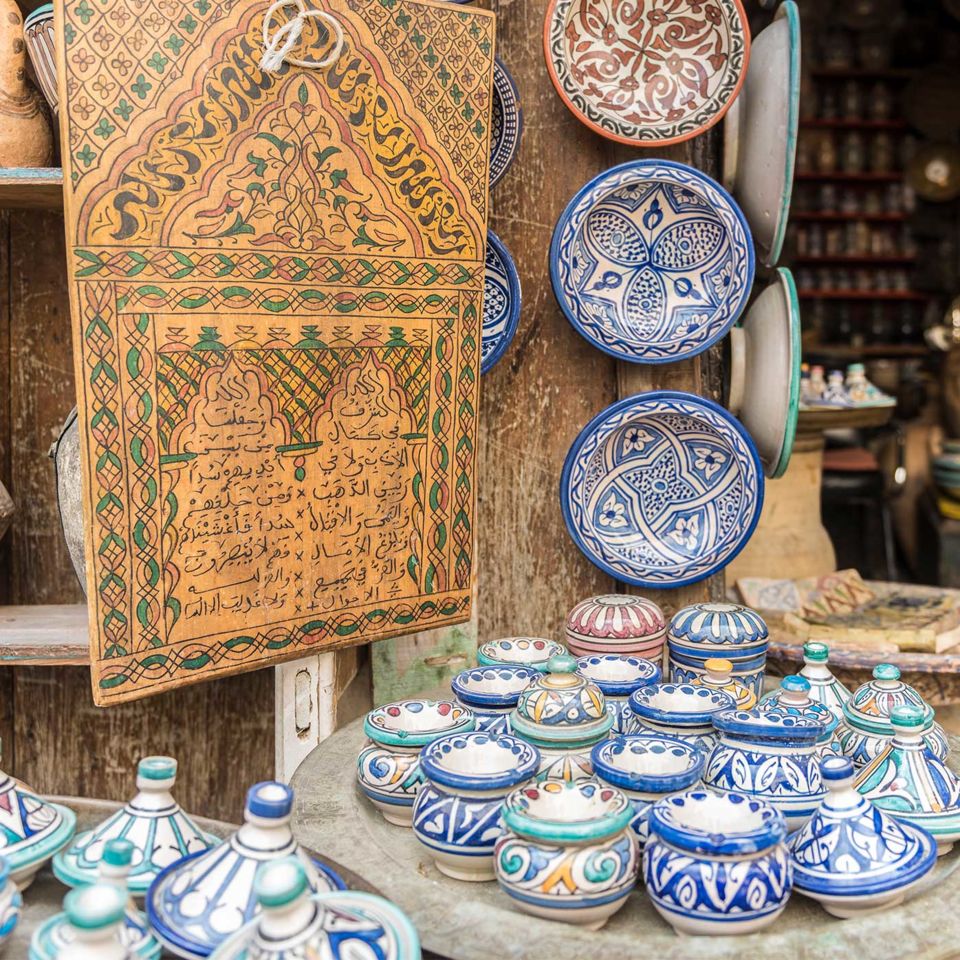 Traditional ceramics. Image: Getty Images
Each shop has its own speciality. One is stacked high with Fez's signature blue-and-white ceramics; another sells only colourful wool rugs made by shepherds in the nearby Atlas Mountains. In true Moroccan style, bartering is expected and, at first, I'm nervous, and pay over the odds for a bar of handmade argan oil soap. But a while later, I fiercely bargain 75% off the price of a wall hanging – I could get used to this!
Returning to Palais Amani, my hotel, is a breath of relief. This serene riad has just 21 rooms that surround a lush green courtyard with lemon trees and a trickling fountain. It's hard to believe I'm mere steps away from the sensory overload of the medina. The building used to belong to one of Fez's most prominent families, but was abandoned for more than 25 years until husband and wife Abdel Ali Baha and Jemima Mann-Baha renovated it to its former glory.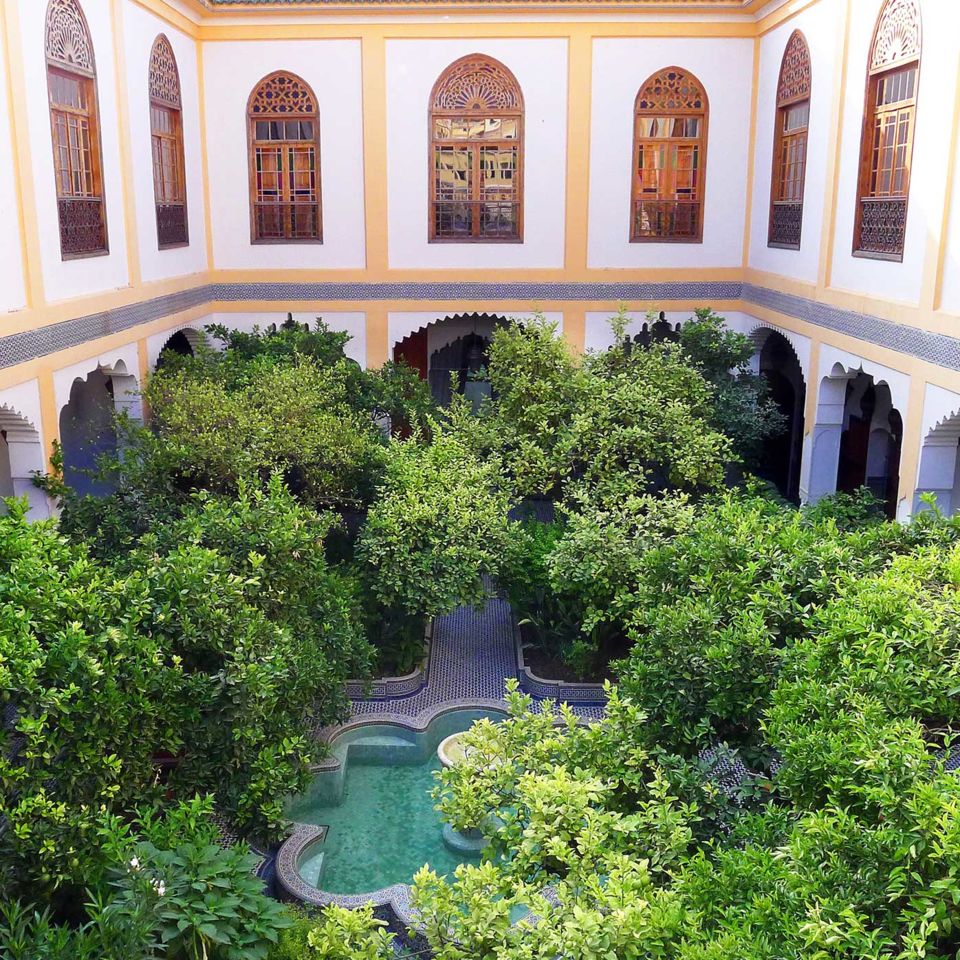 Palais Amani's courtyard with lemon trees and a trickling fountain
Its rich history can be seen in the rooms, which have intricate geometric tiling, traditional artwork and artisan upholstery, plus all the modern amenities you'd expect from a luxurious boutique hotel. But don't forget to bring a pair of earplugs if you wish to sleep through the early morning call to prayer. The hotel hosts plenty of activities, from wine- tasting to calligraphy classes.
Visiting a hammam is a must when in Morocco, though, and Palais Amani's offering is on the luxurious side, albeit much more vigorous than I'm expecting! I'm doused in buckets of warm water before every inch of my skin is firmly scrubbed, including in between my toes. Then I'm slathered in a fragrant balm and left to bask in the warm spa before a final wash. I leave grime-free and considerably more relaxed.
Spices for sale in the souk
Palais Amani also runs group cooking classes from its rooftop kitchen, which has panoramic city views. We begin these with a visit to what our guide jokingly calls 'the Moroccan supermarket': a hectic trading street (not for the faint-hearted) where you can select the livestock you want to be slaughtered for dinner, buy fresh fruit and vegetables, and stock up on every seasoning under the sun.
I leave with a tub of fresh black peppercorns, dried rose petals and a bottle of orange blossom oil. Then, under the watchful eye of the hotel chef, we learn how to make zaalouk (tomato and aubergine dip), chicken tagine and a layered filo pastry dessert. If you'd rather be cooked for, the hotel restaurant, Eden, serves elevated Moroccan classics, and I particularly enjoyed a succulent lamb tagine with dried apricots and vegetable couscous.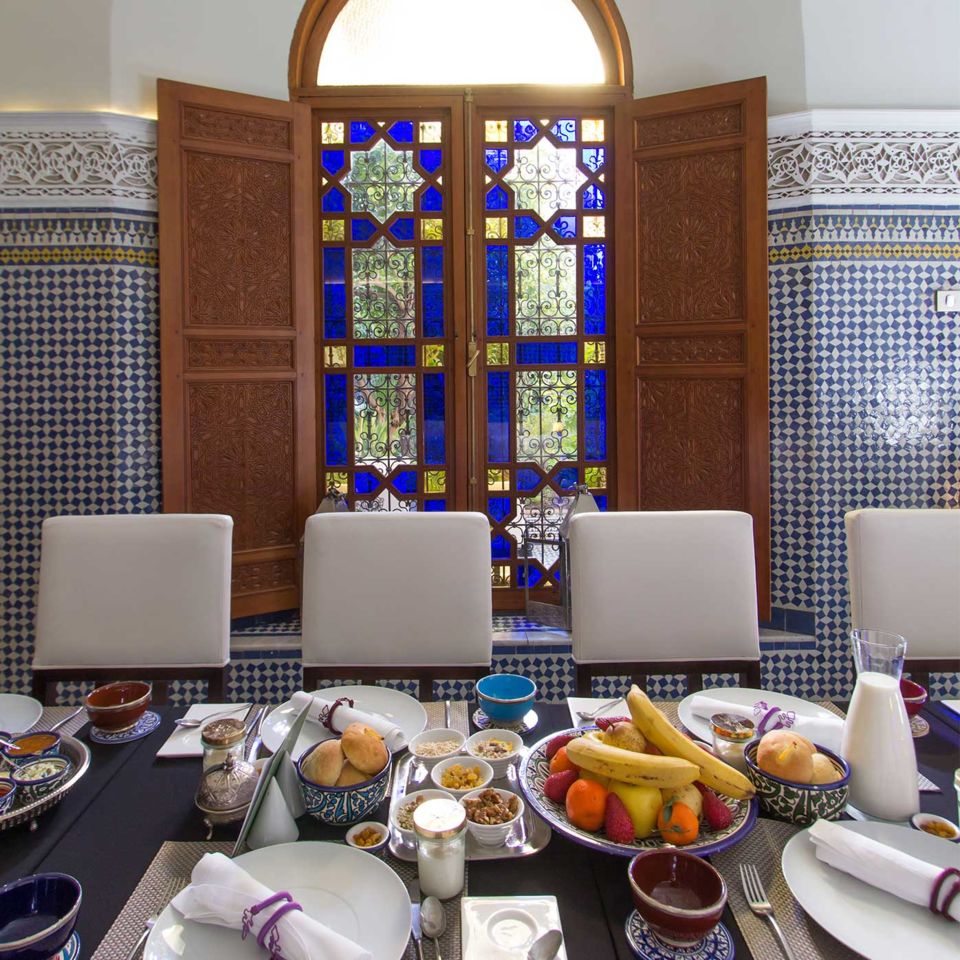 Traditional ceramics. Image: Getty Images
Breakfast is also a delight, and every day features freshly squeezed juice, yogurt and fruit, plus a different type of traditional soup and bread accompanied by little dishes of olives, creamy goat's cheese, homemade jam and honey. The coffee is strong and bitter, Arabic style, but friendly staff will also gladly make you a cappuccino upon request.
Fez is a fantastic foodie destination. The restaurants, like the city itself, are full of history. Quirky Café Clock is built next to a centuries-old water clock and serves Moroccan and Berber dishes such as vegetable pastilla (filo pie) and lamb madfouna (stuffed flatbread), while The Ruined Garden is an old merchant's house and gardens turned into a beautiful restaurant by ex-Wolseley chef Robert Johnstone. It also runs bread-making workshops that use the community bread oven. However, nothing makes an impact quite like Abdullah's tearoom. Back at home in London, I have the urge to start growing my own herbs and an Abdullah-inspired mint tea has become one of my favourite rituals.
How to book
Ryanair (ryanair. com) flies from London Stansted to Fez from around £60 return in October. Doubles at Palais Amani (palaisamani.com) are from around £215 per night.
Don`t miss

---