Travel
Travel review: Lausanne
by Melanie Leyshon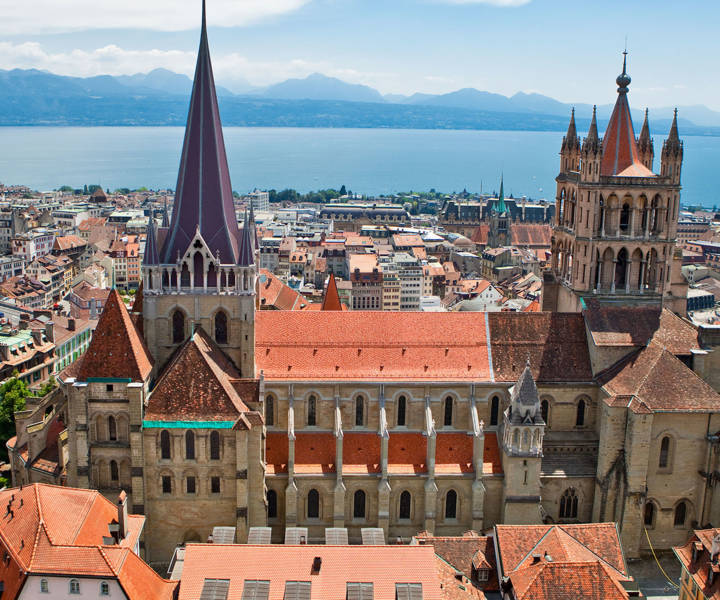 Lake Geneva from Lausanne's old town. Image: Lausanne Tourisme
The Swiss city Lausanne offers spectacular views, says Melanie Leyshon, and is the perfect mini-break location
Lausanne is instantly appealing. It has those iconic Swiss good looks - stunning views of Lake Geneva and the famous mountain peak from the Evian bottle are in your eyeline from most points in the city - and, as well as being pleasing to the eye, it's easy to navigate. It runs north to south. The Old Town sits at 500m and slopes down, steeply in parts, to the Ouchy lake area.
The shoreline is dotted with beaches, pools and sporting amenities that run to the west and east. My hotel, the iconic Beau-Rivage Palace, has all you need for a relaxing stay: five restaurants (one by top French chef Anne-Sophie Pic), the world-class Cinq Mondes spa, and outdoor pool, extensive grounds, and wonderful, high-spec rooms with sink-in beds and spacious marbled bathrooms.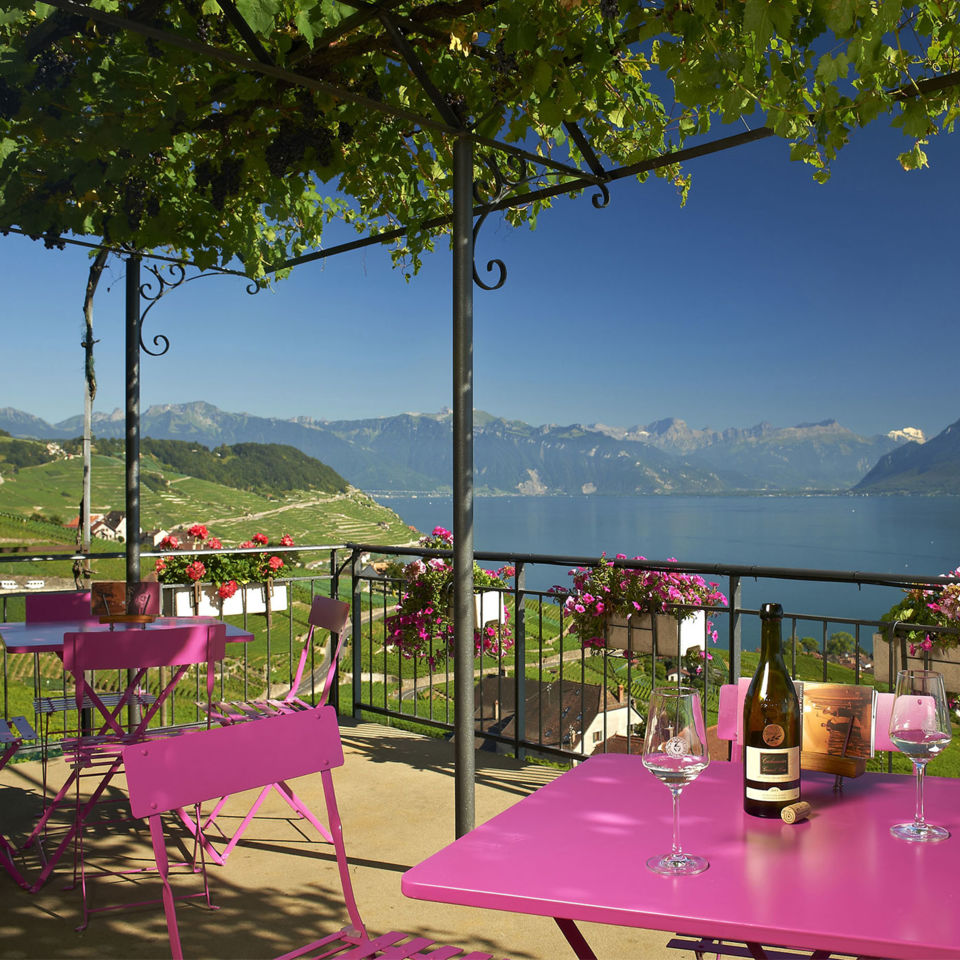 Domaine Croix Duplex
But I haven't come here to lounge around. On a weekend break it helps to step out with an insider, ad my tailor-made tour, organised through the Lausanne Capitale Olympique tourist board, is with British ex-pat Hilary Bales, who moved her for her husband's job 20 years ago and never went back. We meet in Tibits at the central station.
This self-service vegetarian buffet café, part of a much-lauded Swiss chain, is not your usual railway fare. It's in a beautiful space, with high ceilings, chandeliers and gorgeous murals, and it offers great fresh food that runs to around 40 healthy yet very tasty options. After lunch, Hilary whisks me on to the Metro up to Place de la Palud. The clock here strikes every hour and, from 9am to 7pm, sends out a pretty procession of animated ballerinas to a folk tune.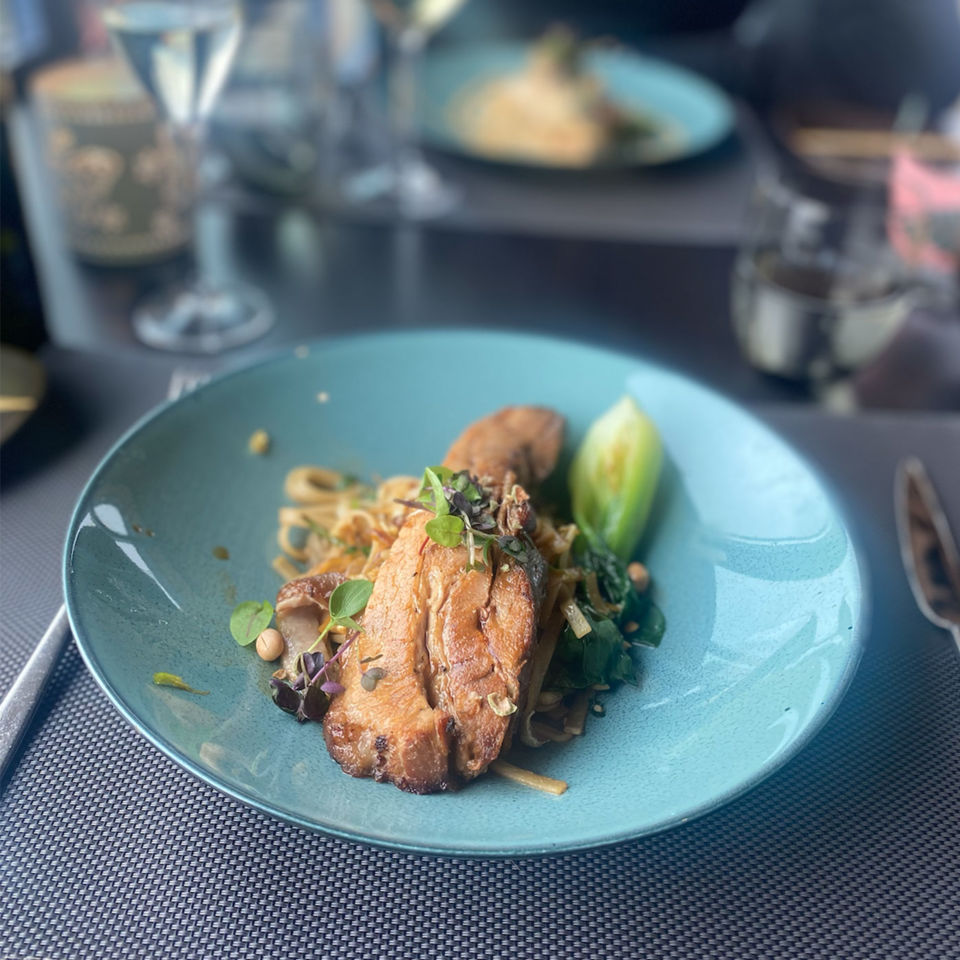 Pork teriyaki at Tout un Monde
Things get more rock and roll when Hilary points out the Town Hall, where David Bowie married Iman in a civil ceremony, and the bar in which they celebrated. It's then time to stretch our legs on those slopes, and we walk up cobbled streets to the Old Town and the impressive gothic cathedral. It's ethereal and beautiful, stripped of its Catholic colour and emblems to bare stone in the Reformation.
This starkness makes the huge stained-glass windows even more arresting, especially the Rose Window that depicts the seasons and local agricultural scenes. From here we pick up the famously steep Escaliers du Marché, covered wooden stairs that take you to and from the city centre. When asked who he thought were the most beautiful women in the world, the late French film director Jean-Luc Godard said the women of Lausanne because not only were they pretty, but they had the best legs from walking up and down the city's inclines.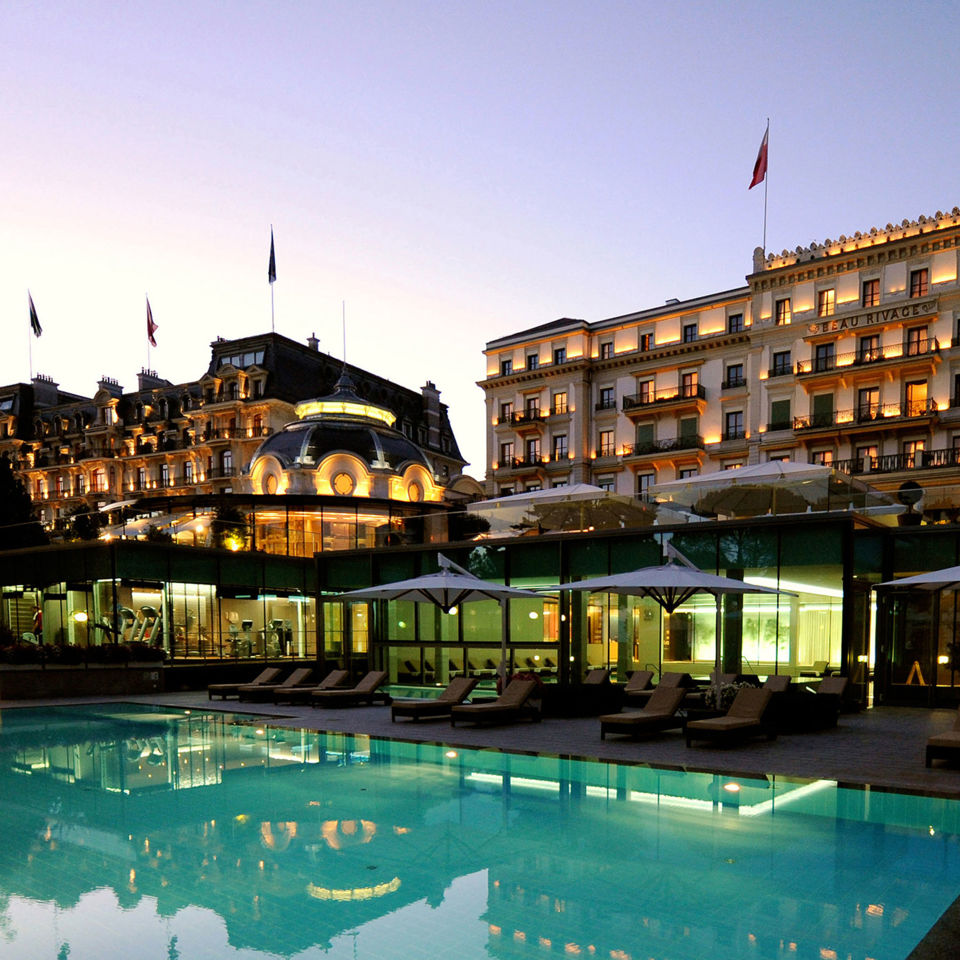 Beau-Rivage Palace
Back in the centre, Hilary points out the streets that become a huge market on Wednesdays and Saturdays. Food is hugely important here, so I enrol on a 'Trendy Gourmet Tour' – also courtesy of the tourist board – a fun way to discover the city's gastronomic highlights that picks out three venues for you to visit. I enjoy a glass of the local chasselas wine and nibbles at hip wine bar Street Cellar in the trendy Le Flon area, then lunch at bistro Loxton. Tea is carrot cake and cupcakes at Cuppin's in rue du Petit-Chêne.
Following a day of culinary indulgence, I wake up the next morning in need of something more active. The Olympic Museum & Park – Lausanne is the headquarters of the International Olympic Committee – is a five-minute walk from the Beau-Rivage Palace and is packed with memorabilia, from medals to Usain Bolt's vest. You can happily spend hours inside as well as outside in its sculpture park, where there is a running track on which you can test your speed.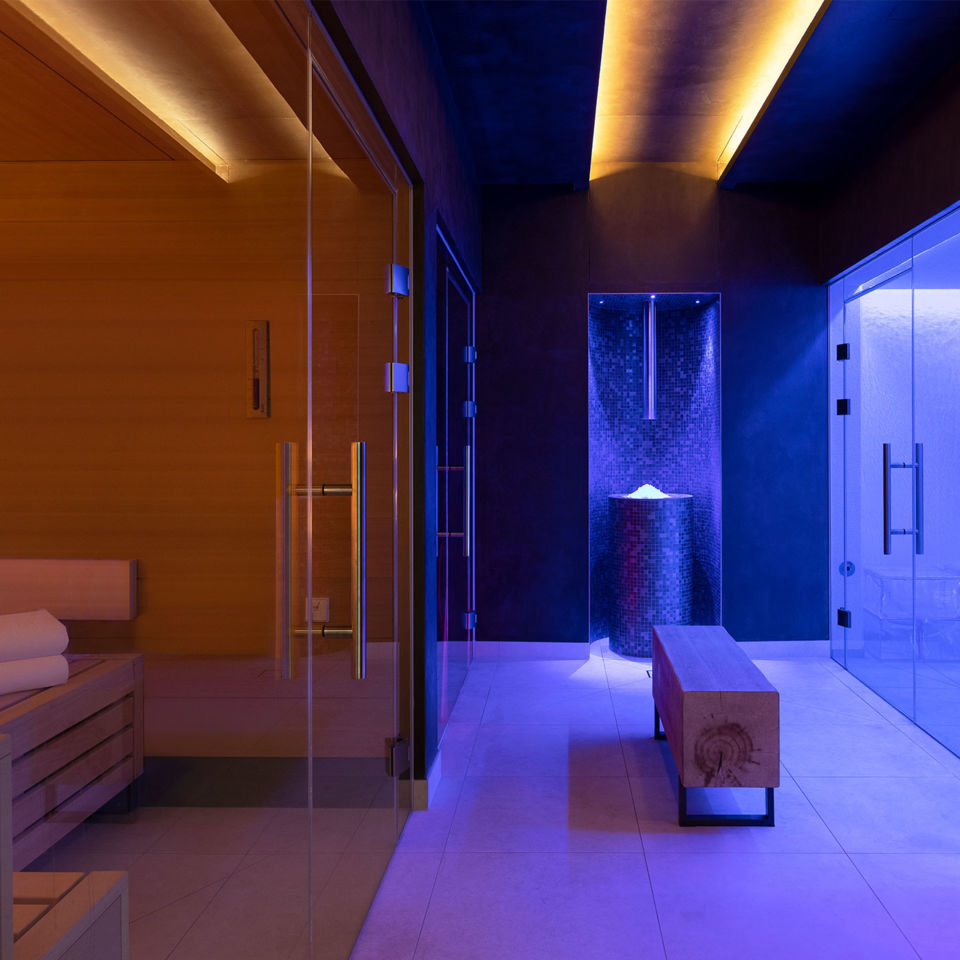 The world-class Cinq Mondes spa. Image: FRambert
After refuelling on food fit for Olympians in the museum's top-floor TOM Café, I take the Metro to the city's new arts quarter. Plateforme 10 is a huge modern, concrete modular space. It combines the MCBA (Vaud Museum of Fine Arts), Photo Elysée (Museum for Photography) and mudac (the Museum of Contemporary Design and Applied Arts). There's plenty to see and it's spacious, so viewing is a pleasurable rather than a cheek-by-jowl experience.
The surrounding hills are a dream for walkers and wine lovers. The next day, I take a train to Grandvaux for a wine tasting at Domaine Croix Duplex, which overlooks Lake Geneva and was established by current winemaker Maude Vogel's grandfather in 1929. Here, I taste her selection of chasselas and reds such as the popular gamaret-pinot noir blend. Instead of returning by train, I spend a leisurely two hours walking alongside the vineyards into Lutry, where I pick up the bus to Lausanne.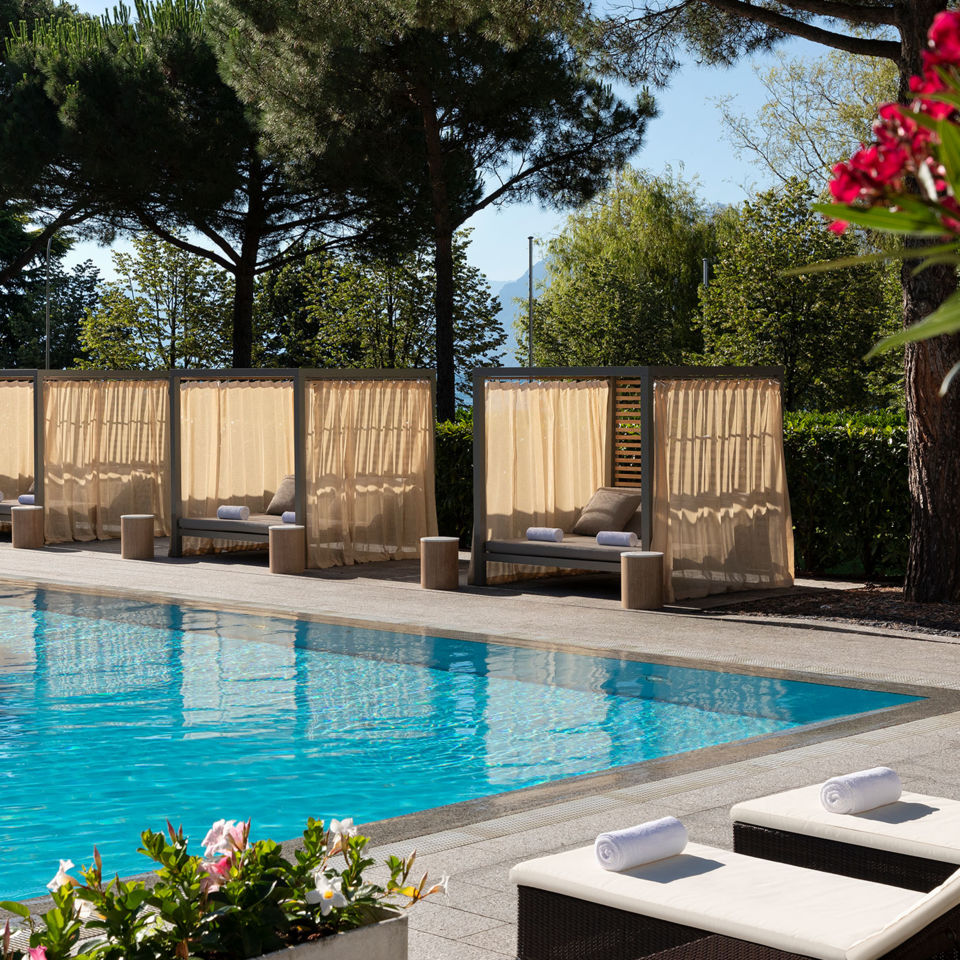 The outdoor pool at Beau-Rivage Palace. Image: FRambert
Over three days, I get a real taste for this city, which offers a fantastic quality of life at a leisurely pace. In the past, it attracted and inspired many great British poets and writers, including Byron and Dickens, and it's no wonder that 40% of the people who live here today are foreigners.
Before heading home, I pick up chocolates at Christian Boillat in Ouchy, then get off the Metro at Grancy to get some of the gorgeously cheesy petite flûtes aux fromage that are popular as appetisers here to take home. Then it's back to the station. As I'd expect, my train to the airport runs like clockwork.
How to book
EasyJet (easyjet.com) and British Airways (britishairways.com) fly to Geneva, with return flights from £53 per person with EasyJet. Trains from Geneva to Lausanne cost £25 per person. Doubles at the Beau-Rivage Palace (brp.ch) cost from £443 per night. For more info, visit lausanne-tourisme.ch
Don`t miss

---