Travel
Travel review: Eco friendly cruise into Arctic Norway
by Helen Renshaw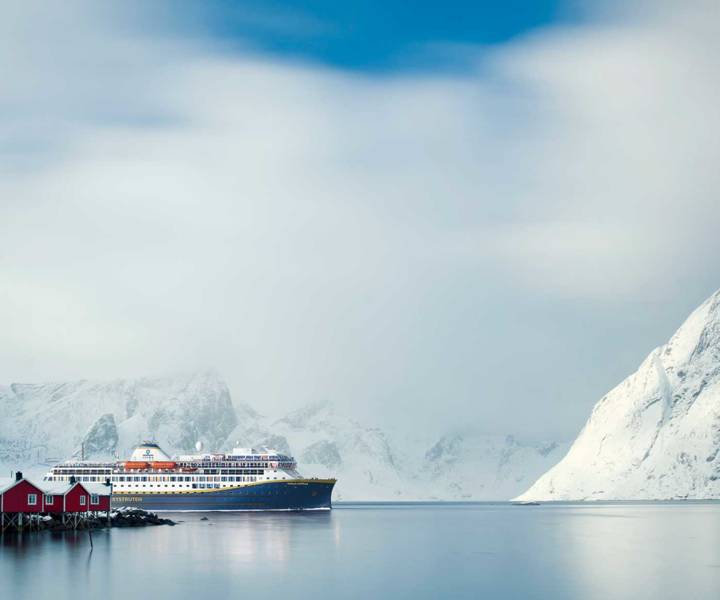 A Havila Voyages cruise ship passes through the Lofoten archipelago, Norway. Image: Havila Voyages
Forget the Caribbean and put the ski slopes on hold, says Helen Renshaw. An eco-friendly cruise into Arctic Norway has the winter wow factor to beat them all
This is what people say when we tell them we're heading to Norway in winter: 'Cold! Northern Lights! Wow!' They're right on all counts, but they could have left it at wow. Yes, it's cold. Yes, we see the Northern Lights and, yes, we'll never forget that moment. But the wow factor on our seven-day cruise deep into the Arctic Circle extends from the moment we step aboard the Havila Castor in Bergen to the sparkling snowscape through the plane window on our homeward journey.
Light plays a starring role at every hour of our extraordinary trip. You know the ethereal glow that creeps around the bedroom curtain and lets you know it's been snowing? Imagine that special light caressing your eggs Benedict at breakfast, bouncing off breathtaking landscapes and glimmering through swirling mists before turning into a tangerine glow as the sun sets on the polar horizon. Then, wait, what's that? As deep darkness falls, a dancing display of green streaks across the night sky before those enigmatic lights disappear again, just like magic.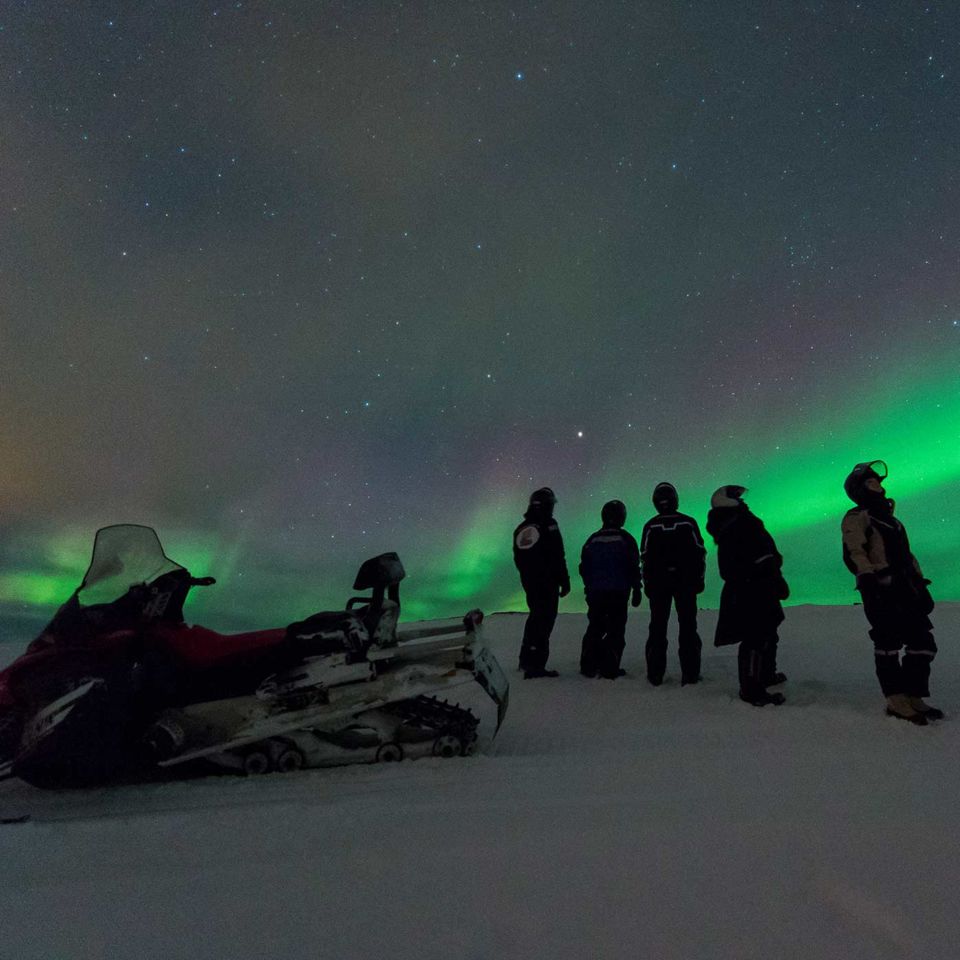 The Northern Lights. Image: Ørjan Bertelsen
We're blinded by the beauty of that light. But it comes with a whole package of extraordinary memories, each one worthy of the most demanding bucket list. The taste of king crab freshly fished from the Norwegian Sea, awe-inspiring vistas deep within icy fjords, the Arctic wind in our faces as we speed on a sled towed by huskies through wild, white landscapes.
And if, like us, you believe experiences are life's most valuable treasures, it's a must-do, and one that can be experienced without feeling too guilty about the planet – Havila Voyages is at the forefront of eco-friendly cruising, with battery- powered cruise ships that can sail for four hours straight with zero emissions and eco-creds in every detail, from the locally sourced produce on our table to the refillable water bottles in our cabin.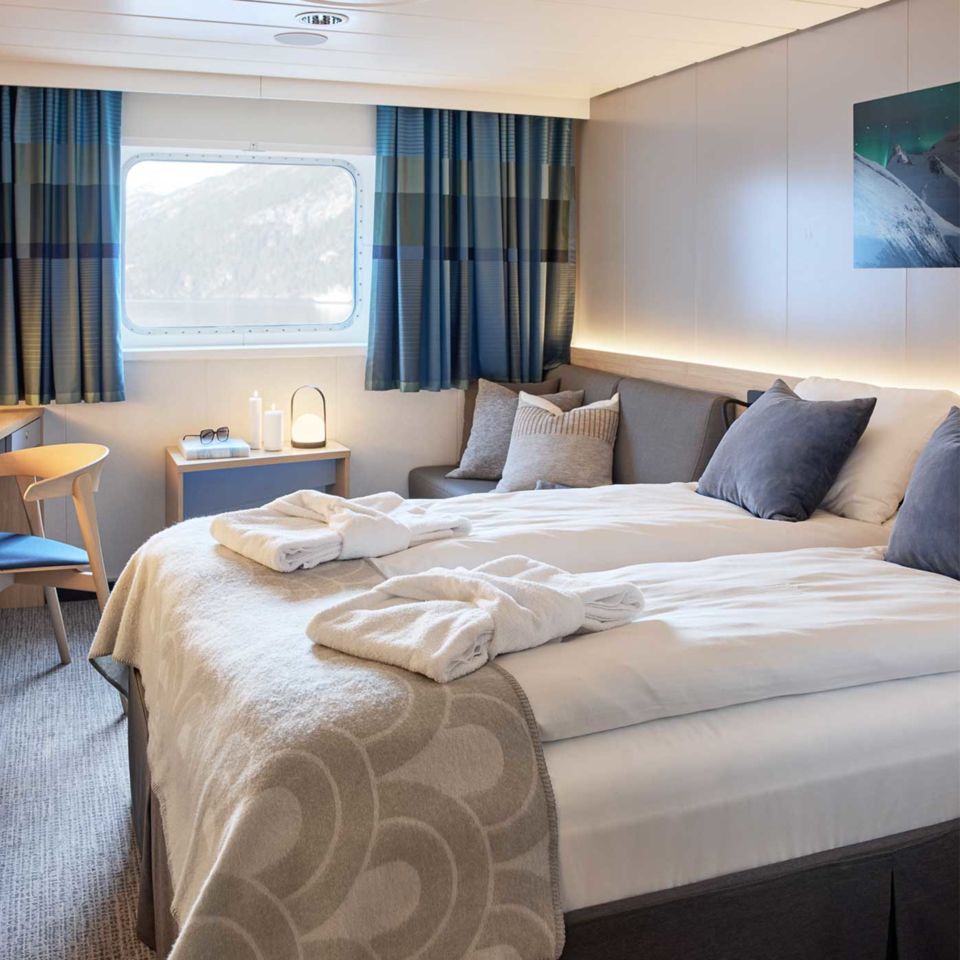 One of the ship's cosy cabins. Image: Johan Holmquist
There are few other cruises around in winter, and as the Havila Castor ploughs her lonely, majestic course northwards, my partner, Marcus, and I feel like polar explorers heading into the unknown – albeit explorers gazing from a warm lounge, with a negroni in hand. The view is staggeringly beautiful. Spectacular fjords, towering peaks and a world of snow and ice drift by. Amid the palette of white, clouds break to reveal the bluest sky we've ever seen, and sudden flashes of Caribbean turquoise appear in the steely ocean.
Sea eagles circle on thermals high above the mountains, picturesque villages of brick-red houses dot the shore and clean, pure air assaults our senses as we step out on deck. Is it cold out there? Hell, yeah. But, honestly, don't let the cold thing put you off. We only manage to learn one Norwegian word – friluftsliv – which means love of the outdoors come rain or shine, and it's all about what Norwegians call 'enjoying bad weather in good clothing'.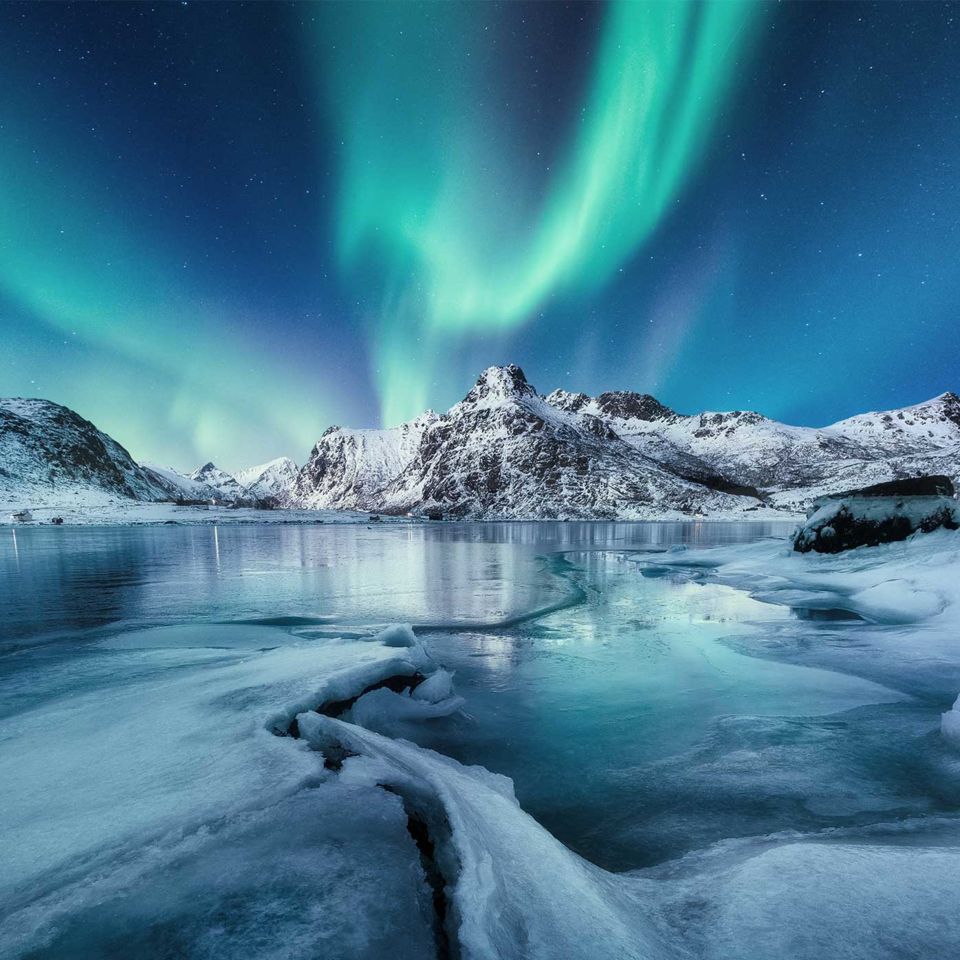 Arctic Circle views. Image: Getty Images
Appropriately kitted, we don't feel the cold for a moment, spend lots of time outdoors and leave determined to bring friluftsliv home now we have the thermal undies to embrace it. Inside the Havila Castor, meanwhile, it's toasty as anything. On the small side as cruise ships go, with a maximum capacity of 680 passengers, the ship has a sleek, minimalist feel – all clean Scandi lines, sinuous curves, blonde wood, muted greys and huge picture windows.
Our cabin is pure simplicity, with the focus on the important stuff – excellent showers, great lighting, comfy bed and super- responsive heating controls. And if you're worrying about rough seas, relax – the waters are remarkably calm as we meander close to the coastline or through dramatic inlets. A bottle of shampoo that slides off a shelf is as tempestuous as it gets. The on-board food, meanwhile, is a total joy.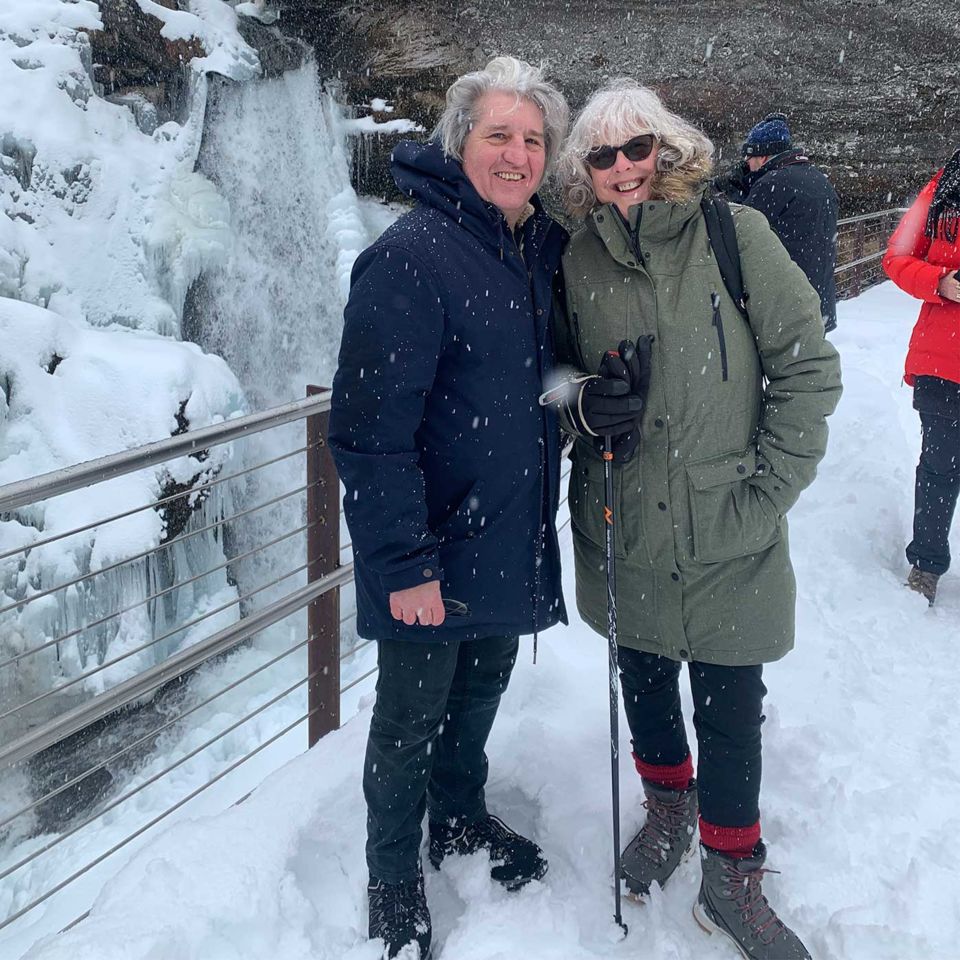 Helen and Marcus
Scandinavian food has been enjoying its moment in the Arctic sun for the past few years, and no wonder – it's the very definition of quality over quantity. Forget gluttonous cruise buffets and think elegant Norwegian cuisine that showcases the very best in local produce. Served by locals (lots of Viking-esque beards in the line-up) who speak shamingly good English, breakfast, lunch, and dinner are included, and there are great veggie choices – the breaded fennel with capers is a crispy, aniseedy joy.
There's a limited menu – even if, like us, you go for the gold package that offers extra options – but it changes every day to feature produce from our latest stop-off, and we want to try every single dish. Breakfast is just what the doctor ordered for a bracing day ahead. Standouts are the eggs Benedict and a delicious Norwegian version of a croque monsieur, with oozy local cheeses and ham. And we love the light and scrumptious lunches, based on a kind of Scandi tapas.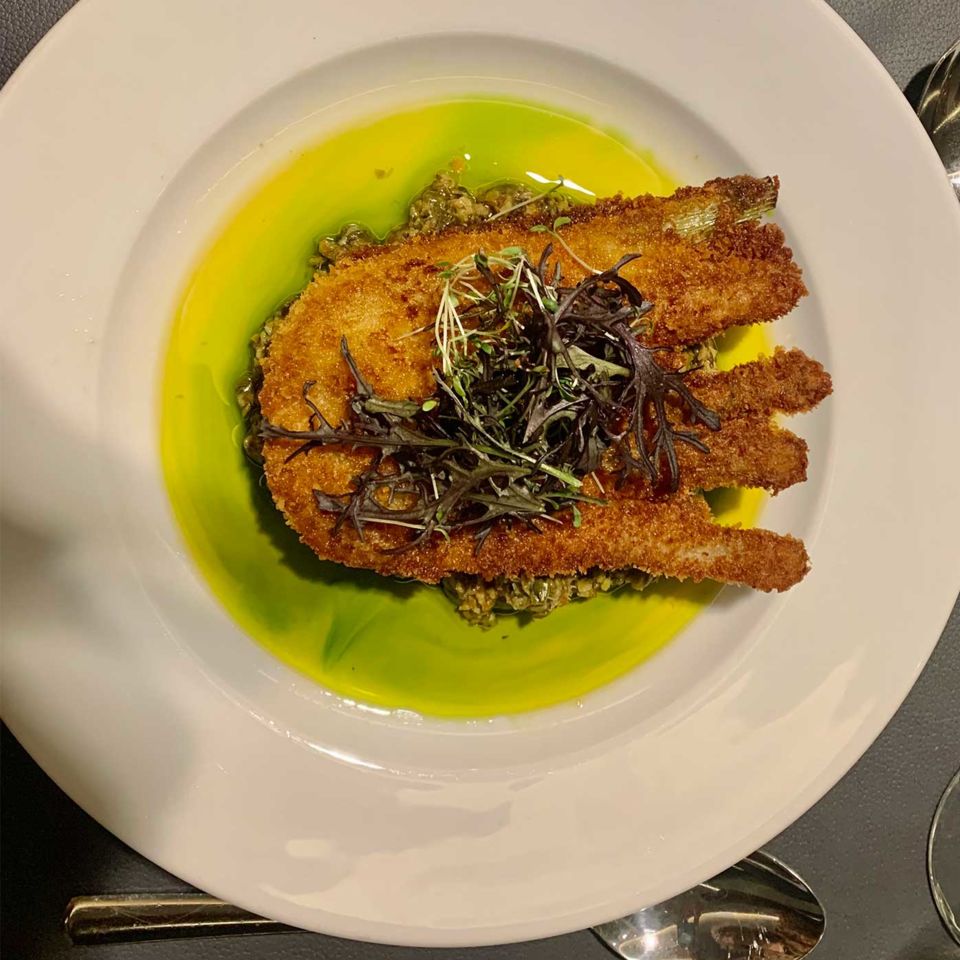 The breaded fennel dish
As spectacular snowy peaks pass by, we feast on crispy Harvand salad, tart with apples and yuzu dressing, crab tartlets dressed with mountain flowers and pearls of cod roe, and klippfisk brandade, warm with garlic and parsley. The culinary highlight of the trip is in Hildring, the ship's tiny, intimate fine-dining restaurant. Here, the food shoots up a notch in a six-course tasting menu. Sweet and succulent king crab from Varanger is served with citrusy Arctic ponzu and firm, juicy scallops from the island of Hitra, in a tangy horseradish cream.
There's a melt-in-the- mouth rack of lamb from the mountains of Dovrefjell, with caramelised carrot purée, and a delightful sea buckthorn cream dessert, dotted with cloudberries. Each is utterly delicious, but the dish of the night is a pan-fried turbot bathed in a red caviar and creamy butter sauce, with a crunch courtesy of crispy fennel shards.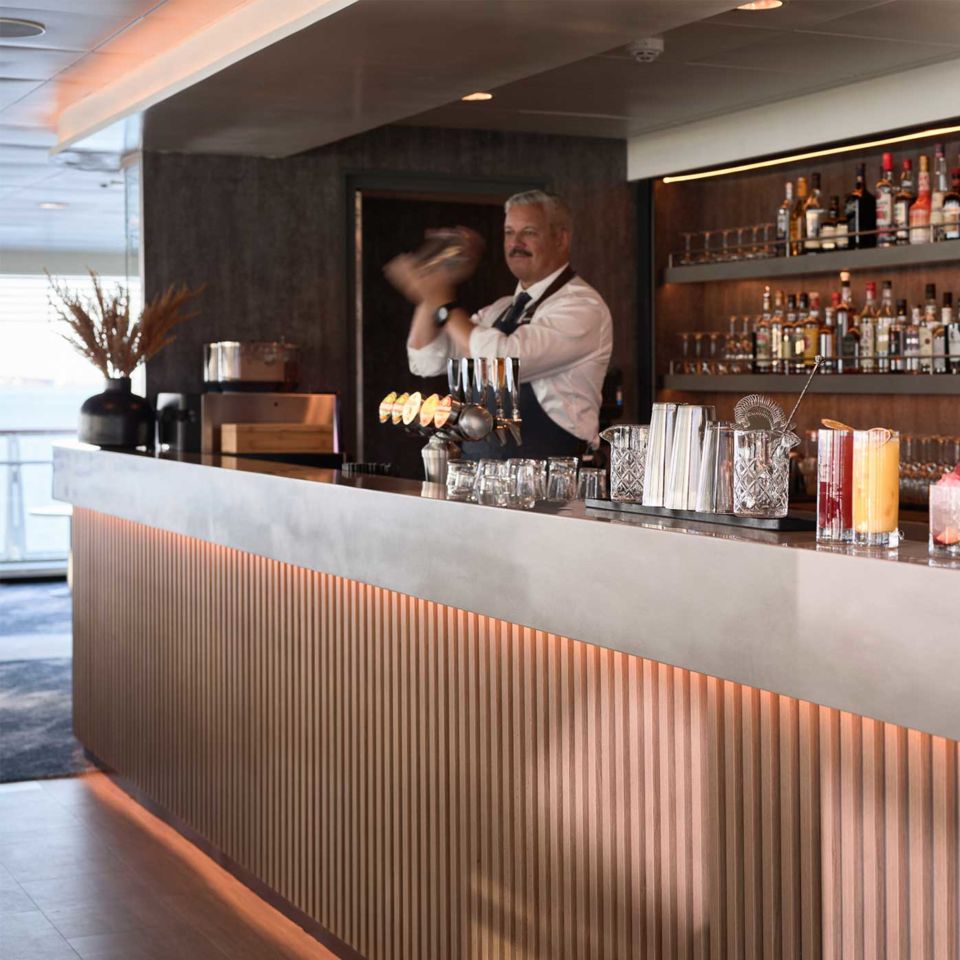 The Havblikk bar and lounge
There's no getting away from the fact that Norway is expensive – in lovely but pricey Bergen we spend £100 on a pizza meal before boarding the Castor – but our cruise proves a cost-effective way of enjoying fabulous local food without compromising on quality one jot. And while drinks are not included in our package, there's an excellent wine list, so we splash out some of what we've 'saved' on a creamy bottle of Gavi. It's money well spent.
There's a refreshing simplicity to life on board. As well as gazing rapt at the scenery, we have the choice of a gym, sauna and shop (great jumpers alert!) to explore, and regular info sessions on all things Norse. Best of all, though, is embracing friluftsliv as our vessel docks at increasingly remote destinations. We spend a never-to-be-forgotten day aboard a small boat that ventures up Geiranger, one of the world's longest and deepest fjords, awarded UNESCO World Heritage status for its exceptional natural beauty.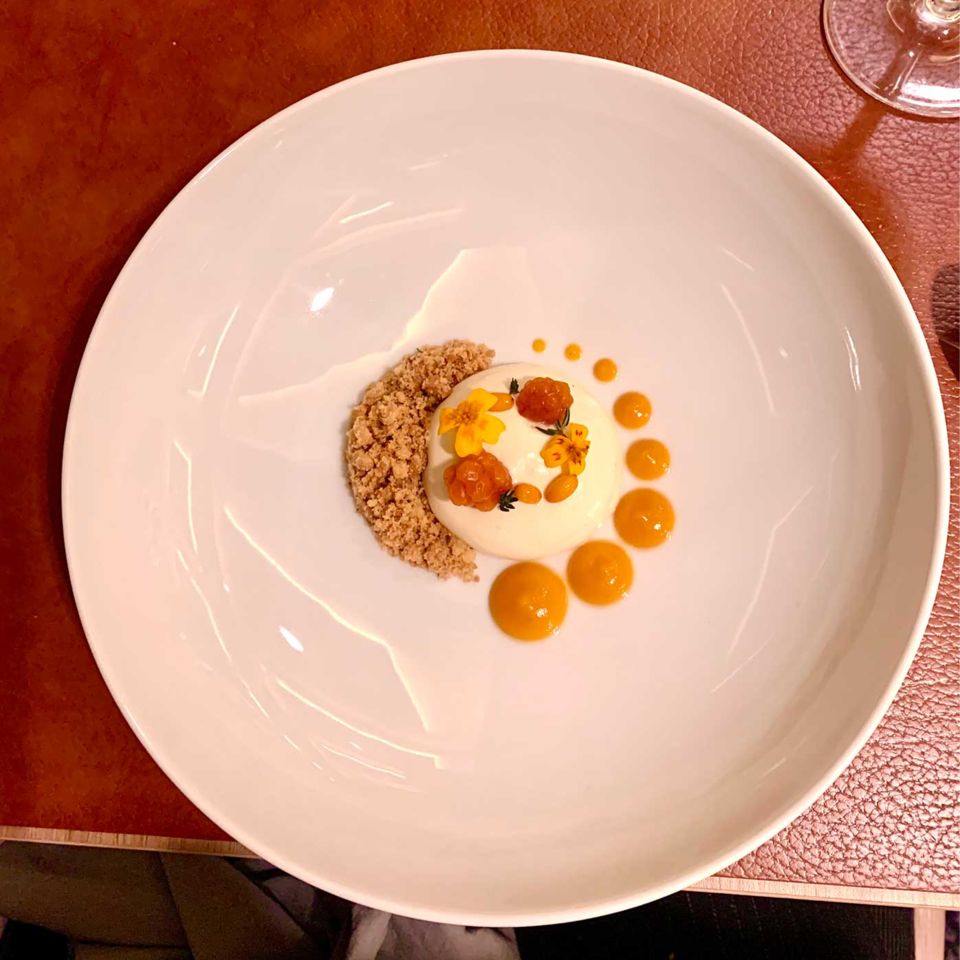 The sea buckthorn dessert in on-board restaurant Hildring
We spend a never-to-be-forgotten day aboard a small boat that ventures up Geiranger, one of the world's longest and deepest fjords, awarded UNESCO World Heritage status for its exceptional natural beauty. It must be gorgeous in summer when wildflowers fill the meadows and berries sweeten in the 24-hour sunlight. But, in winter, this starkly dramatic glacial landscape of steep-sided mountains, frozen waterfalls and hanging valleys is wild and atmospheric.
The air is sharper, the light clearer and shadows deeper. We experience both blinding sunshine and white-out blizzards and encounter no other tourists. The whole extraordinary place feels like a secret only we know about. Myths and folklore feel natural in this Lord of the Rings-style landscape. No wonder the gift shop in the small village at the head of the fjord is full of trolls (not the internet kind).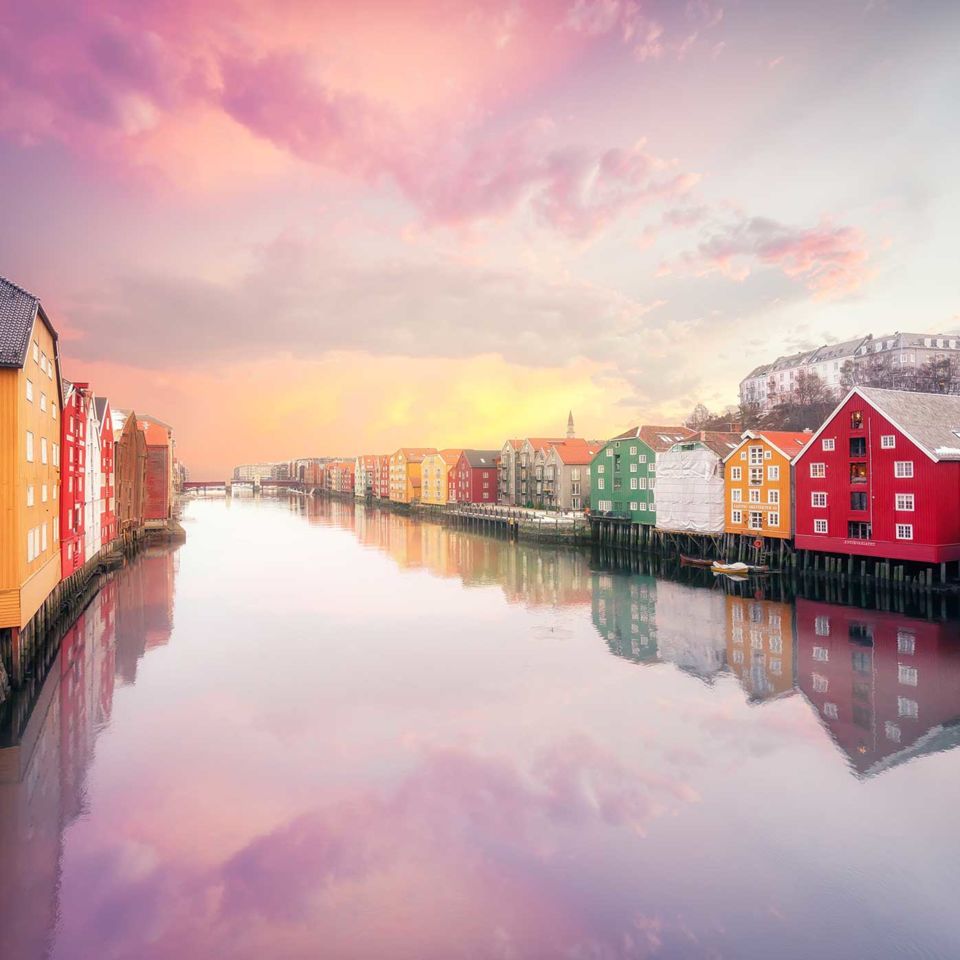 Colourful houses in Trondheim. Image: Getty Images
The next day we enjoy a spot of shopping in gorgeous, historic Trondheim, before crossing into the Arctic Circle. There's a traditional ceremony to celebrate this moment, which involves a grand entrance by The King of the North. Keep it schtum, but we're pretty sure we saw His Highness behind the till in the on-board shop the day before. As we head further north, the mountains grow taller and more forbidding, their peaks merging into mists, or sparkling in pure sunlight. In remote Bodo, we take a guided 3km trek along the Arctic coast. With snow deep and crunchy beneath our feet, we hike through a deserted and other-worldly landscape, while sunlight slants through forests and across spectacular views of ice-fringed beaches and distant snowy peaks.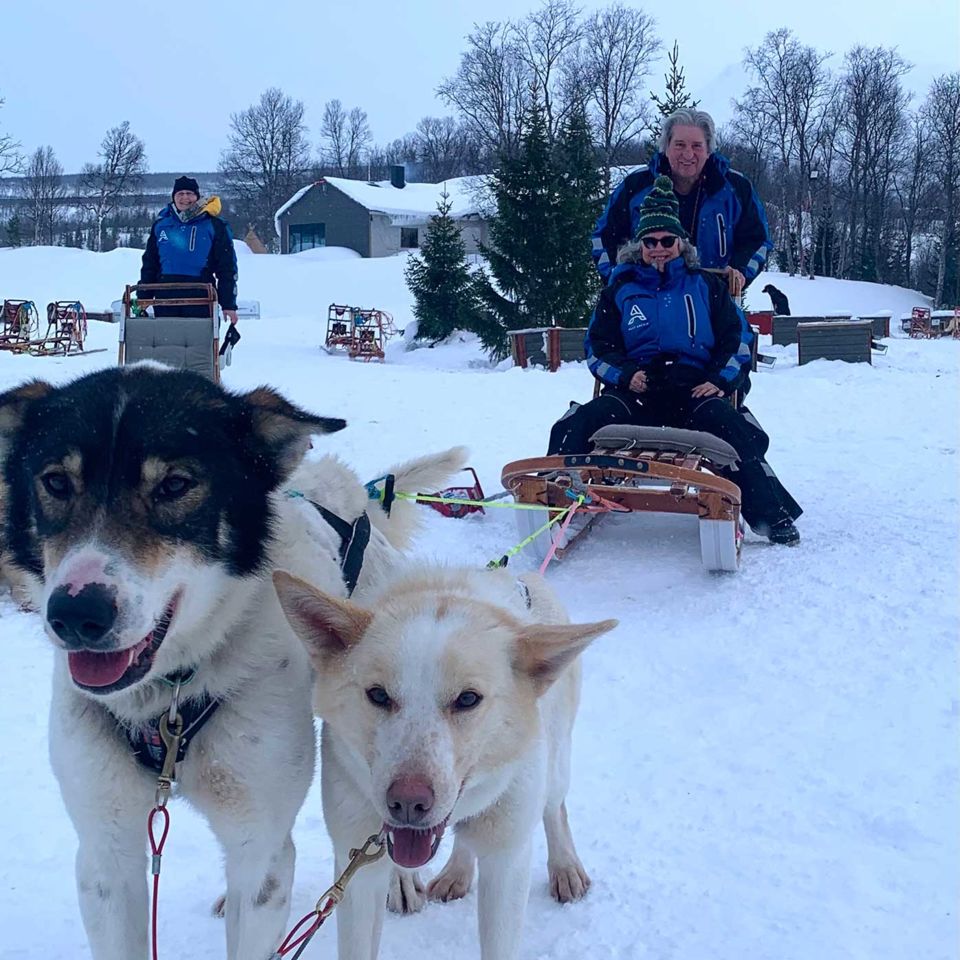 Husky-sledding along snowy forest tracks.
It's another amazing memory, but the best fun is still to come – and it's dog-shaped. We hear the huskies before we see them: dozens of waggy-tailed dogs howling in excitement. They don't seem to mind that walkies involves lugging the pair of us on a traditional wooden sled. They're raring to go and, after a quick training session, we're off, speeding up and down hills and whizzing along forest tracks, the Arctic wind in our faces.
We just about hang on – husky-sledding is thankfully on the right side of scary – and it's brilliant fun. And what, you ask, of those Northern Lights? Well, yes, if we have to pick one highlight in a trip full of them, this has to be it. It's 4am when the special alarm in our cabin lets us know they've been sighted. We roll out of bed into furry onesies and our Arctic jackets and boots, head out on deck and there they are – magical waves of greenish lights dancing in the sky. There's only one word to describe that moment... WOW.
How to book
Havila Voyages (havilavoyages.com) offers a seven-day Voyage North from Bergen to Kirkenes from £774 per person (two sharing) on a full board basis for a range of departure dates in January 2023. Price excludes flights and excursions. Tour operator Best Served Scandinavia (020 7838 5956; best-served.co.uk) offers a six-night Voyage North cruise, including flights, transfers, hotel in Bergen and a stay at the Snow Hotel in Kirkenes from £1,960 per person on a range of dates in February and March.
Don`t miss

---