Travel
Staycation: The Lord Crewe Arms
by Corrie Heale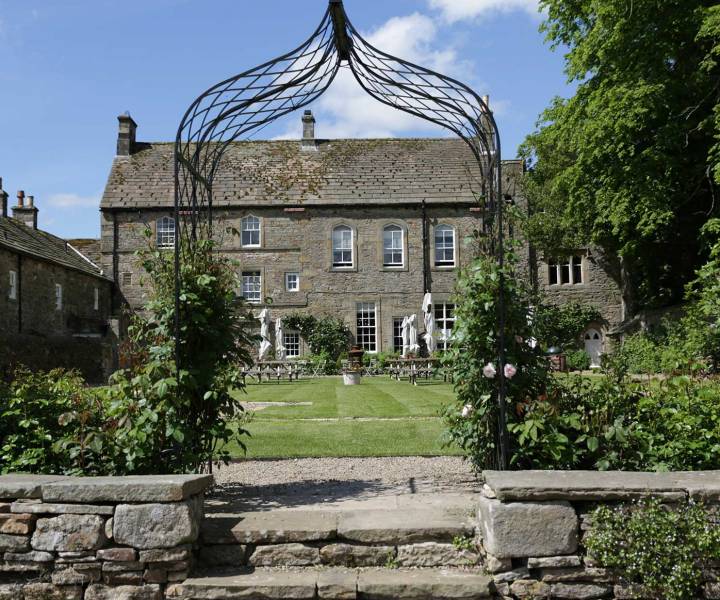 The Lord Crewe Arms
It was cold, blustery and rainy when art editor Corrie Heale and partner Jamie arrived at this romantic inn on the North Pennine Moors, so perfect conditions for cosying up under a blanket by a roaring fire...
'There's a roll top bath in the bedroom!' I screeched excitedly as I climbed the dainty spiral staircase in our beautiful miners' cottage, deep in the Northumbrian landscape. Split over two levels, the cottage is one of two miners' suites on offer at the Lord Crewe Arms and it is the epitome of country chic. It feels contemporary but authentic, decorated with a subtle balance of old and new.
The bed is big and stacked with luxurious feather pillows, the lighting warm and the cosy window seats invite you to look out across the square at the honey-coloured bricks of Blanchland village. The Lord Crewe Arms is a former 12th-century abbot's guest house and one of the oldest hotels in the country. Nestled in the rolling North Pennine Moors and founded as a priory in 1165, it was built to house the monks and abbots of Blanchland Abbey before Lord Crewe bought it in the 1700s.
With an authentic medieval charm, stone-flagged floors, 12 bedrooms and wibbly-wobbly corridors, it's the perfect romantic countryside getaway for couples who enjoy fresh air and good, old-fashioned hearty fare.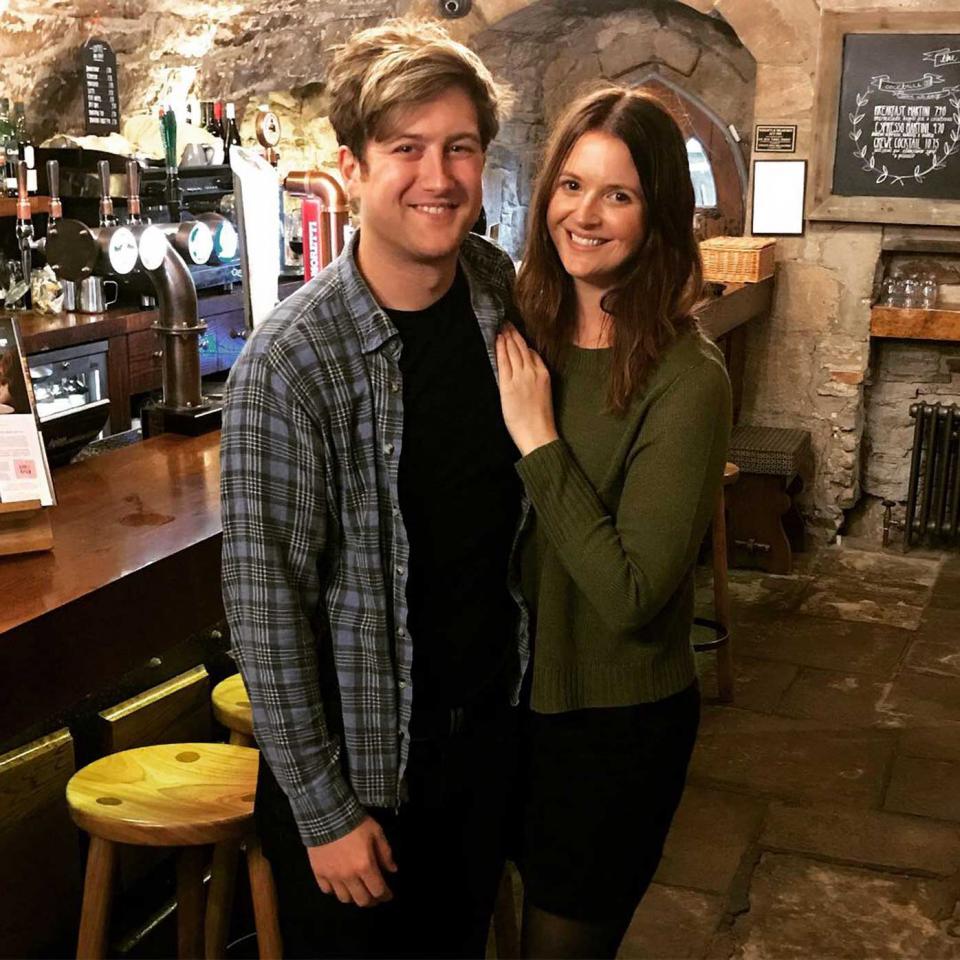 Corrie and Jamie in the Crypt bar
A river runs through the middle of the village, which is surrounded by woods and breathtaking moorland. Ideal for outdoor-lovers, the hotel is well-equipped with free bikes, maps, routes, wellingtons, compasses and even a drying room – although, admittedly, our walking boots didn't see much action.
Instead, I found myself sporting a towelling robe with a homemade shortbread biscuit clamped between my teeth and running a bath at two in the afternoon, while my other half was busy lighting the wood burner and enjoying countless espressos from the Nespresso machine. Clearly, we were both prepared to do everything but walk this weekend – it was raining, after all.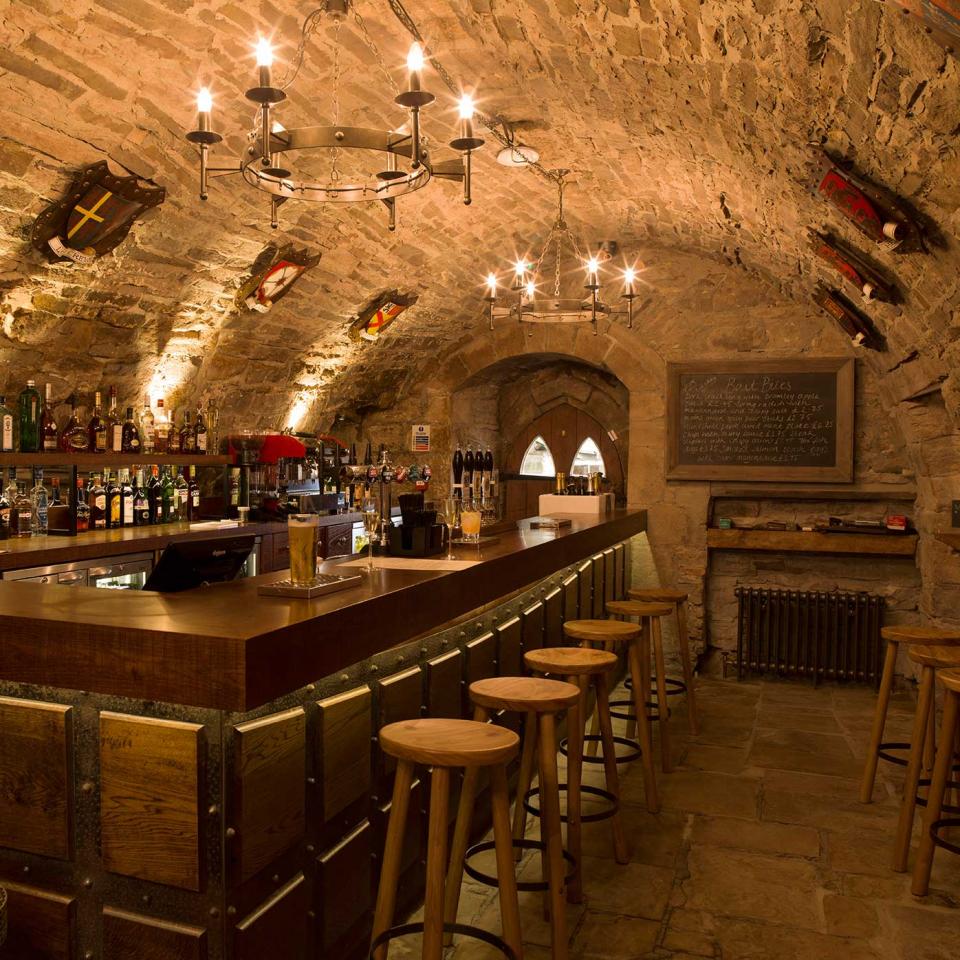 The Crypt bar
After a mid-afternoon snooze, we were finally prepared to face the rain and walk over to the main house and down into the Crypt bar to wet our whistles before dinner. The Crypt is a medieval vaulted chamber where you can sample the hotel's own brew, as well as other Northumbrian ales, wines, Highland whisky and a Geordie cocktail or three. Packed with locals chattering by warm candlelight, the pub is the heart of the hotel and community.
Cheeks flushed, we drifted up to the Bishop's dining room, where we indulged in seasonal dishes, such as pan-fried Scottish scallops with spiced carrots and pork belly; grilled lamb chops with braised shoulder and cabbage, and plaice with a spiced brown shrimp butter, washed down with some very reasonably priced wines. Somehow, we found room for the most delicious raspberry Bakewell pudding, served with clotted cream. It was unlike any Bakewell pudding we had ever had, and a great way to round off our romantic getaway. In fact, we were so wrapped up in the cosy ambience of the Lord Crewe Arms, we hardly noticed getting drenched on the walk back to our cottage.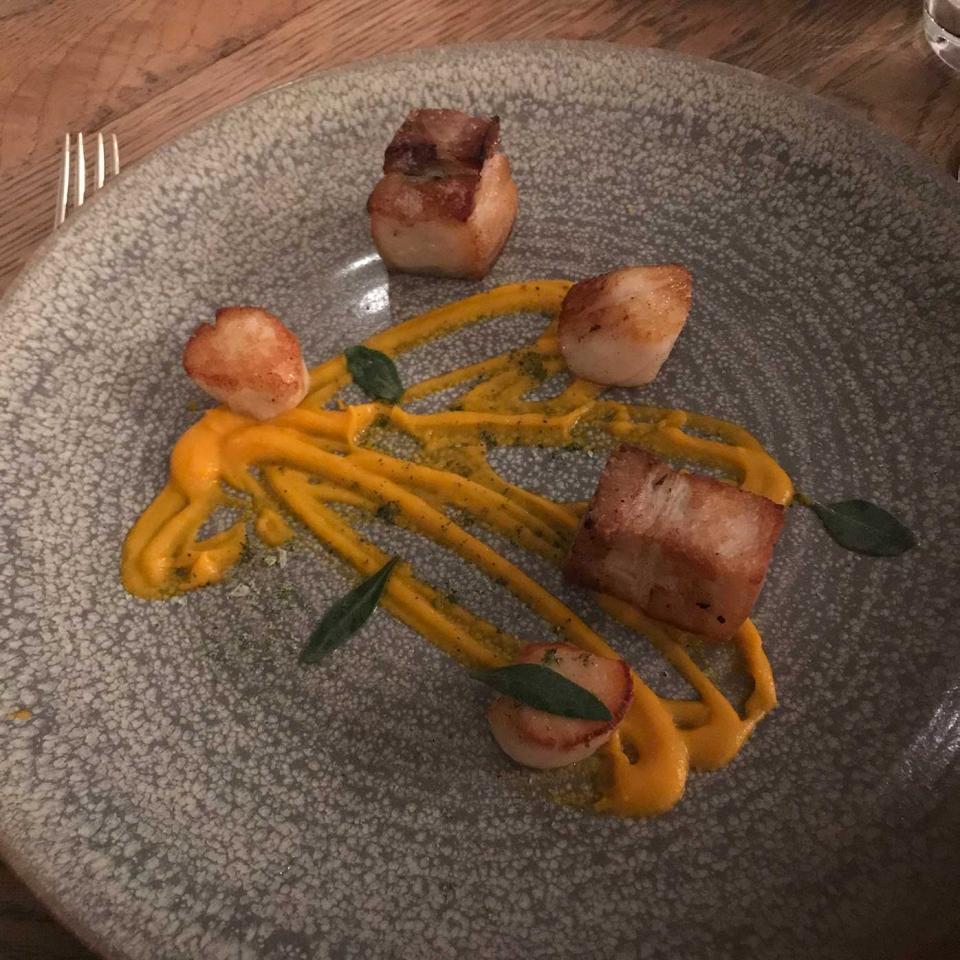 Pan-fried scallops and pork belly
How to book:
Double rooms, with breakfast, from £147 until 28 February 2019, then from £157 until 28 May 2019. Lordcrewearmsblanchland.co.uk.
Just down the road:
A 30-minute drive away is the beautiful, bustling Roman village of Corbridge. Wander along the picturesque high street and enjoy dipping in and out of the independent shops, historic pubs and tea rooms. Originally a supply base for Roman troops and home to the oldest handwritten documents in Britain, plus Roman armour and trinkets, Corbridge is the perfect pit stop to discover what life was like as a soldier on Hadrian's Wall.
Don`t miss

---