Travel
Staycation: The Conniston, North Yorkshire
by Renate Ruge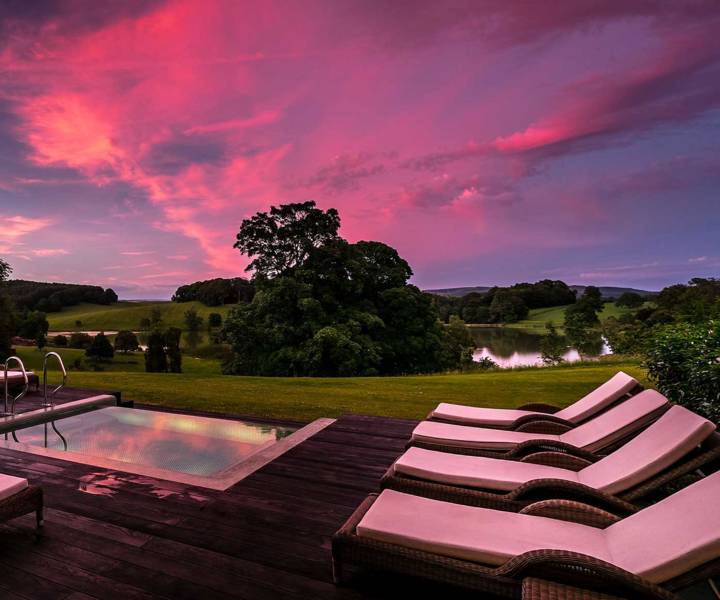 A lake-facing heated infinity pool
A lush 1,400-acre estate with a hilltop spa, lake-facing heated infinity pools and locally sourced food is pure bliss
Our car journey takes us right through green and pleasant pastures, up hills and down dales, past emerald fields broken by higgledy-piggledy dry-stone walls. This scenic route to The Coniston Hotel Country Estate & Spa, which is located just 15 minutes' drive from the charming market towns of Settle and Skipton, passes through pretty Yorkshire villages such as Coniston Cold, meaning 'King's land' in Saxon English.
This area really is royally beautiful – a farmer fixing a hole in a fence shoos a sheep from whence it escaped as we pull up at our vine-clad destination. There's a Friday feeling in the air as we spy fellow guests arriving wedding-ready with armfuls of dresses on hangers and hatboxes.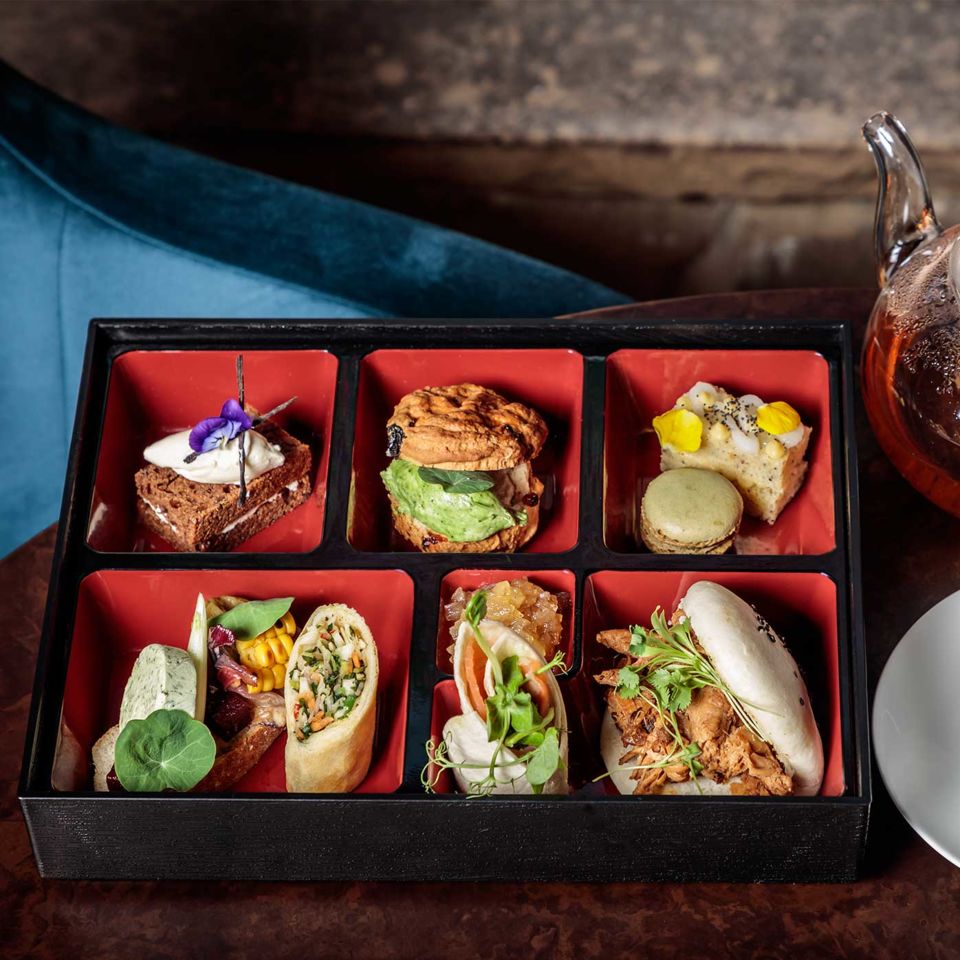 The Japanese-style afternoon tea at Blossom Kitchen
The welcome we receive at check-in is warm and there's a vibrant illustrated artwork by local artist Linda Mellin hanging in reception that sums up the resort and region in one colourful picture. Our spacious room, decorated in neutral shades with olive accents, has a part-wood, part-oatmeal carpet floor and a sofa at the foot of the bed.
A picture of a craggy landscape and river conceals an infra-red heater and a patio with wicker chairs frames lovely lake views. Our bathroom has a huge egg-shaped bath, rainfall shower and lots of Temple Spa products. A secret drawer reveals a Dyson hairdryer and GHD straighteners. It's tempting to roll on to the comfy-looking bed and stay put but, before any relaxing begins in earnest, we head out to get the lie of the land.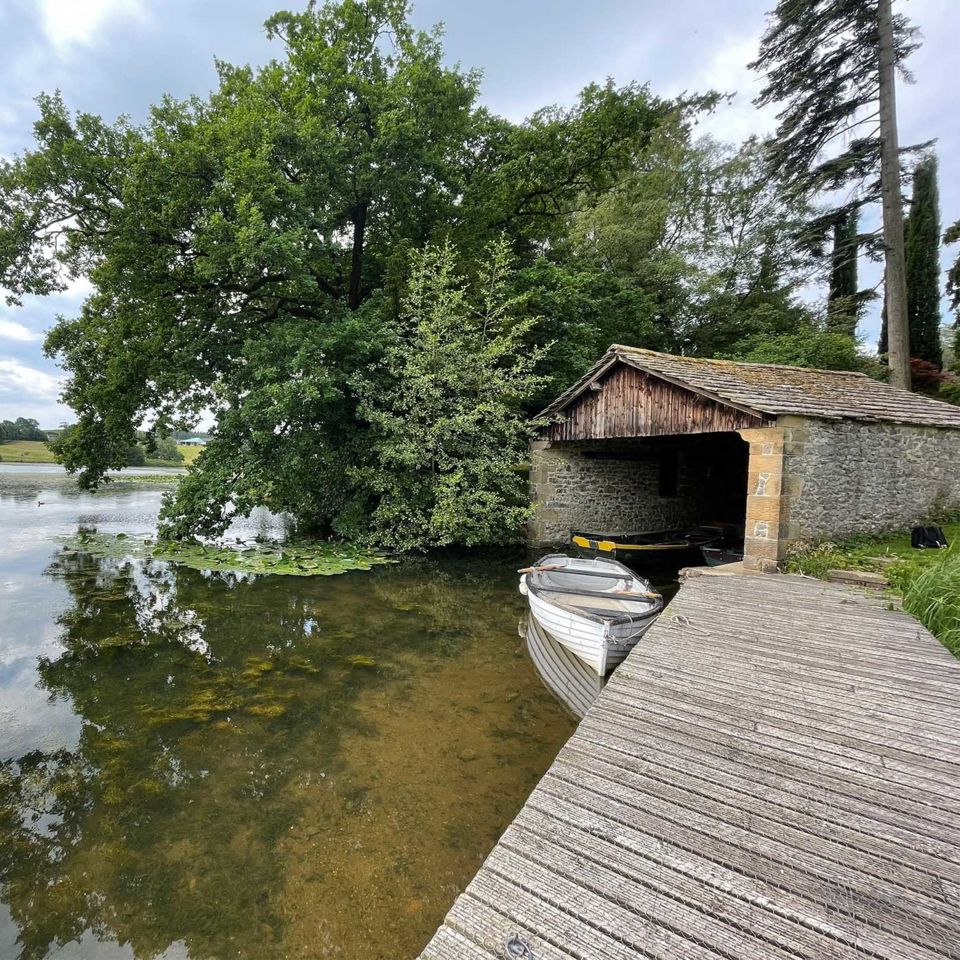 The boathouse
A boat with fishermen floats out on the nearby lake and a glamorous wedding party poses for photos against the picturesque backdrop of this private estate and its Victorian-era hall. It is understandably a popular wedding venue. Back on our terrace, we catch glimpses of one happy couple's day while enjoying a cuppa.
Our room's coffee station with kettle and Nespresso machine is well-stocked with Yorkshire Tea and a treasure trove of snacks. My husband, Andy, is like a kid in a sweet shop, checking out the chardonnay wine vinegar crisps, a wide range of chocolates and Grandma Wild's ginger biccies. A small bar fridge is stocked with Harrogate water. Later, we head for dinner at main restaurant The View, which starts with an Old Fashioned for Andy and a Cherry Bakewell cocktail for me.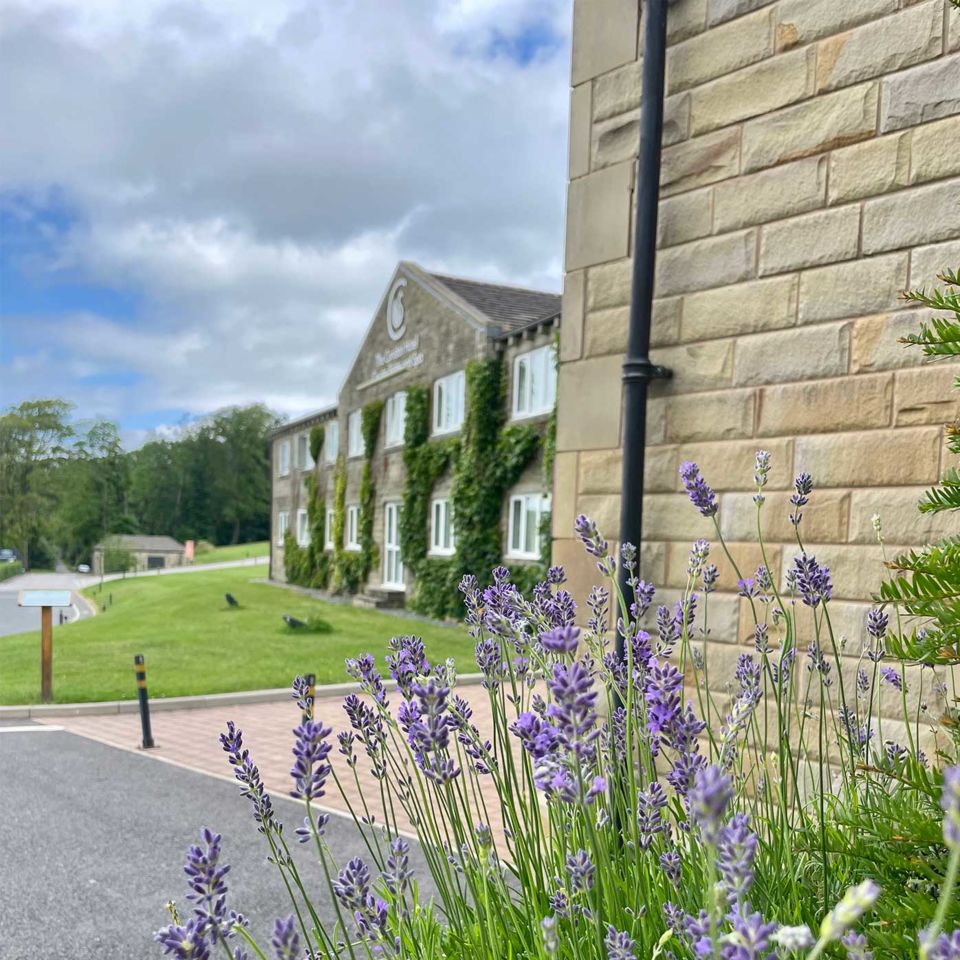 The hotel's striking ivy-clad exterior
The dining room has wide-reaching lake views and an open fire in the centre with a stone chimney stretching up to the ceiling. Of the starters, whipped homemade pâté, served in an eggshell with cherries, chutney and savoury tuille is a winner, while mains of succulent, perfectly seared sea trout on avocado with crispy chorizo, and pull-apart beef rib with charred corn, buttered summer vegetables and proper chunky, Yorkshire beer-battered chips are a feast of epic portions.
While we're expressing compliments to head chef, Thomas Robertson (also credited with The View's recent 1AA Rosette award), he explains the best produce is found on the doorstep, like trout from the estate's well-stocked lake, venison and wild garlic foraged from its woodlands.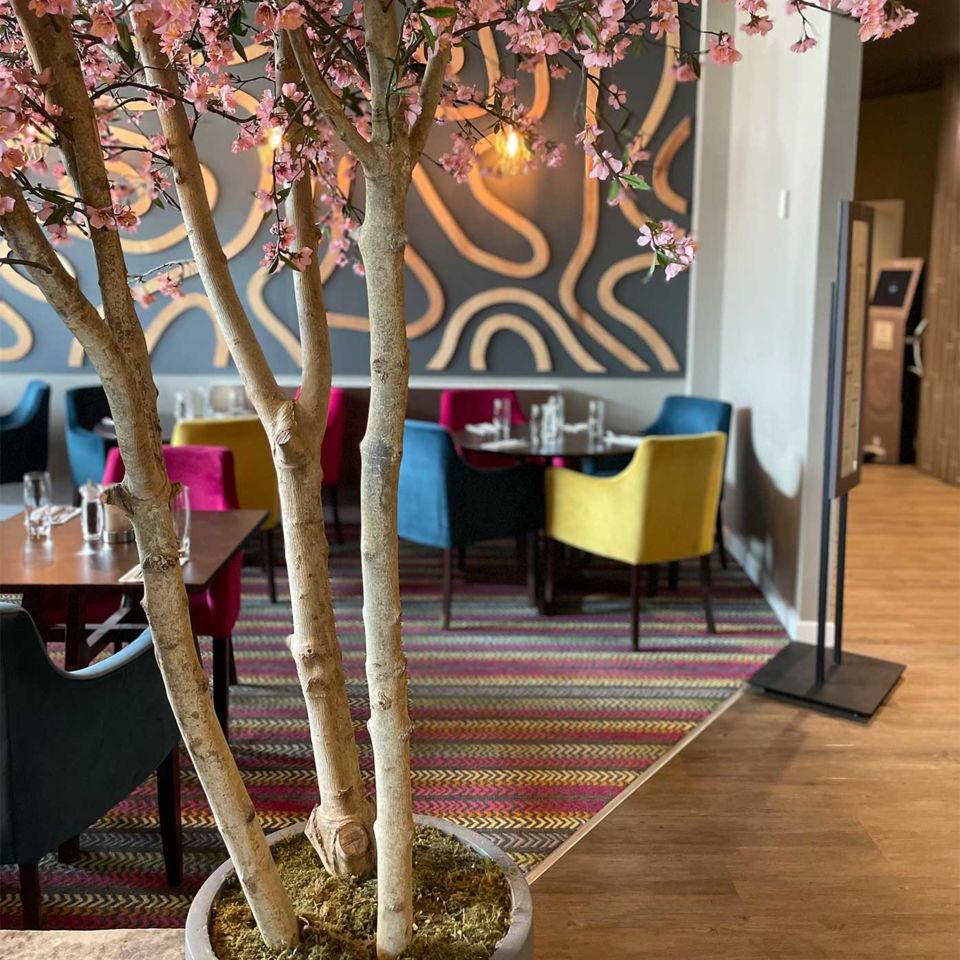 Inside the petite Blossom Kitchen, located alongside Nádarra Spa
He insists puddings are a must (well, that's my story) and we tuck into gooseberry meringue, delightfully drizzled with honey and decorated with fresh edible flowers and scoops of delicious homemade butterscotch and lemon curd ice cream. More cheerful artwork of village scenes and wildlife dot the walls of corridors leading the way to bed.
Next day, we're back in the dining room for breakfast and, as Andy contemplates his full English, he finds a 'breakfast twin' on the next table. We're soon talking about 'the price of eggs' with friendly couple Karen and Ewen from Bedford. As the nuptials they're attending are due to begin, they head to the chapel while we retreat to the serene Nádarra Spa, which feels a world away in its idyllic hillside setting.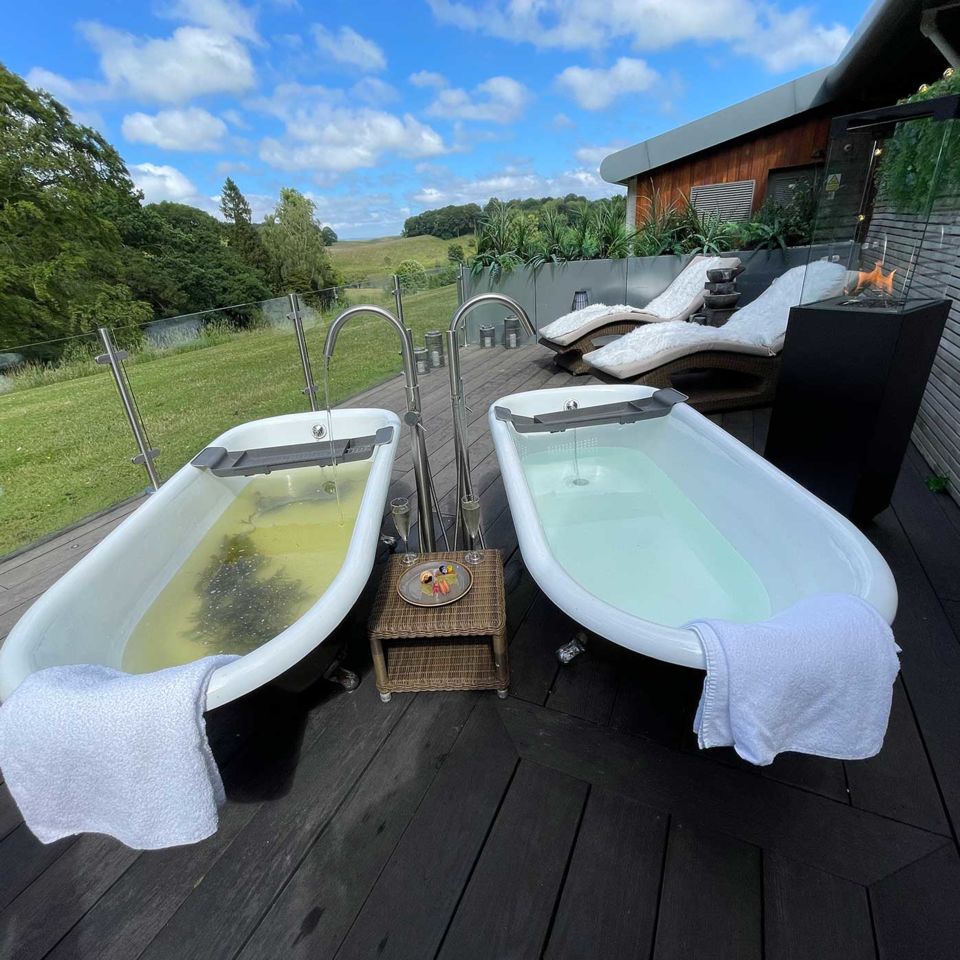 The outdoor spa experience overlooking sheep filled fields
After we take a dip in the pool, a swirl around lake-facing outdoor infinity pools and a 'thermal journey' through the Swedish sauna and steam rooms, the bubbly spa manager Julie leads us to our 'Outdoor Bath Experience', and 45 minutes of bliss follows in a private candlelit spa garden. Our outdoor spa experience is made extra-special with the arrival of homemade ginger cake and colourful macarons that go so well with a glass of bubbles and taste even better in the bath.
I had wondered if Andy might have preferred to take part in one of the estate's 4x4 off-roading experiences, or even head out to shoot, but he takes to his seaweed bath like a duck to water. And so there we are, soaking side by side in matching baths, glasses of fizz in hand, looking over a field with inquisitive sheep looking on. It's the perfect end to a late summer's day.
How to book
A stay at The Coniston Hotel Country Estate & Spa starts from £159 per room per night and includes breakfast. For more information and to book, call 01756 748 080 or visit theconistonhotel.com
Don`t miss

---