Travel
Skye and Harris: the sound of silence
Matchless peace and quiet and plenty of fresh, clean air has Helena Lang and her other half sleeping like babies on the Scottish islands of Skye and Harris.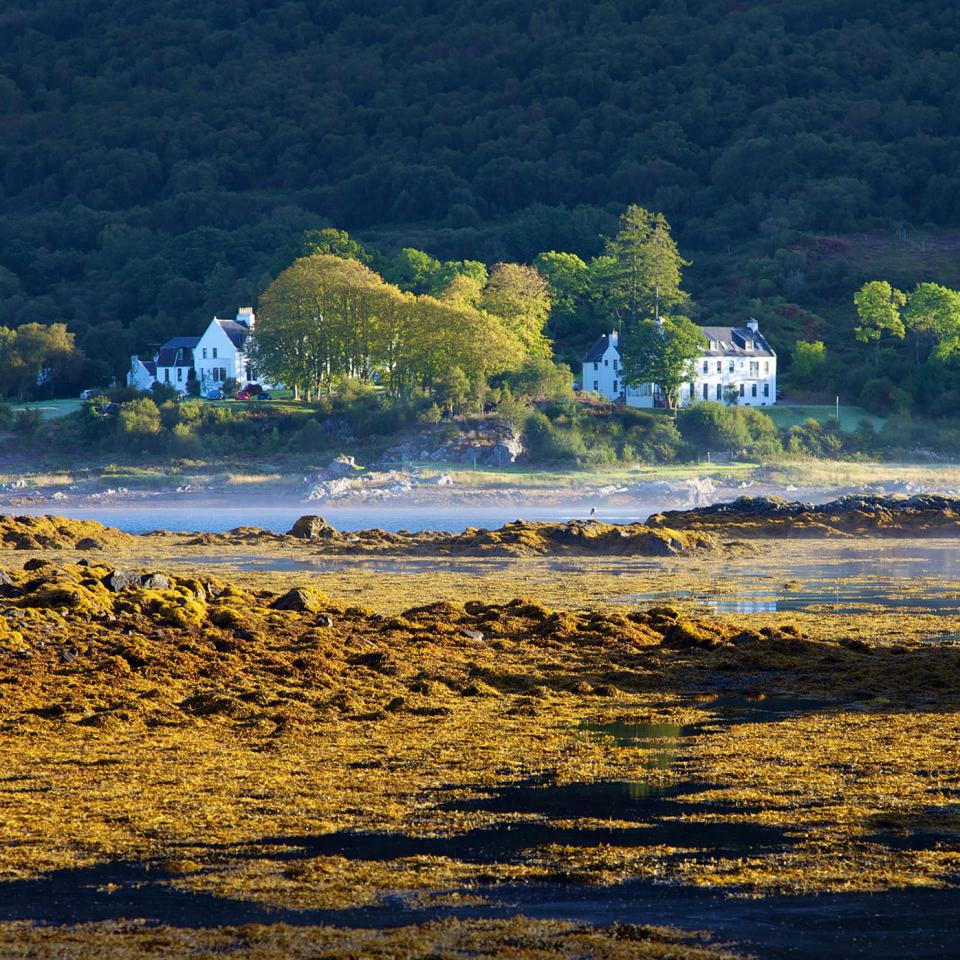 Kinloch Lodge with its 'epic views' across Skye's Loch na Dal
As our easyJet flight descends into Inverness airport, I feel more excited about our trip to the Scottish islands than others to far more exotic places. Memories of a visit years ago to the picture-postcard village of Plockton, near the Kyle of Lochalsh on the north-west coast of Scotland, had fuelled that excitement and I have spent the past few years badgering my reluctant sun-worshipping other-half to take a trip to 'the auld country'. Now, as we peer down on the muddy coastline, the rough, rock-strewn countryside and the dark, forbidding charcoal-grey Moray Firth, I ignore his 'I-told-you-sos' as I know he'll soon succumb to Scotland's – let's just say – more subtle charms.
After picking up our hire car we hit the A87. Heading west, the spectacular scenery grows increasingly remote and peaceful. We pass tiny railway stations with one or two cottages scattered along the roadside and lochs with lone fishermen bobbing around in small boats. At times, the road becomes single-track, and as the miles pass I feel the drudge and stress of our everyday lives melt away. Big, open skies and a distant horizon always does that to me. After a couple of hours, we cross the bridge to Skye and pretty soon we're crunching up the granite gravel drive to Kinloch Lodge, our hotel for two nights - two smart, white traditional houses nestling in a corner of Loch na Dal with epic views across the water.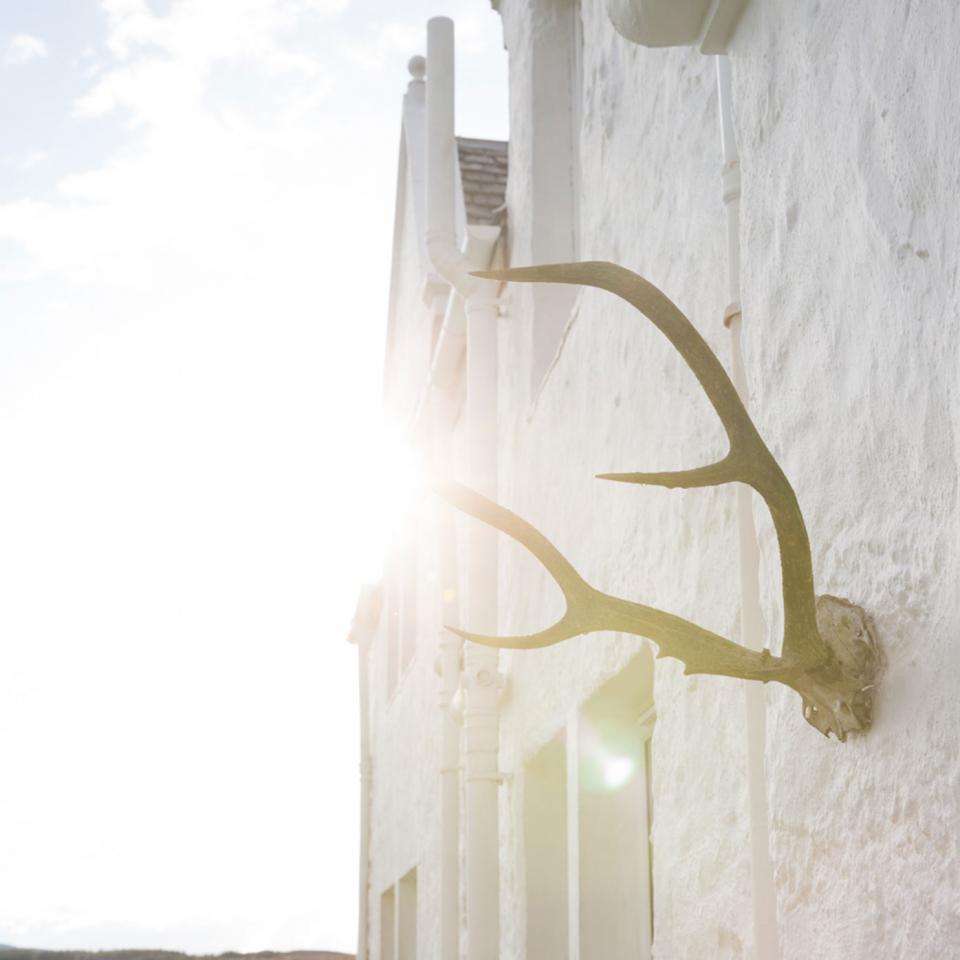 Exterior detail at Kinloch Lodge
We need to stretch our legs and a stroll from the front door to the water's edge takes just minutes. Here, mussel and cockle shells crunch underfoot, while babbling brooks tumble down hillsides through mounds of daffodils, bluebells and primroses. It's the perfect picture of springtime and we savour the silence, drinking in the view of the hills beyond the loch.
How lucky must you be to live here? Luckiest of all are the Macdonald clan who own the hotel; Godfrey, the 34th hereditary Chief, and his wife Claire, the world-renowned cook and food writer. Their stylish, vivacious daughter Isabella runs the place and has introduced the essentials of modern-day life without losing the essence of what makes Kinloch Lodge so special.
Woodsmoke pervades the house and smouldering fires in the bar and drawing room keep guests cosy. There are couples from Japan, families from America, medics from Edinburgh and retired couples from Glasgow. We snuggle down into squidgy sofas, admiring ancestral paintings and artfully arranged porcelain ornaments. Pre-dinner drinks are a must and in the Talisker Bar we browse the menu over a Harris Gin with Fever Tree tonic. The canapés – roasted chunks of sticky butternut squash and a rich beef tartare foam – tell us plenty about chef Marcello Tully's superb skills and bold flavours. We plump for the five - (rather than seven-) course tasting menu with an excellent bottle of Italian Sauvignon Blanc that the friendly Aussie bar staff tell us is Lady Claire's favourite.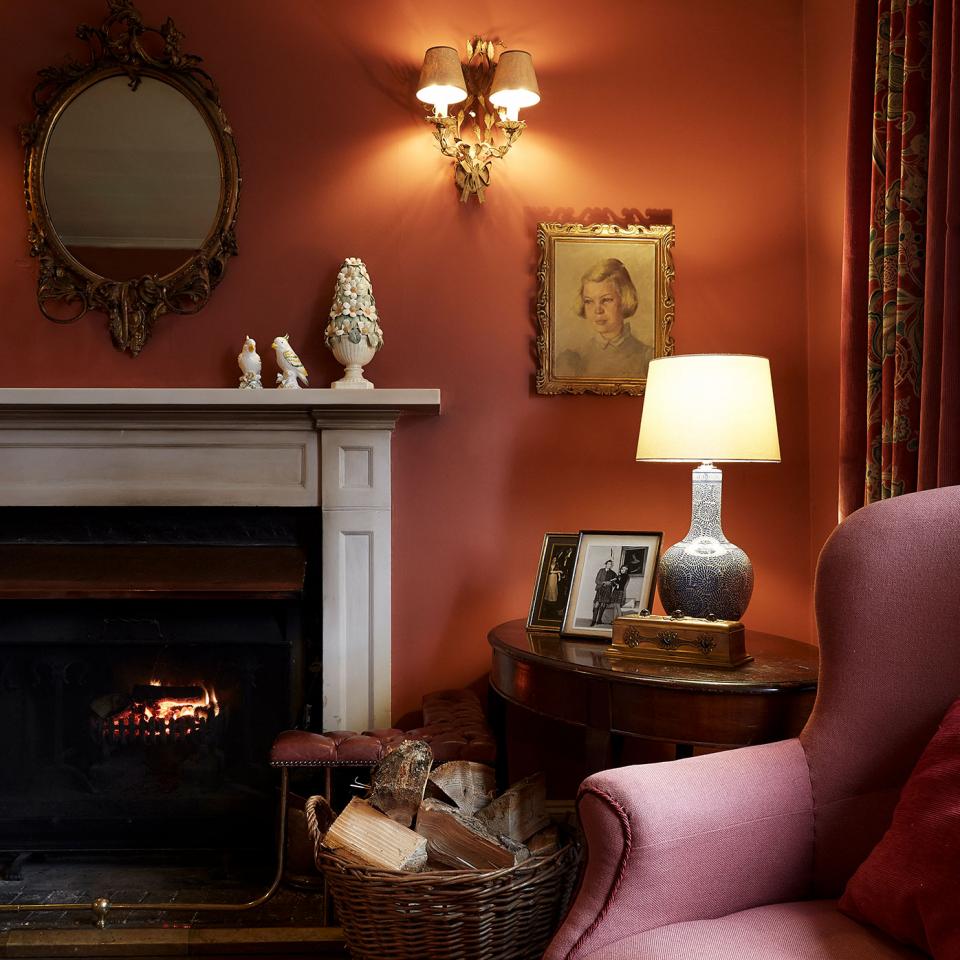 Dinner kicks off with an amuse- bouche of intensely flavoured red pepper and olive soup, followed by poached salmon with dill, cucumber and beetroot. Main courses are cod fillet with Indian spiced onions followed by rare, tender venison (we are in Scotland, after all) with parsnips. After all that, I can only manage a light pudding of passion fruit parfait with yogurt sorbet before a Talisker Skye whisky in the bar with coffee and petit fours.
That night we sleep like babies in our large room in the eaves. Breakfast is buzzing, with cheerful guests chatting about dogs or the weather. There's no buffet here; it's table service and an excellent á la carte menu. I start with a sweet, sticky compote of apricots and prunes with locally produced yogurt, followed by the Kinloch Grill – black pudding, sausage and all the trimmings. But the best bit is the still-warm homemade scones with butter and jam. This sets us up for the day and our planned hike, and we drive off to Glen Brittle passing Carbost and Talisker – home of the famous distillery – on the way.
Driving through the Glen, we pass the famous Fairy Pools with its hordes of visitors and continuing on we reach the charcoal-grey sands of Loch Brittle. We spend some time beachcombing before taking the coastal path around the headland and climbing to a tiny hidden loch. It's magical and spookily quiet. With the looming Black Cuillin mountains behind us, it is like a scene from The Lord of the Rings. Our only company among the gorse, heather and tiny, wild violets hidden in the rocks are sheep, lambs and gulls. We straddle giant stepping stones across tumbling streams, stopping to gaze into shallow pools, before trudging on through boggy moss and ferns – and feel all the better for it.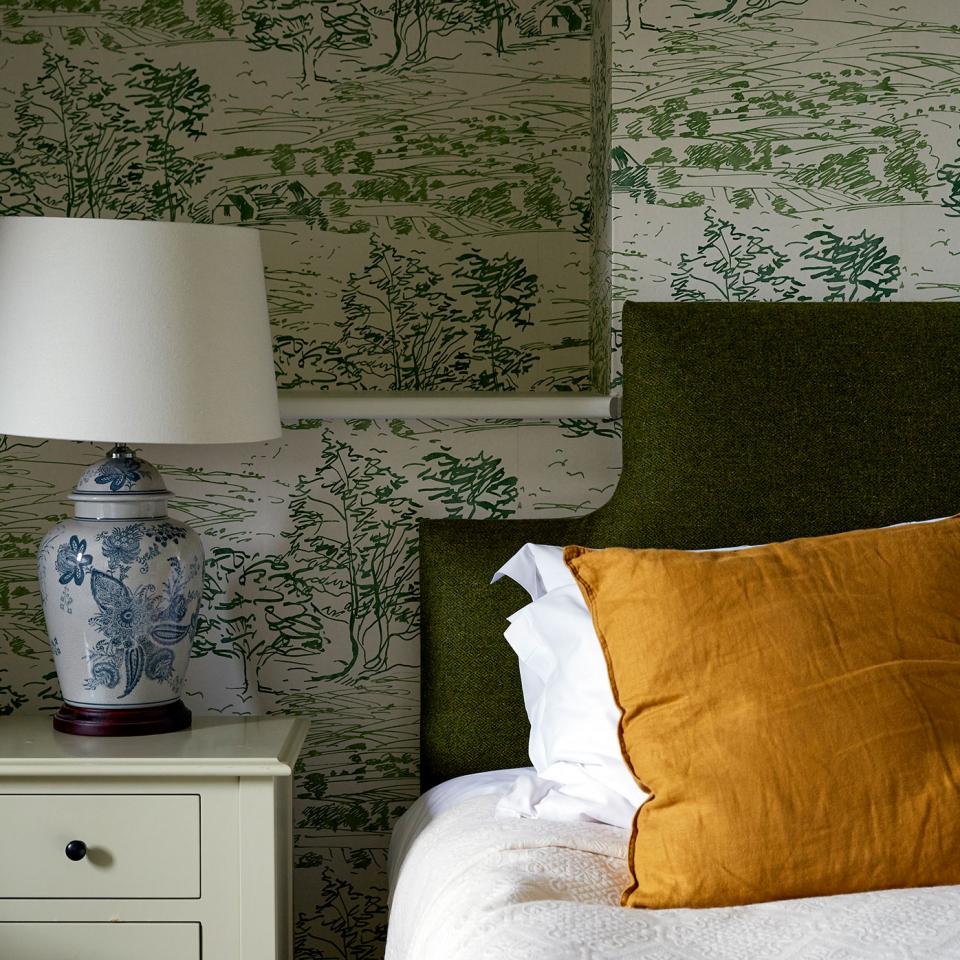 Back at the hotel and two deep, hot baths later, it feels rude not to succumb to another evening of drinks and canapés (this time crab cakes and puffed-up cheesy gougère). The gastronomic delights continued with an amuse-bouche of creamed corn with chorizo and sultanas, followed by the culinary genius of parsnip and Pernod soup and a brilliant seafood starter of smoked mussels and scallops. Other dishes reflected Marcello's Brazilian heritage; a fillet of salmon with mango and lime, and melt-in-the-mouth sticky pork with a passion fruit sauce.
The next day we are meant to leave Skye for the Isle of Harris but overnight the weather has changed and we wake up to belting winds and snow. Confined to the hotel, I take the opportunity for a cookery workshop with Marcello in the busy kitchen. He is a great teacher, down-to-earth and patient. Together we make that evening's soup – cream of sweetcorn, the colour intensified with turmeric – and the canapés: spinach pancakes stuffed with a salmon, brandy and sesame mousse; quenelles of spicy crab and scallop mousse; and chicken and Parma ham onion bhajis.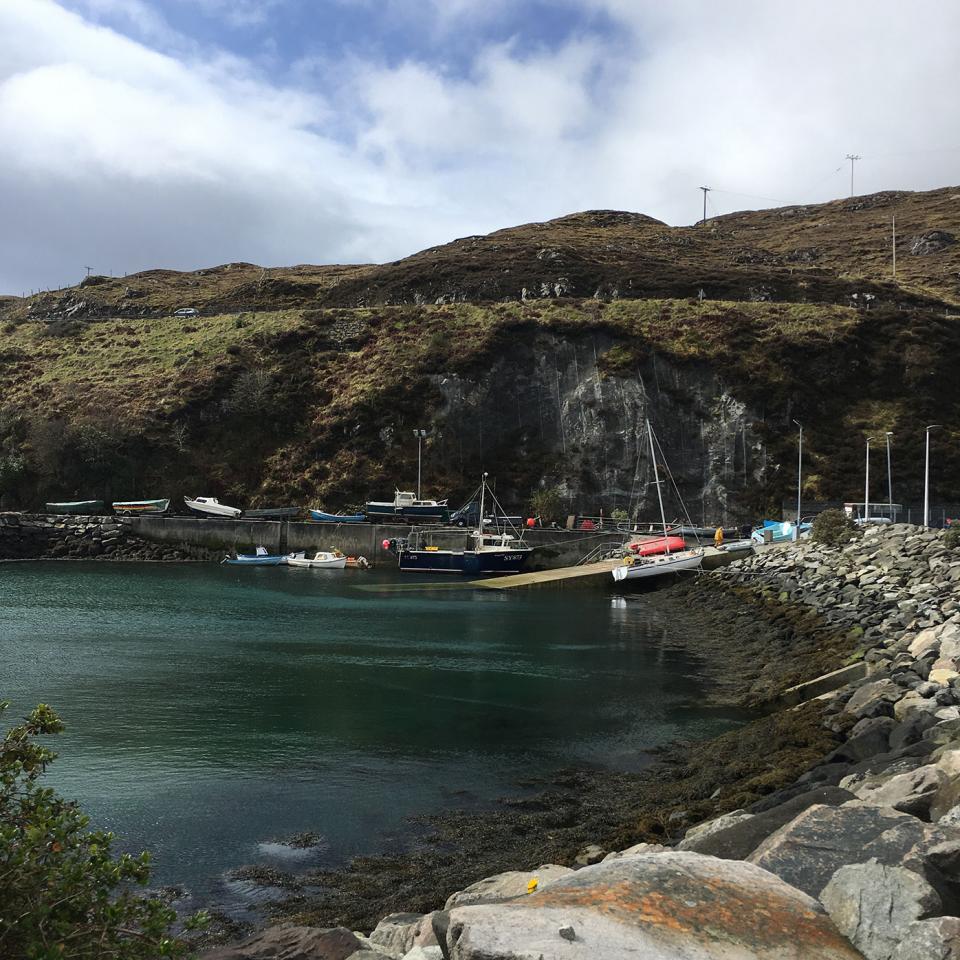 The 'picture postcard' Tarbert
In the afternoon, we manage to stretch our legs around the loch before the snow hits again and that evening we indulge in another of Marcello's epic suppers while sharing tales of weather, storms and ferries with residents, including a young couple from Bath, a German family and an army of French cyclists.
The next morning the sun is back, so we creep out of the hotel at the crack of dawn to catch the first ferry to Harris. We navigate the journey north to Uig and the ferry terminal in ever-changing weather. When we arrive, conditions are calmer and we board the boat to Harris. The onboard cafeteria offers a welcome fry-up and lashings of hot tea, and there's a camaraderie among passengers after finally beating the elements.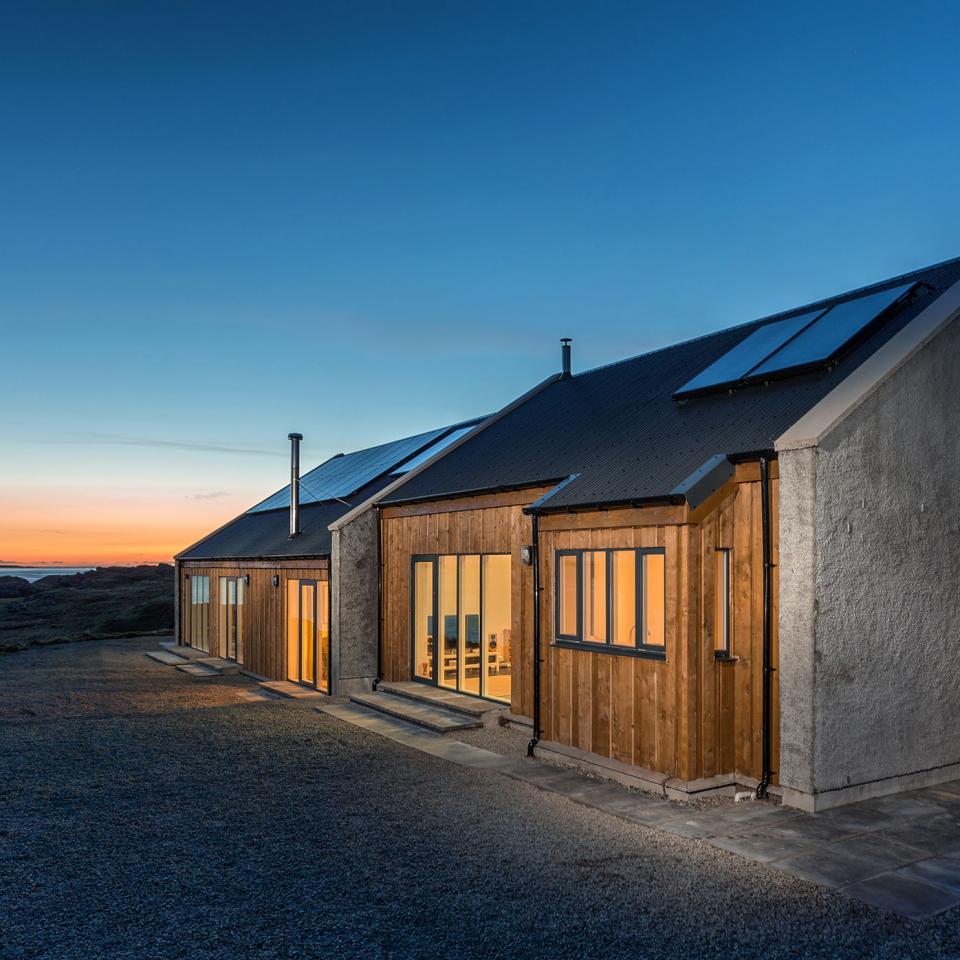 The 'creatively designed' Sound of Harris holiday home
The ferry docks in the picture- postcard village of Tarbert. On the road, we pass dramatic dunes of golden sand, holiday cottages perched on hills, crofts and millions of sheep before dropping in at the small island supermarket to stock up for our self-catering stay at Sound of Harris. Beautifully positioned at the edge of a hamlet overlooking the sea, this is a dramatic, creatively designed holiday home by style enthusiasts Rob English and Carol Graham. The attention to detail is magnificent. Curtains and home furnishings in locally produced Harris Tweed, a mid-century furniture collection London auction houses would die for and wallpaper samples designed by Rob's father in the Sixties, framed like the design icons they are.
Originally from Manchester, Rob was inspired to come to Harris on holiday after picking up a book on British beaches in a reduced bin in a closing-down bookshop. The images of spectacular Luskentyre beach were so jaw-dropping he brought Carol for a break, they fell in love with the island and the rest is history.
Here, you feel as though you are at the edge of the world. Swishing back the mustard Harris Tweed curtains in the morning, you can never be sure what will await you – one day we had four seasons of weather in eight hours. A morning spent on Seilebost beach could have been spring in the Mediterranean, with its white sand, glittering blue water and the sun high in the sky. It's regularly voted one of the top 10 beaches in the world and it's simply magnificent. Apart from a couple of dog-walkers, we have the place to ourselves. As we walk back to the car, the weather takes a turn for the worse, with lashing rain and blustery winds. By the time we get back to the house, we have to dash in while being pelted with hail stones. Never mind. No better reason to snuggle up in front of the giant TV with every digital channel you can imagine, a luscious glass of red and a takeaway delivered by Croft 36.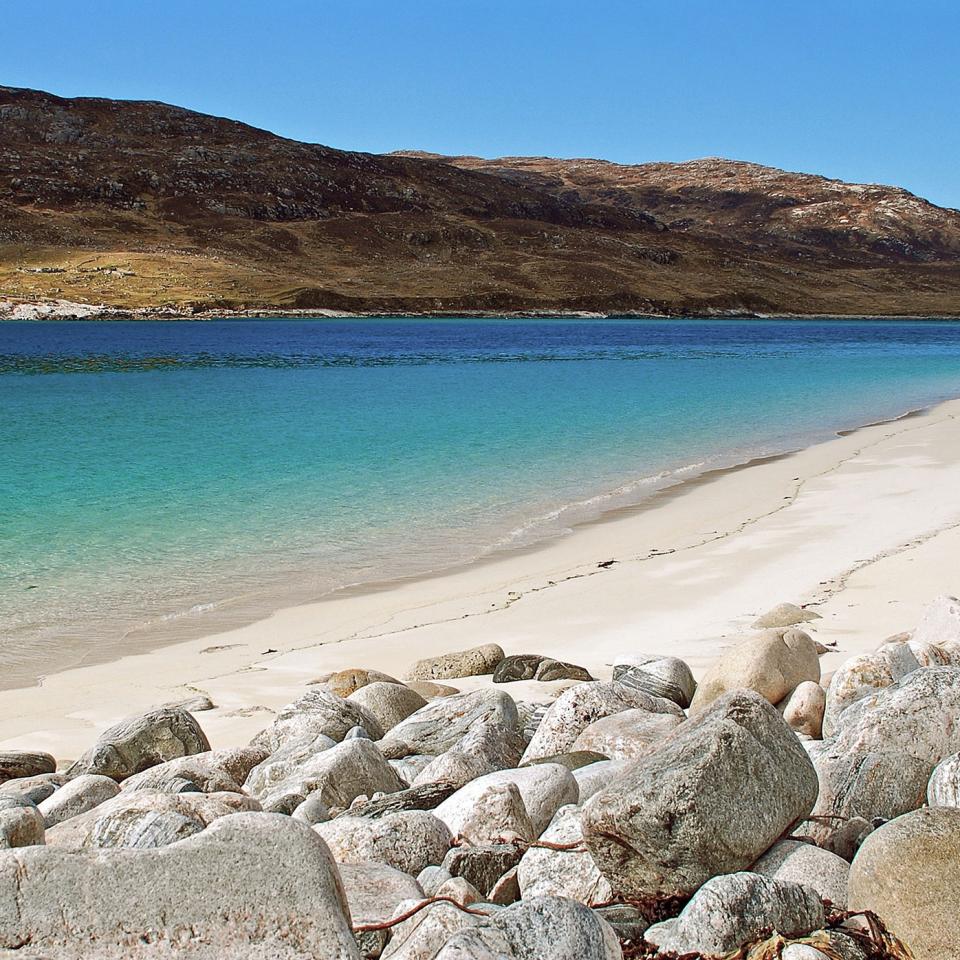 One of the 'spectacular' beaches
There are plenty of options for hiking from our door but not to be missed is the walk over fields to the hamlet of Rodel and its ancient St Clement's Church. With only a few derelict crofts and functioning farms nearby, the church is a history buff's delight. Hewn from local gneiss rock, it's a peaceful, spiritual place with biblical carvings and a number of MacLeod tombs, the clan for whom the church was built.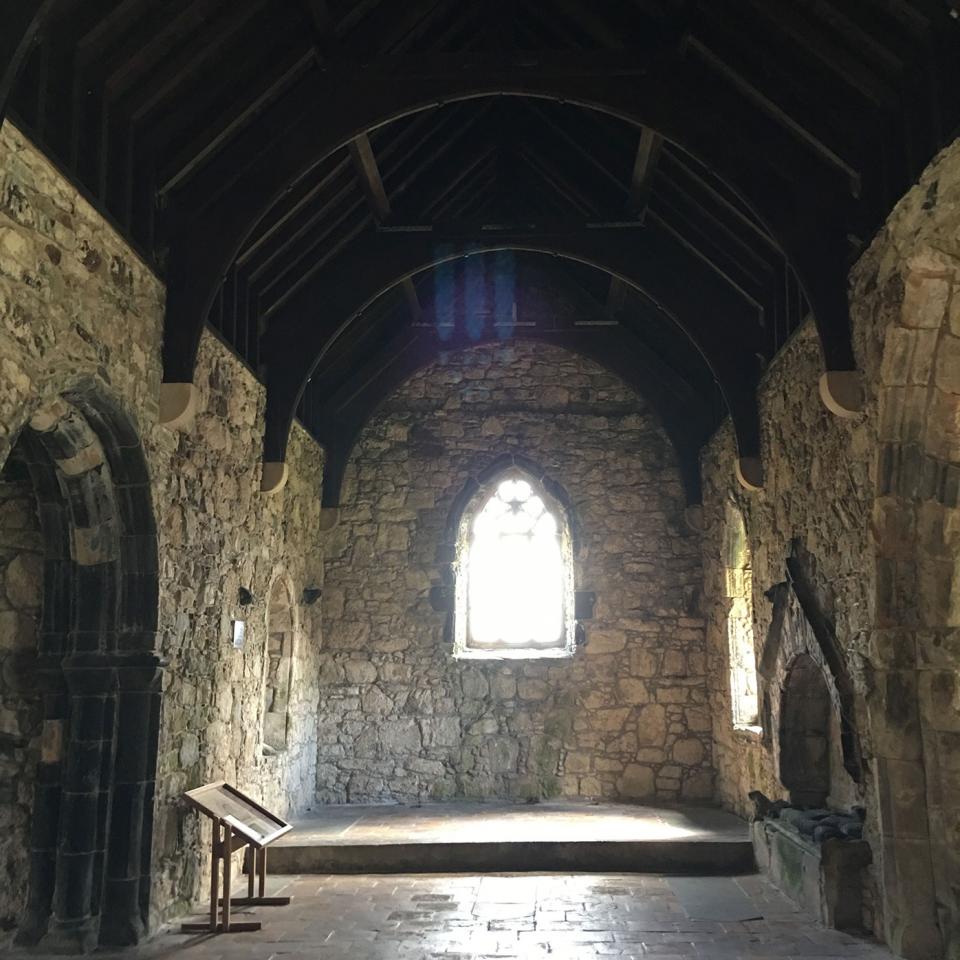 Ancient St Clement's Church on the Isle of Harris
Leaving Harris is a wrench, and we drive back to Tarbert for our ferry crossing back to Skye with looming dark clouds reflecting our mood. However, a quick browse of the souvenir shops to buy Stag Stornoway Seaweed Water biscuits, home-made fudge and Harris Tweed purses lifts our spirits before a trip around the Isle of Harris gin distillery – an iconic temple of industrial design and where we stock up on several of the beautiful spiral bottles.
Our last night on Skye is spent at Skeabost Hotel, the only one on the island with its own golf course, by the fast-flowing River Snizort and with views out to sea. The area is steeped in history – there has been some kind of dwelling in this spot since Viking times. We explore the grounds and beyond, where mid-river we discover tiny St Columba's Isle, an ancient burial ground and the original site of the Island's cathedral from 1079-1498. More walking brings us to the similarly ancient Clach Ard, a carved stone standing nearly 1.5metres. Carved by the Picts, a confederation of tribes that fought together against the Romans in the 1st century, it's an eerie yet rather beautiful site and increases the dark, dramatic romanticism that floods the landscape. Back at the hotel we take an early dinner and enjoyed delicious and beautifully presented plates of crab salad, langoustines, roast chicken with lentils and a yummy seafood risotto.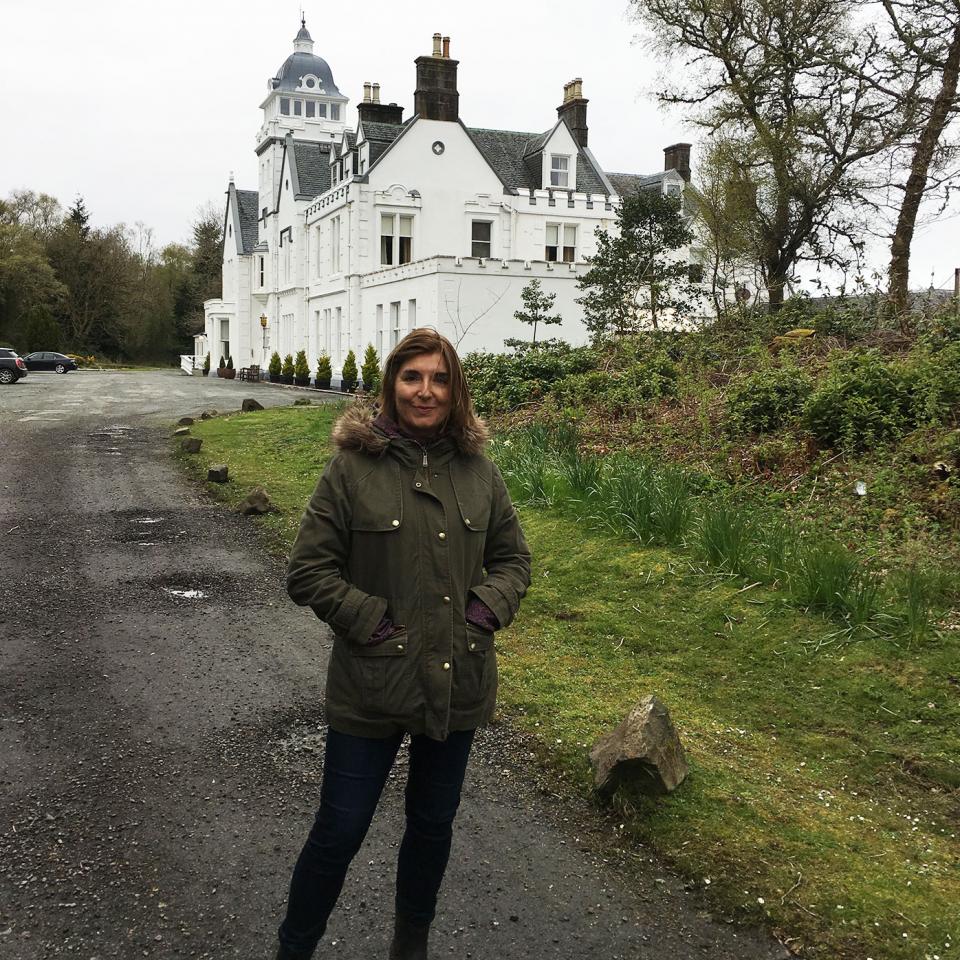 Helena in front of the Skeabost hotel, which is set in an area 'steeped in history'
The next day we hit the road to Inverness but not without stopping off at The Handspinner Having Fun in Broadford. Here, Yorkshire-born knitter Bev sells her gorgeous, modern-looking chunky knits using local yarns. My husband was pleased with his new sweater, but even he has to admit our purchases are just the icing on a big beautiful cake. He, like me, has fallen in love with this wild, wonderful part of the world and this time it was my turn to say 'I told you so'.
Getting there
EasyJet flights from London Gatwick to Inverness start at £69.26.
Kinloch Lodge, April to October, from £190 per person for dinner, bed and breakfast.
Skeabost from £109 per person for B&B or from £154 per person for dinner, bed and breakfast.
A three-night stay at Sound of Harris is £756 in The Big House and £538 in The Other House. Both sleep two.
About the author