Travel
Road show: a whirlwind tour of Chicago and Lake Michigan
by Lisa Harris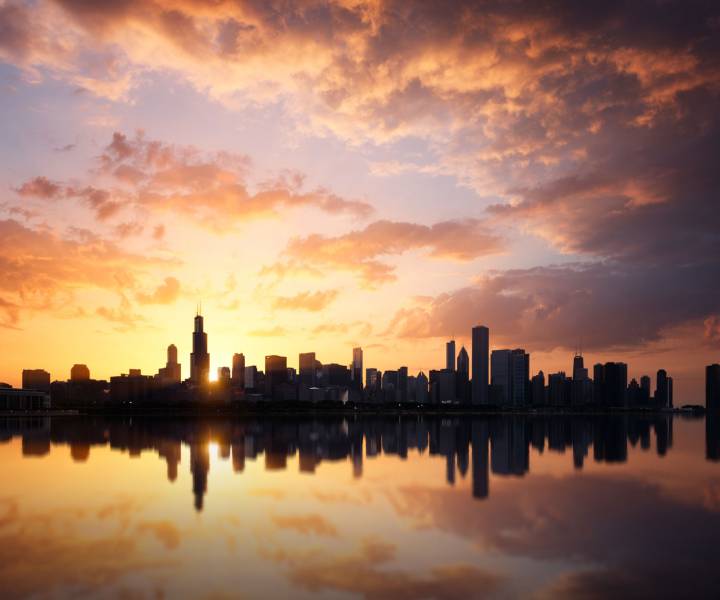 The famous Chicago skyline. Image: Alamy
If you want to see as much as possible in a short space of time – without having to get behind the wheel yourself – the answer is to go on an organised trip. Lisa Harris clocks up 780 miles on her whirlwind tour of Chicago, and around Lake Michigan, to see just how exciting this type of holiday can be...
When you throw a load of strangers into a luxury minibus, it's surprising how quickly they become friends. We were eight like-minded travellers on a trip around Lake Michigan in the US, with our personal driver and tour guide taking care of every detail, including hotels, tickets to excursions and unexpected pit stops along the way.
This trip – with American Experiences – saw us travel 780 miles around the great lake, stopping at Chicago, Traverse City, Mackinac Island and Milwaukee, with an emphasis on the food and brewing history of the area. On previous US holidays, I've been lured by the Californian sunshine or spent dizzying nights in New York – but I've rarely stopped in the Midwest. I was curious about the blues music, lakeside vacation culture, and rolling cornfields that have inspired so many artists from the region.
Our group covered all ages from 30- to 70-year-olds, including two friends who'd escaped their husbands for a girls' holiday, a young couple, and a charming mother and daughter who had set themselves the challenge of visiting every US state on their annual summer holidays. We crossed the states of Michigan, Illinois, Wisconsin and Indiana around and across the lake – so they were thrilled to collect pin badges and fridge magnets for their collection. I loved the combination of structure and spare time: logistics were taken care of and I had friends to share dinner with, but there was also time to myself. If you prefer striking out on your own and not following a routine, this kind of organised trip might not be for you. But, if you want to see as much as possible in a short space of time (without ever getting behind the wheel of a car), then you're in luck.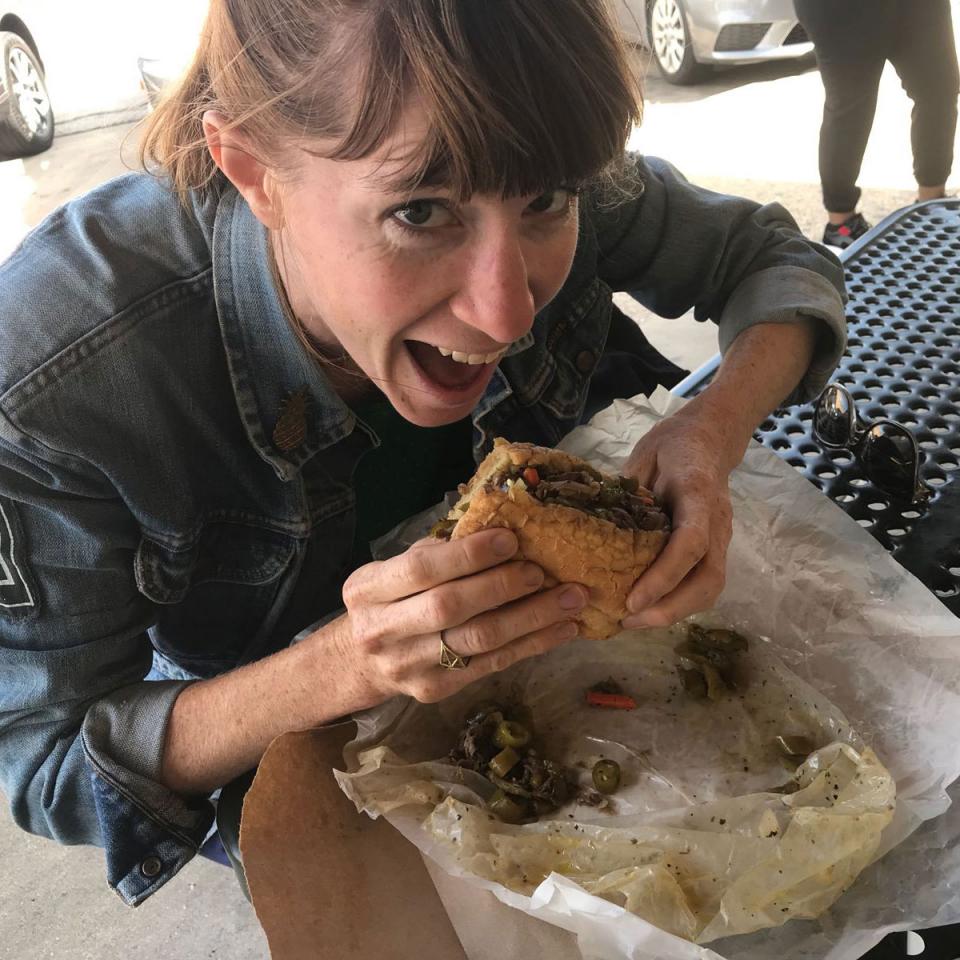 Lisa tucks into a salt beef sandwich in Chicago
DAY 1: NEW FRIENDS DAY
I was bleary-eyed after my late flight into Chicago, but the sparkle of Palmer House Hilton hotel lobby soon woke me up. Under the 24-carat gold chandeliers and gold leaf ceiling, I met my travel companions for the first time and we shared excitement and punchy whiskey cocktails in the glamorous Empire Room hotel bar. Our trusty driver, Frank, had a dry sense of humour, crisply ironed slacks, and limitless general knowledge about our destinations, which meant he quickly picked up legendary status with the group.
DAY 2: THE GANGSTER AND BLUES DAY
8am is never an easy start to a holiday (especially with a light coating of Chicago drizzle) but I soon forgot the alarm clock blues as I stood in the middle of the Chicago River on our architectural- themed riverboat tour. I had a crook in my neck from gawping up at so many incredible structures, including the Willis Tower (the world's tallest building for 24 years) and the Gothic-inspired Chicago Tribune Tower, which is one of the city's prettiest. Chicago is a city for architecture buffs – even the river is a feat of engineering, as the water flow was reversed to save the city from a sewage crisis in 1900. That afternoon, half the group took a guided tour around Al Capone's favourite gangster drinking dens, while others found retail therapy in the 'Magnificent Mile' shopping district. I visited the Art Institute for a fascinating photo exhibition on the history of Chicago, and came across a free jazz concert in Millennium Park on my way back to the hotel. The tour group reunited that evening at Kingston Mines, one of the city's most famous blues bars. We got sticky fingers feasting on barbecue ribs and Louisiana catfish, and then got stuck into the dance floor as the live band let rip some of the most heartfelt blues music I've ever heard.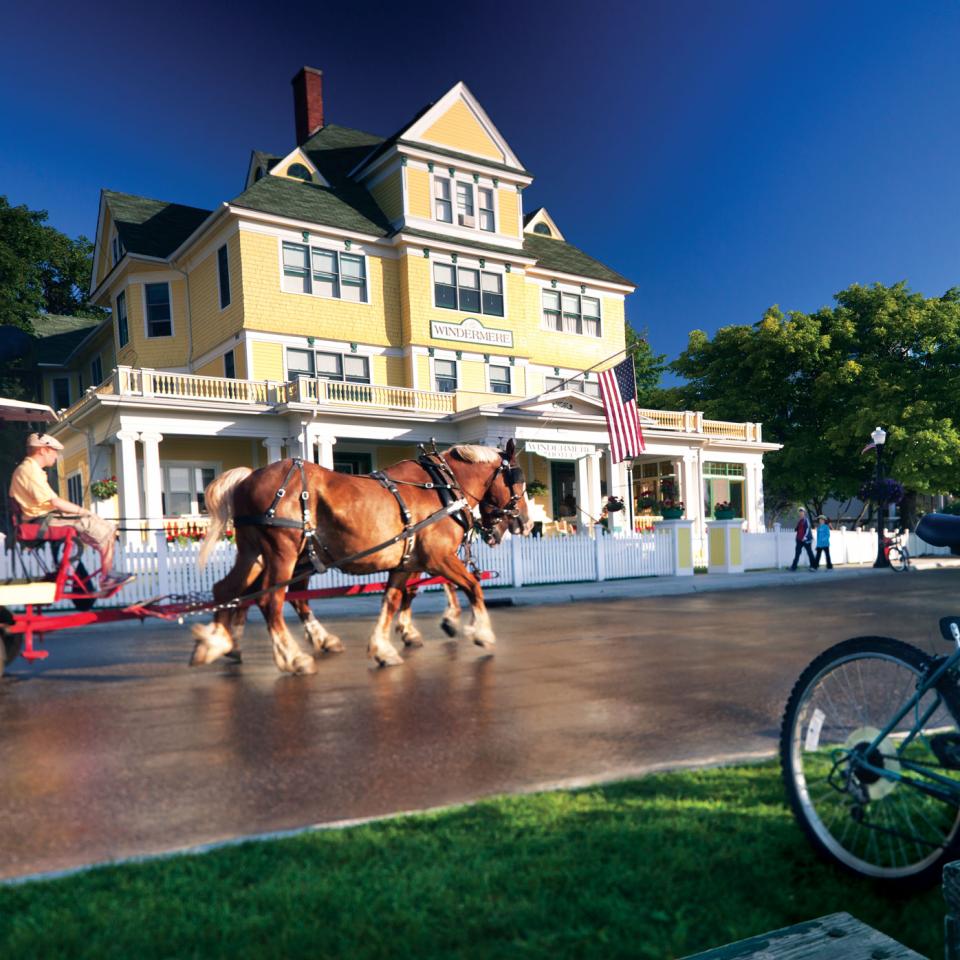 The 'quaint streets' on Mackinac island
DAY 3: ON THE ROAD DAY
A 300-mile road trip was the perfect time to catch up on sleep after a late night. From Chicago we travelled north, stopping for lunch at the quaint town of Holland (famous for tulips in spring), and ended up at Traverse City, wrapped elegantly around the north east of Lake Michigan. A cool glass of late-harvest Riesling rounded off the day at Black Star Farms winery, where we were guided through a flight of local wines, and soaked up the evening sunshine on the terrace.
DAY 4: STEP-BACK-IN- TIME DAY
Today we played transportation bingo, getting around by minibus, ferry, horse and cart, and bicycle. We drove to Mackinaw City and took the ferry to historic Mackinac Island. (To make things confusing, both Mackinaw and Mackinac are pronounced Mac-in-awe. So don't book a hotel in the wrong place!) Cars are prohibited on Mackinac Island, so four legs or two wheels are the only way to get about. Our Lake View Hotel was on the main drag, which reminded me of quaint streets in Clovelly, Devon, complete with fudge shops, antiquated shop fronts, and lots of tourists. Dinner was followed by live music in a bar with even more lively locals, possibly fuelled by the 50 craft beers on tap. There are only a handful of bars on the island, so it feels like a small town where 'everybody knows your name'. We were tempted to try our luck at America's oldest duckpin bowling alley at Wood's restaurant nearby, but opted for an early night ready for biking adventures tomorrow.
DAY 5-6: LET'S GO EXPLORING DAYS
I was relieved to take a break from travelling – having a private driver makes covering the distance less laborious, but nothing beats unpacking your knickers and settling into a hotel. We hired bikes and cruised along the paved road circling the island, before huffing and puffing our way up the forest trails criss-crossing the interior. Fort Holmes was our breathtaking reward at the highest point; built by the British during the War of 1812, it protected the island against anticipated attack and now provides uninterrupted views across Lake Huron and Lake Michigan for tourists. The horizon was so far off I had to keep reminding myself this was in fact a lake, and not a sea. That evening, we brushed off the cycling grit and put on our finest (least suitcase-crumpled) outfit to visit the Grand Hotel. Built in 1887, the hotel is the grande dame of Mackinac Island; there's an air of faded splendour to the decor, with a strict dress code, ballroom dancing, and a pianist tinkling jazz standards in the Cupola cocktail bar. The world's longest porch wraps around the hotel, where elderly guests watch the sunset from rocking chairs. It was worth a visit, but we couldn't help feeling the beery local's bar was more fun.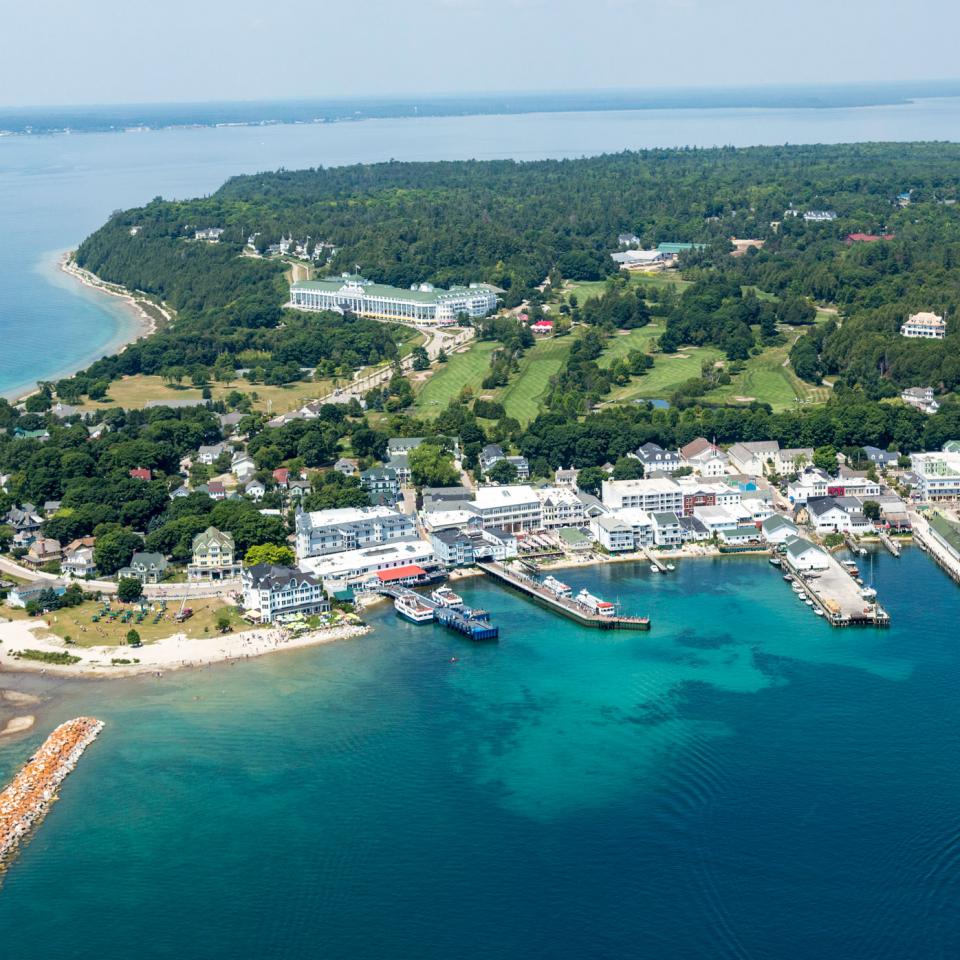 Mackinac island harbour
DAY 7: ON THE ROAD AGAIN
A ready supply of wheat, lake water and ice, combined with a long history of German settlers, helped position Lake Michigan as one of the country's most renowned beer producers. The smell of hops followed us along the route, but it was overwhelming by the time we stepped off the ferry in Milwaukee.
DAY 8: MILWAUKEE
I wasn't keen on Milwaukee at first: it felt like a smaller Chicago, without the charm. An afternoon with Mike from Untapped Tours changed my mind: he revealed graffiti artists, historical houses and an impressive art museum, and took us to Lakefront Brewery with artisan beer on tap. You haven't been to Milwaukee until you've been to the Harley-Davidson Museum. We'd just missed the 115th annual Labor Day rally, when 150,000 riders roared through the city, but at the museum we rode a real Harley and saw every bike ever made, including Elvis Presley's wheels and a 13ft 'King Kong' tandem.
DAY 9: NEARLY HOME TIME
We swung back to Chicago airport via Oak Park on the outskirts of the city. Resident architect Frank Lloyd Wright built his studio and family home here in 1889. I took inspiration for my home decor Pinterest board from Lloyd Wright's minimalist wooden interiors and stark geometric designs – but I can only dream of making a grand piano float above my staircase like him. As the group hugged goodbye on the last day, I savoured the memories of a successful holiday that was much like a good Midwest beer – refreshing, simple and all too short.
How to book:
For more on the American Experiences Great Lakes Explorer tour, visit americanexperiences.com. Trailfinders offers the seven-night Great Lakes Explorer holiday package from £2,799 per person. This includes direct return flights from London Heathrow to Chicago with British Airways, an experienced guide throughout, excursions and seven nights' three- to four-star accommodation. Price based on two adults sharing, travelling on 24 May 2019. For full details and information on the excursions included, visit trailfinders.com.
Don`t miss

---