Travel
In Love, in Jamaica
by Mitzie Wilson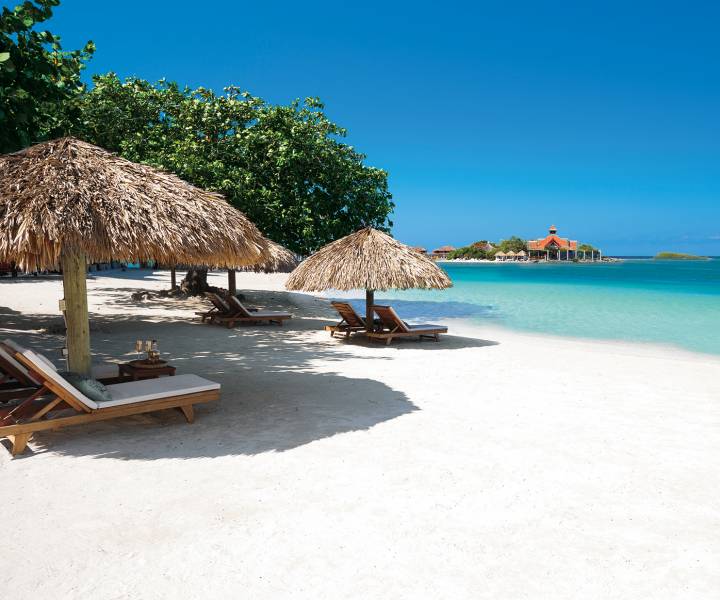 Sandals Royal Caribbean beach
If you're looking for romance, there's nowhere better than an all-inclusive resort in Jamaica, where Mitzie Wilson also found she left a piece of her heart by giving back to the community.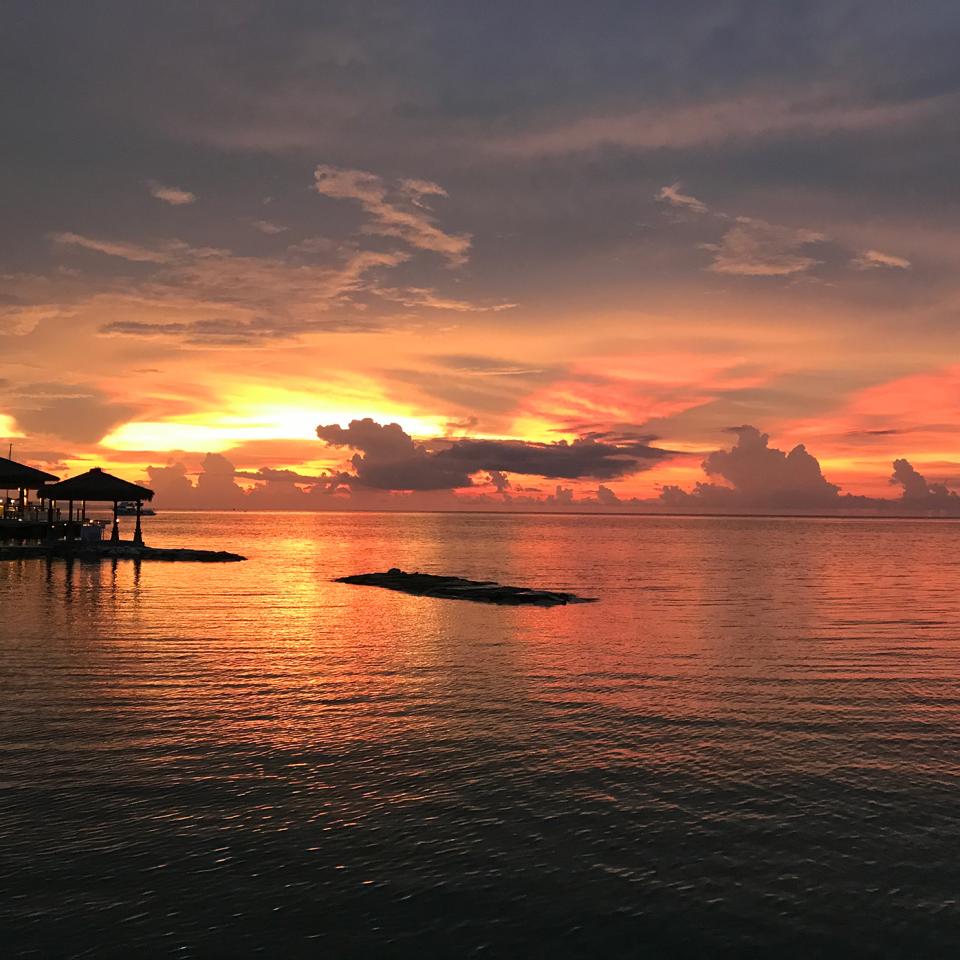 Sunset over Montego Bay
Within seconds of arriving at Sandals Montego Bay I was I love – with the sunset. Watching the pink, blue and lilac sky turning red, orange and gold over Jamaica's largest exclusive pristine white sand beach is a memory I will never forget. It was the most romantic setting imaginable and, as the sky turned jet black, the glowing lights and fire pits along the seafront, and the fairy tale glow from the wedding chapel at the end of the pier, just increased the magical feeling.
As the sun disappeared I was taken to my first floor room for another mind-blowing moment. Newly restored, my suite revealed the biggest bed I'd ever seen, a beautiful lounge area and unbelievably, a tranquillity bathtub on the balcony overlooking the sea. Below me I could spy beach-front rooms with sun loungers sunk into their swim-up pool patios, and there was no doubting this was going to be one of the most fabulous holidays for couples imaginable.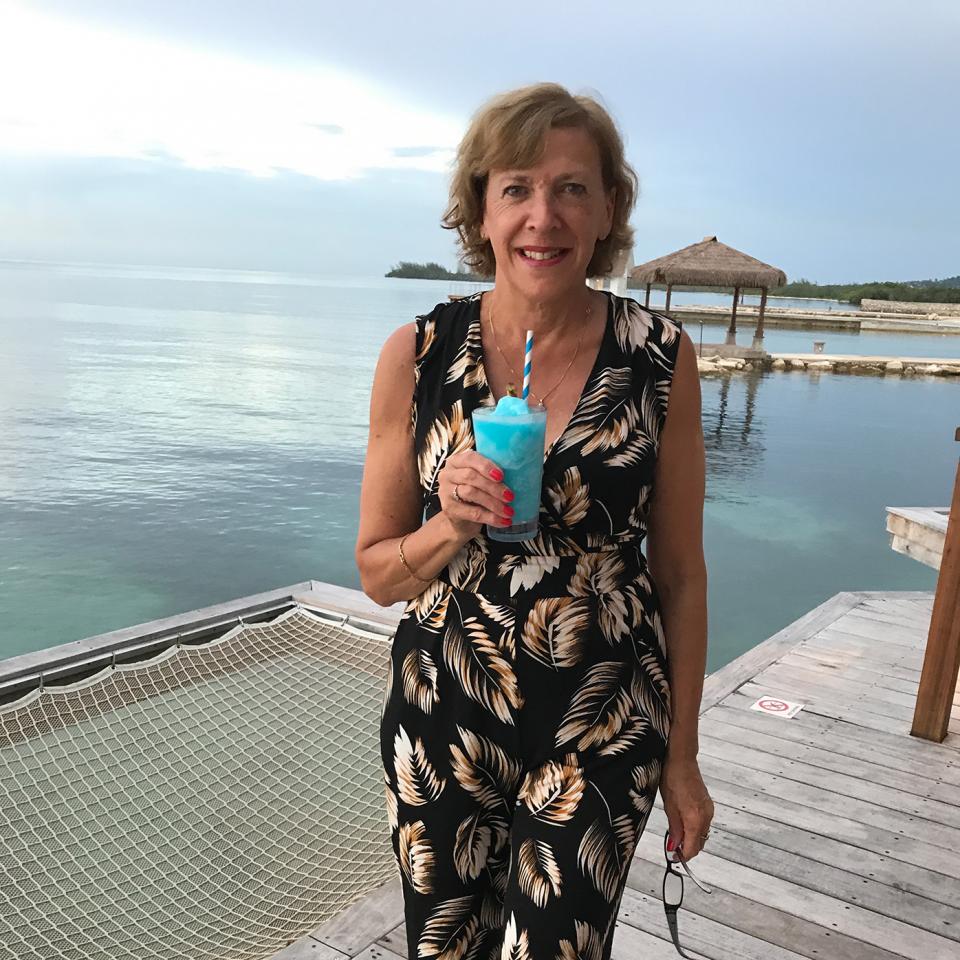 Mitzie on the beach
Before breakfast the next morning there was time for my first dip into the crystal-clear turquoise sea where I was surrounded by pretty little fish as I swam around the rocks on the pier. The smoothest Blue Mountain coffee hit the spot at breakfast and Caribbean specialities such as coconut-fried French toast, callaloo (a healthy green veg), boiled yam and dumpling were available at the breakfast buffet each day along with the usual continental and traditional British fare.
This is a five-star gourmet resort with 12 restaurants – everything from Stew Fish, where we ate authentic seafood right on the beach, to the popular Jerk Shack serving jerk chicken and pork, dense festival bread and baked sweet potatoes, Butch's Steak and Seafood bar (for the best surf and turf steak and lobster combo) and Soy –where we sampled some exceptional sushi. And if you're worried about getting restless at one resort, many guests choose to 'Stay at One, play at Two' – with free transfers between the three Sandals resorts on the island, including the neighbouring Royal Caribbean Resort where I sampled delicious poulet Cordon Bleu from the French-style restaurant, sautéed island shrimps with Scotch bonnet and thyme-infused coconut sauce in Eleanor's Caribbean restaurant and incredibly good pad Thai and beef massaman curry at the Royal Thai restaurant nestled on the private island just across the bay where you can gaze longingly at the stunning over-water suites.
Tempting though it is to just prostrate yourself on a sunlounger all day in the 30 degree heat, I wanted to burn off some of those calories so made use of the free water sports by kayaking out in search of Nemo. I had better success and found him when I donned a scuba mask and dived down to the coral to find sea urchins, trumpet and angel fish. There's also paddle boarding, Hobie Cat sailing, beach volleyball and a programme of daytime and evening events to keep guests entertained, as well as a luxurious spa and air-conditioned gym. It's very easy to get cocooned here in the lap of luxury, but outside of the resort it's obvious that Jamaicans rely heavily on tourism and the standard of living for many isn't great.
Sandals Resorts are the second-largest employer in the Caribbean and for 10 years have run a charitable foundation to benefit the region. Its main focus is on education (helping to provide materials, desks, computers and new technology for schools), youth empowerment and skills training (encouraging handicrafts that can be sold in the resort shops) and community projects, such as creating safe spaces for women to gather and grow and environmental projects – one of which is to install and monitor coral nurseries.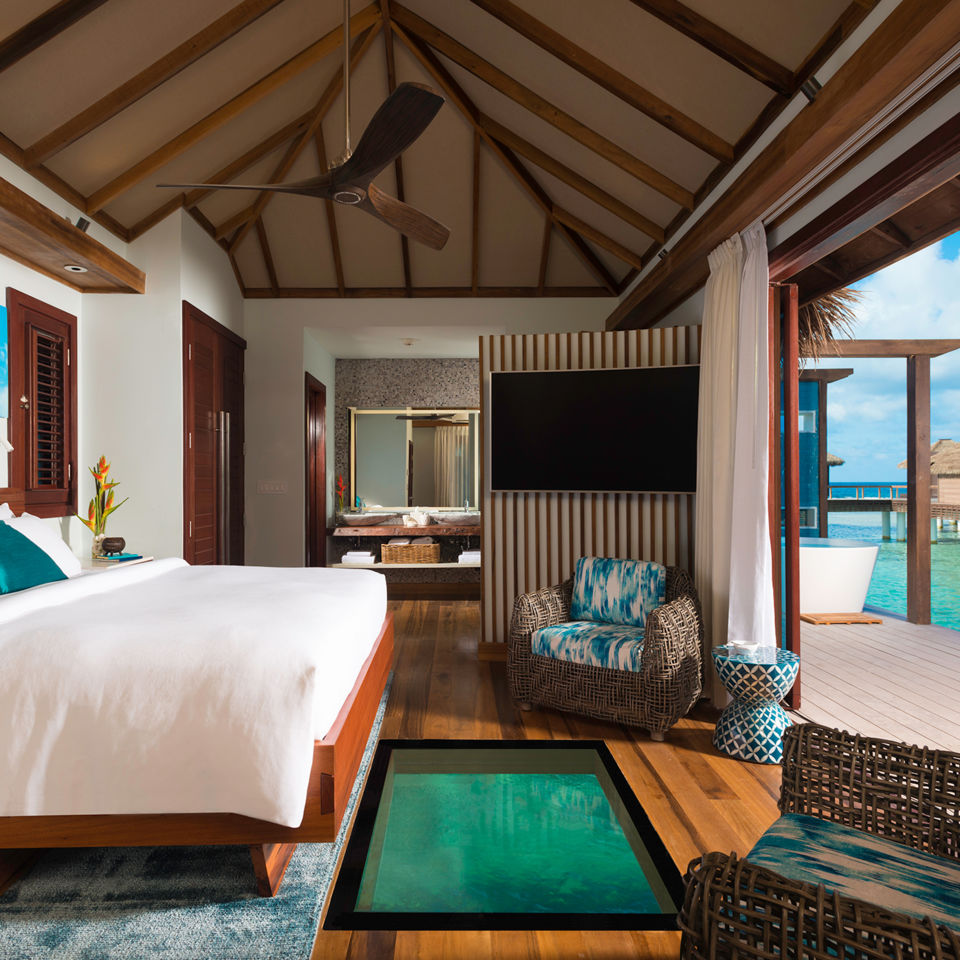 A double room overlooking the water
Like myself, guests enjoy being able to do a bit of volun-tourism and we joined a Reading Road Trip, visiting a local primary school to help read to the children. I'd been told to 'pack with a purpose' and my pencils, story books and school supplies were joyfully received by the most excited five- to seven-year-olds. After hugs and tears, I felt I had left a little piece of my heart with them. We also visited a dilapidated playground – about to be restored by the foundation to a smart new basket ball and sports area for the local teenagers and spent an hour doing an organized beach clean up with staff from many of the resorts. It's clear that the Foundation is incredibly passionate about giving back to the community.
The icing on the cake was being fortunate enough to be able to take part in a turtle hatching experience. The Oracabessa Bay Sea Turtle Project (set up by a retired head teacher from Birmingham) has helped protect nests and has an excellent success rate in hatching baby turtles on beaches in Jamaica.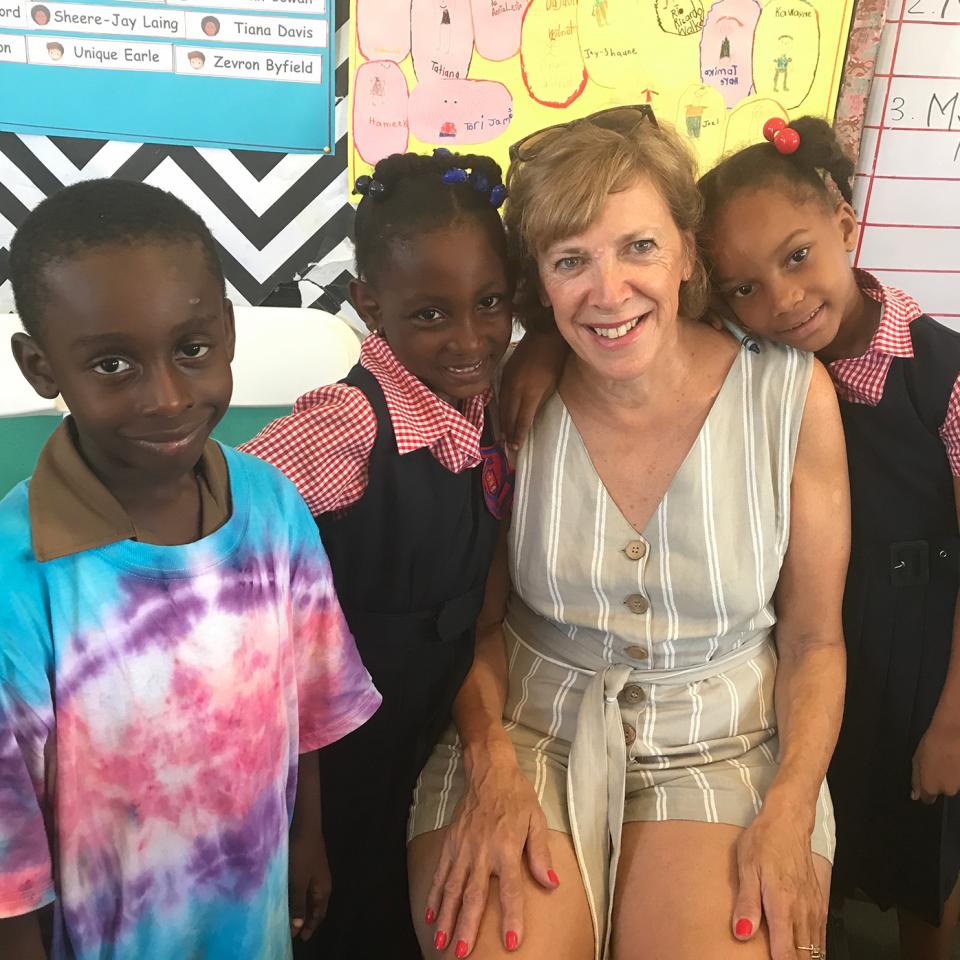 Mitzie and local children as part of the Reading Road Trip
Jamaica is a magical island and it's no wonder couples come to Sandals' resorts to get away from it all or to get hitched, as the settings are just so beautifully romantic. I watched (from a distance) a second marriage and renewal of vows both at Montego Bay and also at Sandals Ochi Beach – a resort at the other end of the island in a secluded Garden of Eden with umbrella-decked pools and beach coves, and a fun Speakeasy bar for a wonderful evening of cocktails and jazz. This is the kind of holiday that dreams are made of – and it's nice to know that, when you're enjoying one, you are also going some way to help the local people realise their family's dreams too.
Getting there
Seven nights in Jamaica, including scheduled Virgin Atlantic flights from London Gatwick direct to Montego Bay Jamaica Airport, all-inclusive accommodation at Sandals Montego Bay with airport transfers included costs from £2,139 per person based on two adults travelling and sharing a Caribbean Deluxe Room. Price is based on departure on 29 September 2020. For more information visit sandals.co.uk and virginholidays.co.uk.
Don`t miss

---