Travel
Travel review: Hotel AMANO, London
by Lorna Parkes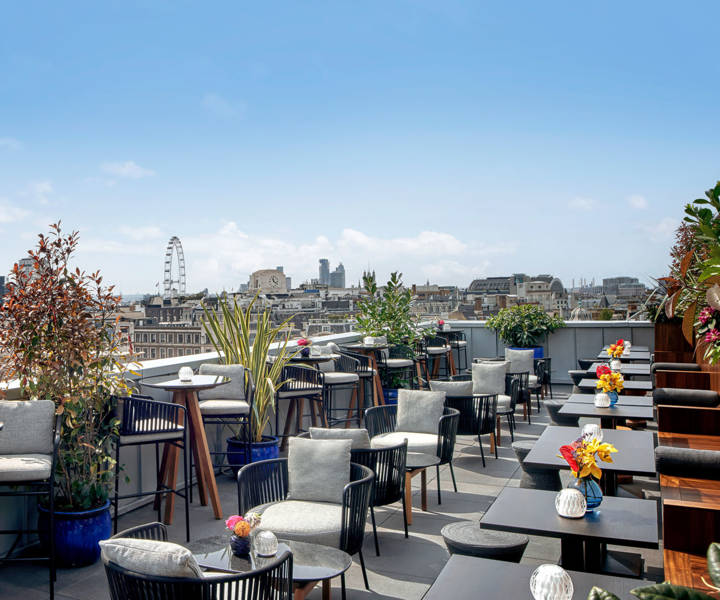 The hotel's rooftop terrace bar
On a theatre break in London's West End, Lorna tries a new Berlin hotel import with a playful spirit, ethical suppliers and surprising food
Am I brave enough to get in that tub? That's my first thought as I'm introduced to the bathroom in Hotel AMANO's 'goldy' room – so named because of the gleaming brass, freestanding bath that is its signature feature. Directly in front of the tub are floor-to-ceiling windows from which I can see the back of Theatre Royal Drury Lane in central London's theatreland, along with a neon-lit portrait advertising The Woman in Black at the Fortune Theatre next door. The set-up feels a bit voyeuristic, but the bath is so deep that once you're in you could whip back the curtains (yes, there are curtains) and observe the theatre goings-on without flashing any flesh. I decide I'll think about it.
This playful aspect is a theme at Hotel AMANO, the first UK opening for a Berlin-based group with hotels known for a party atmosphere. Wild DJ nights, table dancing and even food throwing are standard in the German branches, but the hotel management in London tells me that they suspect this Covent Garden outpost will be more chilled. Its West End location makes it the perfect spot for theatre breaks and my trip has been coordinated around tickets to see Moulin Rouge, a 15-minute walk away in Piccadilly, with my mum.
Fusion cuisine in the hotel's restaurant
The rooms themselves are a good mix of comfort and aesthetics, with a cool stone palette given a luxurious edge by dark-wood accents, brass fittings and design-led lighting that, not unusually for a hotel, I struggle to find switches for. There is a noticeable absence of single-use plastics, and spring water comes in recyclable cans – the group has thought hard about the suppliers it works with, choosing local or ethical in many cases. Another nice touch is an in-room tablet, through which I can plan a personalised running route, book breakfast, call reception and check out.
To help guests make the most of the area, there are guidebooks from Hoxton Mini Press on topics such as London's vegan restaurants, independent shops and architecture. As a born-and-raised Londoner (who now lives in Yorkshire), I can confidently say Covent Garden is one of the best locations in the capital. Somerset House, Chinatown and the Thames are all within easy reach, and Long Acre and Garrick Street offer a far more laidback shopping experience than Oxford Street.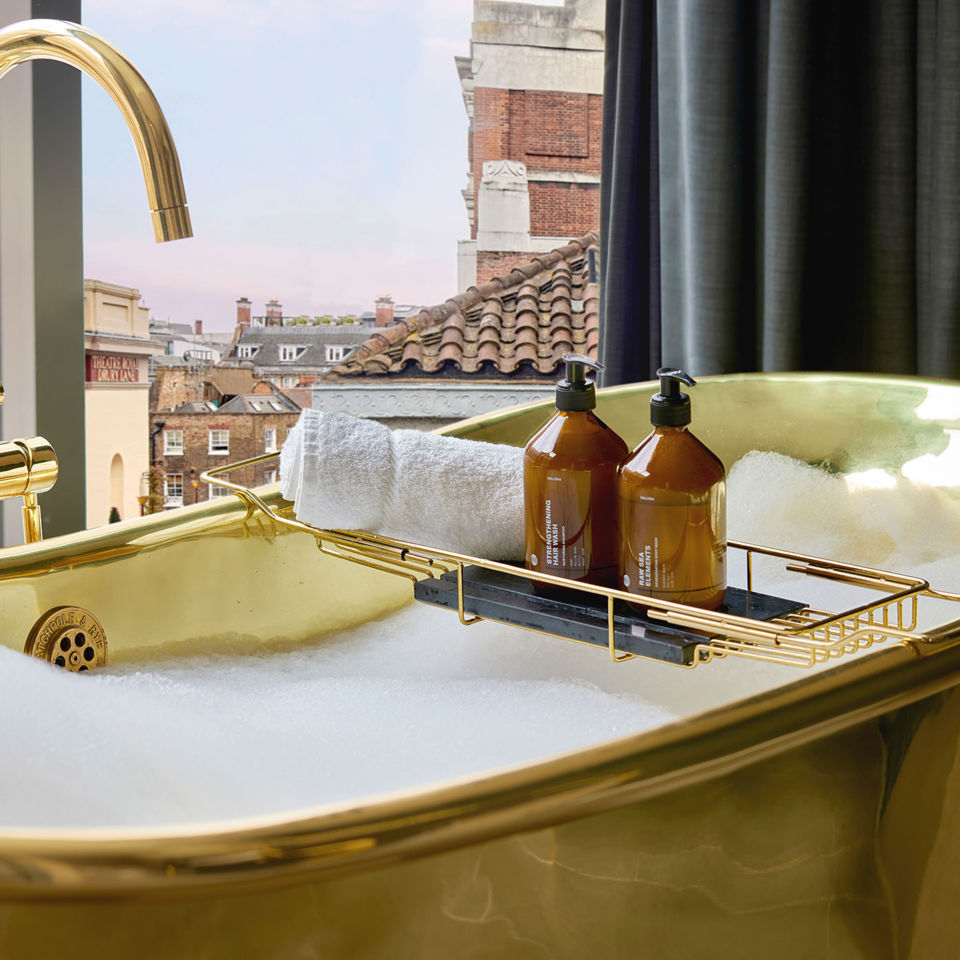 A brass tub with a view
In the evening, we find huddled groups between the columns of the piazza market, entranced by buskers with enough flair to make it onto the stage. There are crooked backstreet pubs with warm glows emanating from their windows and grand cafés and bistros that look little changed since the 1920s.
After a busy night in theatreland, we spend our next evening fixed to the spot. It starts with apéritifs on the hotel's heated rooftop bar terrace, where we marvel that the view could be one of London's best-kept secrets. Afterwards we head to Penelope's, the in-house restaurant.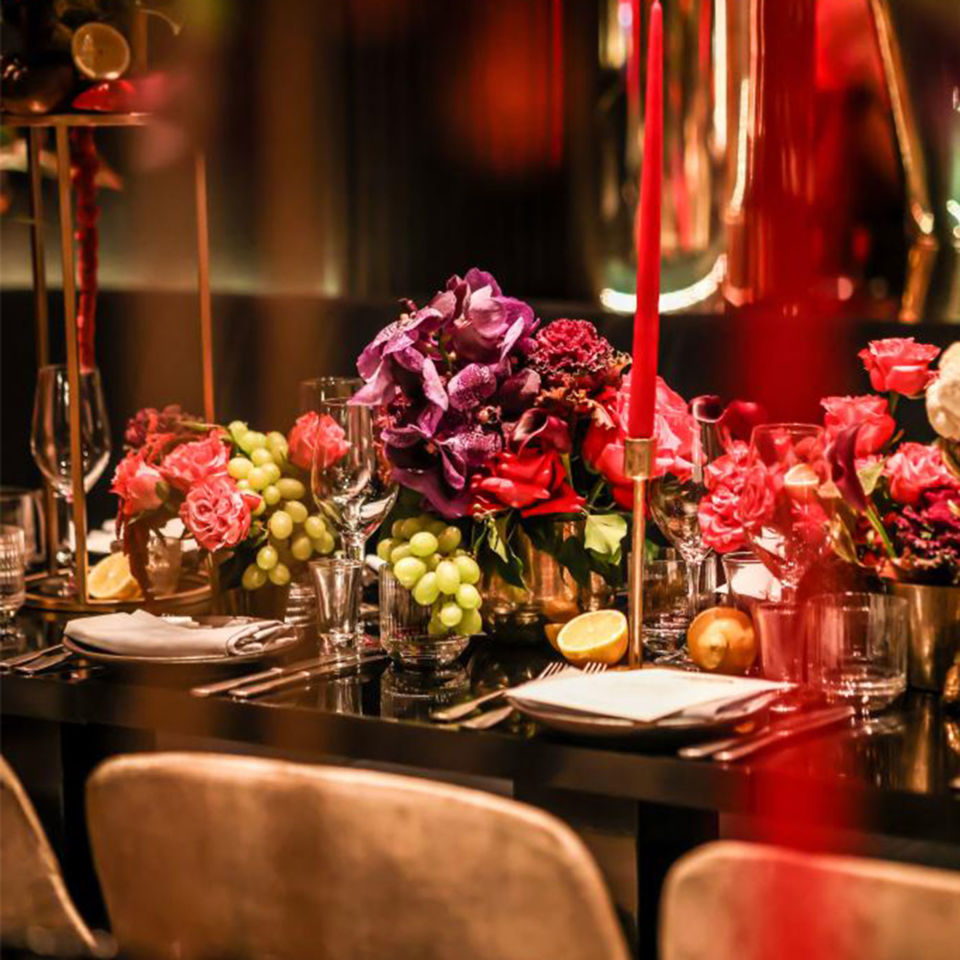 Opulent dining at Penelope's
The hotel's co-founder spent his youth yo-yoing between Tel Aviv and Spain, which is reflected in the fusion dishes. To our surprise, the meal here ends up being a highlight, with bold dishes that swing creatively between Spanish recipes and Middle Eastern spices that dance on the palate. The music is loud – just like the diners – and the room decorated with oversized mood lighting, heavy drapes and gilded furnishings that perfectly match the flamboyancy of the menu. There is no food throwing – but I could well imagine things might be different if I came back one Saturday. Next time I make a theatre booking, I certainly will.
How to book
Doubles at Hotel AMANO Covent Garden start from £210 per night on a room-only basis; breakfast costs an extra £20pp and Saturday nights attract a premium rate. For more information and to book, visit amanogroup.de/en.
Don`t miss

---