Travel
Staycation: Shieldaig Lodge
by Hannah Sherwood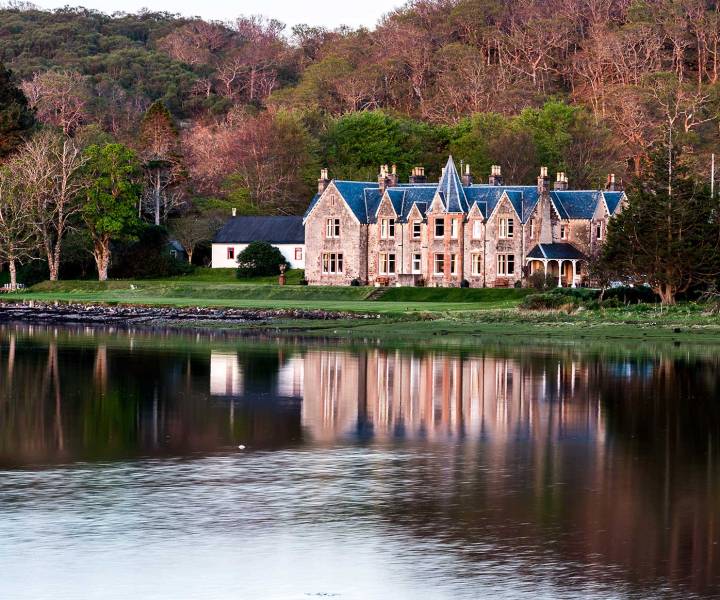 Shieldaig Lodge across the water
Giant owls, super-fresh seafood, pony trekking and lots of gin – digital content producer Hannah Sherwood escapes London for a jam-packed weekend in the Scottish Highlands...
After meandering for an hour-and-a-half from Inverness Airport past dappled lochs and stunning scenery, I arrive at this refurbished Victorian hunting lodge, set in 26,000 acres and nestling on the banks of beautiful Loch Gairloch. So blissful is my arrival that a seal pops up its head to say hello before I have even checked in.
My first port of call is the bar that houses 111 gins (I think I'm going to like it here) and close to 300 whiskies, before unpacking in my antiques-loaded bedroom, taking a dip in the bath and then heading down to the dining room where a seven-course game tasting menu awaits...
The pheasant, cranberry and Cognac terrine and Highland red deer fillet with port jus were my standout dishes. The palate-cleansing blackcurrant sorbet with gin cut through the richness of the meat, and the chocolate fondant with sesame tuile was an indulgent end to an epic meal.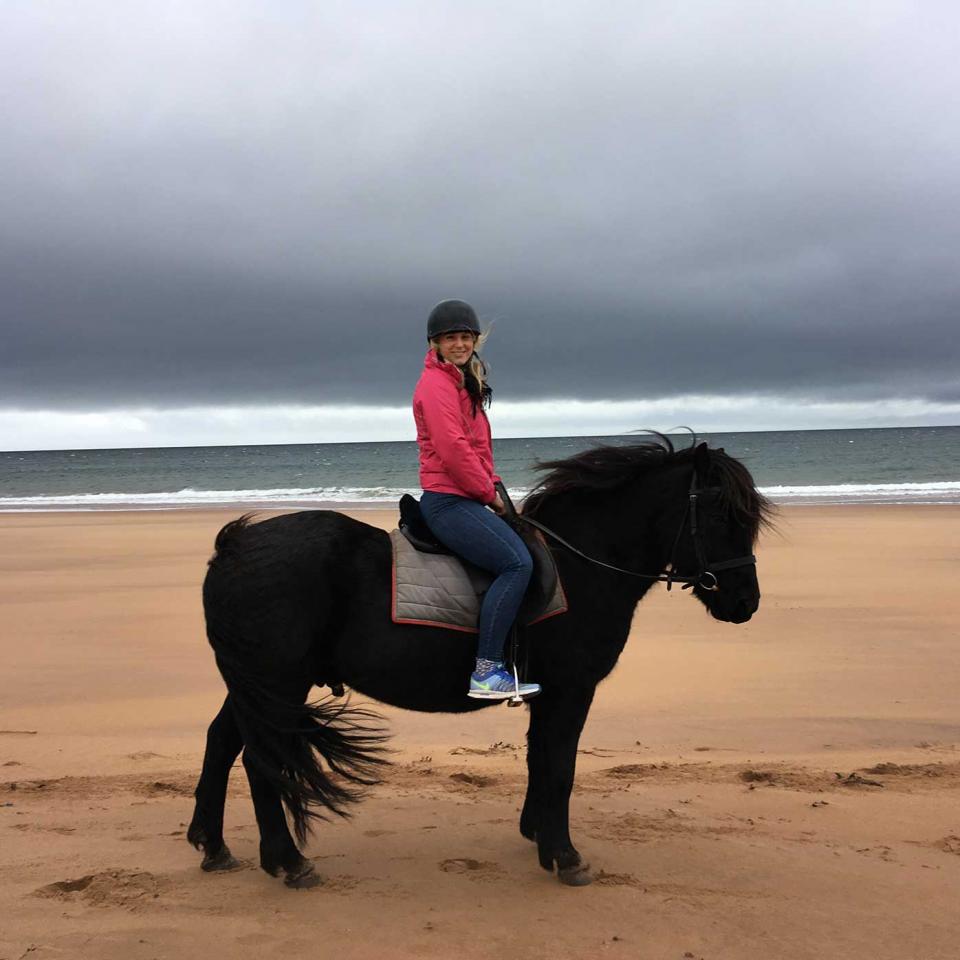 Hannah tries pony treking
The restaurant serves meat from cattle and deer reared on the estate, has its own vegetable garden, and sources all its other ingredients locally. The hotel is a fantastic base for a host of activities, from deer stalking, fishing and hiking to pony trekking and sailing. There's also a family-run falconry and, if you've never flown an owl or a raptor before, this is the place to do it. Flash is a European eagle owl, aged 31, and quite a character.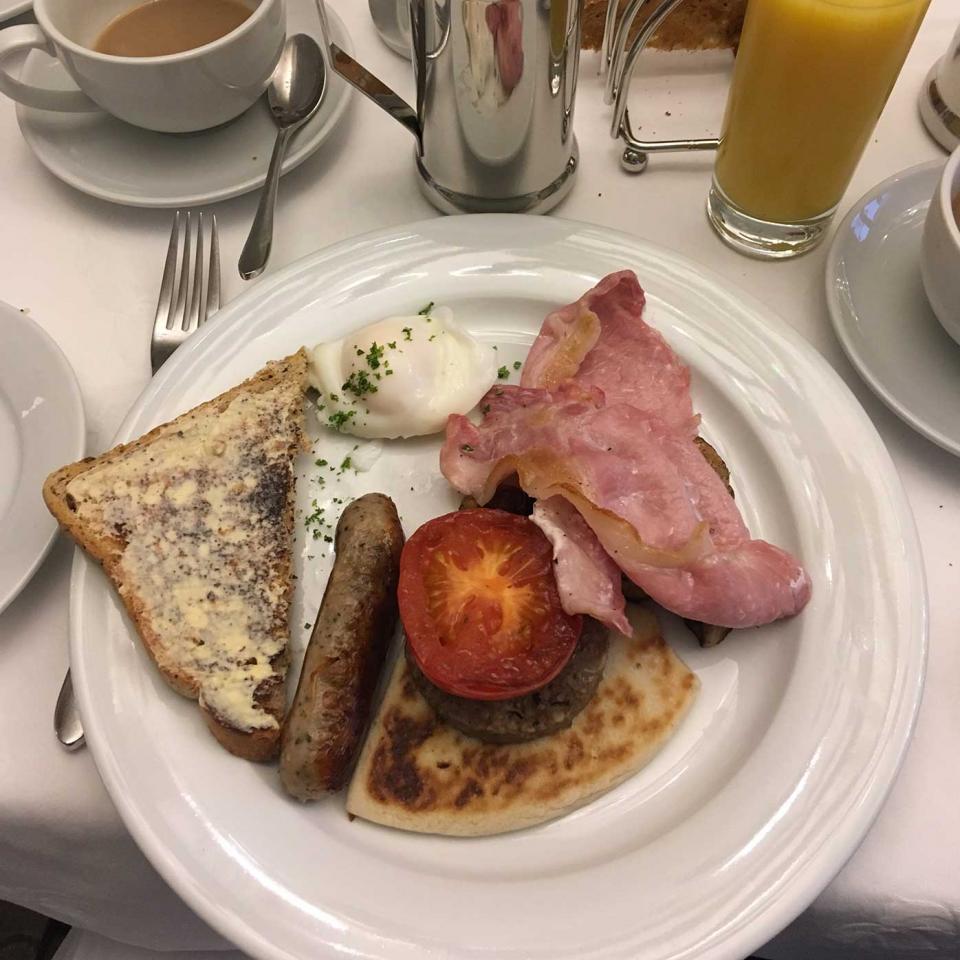 A hearty Scottish breakfast
After a hearty Scottish breakfast starring an excellent potato farl and black pudding, I hike up to the Fairy Lochs, a group of smaller lochs, to enjoy stunning views, even though it's grey and drizzling. Next up is a windy stint of pony trekking on the beach, followed by gin-tasting in nearby Badachro, a small fishing village where Gordon and Vanessa Quinn have their own distillery. The natural smells, plants and botanicals of the village inspire the flavour of their gin, which starts with fruity juniper, a nutmeg tingle on the tongue, followed by a slight citrus and lavender finish.
Hannah and Flash
If the weather is kind, you can go creel fishing with fisherman Ian McWhinney to catch crab, langoustine and lobster. Unfortunately, the weather denies us the fishing experience but, back at the hotel, a shellfish menu in the private dining room gives us a taste of what we missed when we tuck into a comforting cullen skink and crab soup, followed by sweet Shetland scallops and black pudding, paired with a glass of chilled Gavi. The seafood platter featuring sweet, squat lobsters is equally delicious and almost makes me envy that cheeky seal who gets to enjoy this produce every day!
How to book:
Bed and breakfast from £130 a room per night; shieldaiglodge.com. EasyJet flies from Gatwick, Bristol and Luton to Inverness.
Don`t miss

---