Travel
Visiting the Caribbean: all inclusive at Sandals
Previously dismissive of all-inclusive resorts, Simon Lang visited Sandals in the Caribbean, where everything from dining to kayaking is taken care of...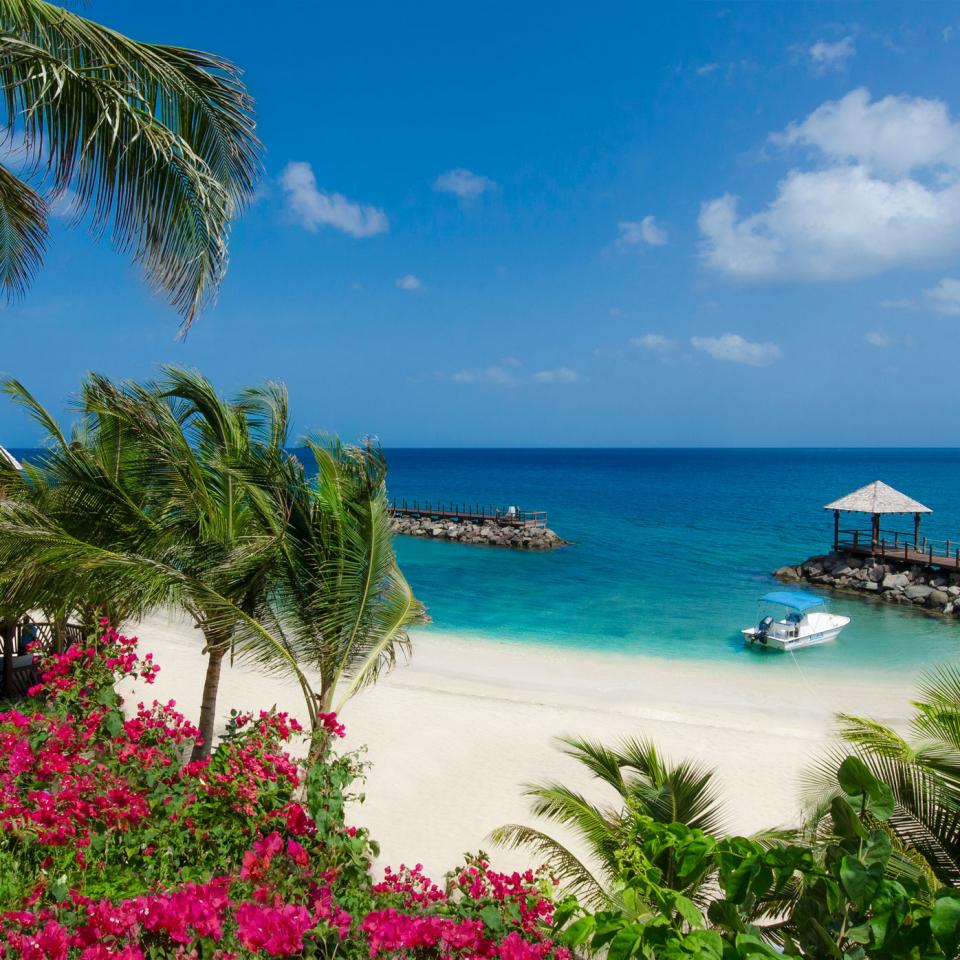 As I step off the plane in Grenada, the tropical air hits with a surprising intensity. I breathe in the rich, heady mix of heat, humidity and damp vegetation, which makes it easy to get into the relaxed rhythm of the place. And it's not just the simmering heat that makes rushing impossible; the undulating landscape and lush, mountainous terrain contribute, too. Although the island is tiny, it's a maze of meandering tiny roads that take a long, laid-back while to navigate. Throw into the mix the fact that everyone in Grenada seems to know each other (hardly a vehicle passes us without our driver honking or slowing down for a quick chat) and you begin to understand the phrase 'just chill'. The car journey brings me to my first stay at an all-inclusive resort anywhere in the world. I feel some trepidation as we approach the Sandals Grenada Resort and Spa, part of a large – and famous – chain of sprawling couples-only hotels scattered around the Caribbean. This is where we're spending the first few nights of our trip.
My nervousness is due to a preconception that all-inclusive means a bland, could-be- anywhere kind of resort, with boring buffet food, a theme-park fakeness, staff who aren't local, and none of the authentic travel experience I normally go for. But, as soon as we arrive, my prejudices are laid to rest by a wonderful welcome from the four friendly Grenadians lined up to meet us. I'm told later that the majority of staff across all the resorts are from the island they work on, or a nearby island. After greeting us personally, they break into song. This has everyone slightly embarrassed, looking at their feet and shuffling about, as the British do best, but I'm not jumping the gun by telling you that, by the time we check out and they sing the 'Sad to see you go' departure song, everyone is making eye contact and trying to join in.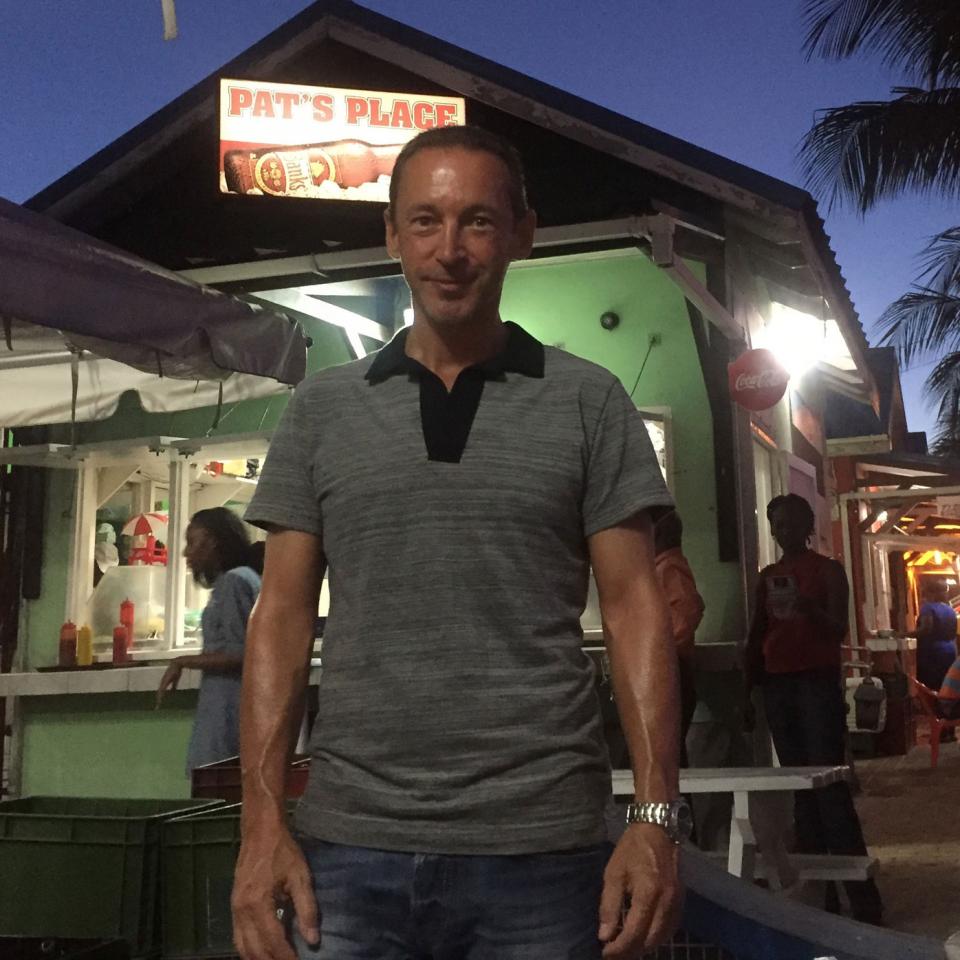 Private plunge pools, butler suites and even a Lover's Lagoon Hideaway Village are some of the resort highlights, and it would be easy to spend every day on the fabulously named Pink Gin Beach, toning up in the amazing gym or being buffed to bits in the Red Lane Spa. However, this is my first time in Grenada, and I'm keen to explore. First on the list is a trip with Seafaris (grenadaseafaris.com) to the underwater sculpture park in the Molinère Beauséjour Marine Protected Area. Snorkelling over the sculptures surrounded by teeming sea life is surreal, bringing back childhood dreams of lost cities and romantic stories of shipwrecks. This magical morning is a complete contrast to an afternoon at the spice market at St George's, the island's pretty capital.
Colourful and chaotic, it's where locals come to haggle with the stallholders and pick up gnarled roots of turmeric (which, confusingly, is called saffron in Grenada), tiny balls of nutmeg and ropes of chillis. Leaving Grenada and hopping off a flight in Barbados, it's quickly apparent we've arrived somewhere with a more sophisticated infrastructure. It's also much flatter, and feels more wide open. The views are stunning. Here, there are two Sandals resorts next to each other on the beautiful white beach at St Lawrence Gap, and guests can make full use of the facilities at each. This means a choice of six pools, five whirlpools, 12 bars and 17 restaurants. As with all the other resorts, they are 'couples only', which creates a special atmosphere.
Lovers young and not so young tend to talk to each other very quietly, so there's almost no sound at all around the pools, apart from the ones where the younger – generally American – couples congregate, enjoying a more high-spirited frat-party atmosphere with a sexy reggae soundtrack. In most areas, the only background noise is tropical birdsong and the jovial banter of staff serving cocktails (included in the price of the stay and, incidentally, made with premium spirits such as Tanqueray, Jim Beam and Jack Daniel's).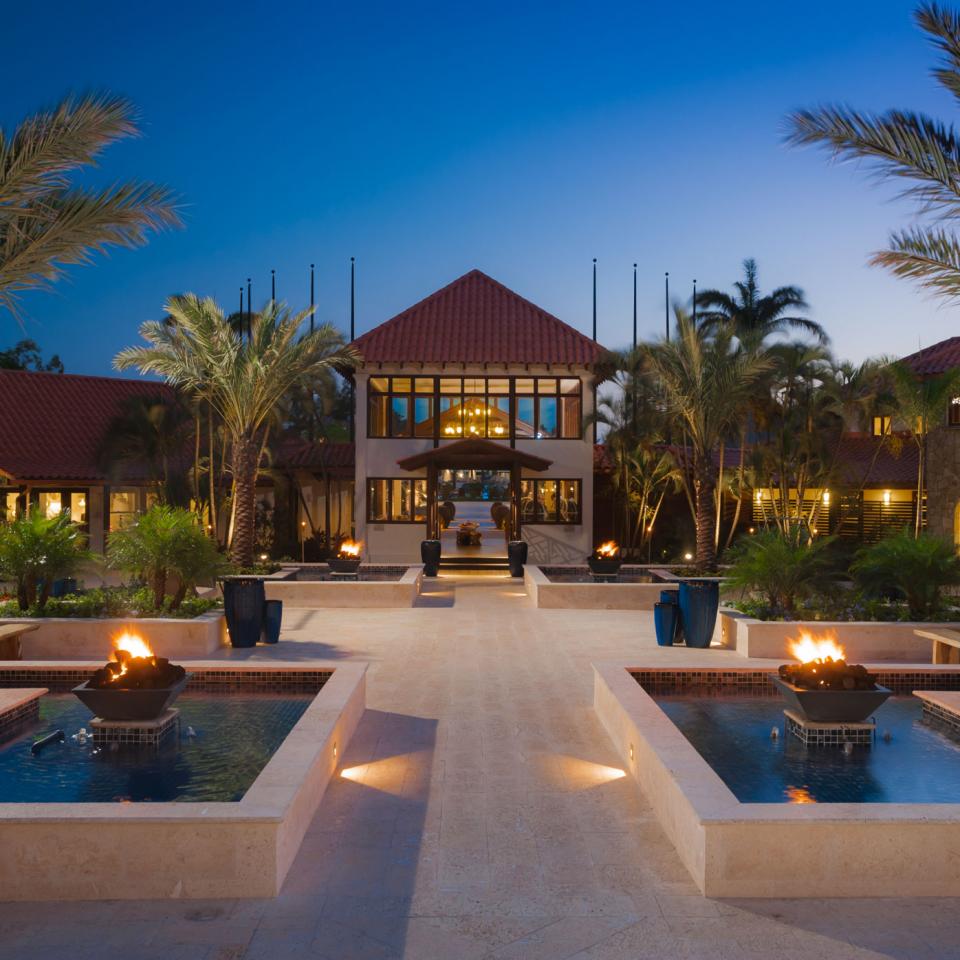 The Sandals Grenada courtyard
The spectacular rooftop bar and pool at the Royal Barbados resort is my favourite haunt, and I spend many an evening watching the sun go down, beer in hand, with the gentle hum of conversation in the background. Fun is also to be had in the four-lane bowling alley where, one evening, we hook up with other guests for a bit of friendly competition – again, at no extra charge. In fact, the only time I need to sign for any additional expense at all is when I treat myself to a luxurious Raindrop Dreams outdoor massage one balmy afternoon – the ultimate mood-booster.
The chain is proud of its 'global' dining experience – you can choose Chinese one night and Indian the next, or stay within your comfort zone at a French brasserie or American steakhouse. Restaurants are given fruity names like La Parisienne, Kimonos, Bombay Club and Butch's Chophouse, and much of the fish used – such as snapper, mahi-mahi and tuna – is caught the day you eat it. Steamed vegetables and mashed or fried sweet potato (which is white, and less sweet than the variety we tend to get here) are typical of the side dishes available. The wine that's part of the all-inclusive deal is a perfectly decent Californian brand but, if you want to splash out, there are some good names at fairly reasonable prices. If you can raise yourself from your sun lounger for long enough, there are plenty of free watersports on offer, or you could head to Speightstown for lunch at The Orange Street Grocer (theorangestreetgrocer.com), a casual restaurant overlooking the water. The pizzas and puddings are especially good here.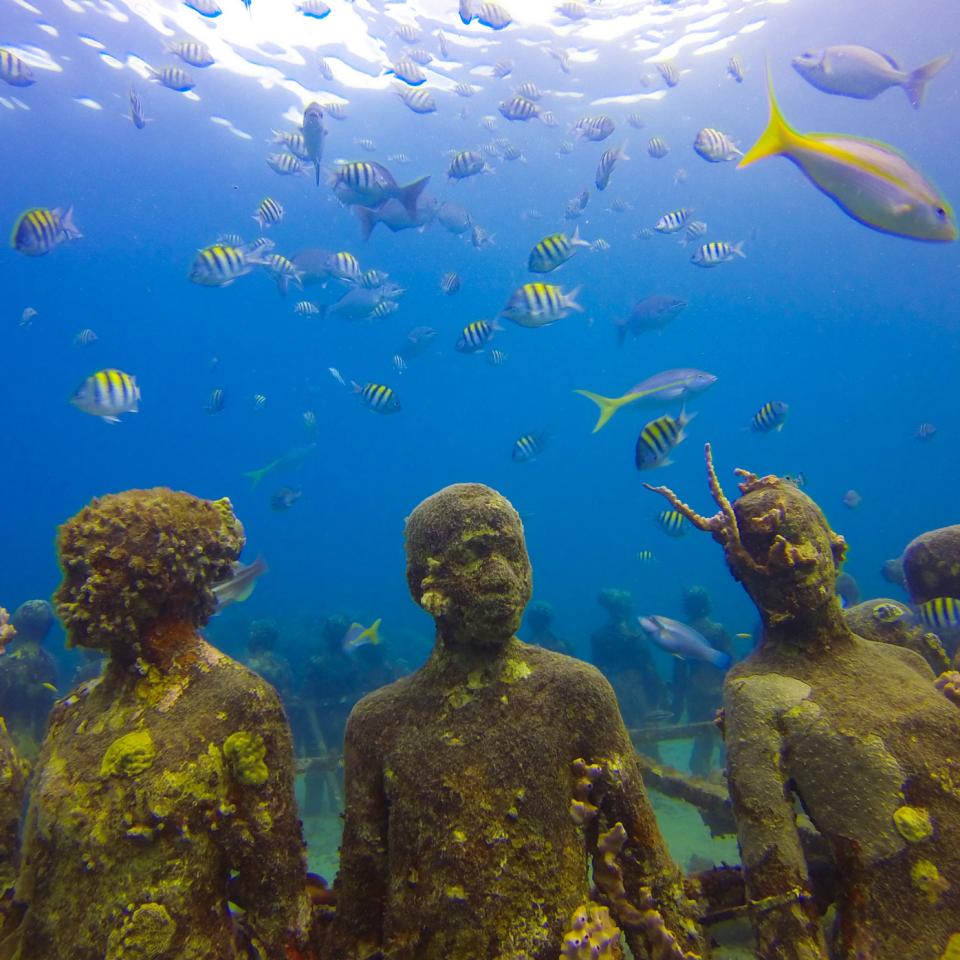 Underwater sculptures at Molinère Bay
No holiday in Barbados is complete without a trip to the fish fry at Oistins Bay Garden, a central square buzzing at night with street-food shacks, small restaurants, loud music and a carnival atmosphere. I go to Pat's Place, which is heaving with locals and tourists tucking into outrageously vast portions of fresh fish. There's a DJ on the central stage, and large amounts of Banks beer keep everyone dancing till late. So, how to sum up the whole experience? Well, I quizzed several other guests and got no negative feedback from anyone. Young, old, grumpy-looking or grinning with joy, everyone loved their stay.
They appreciated the smiling, courteous service, the relaxed, romantic atmosphere, the top-quality facilities and the please-all food. And what they loved most of all was not having to worry about being presented with a killer bill at the end of their holiday. With everything paid for up front, they could relax and enjoy every moment in blissful 'whatever' mode. And I couldn't disagree. I had arrived full of prejudices and presumptions, but was leaving impressed and happy to be proved wrong. It's not just the heat and humidity in the Caribbean that's intense; the standard of once-in-a-lifetime all-inclusive holiday is right up there, too.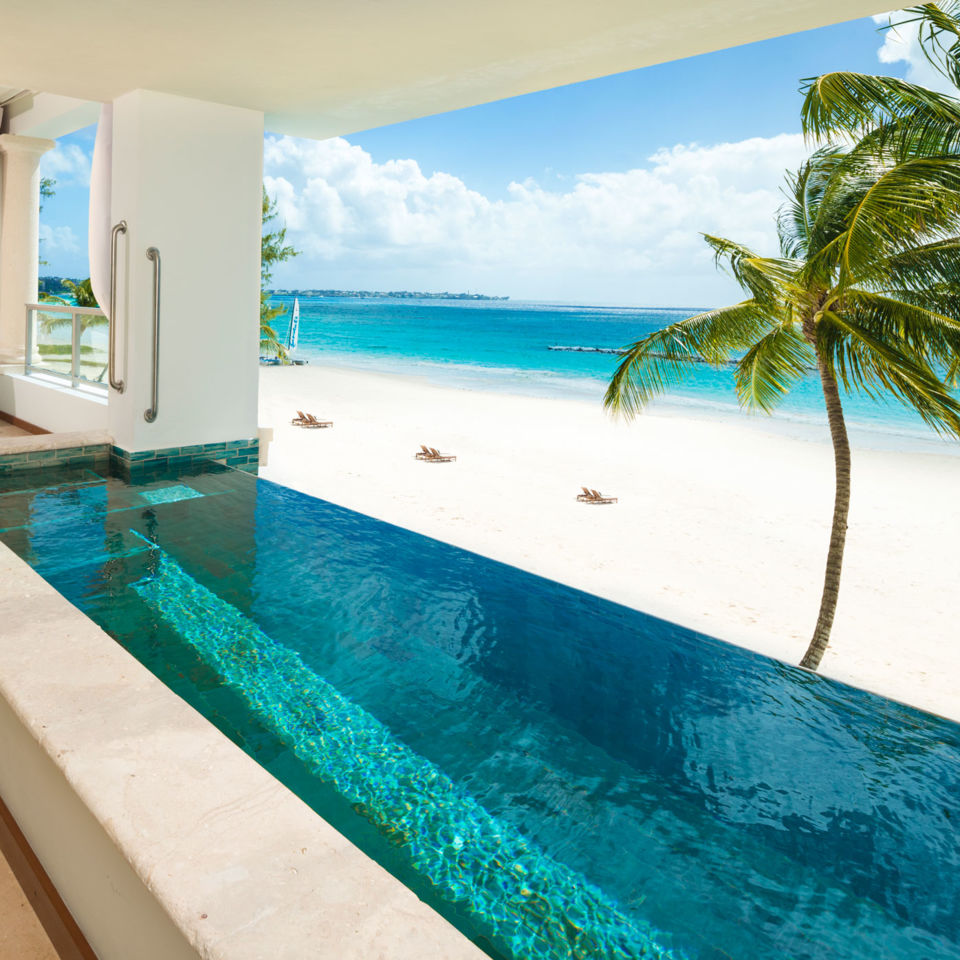 A beachfront skypool suite
Getting there
Five nights at Sandals Barbados staying in a Caribbean Deluxe room and five nights at Sandals Grenada Resort & Spa staying in a Lover's Lagoon Hideaway Junior Suite with Patio Tranquility Soaking Tub costs from £2,775 per person. Price includes Luxury Included® (all-inclusive) accommodation, return economy international flights with Virgin Atlantic from London Gatwick, internal flights between Barbados and Grenada with Air Liat and resort transfers. Price valid for travel on select dates between 1 and 30 September 2019. Prices are date specific and subject to availability at the time of booking, and may change. To book, or for more information, see sandals.co.uk, call 0800 597 0002 or visit the Sandals Luxury Travel Store, 135 Fulham Road, London SW3 6RT. For more information on visiting Grenada, see puregrenada.com and, for Barbados, visit barbados.org.