Travel
Michelin-star magic in Lyon
by Tamsin Burnett-Hall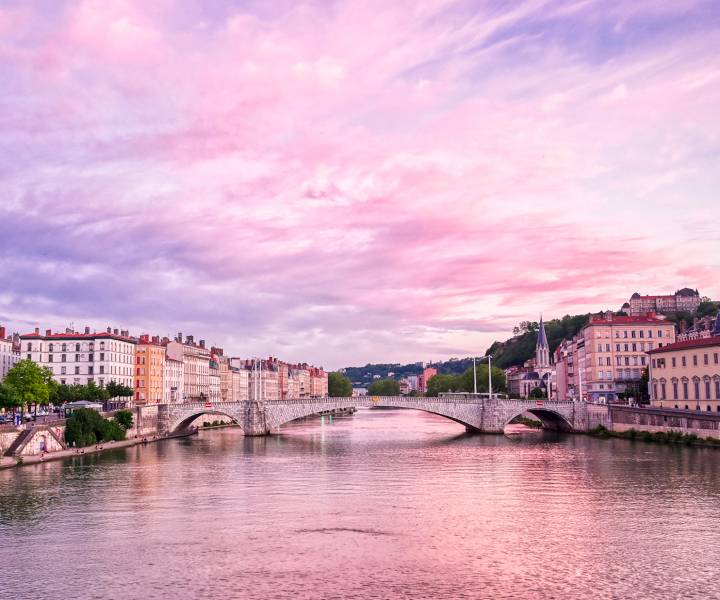 Lyon: Getty Images
Tamsin Burnett-Hall checks into Cour des Loges in Lyon for a foodie weekend break...
I'm sure that my family and I are not alone in choosing holiday locations based on the local cuisine, so I don't quite know how Lyon – centre of gastronomy – hasn't occurred to me before as a destination. Easily accessible by rail, road and air, it has many delightful secrets to uncover. Once the capital of Gaul, Lyon was established between the Rhône and Saône rivers and flanked by two hills – La Croix-Rousse and Fourvière. Trades such as silk weaving and printing, shaped Lyon into the city we see today.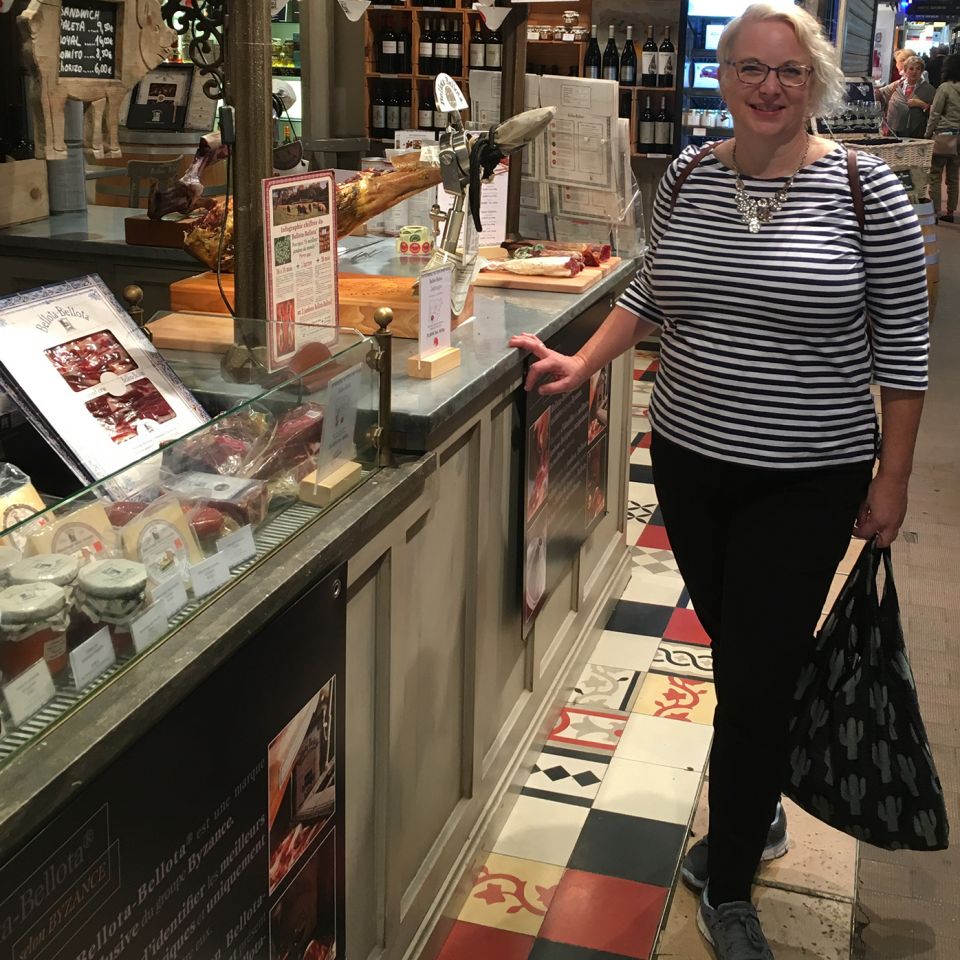 Tamsin at Les Halles de Lyon market
Linked by interior courtyards, verandas and ancient wonky doorways, the old town of Vieux Lyon is crisscrossed by around 300 hidden passageways or 'traboules', which provide shortcuts between the main streets. Entering our hotel – Cour des Loges – via a long passageway from the cobbled street, we emerge into a bright atrium formed of four Italian Renaissance-style buildings. This feels more like a fairy-tale castle than a hotel, with towers, spiral staircases and corridors between the rooms, offering glimpses through arched windows down to Les Loges, the hotel's restaurant.
Chef Anthony Bonnet, a Lyonnais native, gained his Michelin star here in 2012, so an exquisite meal in the candlelit covered courtyard awaits. We relish confit tomatoes with sheeps' yogurt, alpine herbs and aromatics, and boulangère potatoes that arrive in a juniper smoke- filled glass dome; an intensely flavoured dish that marries beautifully with our rare Mézenc beef. Food to delight the senses.
The next morning, I navigate the hotel's hanging gardens, on the terraces of the steep Fourvière hill that rises up behind the old town and is crowned by the Basilica, a landmark reminiscent of the Sacré Coeur. Tucked away from the hustle and bustle, bees buzz around the hives, as they produce the hotel's honey.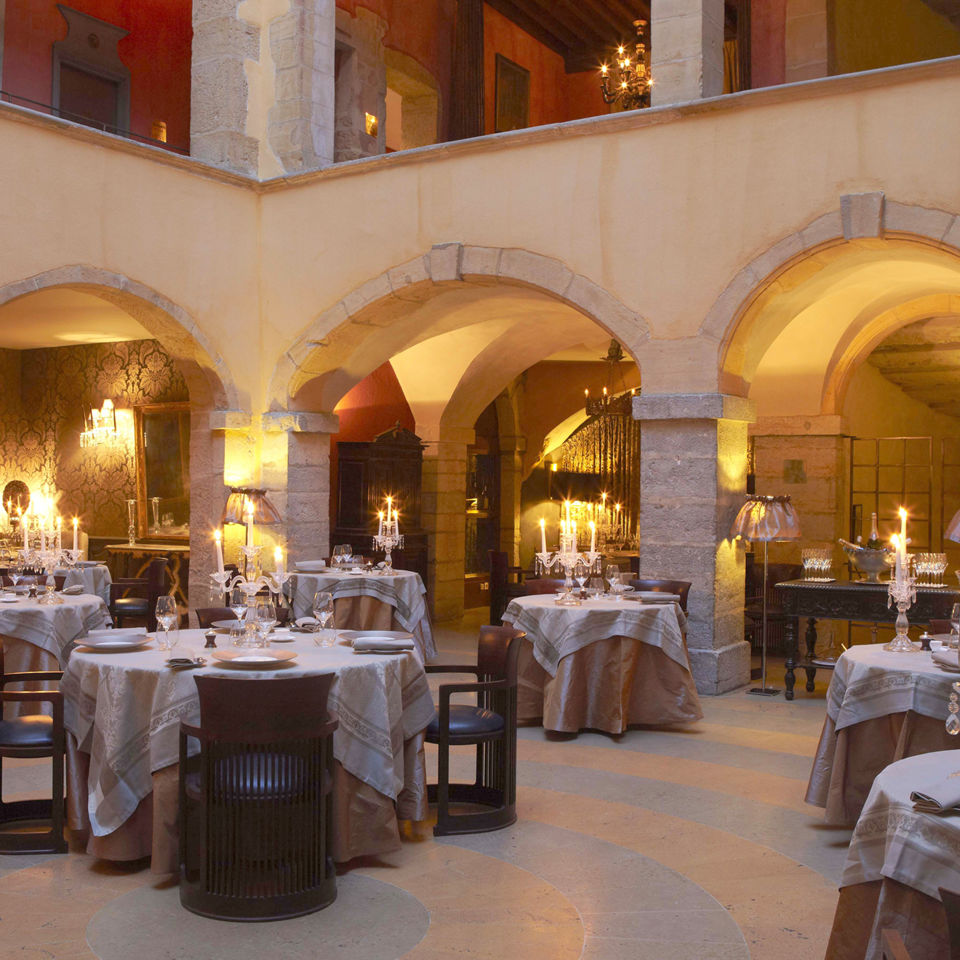 The dining room at Cour des Loges hotel
Heading out to explore the city, a funicular railway takes us to the top of the hill. From here, we can see how the city unfolds through the architectural style and era of each quartier. Hopping on electric bikes, we cycle along the banks of the Saône; on the far side are Grand Siècle buildings more typical of classical French architecture, while on the slopes of La Croix-Rousse, home to silk weavers from the 16th century, are the workshops that were built around their looms.
We pedal on to the wide-open green space of Parc de la Tête d'Or with its lake, zoo and botanic gardens – all free to access. We make our way to Daniel et Denise, a traditional bouchon. Bouchons are classic brasseries, specialising in homely cuisine and complete with red-checked tablecloths and copper pans. While three-starred Paul Bocuse is now the face of Lyon's gastronomy, it was Les Mères Lyonnaises (The Mothers of Lyon) who established the city's culinary reputation. Having lost their jobs between the wars, women set themselves up as cooks offering simple yet generous food. T
here are now 20 Michelin-starred restaurants in this relatively small city and tonight's venue has a Bib Gourmand. Our meal includes classic Lyon dishes such as pâté en croûte and fish quenelles with a rich crawfish sauce. Another sunny, crisp morning dawns and before we leave, there's time to visit the famous food market of Les Halles de Lyon. We're spoilt for choice as we wander between the stalls. A poulet de Bresse is a must, and I can't resist a soft St Marcellin cheese. It's time to head home, but I'll be back... next time with a bigger cool-bag.
How to book
Bed and breakfast at Cour des Loges starts at €220 (around £195) per night. To book, visit en.courdesloges.com/en.
Don`t miss

---