Travel
Essaouira: where to stay and what to eat in this Moroccan seaside town
by Nic McCarthy
The Moroccan seaside town of Essaouira offers beachy exoticism without breaking the bank, as Nic McCarthy discovers...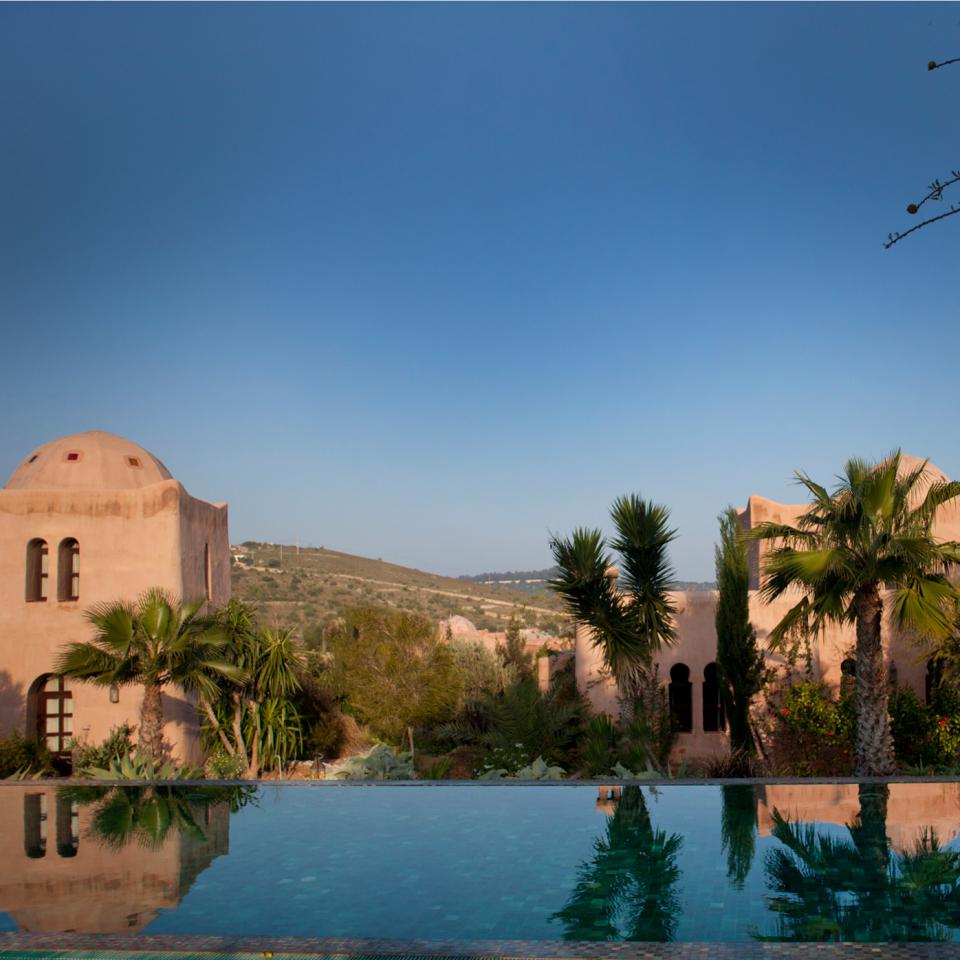 My husband Chris is not one of those men who thinks pampering is for girls. Totally at home in a spa, he cuts quite the dash in a fluffy robe and slippers. Even so, when I look across the candlelit hammam and see him in a pair of paper budgies mugglers, being slathered in argan oil, I wonder if he's a little too in touch with his feminine side.
This is our second trip to Essaouira but it couldn't feel more different from the first. Four years ago we went en famille, flying into Marrakech, and driving three long hours to a remote riad outside this tucked-away city on Morocco's Atlantic coast. We celebrated our daughter's sixth birthday with a camel ride and picnic on the beach. This time, we've left the children with my parents, hopped on the new direct flight to Essaouira and, 15 minutes after we land, are checking into a grown-up paradise.
Chris and I want two things from this – to hang out together as a couple, and not spend too much. But we also want to spoil ourselves a bit, get some sunshine and eat delicious food. With its promise of 'no news, no blues, no formal shoes' Le Jardin des Douars is our kind of place. A terracotta-coloured Moroccan palace surrounded by lush, rambling gardens, it's the perfect spot for an exhausted couple to forget the world for five days.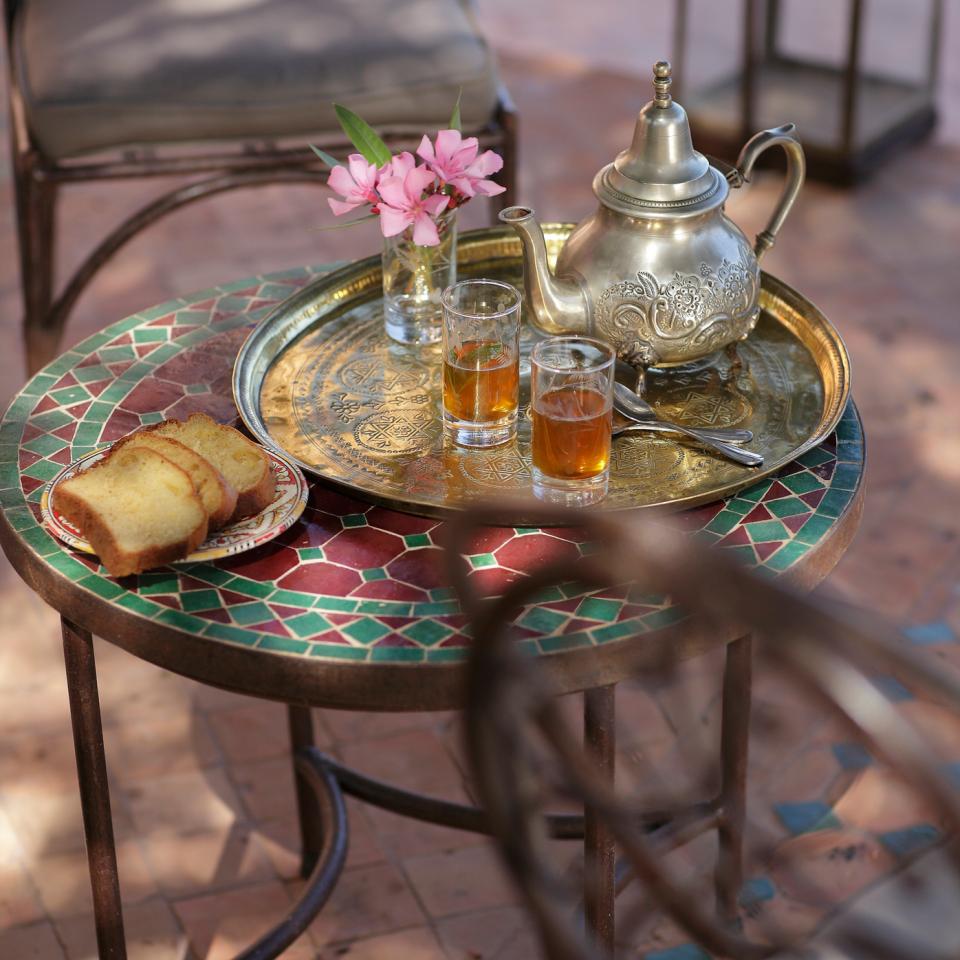 We spend a lot of time napping, reading and just chatting by the two beautiful swimming pools, being lulled to sleep after a delicious lunch by the gentle sounds of birds and crickets. Heated to 28 degrees all year round, there's a glamorous infinity pool lined with palm trees for adults, and another one with bags of space where families can be as noisy and splashy as they like.
When we aren't lying down we are eating. Le Jardin's restaurant is one of the best in Essaouira. As well as the
usual North African fare of lamb, beef and chicken tagines, packed with vegetables, flavoured with preserved lemons and served with couscous (delicious but a bit samey after a few days), it serves a moreish fusion of French and Moroccan. This means more choice and more flavours – plus wicked puddings and pastries.
Chris takes advantage of the French influence at breakfast, ordering freshly made crepes and French toast, topped with super-fruity compote, honey or jam. I've usually eaten so much at dinner the night before that I opt for poached pears and yogurt, followed by eggs and toast. We both agree on our favourite meal – Le Jardin's legendary Sunday barbecue. People come from all over to taste the tender chargrilled meats and fish. We spend most of the afternoon eating – roast potatoes with cumin and coriander, tangy slaws made with pickled carrot and cabbage, lush piles of sweet peppers, halloumi-stuffed aubergines and green beans with toasted, flaked almonds.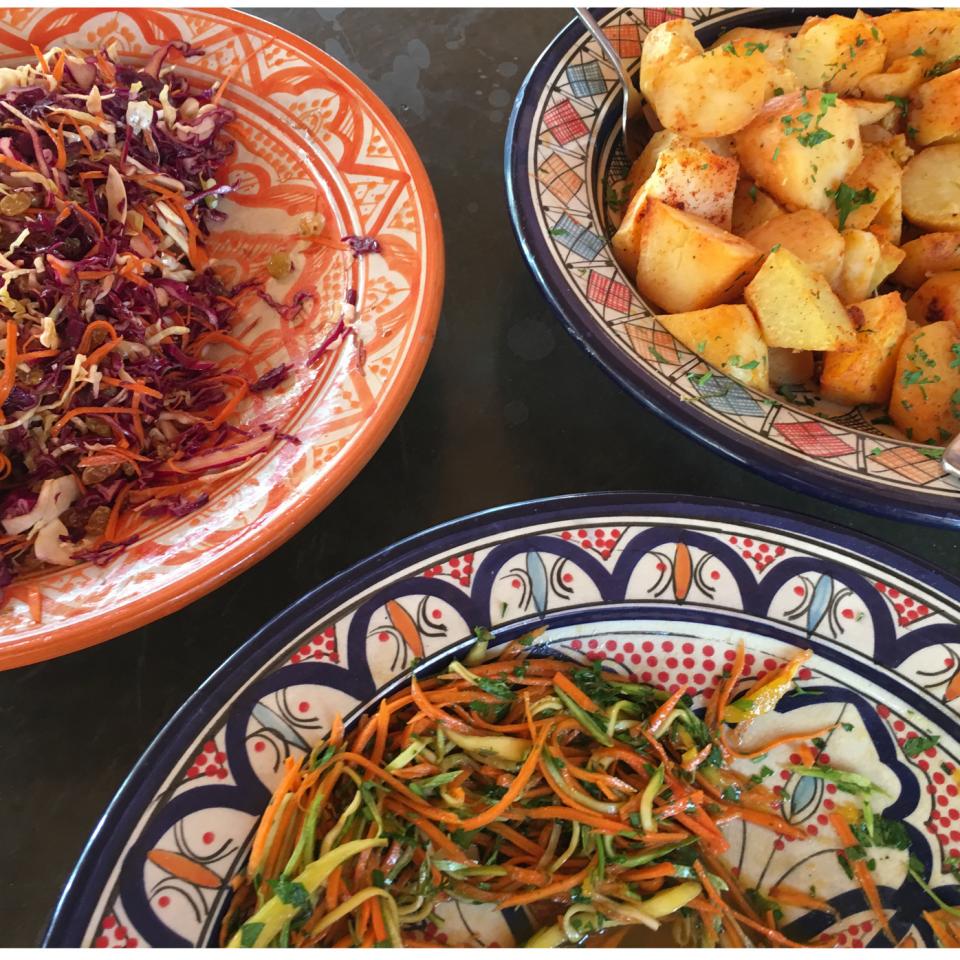 We leave the hotel just twice – heading into the medina to buy gifts. Nougat for my dad, and a beautiful blue scarf for my mum – it's a bargain at 180 dirham (about £14). Unlike Marrakech, and because direct flights started only last year, Essaouira is still relatively light on tourists, so browsing the stalls in the colourful, cobbled streets of the medina is still an enjoyable experience; the traders are friendly but not pushy. Look out for the colourful hand-painted tagines and pots, tooled leather bags and purses,and huge wooden bowls and jewellery boxes made out of thuya wood from the nearby Atlas Mountains.
Essaouira is famous for the alizé – a powerful trade wind that makes its vast beaches a magnet for windsurfers, and deters sun worshippers, who head elsewhere. For us, Essaouira is perfect–a chilled getaway with enough culture, heat and character to make it feel like a real escape.
Getting there:
EasyJet flies between London Luton and Essaouira twice a week on Saturdays and Tuesdays. Nic stayed at Le Jardin des Douars.
Don`t miss

---