Travel
Delicious dining in Dordogne
There's something magical about the Dordogne, with its bucolic rural villages and rolling hills. Throw in a weekend with friends at Château de la Treyne, a honey-coloured fortress-turned-hotel built on a rock above the Dordogne river in 1342, and you've got a pretty perfect short break, as Francesca Syz finds out...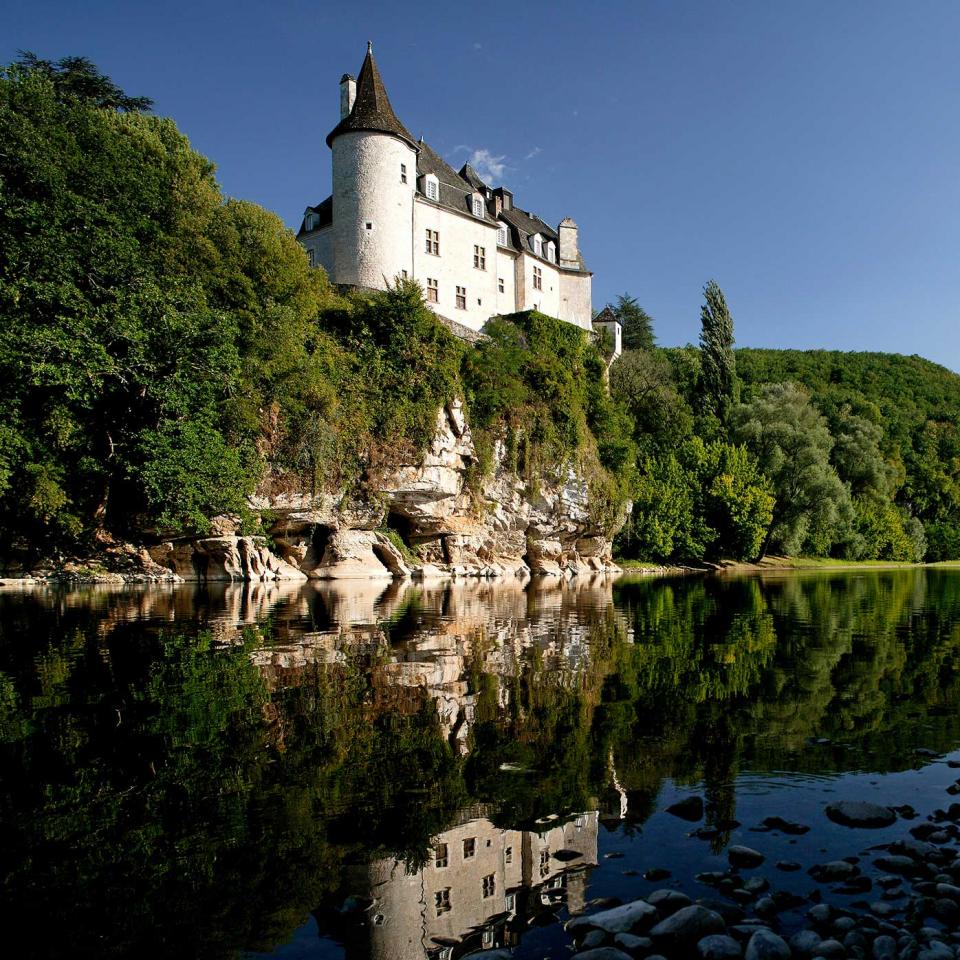 Stunning Château de la Treyne sits above the Dordogne river
We take a leisurely afternoon to get there, flying into Toulouse, picking up a hire car and heading north to the hotel, with fun stops on the way. One is the staggeringly beautiful medieval hillside village of Saint-Cirq-Lapopie, where we stop at a cafe for a coffee before climbing the steep, cobbled streets to a dramatic fortress at the top. Afterwards, we continue to Gouffre de Padirac, a remarkable network of cathedral- like caves, which we descend into by a long staircase and explore by boat with a guide. From here, it's just half an hour to the hotel.
At last we catch a glimpse of its turrets in the fading light as we drive across a narrow bridge. Owner Stéphanie Gombert, who painstakingly restored the château with her husband Philippe (president of hotel chain Relais & Châteaux, so he knows a thing or two about hospitality) greets us warmly and shows us to our rooms. My beautiful first-floor suite, La Favorite, overlooks the river. It has a large, antiques-filled bedroom with wood-panelled ceiling and a huge bathroom with free-standing gold bathtub.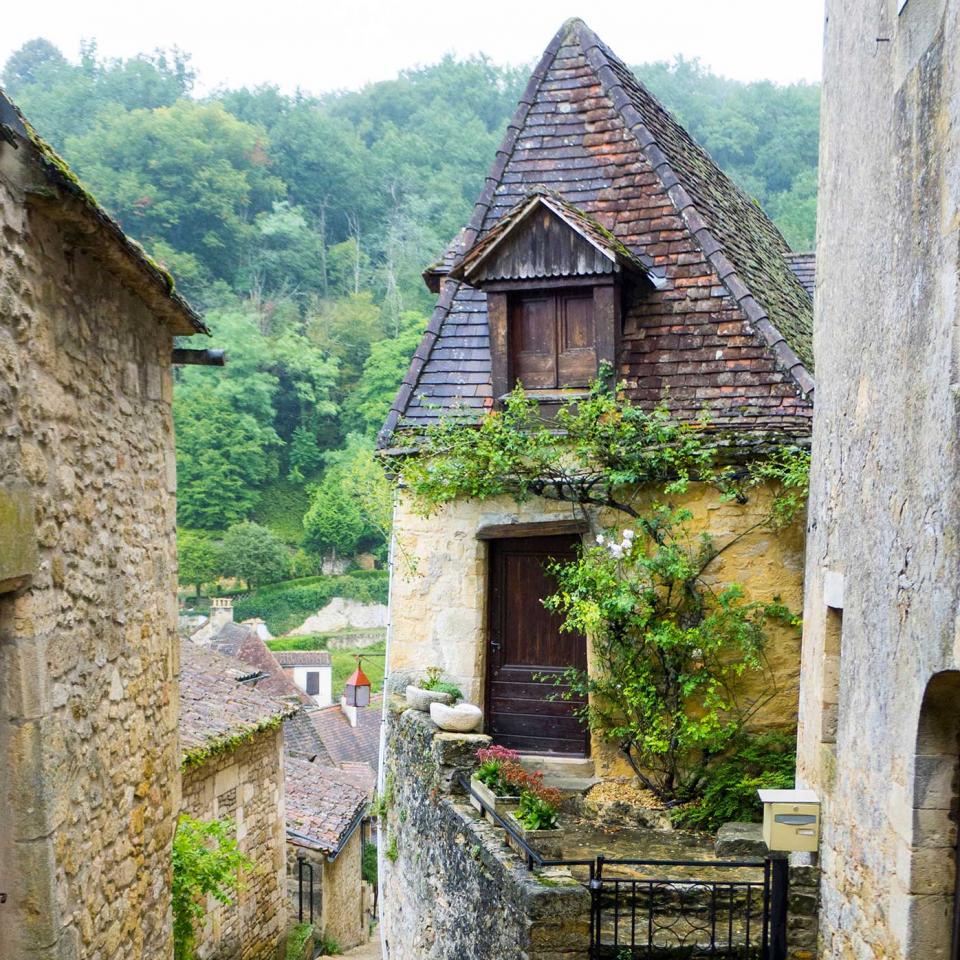 The medieval town of Beynac
It's only when I come down for dinner that I fully appreciate what the Gomberts have achieved here. Castle-like yet cosy, it is a luxurious treat to settle down by the fire in one of the two drawing rooms, with a glass of Champagne, before dinner in the hotel's formal yet jolly Michelin- starred Salon Louis XIII, run by wonderful chef Stéphane Andrieux. In the summer, there's a lovely outdoor terrace high above the river for candlelit dinners.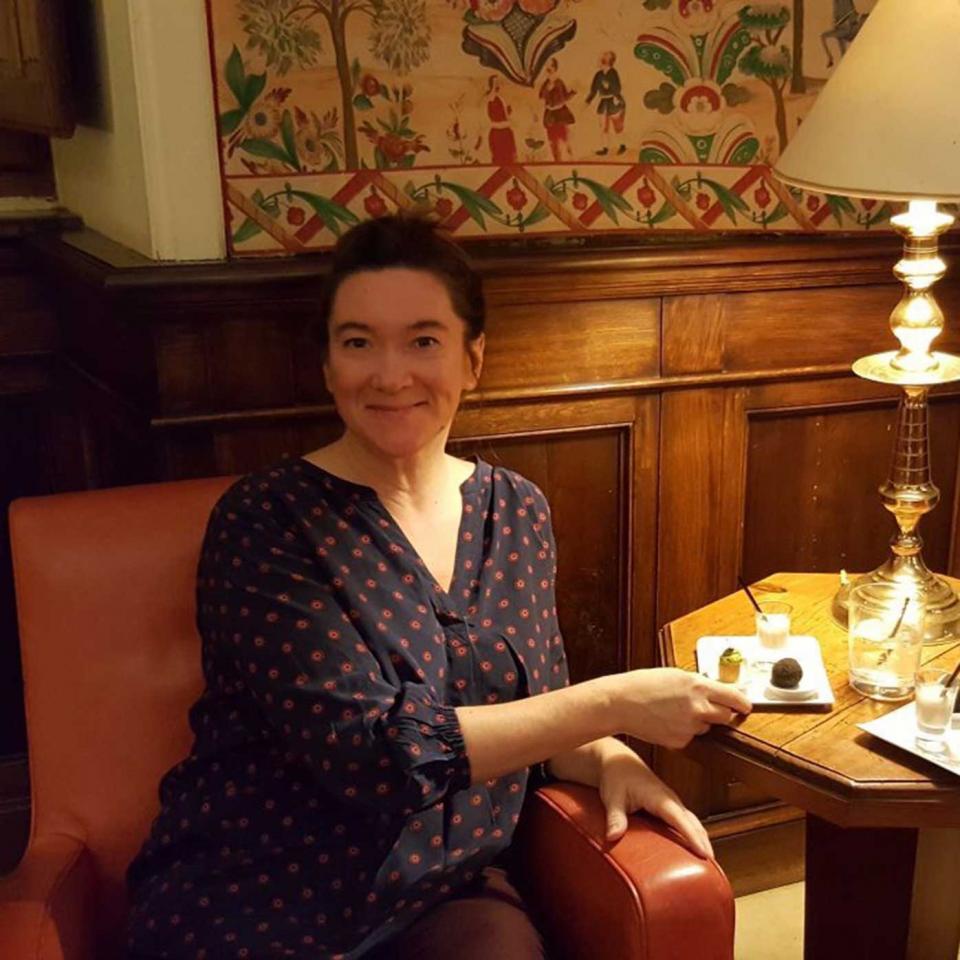 Francesca enjoys Château de la Treyne
The food is exquisite, each course theatrically presented by the friendliest staff imaginable. I love the celery risotto with truffle sauce, the guinea fowl with a walnut crust, and almost weep at the goo-laden cheese trolley. Next morning, after breakfast of freshly baked croissants, homemade jams and an unbelievable spread of local cheeses, meats and yogurts, we strike out to explore the grounds. Formal French gardens dotted with Medici vases give way to forest and, up the hill, there's a heated swimming pool and tennis courts.
Then it's off to the food market at the nearby medieval town of Sarlat, which opens at 8.30am every day. Here, I pick up some incredible cheeses, including the firm but creamy Ossau-Iraty (to be eaten with a tart cherry jam) and Laguiole, which I'm told is dreamy melted into mashed potato. I buy porcini mushrooms and wild boar saucisson before pouncing on a street-side table at one of the many cafes for a citron pressé. During the summer, look out for the organic night market, while truffle and foie gras markets are held in the Place Boissarie in December, January and February.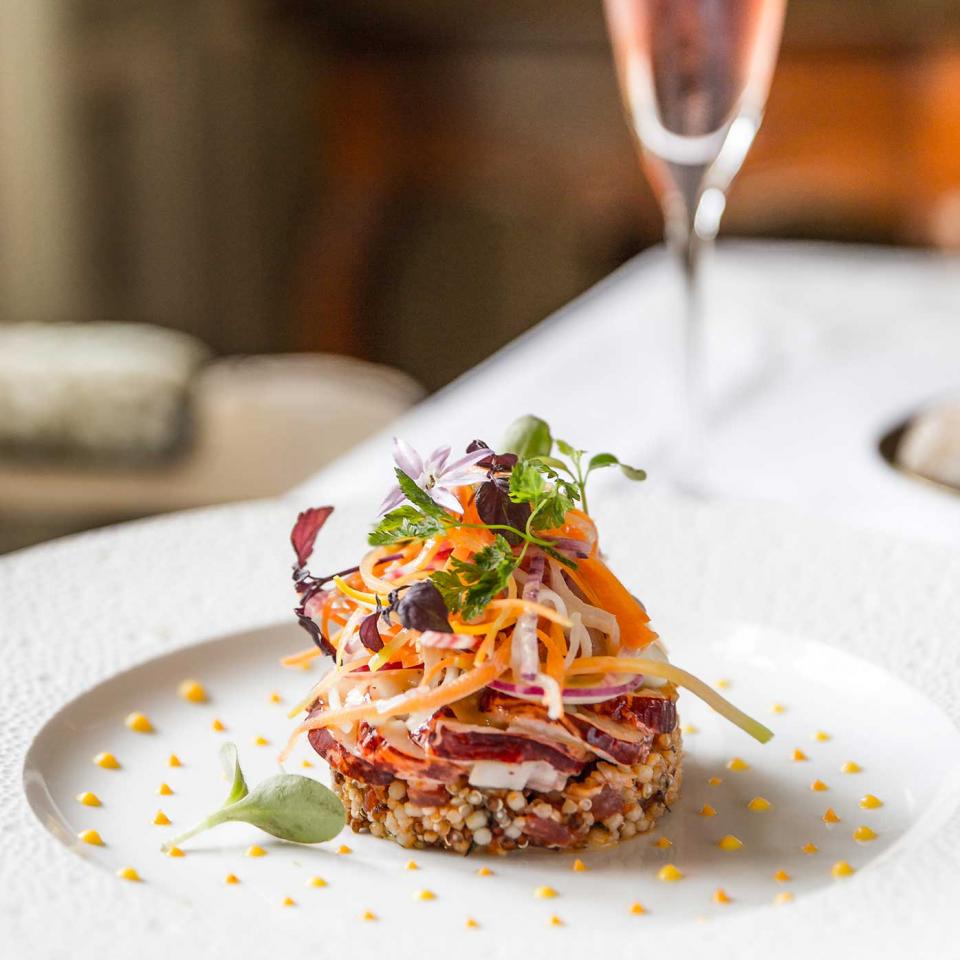 An 'exquisite dish' from the Château's Michelin-starred restaurant
Other highlights include exploring the medieval town of Beynac and a trip to Grotte de Lascaux. This monumental work of prehistoric cave art from the upper paleolithic era was discovered by four teenagers out walking their dog in 1940. While the caves have been closed to the public since the 1960s due to significant erosion caused by 1,200 visitors a day, a recreation of them nearby within a futuristic museum and visitor centre designed by architect Jean Nouvel provides an extraordinarily realistic insight into them.
My favourite moment of the weekend, however, is when I wake at dawn and head out from the front door once more, soon to find myself in the most heavenly, mist-shrouded rose garden.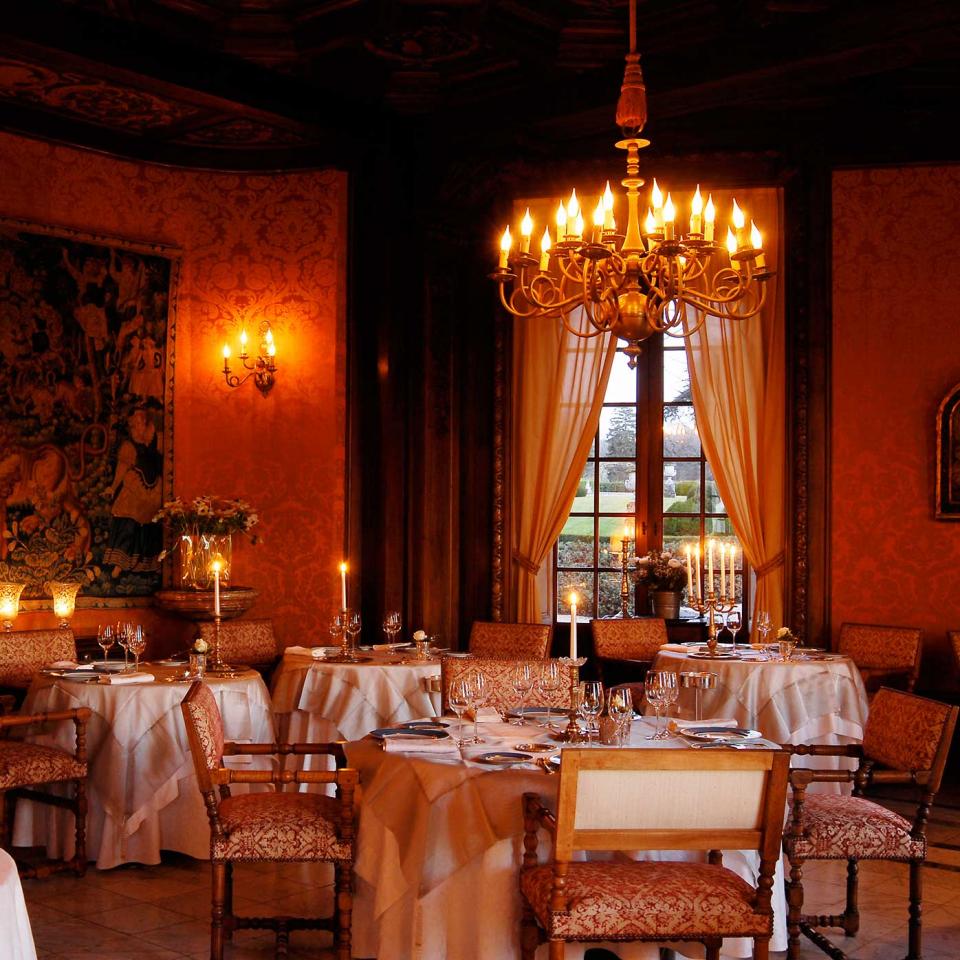 Evening at the Château's Michelin-starred restaurant
On our final morning, we ask Stéphanie to show us their other property, the nearby and equally fairy tale-looking Château du Bastit, a house they rent out on an exclusive-use basis. In a tiny hamlet just a 20-minute stroll along a woodland path from Château de la Treyne, it's a total haven. Sleeping 10 in four rooms and one apartment, it's the perfect complement to the hotel and further fuels our resolve to return as soon as we possibly can.
How to book:
Doubles at Château de la Treyne cost from €300, room only, or €424 half-board. The hotel is open from mid-March to mid-November and at Christmas; chateaudelatreyne.com/en/.
About the author