Travel
Dawdling along the Douro: a river cruise in Portugal
Mitzie Wilson finds a river cruise is the ideal way to explore the vineyards, traditional food and medieval villages of Portugal - and to meet some new best buddies, too...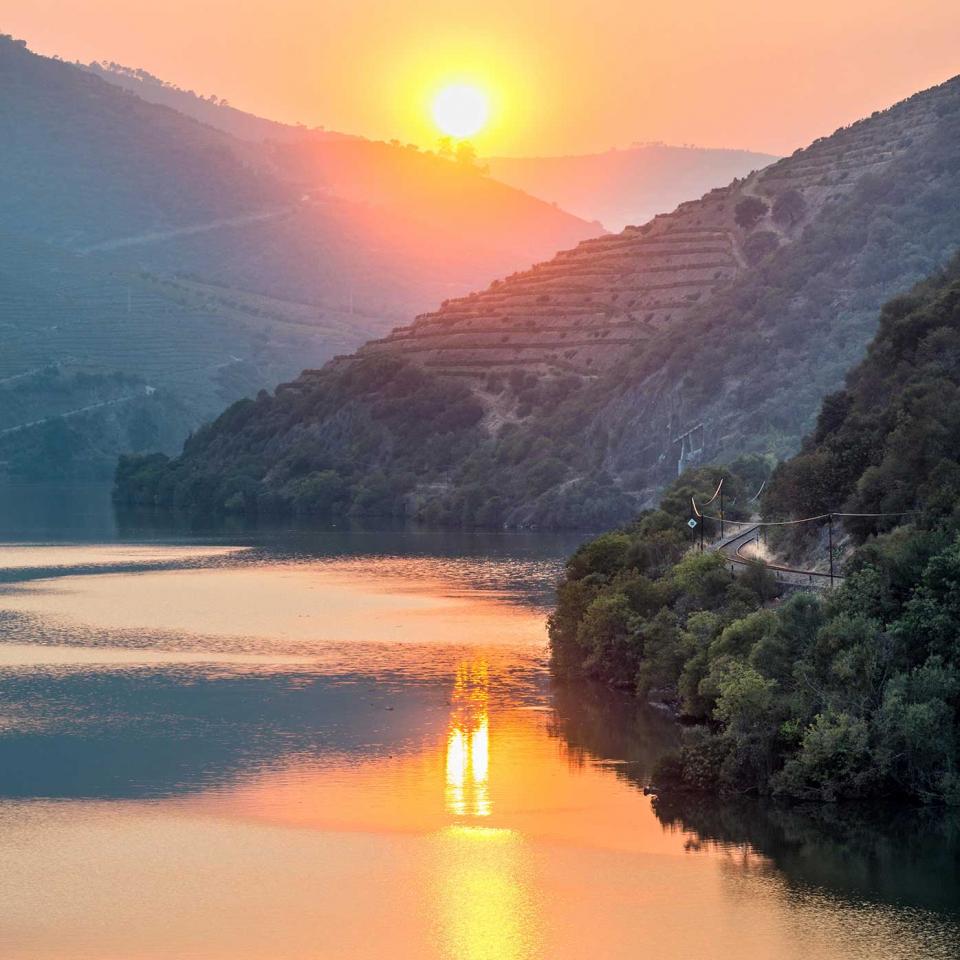 The Douro valley. Image: Getty Images
We knew it was going to be a relaxing break when we arrived at Gatwick airport in August to find only four people ahead of us at the check-in desk, an aircraft just half-full and not a child in sight! Everyone else seemed to be heading to the Algarve, while we were off to Porto, in the north of Portugal. Just two-and-a-half hours later, we were having tea and cake on the brand-new cruise ship, the Douro Splendour, moored on the banks of the city of Vila Nova de Gaia, across the river from Porto itself.
Here, the streets are lined with port cellars, smart cafes, bars and restaurants, and a mercado – a market of small artisan food stalls. So, although we have a buffet dinner on board to look forward to later in the evening, in the name of research we feel we have to sample some of the dishes on offer: petiscos (Portugese tapas), including a plate of pataniscas (fritters made with salt cod); some lulinhas (tiny squid cooked in breadcrumbs); a glass of vinho verde; and brigadeiros (truffles made from cocoa, butter and condensed milk rolled in chocolate hundreds and thousands).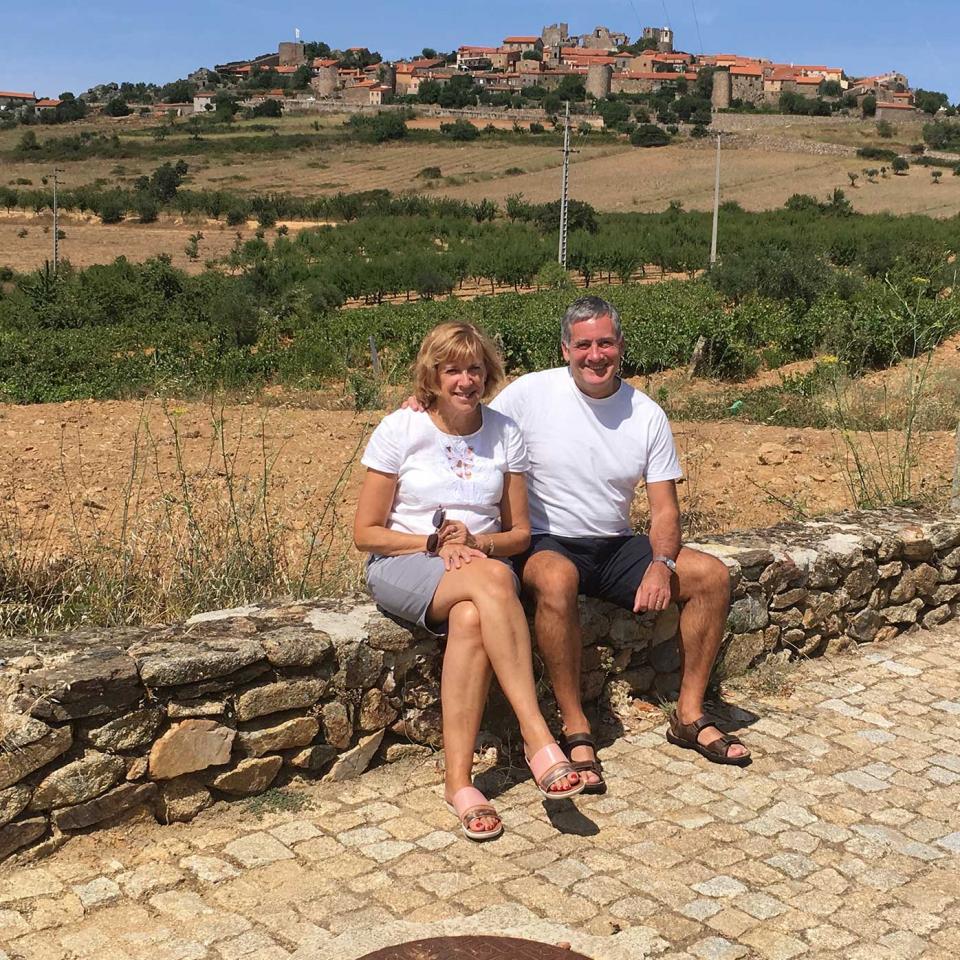 That evening, we still manage to graze the buffet of salads, cold meats, cheeses and desserts. However, more important than filling our stomachs, this is our first opportunity to meet fellow passengers, and we quickly find ourselves palling up with two couples of similar ages who were to become our best buddies for the trip.
After many drinks and a lot of laughter, we fall into our luxurious, but cosy (and by that I mean small but cleverly designed) cabin with ensuite and air conditioning. It's blissfully comfortable and we sleep like babies, not stirring even when the boat sets off at 5.30am the next morning. A gentle bump at 7am wakes us and we discover we are passing through the first of many huge locks. Throwing back the curtains every morning to views of vine-covered hills, the sound of birdsong and gently lapping water is one of the treats of each day. But there's no time for a lie-in, as breakfast finishes at 9.30am and it's not to be missed.
There's everything you could want, from freshly cooked omelette or scrambled eggs, sausages and wafer-thin, crispy bacon to fresh fruits and smoothies, pastries, continental meats and cheeses. Each day begins with a briefing of the itinerary, so passengers can decide if the planned outing is for them or not. No detail is left out – including how many steps there are to climb and where the loos are on each trip. On that first morning at 11am, it's all on deck to watch the captain edge the ship, with centimetres to spare, into Carrapatelo Lock. At 35m, it's the deepest lock in Europe and one of many that we will travel through during the week.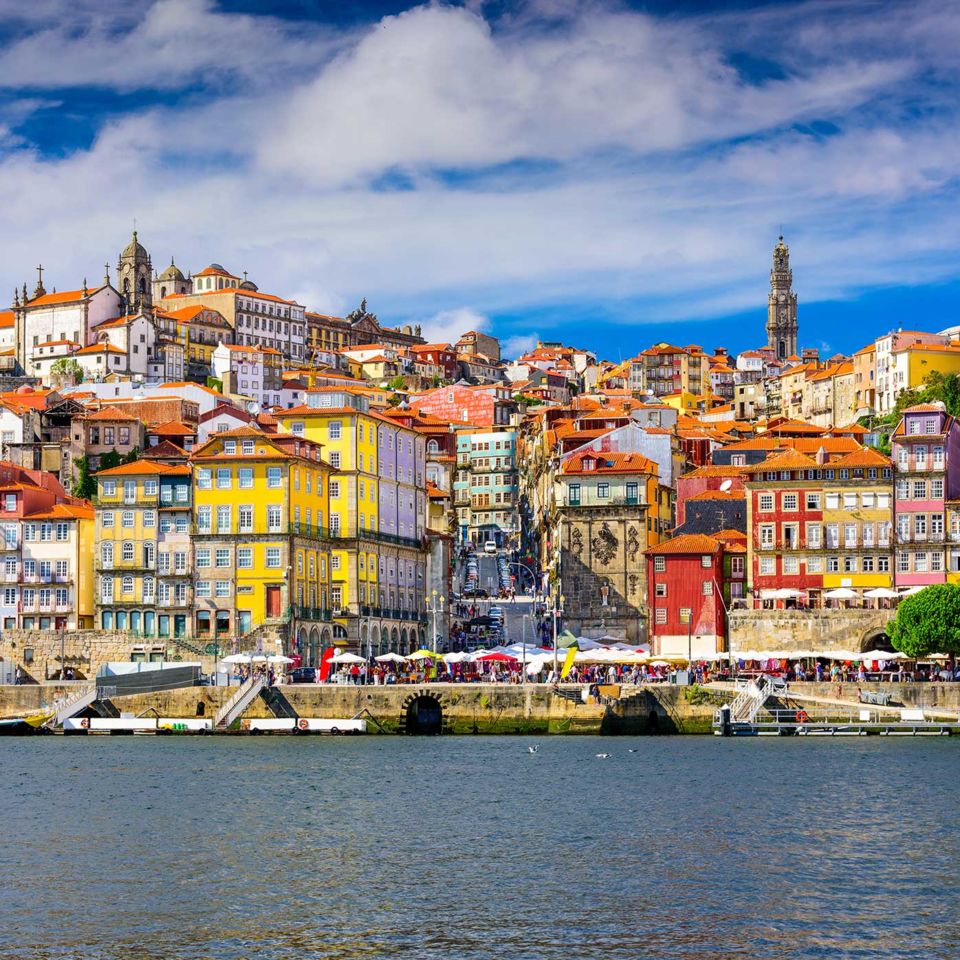 Colourful Porto. Image: Getty Images
Nights to remember
The cruise takes us through the beautiful Douro Valley, a Unesco World Heritage site, where the hills either side of the river have been hand-dug to create terraced vineyards. Our first excursion of many takes us to the top of a steep vineyard to the Quinta de Seixa wine centre for port-tasting. In the evenings, the ship's chefs manage to create amazing menus in what must be challenging kitchen quarters. Highlights are dishes such as cauliflower pannacotta with soft poached quail's egg, turbot fillet with asparagus and hollandaise, fillet of beef with Madeira sauce, baby octopus with vegetable tartar, and salt-baked salmon.
Every day there's a smattering of traditional Portugese dishes, a luxurious choice of desserts and excellent cheeses, too. The evenings pass all too quickly, with music from the resident pianist one night, a lively folk group the next, a highly competitive quiz and a vintage port ceremony. We spend most of our time getting to know fellow passengers, who include retired teachers, policemen, doctors, PAs and firefighters. All of us are revelling in the freedom and luxury of being empty-nesters, and enjoying a hassle-free holiday where every detail is taken care of.
Trips and tours
My favourite moments of the cruise include reading a book on deck (or at least thinking about reading a book; ours lay unopened as we spent so much time chatting and laughing with our new-found friends) and trying out the plunge pool in the sunshine. One memorable trip was an afternoon spent in Castelo Rodrigo, a medieval village that time has forgotten. Exploring its tiny pilgrimage church and cute shops, we sample a sparkling almond liqueur, buy candied almonds coated in chocolate; lavender; fleur de sel, and coffee, and treat ourselves to a sneaky little shot of Ginja De Obidos, a sour cherry liqueur served in a tiny chocolate cup.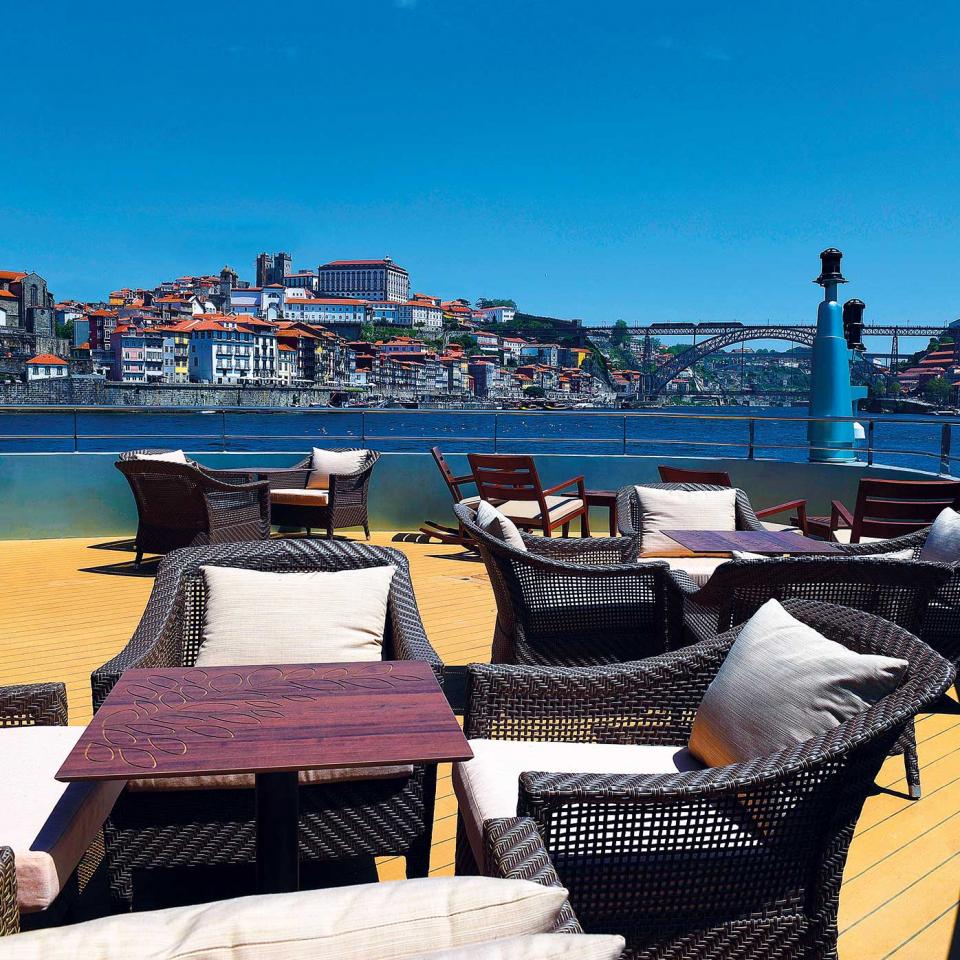 The sun deck of the Douro Splendour. Image: Riviera Travel
By day four of the cruise, we have crossed the border into Spain. Here, we are taken on a guided tour of Salamanca, taking in two stunning cathedrals and the country's oldest university, with plenty of time to explore the narrow streets and medieval squares before a paella lunch and flamenco show.
On another morning, our boat turns back downstream towards Peso da Régua in northern Portugal, and the pastry chef gives a short demonstration of making pastel de nata – those famous little custard tarts. We dip our thumbs into water and squeeze the tightly rolled slices of puff pastry up the sides of tartlet cases before filling with rich egg yolk custard flavoured with cinnamon, orange and lemon peel.
However, the highlight of that day is a splendid traditional dinner at the beautiful Quinta da Pacheca, where for the first time we discover Queijo de ovelha curado – a heavenly raw sheep's milk cheese (wrapped in a linen bandage to prevent it collapsing) that is so soft it is scooped onto biscuits and impossible to bring back to the UK without a coolbox.
Our penultimate day takes us on a tour of the gardens of the famous Mateus Palace, the magnificent mansion featured on the iconic rosé wine bottles, but not where the wine is actually produced. By now, friendships have been made by all 120 passengers and, after a glass of port or two, dinner turns into a lively cha-cha-cha led by the captain around the lounge. When we wake up back in Porto, we have the whole of our last day to explore. Clearly on the tourist map as Portugal's second-largest city, Porto is a colourful tumbledown medieval town, of stately beaux-arts buildings piled onto the hillside, many in crumbling disrepair, but which are now being developed into stylish apartments and hotels as tourism in the area begins to boom.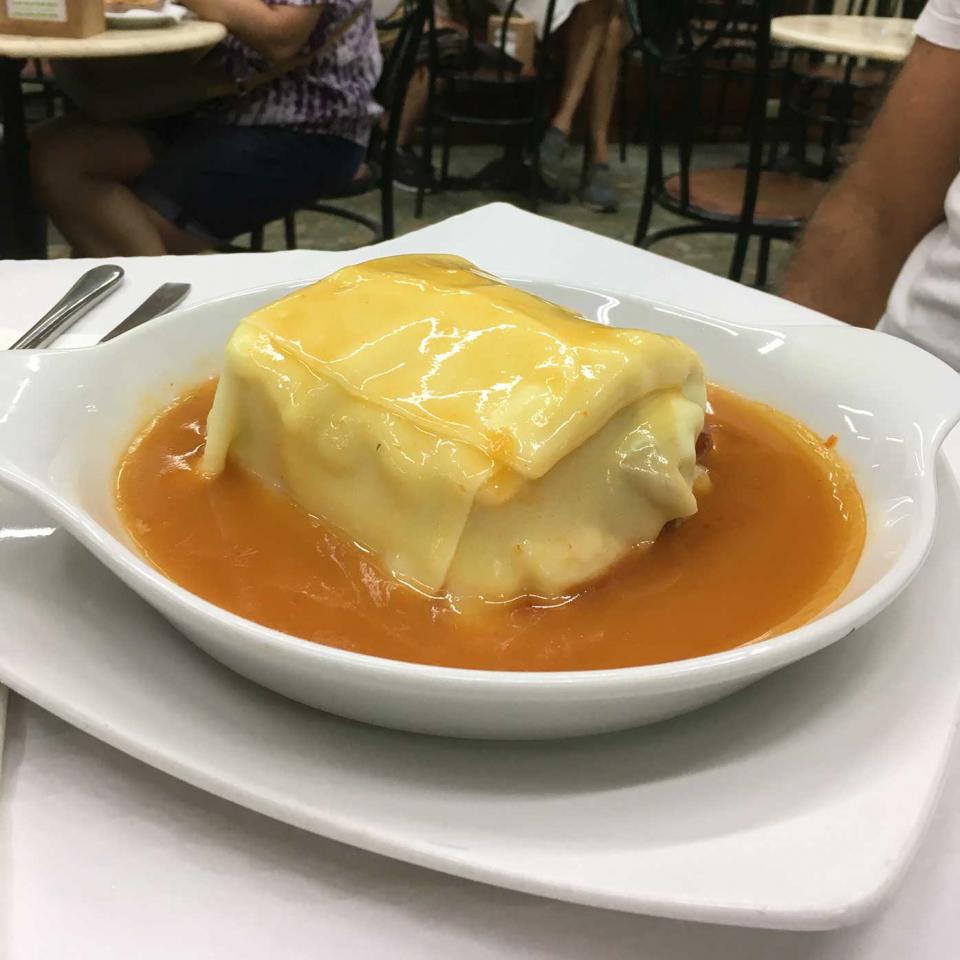 Francesinha - which tastes better than it looks!
Fun and friendship
The ship's excursion itinerary includes the stunning Monastery of Serra do Pilar, the Stock Exchange Palace and the beautifully tiled train station. However, we opt to go solo and spend a few hours on our own exploring Ribeira Square – the old part of the city with narrow streets and shops – and can't resist popping into every traditional food shop to sample the wares. A coffee, a huge francesinha sandwich (see right), two types of custard cakes and a bola de Berlim (custard-filled doughnut) in a 'pastelaria' bakery (for research purposes only, of course) all for 12 euros was a steal. It's our last night, which also happens to be my husband's birthday. Somehow, we manage to squeeze our four new friends into our cabin to share the complimentary bottle of fizz supplied by the ship, with promises to keep in touch forever. We feel as though we've been in a bubble of fun and friendship all week – the perfect recipe for a great holiday.
Must-try treats
TAWNY, RUBY OR WHITE PORT
If you're looking for a special bottle of port, this is the place to buy it, and to do a few tastings in the cellars of Porto. Try comparing younger ruby port with an older, more mellow tawny, or cool off with white port with ice, a slice of lemon and tonic water.
FRANCESINHA
This sandwich of white bread stuffed with linguica (garlicky smoked pork sausage) and roasted meats topped with cheese and a fried egg, then drenched in a rich beer sauce, tastes much better than it looks!
EGG-BASED TARTS
There's no escaping the egg-based desserts in every bakery. The national tart is the pastel de nata, but look out for other pastries, such as the pastel du tentegal, a cigar-shaped parcel of pastry wrapped around sweet egg yolk and almond custard, or pasteis de feijao, filled with almond and butter bean custard and topped with a crunchy sugary almond topping.
SARDINE SOUVENIRS
Colourful and artistic hand-wrapped labels and the highest quality fish.
Getting there
Riviera Travel offers an eight-day The Douro, Porto and Salamanca River Cruise from £1,449 per person, including return flights from eight UK airports and seven nights full-board on the MS Douro Splendour with fine dining. For more information, or to book, visit rivieratravel.co.uk.
About the author