Food
Why we love Whitstable Oyster Festival
by Leanne Bracey
Why not head to Whitstable Oyster Festival for foodie fun this week? It's on from Saturday 26 July until Friday 1 August. I've been most years – it's hard not to when you live in Whitstable – and for a whole week the pretty harbour village will host this laid-back community event, featuring food fairs, live music and, of course, many, many oysters. Here are my local top tips for a great weekend.
Seafood – and eat it
• Make sure you have a wander around Harbour Food Fair on 26 and 27 July. You'll be able to sample oysters, paella, local beer and other seafood treats, and listen to local musicians. Be warned: it gets really busy, so it's best to get there early or wait until after lunch.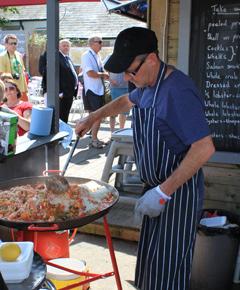 Viva la paella!
Browse the shops
• Walk along Harbour Street to browse in all the lovely local shops.The Cheese Box sells delicious artisan cheeses and Frank is great for craft and art. The Print Block in East Quay is also a good place to head to if you want to buy some local art.
Listen to music and comedy
• There are some great music and comedy events this year with Finley Quaye, The Cuban Brothers and Sean Lock performing, but I've heard they are quickly selling out – so be sure to get tickets online at whitstableoysterfestival.co.uk. Most of the other events are free, but some you will need to pay for.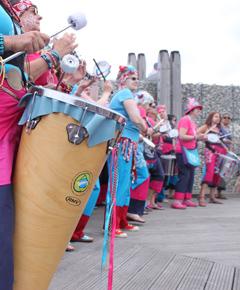 Street party
Take a break from the crowds
• If the bustle is too much, take a walk to (the slightly quieter) Tankerton Slopes. Stop off for a drink at The Marine Hotel. Further along is JoJo's, a local favourite for tapas. Although it does gets booked up, you can always sit outside with a coffee from their cafe. Grab a bottle of wine at The Wine Room wine merchants to take with you to the beach and watch the sun go down.
It's not all seafood...
• My favourite place to eat in Whistable at the moment is The Burger Bros at The Coach & Horses pub. They honestly make one of the best burgers I've ever tasted. Afterwards – if you can squeeze yourself in – be sure to check out The Black Dog micro pub on the High Street, or head to the seafront beer festival at the East Quay, where you can try over 30 cask ale beers with a beach barbecue and music.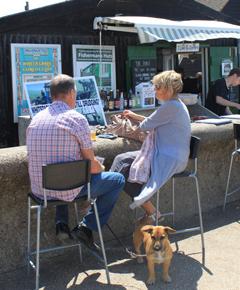 Seafront beer
Top tip!
• Parking has recently been a problem in Whitstable due to the closure of the town's biggest car park. I'd advise taking a train – the station's just a few minutes walk from where all the action is. If you can't leave the car at home, take a park and ride from outside the town. Reserve your space at the park and ride for £7.50 at whitstableoysterfestival.co.uk, or pay £10 on the day.
There are so many other events on throughout the week, and plenty to keep children occupied. Check out the website for more information: whitstableoysterfestival.co.uk
Don`t miss

---