Food
Where to eat when Christmas shopping on Oxford Street
If you are planning a visit to the hell that is Oxford Street for some Christmas shopping, then it pays to be prepared. Take a note of one of our suggestions (and book a table if you can), and you'll avoid the desperation of a tasteless Pret sandwich or the foodie horror of an Angus steakhouse supper.
Our guide travels down Oxford Street from west (Marble Arch) to east (Tottenham Court Road). We've given each establishment a cost rating: £ cheap and cheerful; ££ a bit more special; £££ a treat; ££££ pricey, but worth it (we think!).
Seymour Place
This lovely little street with its villagey atmosphere is a hidden foodie delight and minutes from Marble Arch tube station. Head to The Lockhart ££ for some substantial southern comfort in the shape of a giant muffaletta (a sarnie stuffed with delicious deli meats, pickles and more) or graze on retro snacks such as deviled eggs or toast and homemade jam. Fancy something a little more dainty? Then the Basque tapas at Donostia £££ will suit. Choose from crispy fried cod cheeks with squid ink aioli or rump steak with caramelised onion and red wine sauce. More of a pasta person? Then new opening Bernardi's £££ with its young female chef Sabrida Gidda will be your thing with tagliolini with Cornish crab or tarragon gnocchi with rabbit ragu and pancetta. Just what the doctor ordered.
(Lockhart's giant muffaletta)
Marylebone
Spent too long (and too much money) in Selfridges? Then cool down in this patch of foodie heaven. For something quick, head to Comptoir Libanais ££ where you can order mezze platters, grilled meats and flatbreads and also pick up some lovely oils, herbs and spices for gifts. Wine buffs should head straight to 28°-50° ££ where they have an amazing wine list by the glass, plus delicious modern British and French food that won't break the bank. Brand-spanking new is The Ivy Cafe ££, a stylish little sister to the famous Covent Garden luvvie hangout. Indulge in their famous shepherds pie. Another classic is Caffé Caldesi, run by our good friends Giancarlo and his wife Katie. Eat fantastic pasta in the downstairs bar ££ or go the whole three-course hog in the smart upstairs restaurant £££.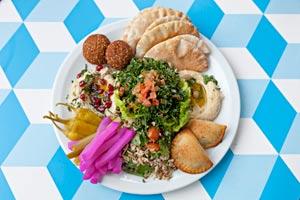 (Comptoir Libanais mezze)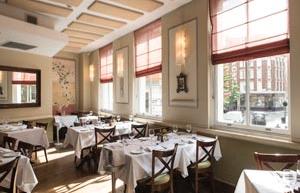 (Forget all your shopping woes at Caffe Caldesi)
Bond Street
Right at the edge of Mayfair there are some foodie haunts that won't be swamped. Tucked into Lancashire Court, a little alley behind Victoria's Secret, is Mews of Mayfair £££, where you can indulge in a cocktail or three and enjoy modern British brasserie food. Or choose a great pizza next door at the Mayfair Pizza Co ££ where Vogue-ettes sneak out to enjoy some illicit carbs.
Oxford Circus
Believe it or not there are some excellent eateries only seconds from the madness. Supper with the girls? Then head up to Aqua Nueva ££££ for glam cocktails, excellent tapas and a clubby atmosphere. Just plain starving? Check out Flatplanet £, a fun, fast hideout with live music and comedy some evenings. Craving curry? See if you can grab a table at the new Dishoom ££ on Kingly Street, where you can enjoy breakfast (sausage naan roll anyone?), lunch (you must order the black house dahl), or dinner (chicken ruby is a must).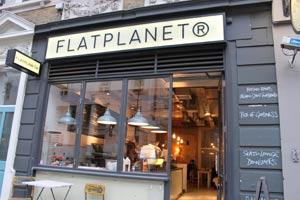 (Flat Planet is a great speedy option)
Great Portland Street
This used to be rag-trade central, but is now home to many great cafes, restaurants and bars. For great Beirut street food check out Yalla Yalla £ hidden away in Winsley Street. Their sautéed chicken liver dish comes with garlic and pomegranate molasses and was voted one of the top 100 dishes in London. The Riding House Café £££ is a magazine team favourite and a great all-day dining destination. Highly rated by food critics is Portland £££, where they take their ingredients and their cooking seriously, and we also love Picture ££££ where the selection of small plates, such as 28-day aged beef with onion, celeriac and rainbow chard, look as good as they are to eat.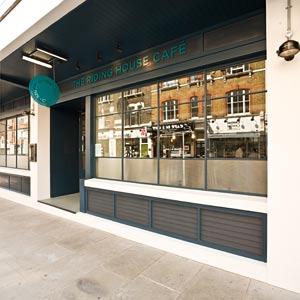 (The Riding House Cafe is a must!)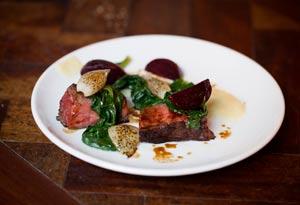 (Picture's beef is unparalleled)
Fitzrovia
North of Oxford Street is Charlotte Street heaving with bearded types and ice-cool media queens. Join them for signature Korean dishes at Bibimbap £, such as kimchi soup, chicken ramen or Korean fried chicken. Or head to
BarnYard
, the stylish little brother of Michelin-starred Dabbous ££, with more wallet-friendly prices; a bavette steak, bearnaise sauce and triple-cooked chips will set you back £17.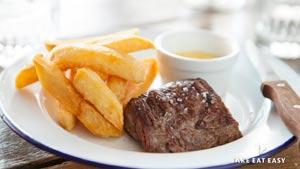 (Barnyard's mouthwatering steak - Picture taken by Take Eat Easy)
Not in London? Here are some brilliant cafes to stop for a tea break while Christmas shopping.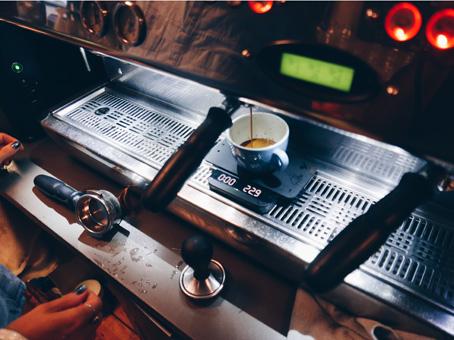 Manchester: North Tea Power
Loose-leaf tea and carefully sourced coffee in the heart of the shopping district at North Tea Power. northteapower.co.uk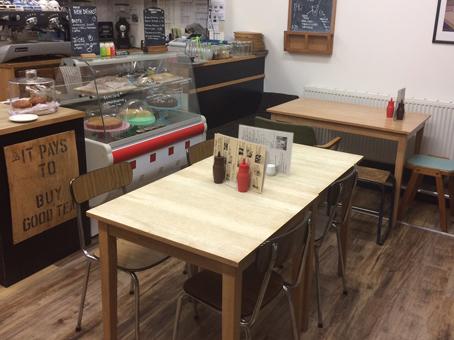 Sheffield: Gerties
Gerties is a local favourite with quirky tea blends – anyone fancy a Bakewell Tart tea? gerties-teas.co.uk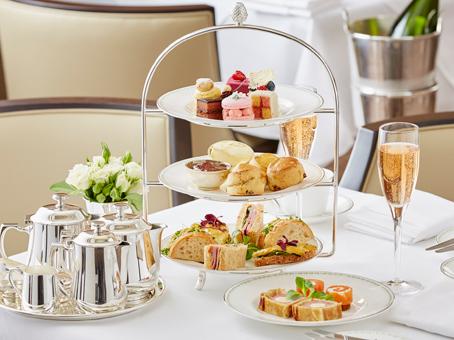 York: Bettys
Visit Bettys for a legendary afternoon tea, a short walk from the city's picturesque Shambles. bettys.co.uk
About the author