Food
Where to eat the best Caribbean food in London
This weekend's Notting Hill Carnival has got us dreaming about great Caribbean food. We're talking jerk chicken, rice and peas, goat curry, fried plantain, rum cocktails. Drool.
If you can't get to the festival, don't panic; there are loads of places to get a taste of the Caribbean in London. Here are a few of our faves to try if you haven't already...
BEST FOR BREAKFAST...
With its walls covered in vintage posters, this small Caribbean restaurant is a little reminiscent of an American dinner, yet it oozes the relaxing vibes of a beachside holiday. It's child friendly with lots for younger diners, but its real selling point is its hugely extensive Caribbean breakfast menu.
You've gotta try: 'The Jamaican Breakfast'. Ackee, bacon, boiled eggs, spicy beans, hash browns and warm traditional roti.
This Caribbean gem hidden up Brixton Hill is hugely popular with locals searching for a resolution for their Sunday morning headaches. The relaxed atmosphere and epic brunches certainly do the trick! If you're dining later in the day, don't forget it's BYOB.
You've gotta try: The award winning jerk sausage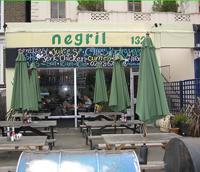 Pic taken from londinese.tumblr
BEST FOR COCKTAILS
This recently opened bar/restaurant offers up authentic cuisine and killer cocktails in what used to be the cloakroom of Adventure Bar. Already famous for its rum punch and buzzing atmosphere, it's a great place to visit if you fancy a boozy Caribbean dinning experience.
You've gotta try: The Reggae Rum Punch
Rum Kitchen (W1)
The Rum Kitchen has the best Caribbean cocktails in London. Head to Soho after work on Friday - (N.B. not suitable for school nights)
You've gotta try: The Rattle Skull punch, made with the Rum Kitchen house rum: a blend of dark and light rums mixed with juice and spice.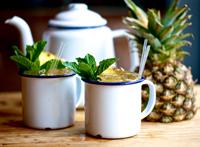 Pic taken from crummbs.co.uk-rattleskullpunch
BEST FOR AUTHENTIC
Fish, Wings and Tings (SW9)
Head to Brixton Village for authentic Jamaican grub. The menu is small but mighty featuring Caribbean favourites like veg roti, jerk chicken, goat curry and coconut curry prawns. You're looking at between £6-£9 for a main. Bargain.
You've gotta try: reggae wings with tamarind BBQ sauce and pineapple mango chutney to start.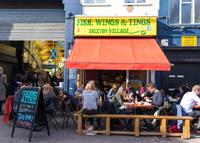 Pic taken from mondomulia.com
Roti Joupa (SW4)
Don't let looks deceive you: described as the place where 'Homesick Trinidadians come for a culinary pick me-up', this small Caribbean take-away on Clapham High Street is renowned across London for serving up rotis that are seriously hard to beat.
You've gotta try: Hot Doubles. This roti filled with chickpea curry is the ultimate Caribbean snack food.


Pic taken from foodnetwork.ca
BEST FOR ON THE GO
This new fast food restaurant in Covent Garden delivers Caribbean favourites such as jerk chicken and curried goat in delicious pastry patties. It also houses some incredible ice creams and desserts.
You've gotta try: the flaky and crispy patty pastry... with a side of Tortuga rum cake.
Pic taken from Instagram
There's always a huge queue of Boom-hungry people snaking down Portobello Road all wanting to get their hands on one of their 6 signature Caribbean burgers. It's also short walk from the other branch of Rum Kitchen if you're keen to carry on the theme of the night and start on the cocktails.
You've gotta try: 'The Jerk Boom' chicken burger, served with fried plantain, rocket, mango and pawpaw sauce.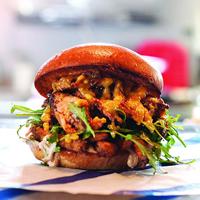 Pic taken from foodedited.com
Do you know any other great Caribbean restaurants? We want to hear from you. Let us know in the comments box below...
About the author