Food
What I ate at Royal Ascot…
by Katrina Rendall
Our feature writer Katrina spent a day at Royal Ascot being wined and dined alongside Michelin starred chef, Angela Hartnett. We may not all have been so lucky as to don our fascinators and be treated to a special www.smartexperiences.co.uk package, but we've matched a few of the dishes to recipes you can make at home to create your own posh day out...
Katrina's food diary
11am: PIMM'S
'I arrived at the Royal Ascot Village and into the Bowler Hat & Garden Bar – feeling a little bit like a VIP – to be handed a cool glass of Pimm's and introduced to the lovely Angela Hartnett, as promenading performers circulated around us. Some wore bowler hats, naturally, and others had flowerpots on their heads – my hat wasn't going to win any prizes at this rate!'
TRY AT HOME: Pimm's cupcakes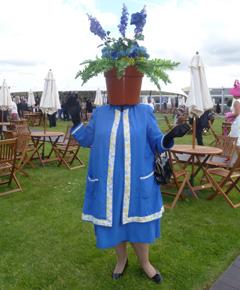 Mum?
Midday: LUNCH
'We took our seats in the marquee for four courses, starting with beef carpaccio (beetroot carpaccio and goats' curd for the veggies), poached salmon and asparagus for the main course (vegetarians got Israeli couscous with smoked tofu), followed by a "tapas-style" dessert table, from which we could take our pick – I opted for the lemon posset and shortbread biscuit, but the chocolate and cherry delice and strawberry marshmallow mini cornets looked equally mouth-watering.'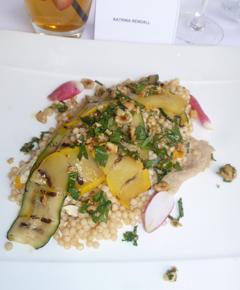 Israeli couscous with smoked tofu
2pm: CHEESE
'Drinks in hand, we headed up to the Racecourse to wave to the Queen as the Royal Procession passed, before heading back to our seats for the "cheese workshop". The highlight was a Shorrocks Lancashire Bomb – a black waxed orb of crumbly white cheese with a soft blue centre. It came served with celery pickle, pear jelly, fig bread and charcoal crackers, and presented on grazing platforms for guests to return to throughout the afternoon (yes, I did go back for seconds!).'
TRY AT HOME: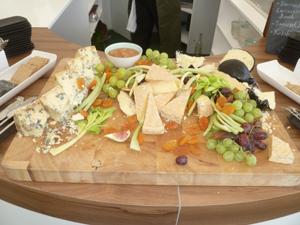 Cheese-tastic
3pm: AFTERNOON TEA
'The first race over, we returned to the marquee for a truly theatrical spread – the Alice in Wonderland-inspired "Mad Hatter's afternoon tea party". From traditional scones, finger sandwiches and melt-in-the-mouth macarons, to Queen of Hearts jam tarts, mini "drink me" milkshakes, sour apple marshmallows and shards of chocolate popping candy.'
TRY AT HOME: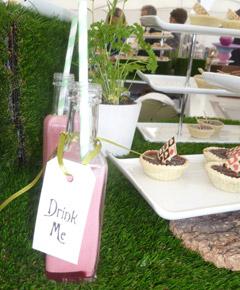 Tea party
A Smart Experiences hospitality package starts at £299 per person, including your ticket and all food and drinks, apart from Champagne .
Don`t miss

---