Food
Weekend curry - Bill Granger's Beef Rendang
by Sarah Alcock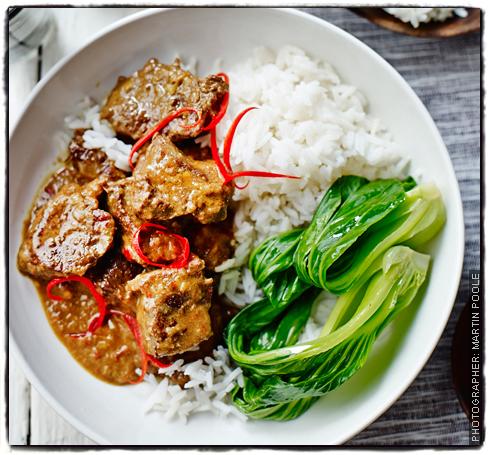 Rendang has quite a kick to it, so reduce the amount of chilli if you prefer a milder heat. It tastes even better the following day, after the flavours have had a chance to infuse. Serve with rice and pak choi.
Use a slow cooker: Follow to the end of step 2, seal the meat and add to the slow cooker with the spice paste, coconut milk, cinnamon sticks, tamarind, salt and sugar – don't add any water. Cook on high for 4 hours. Make up to 2 days ahead and reheat thoroughly. Can be frozen; defrost thoroughly before reheating
Ingredients
2 red onions, roughly chopped
5 garlic cloves, peeled
2 tbsp grated root ginger
6 large red chillies – 3 deseeded and roughly chopped, and 3 roughly chopped
3 lemongrass stalks, outer leaves discarded, roughly chopped
3 tbsp groundnut oil
2 tbsp ground cumin
2 tbsp ground coriander
2 tsp turmeric
2kg stewing or braising steak, diced
2 cinnamon sticks
1 x 400ml tin coconut milk
1 tbsp tamarind paste or lime juice
2 tsp sea salt
1 tbsp light brown soft sugar
Method
Place the onion, garlic, ginger, chillies and lemongrass in a food processor and pulse to a paste.
Heat the oil in a large heavy-based pan over a medium heat. Add the paste and the cumin, coriander and turmeric, and cook, stirring, for 2 minutes or until fragrant.
Add the beef; cook over a high heat for 4–5 minutes until just sealed. Add 400ml water, the cinnamon sticks, coconut milk, tamarind paste, salt and sugar, and bring to the boil.
Reduce the heat and simmer, uncovered, for 2-2½ hours, stirring occasionally, or until the meat starts to break up and most of the liquid has evaporated. Discard the cinnamon sticks before serving.
Don`t miss

---