Food
The UK's 15 best veggie restaurants
Long gone are the days when vegetarians had to make do with side salads while their meat-eating friends chomped their way through burgers. We reveal the best vegetarian restaurants around the country - including the best veggie spots in London, Leeds, Bath, Edinburgh and Manchester...
This London vegetarian institution is still thriving more than 30 years after it launched – today there are four branches across the city. Capable of converting the most stubborn of carnivores, the varied menu has something to satisfy everyone, from wholesome curries and 'soul bowls' to hearty pies and burgers. Queues often form at the Soho original, but you can take a seat at the bar, cocktail in hand, while you wait.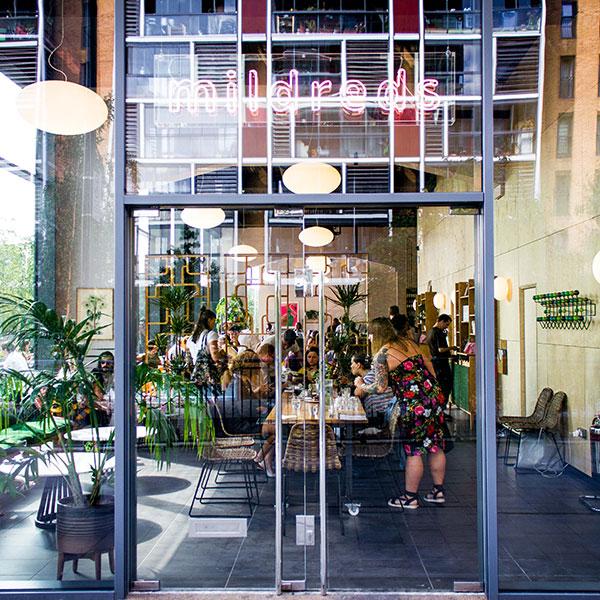 Bundobust, Leeds and Manchester
This mini-chain specialising in Indian street food and craft beer serves up a tempting range of vibrant, great-value dishes like okra fries in chickpea batter, paneer skewers and deep- fried spiced potato burger. You order at the bar and take a seat at a communal table – as a green bonus, the pots your meal comes in and the cultlery you eat it with are fully compostable.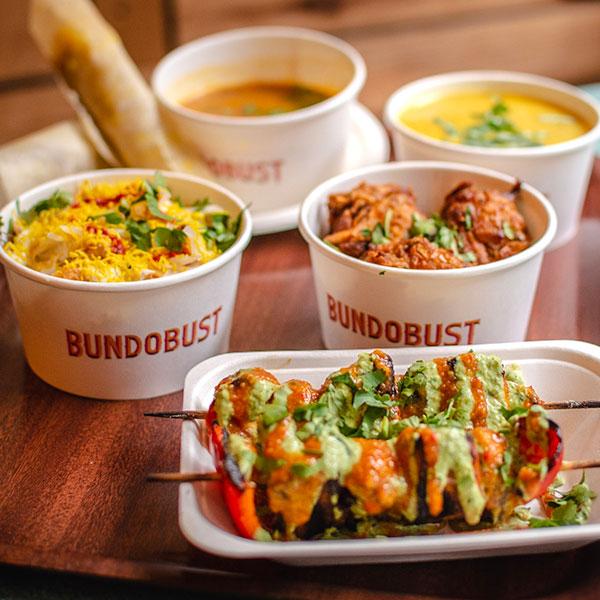 As you might expect, this vegan café in the courtyard of the Centre for Contemporary Arts attracts a creative crowd – but it makes the perfect veggie pit-stop for visitors to the city, too. The extensive menu offers everything from small plates and seasonal mains to sourdough pizzas and deliciously filling salads.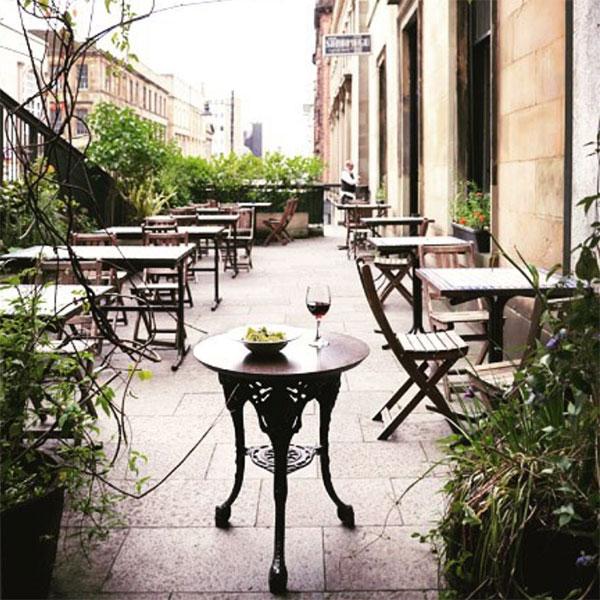 Perfectly positioned for watching the world go by on the corner of the bustling Lanes, Brighton's original vegetarian restaurant offers a mouthwatering menu of globally inspired dishes. The ingredients are organic and locally sourced where possible – try the sharing platter, which includes courgette kofta with coconut tzatziki and pickled turmeric cauliflower.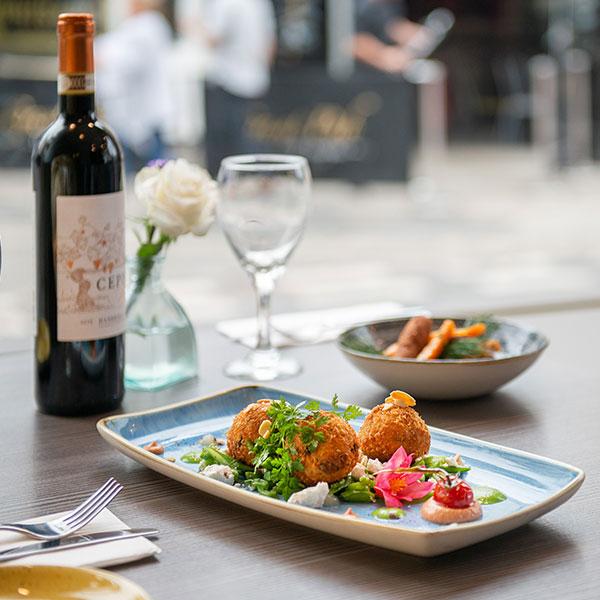 This quirky vegan 'fast-food' restaurant, with its sunshine-yellow frontage and bright tiles, is all about health-conscious Asian and African-inspired dishes, like Ethiopian lentil stew, soba noodle salad and aromatic coconut laksa. Sustainability is a priority here: think minimal plastic packaging, tables made from recycled yogurt pots and greens grown in-house.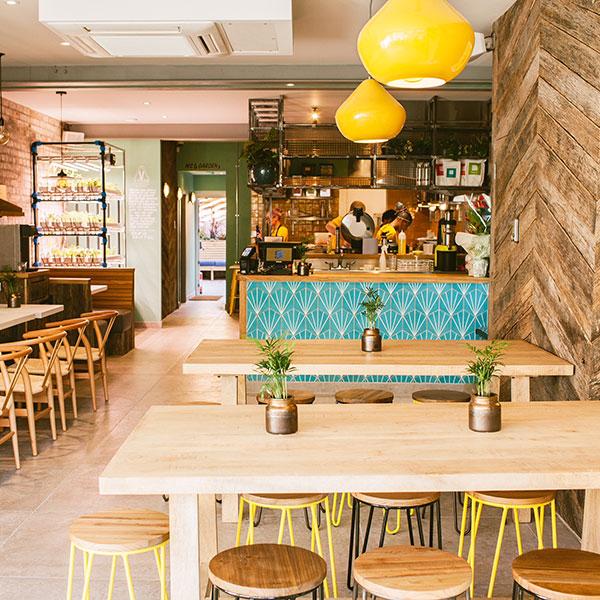 Bringing veggie and vegan creativity to Nottingham's food scene, this cafe ticks all the boxes: start the day with a spiced pumpkin porridge and beetroot latte, then lunch on a build-your-own salad bowl. The vegan popcorn 'chicken' and 'steak' sarnies are seriously impressive, and it's well worth keeping an eye out for their fine dining tasting menu evenings.
This plant loving, waste-hating bakery and cafe in the market town of Sudbury is full of charm, with a small, vegan-friendly menu aimed at sustainability. Pop by in the morning for a butter-free croissant (just as good as the non-vegan original) and sample the seasonal tartine come lunchtime. Fancy a takeaway? Just bring your own reusable container and they'll load it up for you.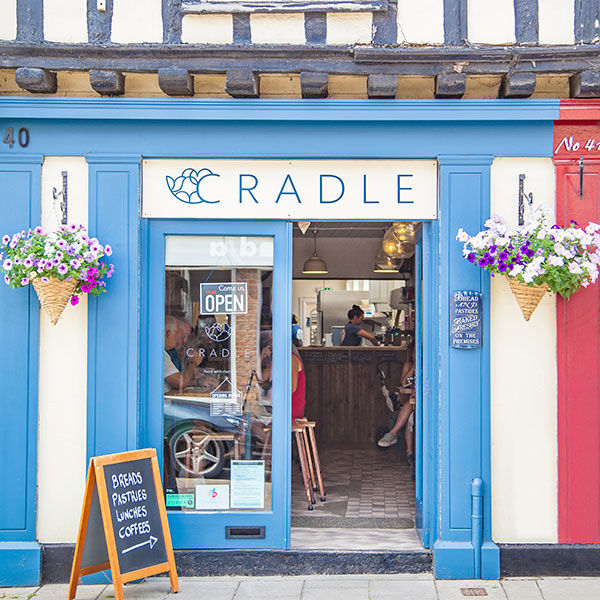 Stem + Glory, Cambridge and London
Crowned Cambridge's best overall restaurant in 2018, Stem + Glory has now put down roots in London too. It's completely vegan (including the bar), and serves breakfast, lunch and dinner, plus a great weekend brunch. Don't miss the plant-based 'Full English', which comes with scrambled tofu, beans, veggie 'bacon', mushrooms, spinach and toasted sourdough.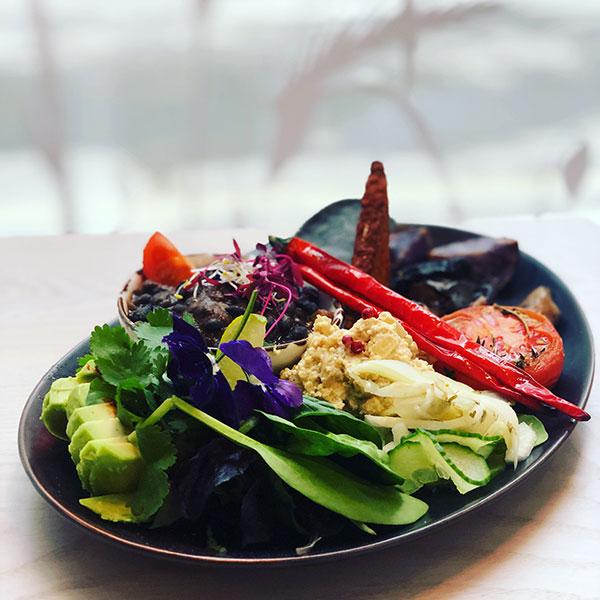 The UK's longest-running vegetarian restaurant, Henderson's introduced Edinburgh to the concept of meat-free dining back in the 1960s. Today there are four locations across the city, including a fully vegan restaurant on Thistle Street. As well as daily-changing soups and hearty salads, you can tuck into indulgent pancakes, breakfast bowls and vegan haggis.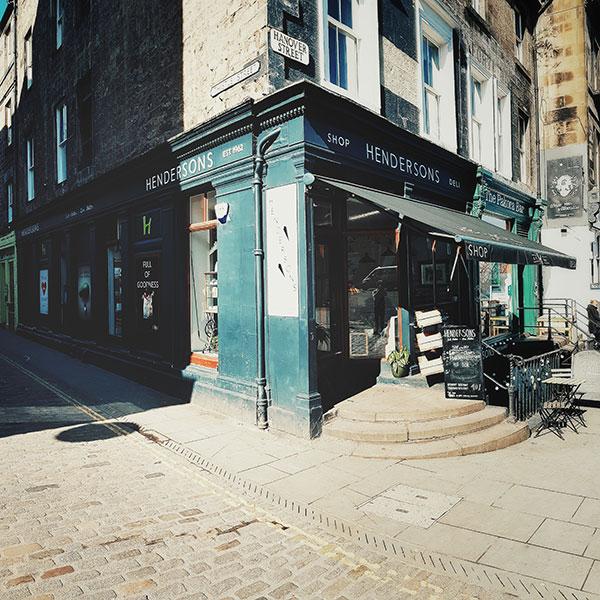 If you're in need of a serious fried-food fix after a big night out, this trendy basement eatery is the place to head for. From jackfruit nuggets tossed in a sticky chilli glaze to crispy cauliflower florets in fiery buffalo sauce and deep-fried halloumi fingers, the food packs a punch – and that's just the sides! The burgers, which come in a toasted pretzel bun, are Insta-worthy (try the pea fritter with crunchy kale), and the loaded mac'n'cheese bowl is a must-order.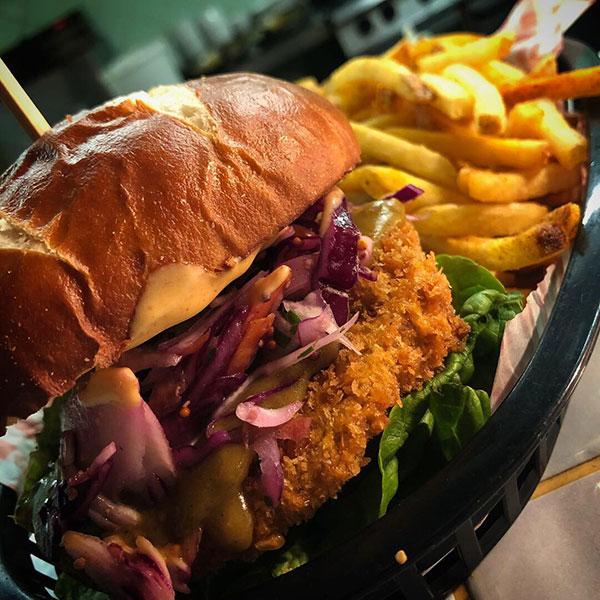 This buzzy yet laid-back neighbourhood restaurant in the leafy suburb of Didsbury was opened by TV chef Simon Rimmer in 1990, and offers globally inspired veggie delights like deep-fried oyster mushroom pancakes (think veggie Peking duck), pulled jackfruit tacos and sweet potato katsu curry. You'll definitely want to book ahead for the Sunday roast.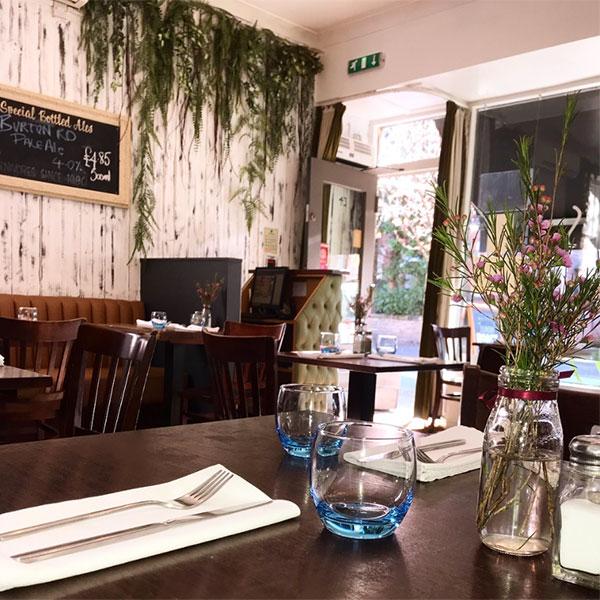 It may be in one of Bath's oldest buildings, but award-winning Acorn is seriously forward-looking. It was originally vegetarian, but chef Richard Buckley decided to quietly make the menu completely vegan last year – he did it so well he claims that nobody noticed! Go for the full gastronomic experience with the five- or seven-course tasting menu, featuring the likes of coffee-infused cauliflower with hazelnut polenta.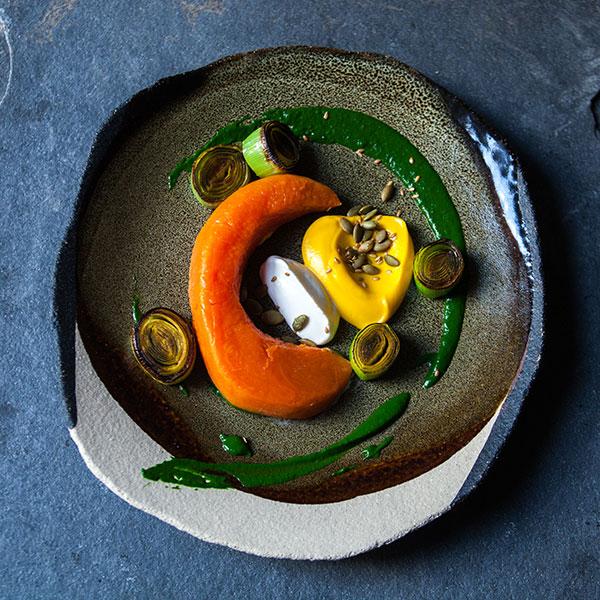 After revolutionising the capital's street- food scene, this eclectic vegan cafe has found a permanent home in London Fields. Bowl food, generous portions and a bustling atmosphere are the order of the day. Swing by for a Yoga Fire – spiced chickpea and sweet potato curry – or the spicy jungle curry with tofu.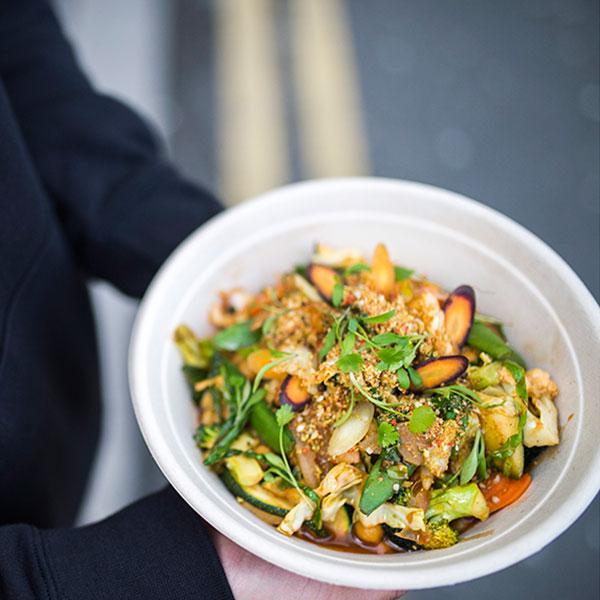 Image by Jordan Curtis Hughes
1847, Manchester and Birmingham
Named after the year the Vegetarian Society was formed, 1847 brings serious sophistication to plant-based dining in a stylish Scandi setting. The food is modern and seasonally British, with a focus on vegetables – standout dishes include battered miso halloumi with edamame purée and lotus root chips, and carrot presse and quinoa bonbon with yogurt, coriander and dukkah.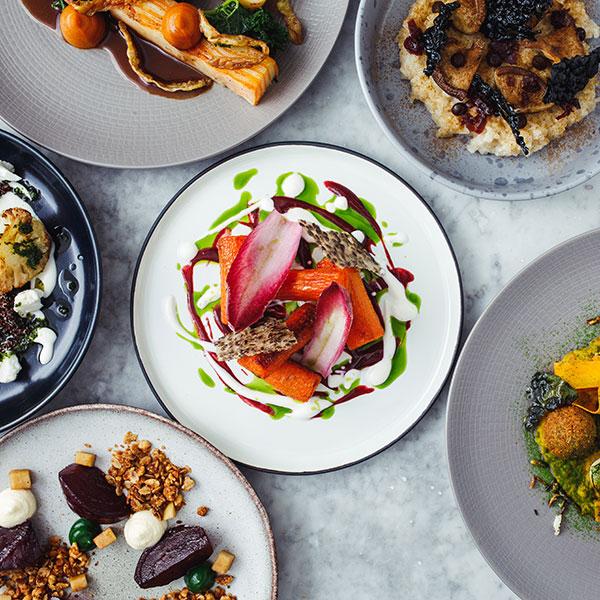 Handily located just off the Royal Mile, David Bann has an inventive menu that draws on influences from around the world, and is sure to satisfy meat-eaters too. Spiced quinoa, spinach and courgette wrap with an arancino sits alongside smoked tofu udon noodles.
About the author