Food
The perfect Swiss roll
by Sarah Alcock
In honour of the mighty Great British Bake Off being back on our screens, here are our 6 tips on how to get a tight roll, no cracks and no jam overflow – plus a few different filling flavour suggestions; you know that Mary and Paul like a baking maverick!
1. Don't overcook the sponge; it should be lightly golden. Check that your sponge has a nice spring to the touch; this will make it easier to roll.
2. Turn out your sponge onto baking paper. You can dust this with icing sugar or cocoa if you like. You'll need it to help you roll your sponge without sticking.
3. To make rolling much easier, gently score an indentation with a small sharp knife 1cm or so in from the edge of one of the shorter sides of the sponge (don't cut all the way through), and start to roll up from this side.
4. You need to roll the sponge when warm as it's more bendy. Roll tightly with the baking paper then leave to cool before unrolling.
5. Don't go too close to the edges of your sponge when filling, or it will all ooze out when rolled.
6. When rerolling, pull the paper towards you and use your other hand to help ease the sponge into a roll.
FILLINGS
The bakers tonight may go for the classic jam filling, but no doubt a few will try something new. Here's four other flavours to try...
•
LEMON
: Add a layer of lemon curd, then a layer of whipped cream. Scatter with fresh raspberries.
•
CHOCOLATE
: Grate or shave dark chocolate into whipped cream then top with a few ripe cherry halves.
• ORANGE: Stir orange zest, orange curd and a few blueberries into whipped cream.
•
PASSIONFRUIT
: Stir passionfruit pulp and grated lemon zest into whipped cream. Add a few chopped mangoes or papaya on top of the cream when spread.
Try making Mary's lemon roulade and test out our tips for getting that perfect roll.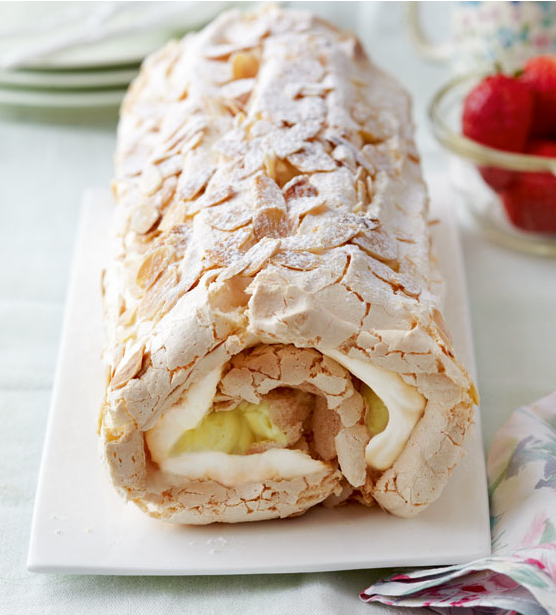 Do you have any top tips? Let us know in the comments box below
Don`t miss

---