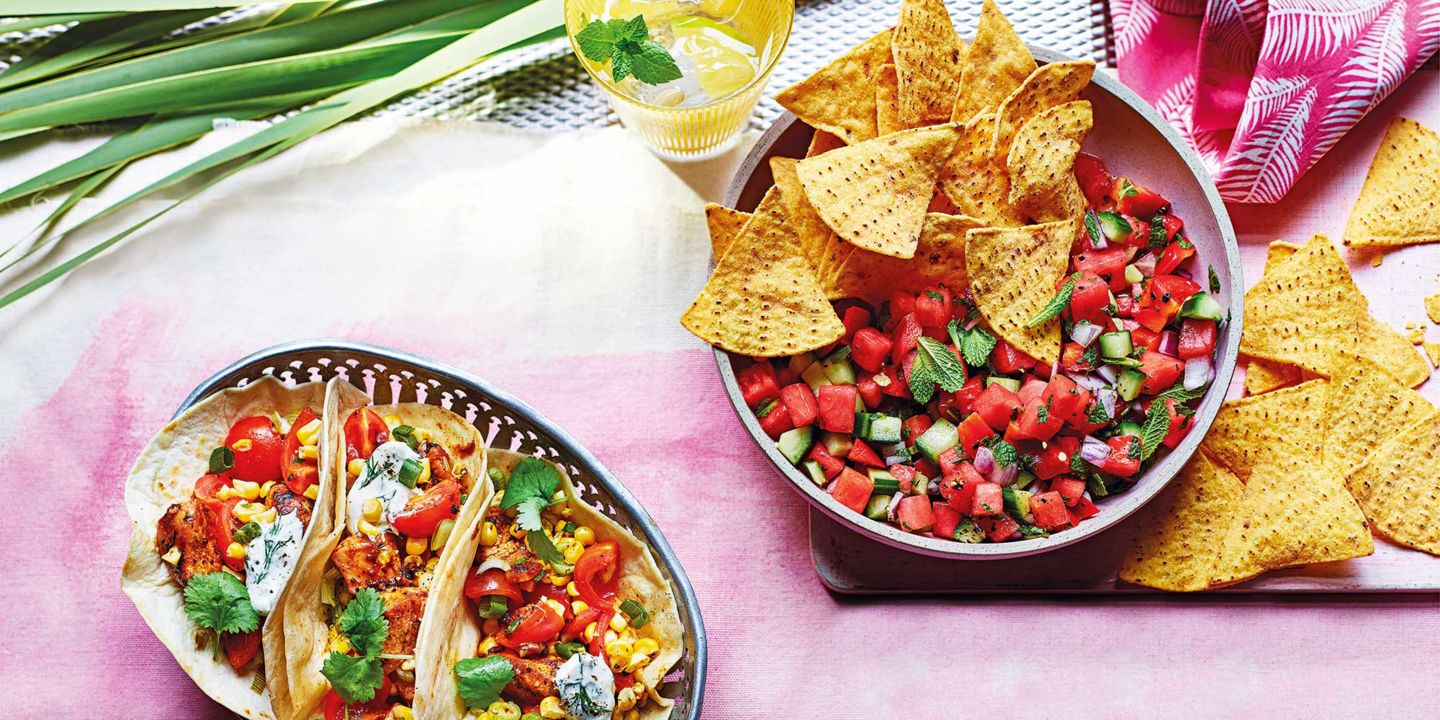 Food
The £20 family feast: budget Tex-Mex weekend menu to share
Get those summer holiday vibes for less than it costs to take a taxi to the airport, with Nicky Corbishley's sun-soaked family menu
Nicky Corbishley and husband Chris run Kitchen Sanctuary, a recipe blog and YouTube channel specialising in family-friendly food. Here, Nicky shares a serves-four family feast for less than £20.
'Kitchen Sanctuary – our blog and YouTube channel – is a real family enterprise. I do the recipe development and stills photography while my husband Chris is the videographer and also runs the accounts and arranges contracts. I've even got my mother-in-law involved, too! And of course our children – Gracey, 15, and Lewis, 10 – benefit from all the delicious food. We often have a 'blogger buffet' dinner where we all help ourselves to the recipes we've been testing that day. This means we can end up with a pretty random selection of dishes but it also means we never waste anything.
Using up leftovers is so important if you are cooking on a budget. For instance, a whole chicken can provide the four of us with three meals – first as a roast, then the leftovers get used in a pie or in sandwiches, and I boil up the carcass for chicken soup with loads of added veg. If I want to be careful with the pennies, I'll bulk out meat dishes with lots of in-season veg – we grow a lot ourselves – and tins of pulses, which are really useful.
Although Chris and I used to work together in quite demanding IT jobs, we now work full time on the blog and the videos, and the feedback we get is amazing. We both work from home so have been able to move from Cheshire to near Brixham in Devon where we are enjoying all the locally caught fish and seafood. But still the most popular recipes on our blog include sesame chicken (the favourite by a long way), a quick chicken curry which uses a shop-bought curry paste, and a chicken pasta bake. All very family-friendly, comforting and inexpensive, too.'

STARTER: WATERMELON SALSA WITH TORTILLA CHIPS
A super quick, relaxed starter that's perfect for sharing. If you fancy more of a kick, you can add in a finely chopped jalapeño.

MAIN: CHICKEN AND CORN TACOS
For extra smokiness, fire up the barbecue and cook the chicken and corn over coals, threading the chicken pieces onto skewers first.

SIDE: HERBY GARLIC BUTTER POTATO WEDGES
You can swap the fresh herbs for dried herbs if you like, mixing them all with the potatoes before they go in the oven; no need to add extra parsley to serve.

DESSERT: ROASTED PEACH ICE CREAM SUNDAE
Try swapping the peaches for plums or apples (use eating apples, so they maintain their shape).
DON'T MISS!
We have lots more budget recipe ideas - each costing less than £2 per head.
Recipe photographs: Kris Kirkham.
Don`t miss

---