Food
Sticky orange marmalade cake
by Sarah Alcock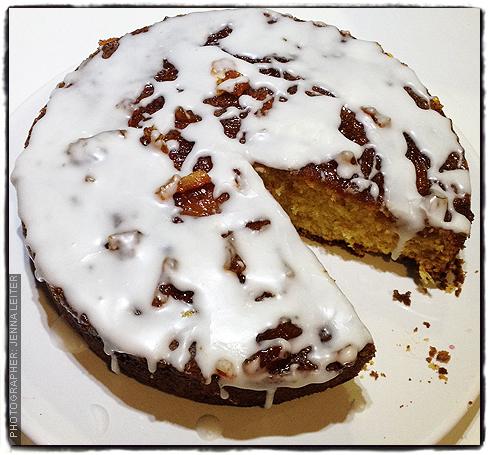 We were so sad when The Great British Bake Off finished, especially at the thought of having to wait another year to see the next batch of bakers try to impress Mary and Paul. But, as it turns out, we don't have to. The Great Comic Relief Bake Off, a new four-part series, starts at 8.30pm tonight on BBC2 – hurrah!
It looks like the snow is here to stay, so what better time to get in the kitchen and whip up some tasty cakes for your very own Comic Relief bake sale – starting with this sticky orange marmalade cake? Invite your friends round for a cuppa and a slice – and make sure they bring some hard cash!
This cake tastes even better when you make your own marmalade. Try our delicious, easy recipe.
What's your favourite kind of cake? Tempt us in the comments box, below.
The Great Comic Relief Bake Off book, £2.50, is available now at Sainsbury's.
Ingredients
175g unsalted butter, at room temperature
175g caster sugar
3 large eggs, at room temperature, beaten
175g self-raising flour
½ tsp baking powder
3 tbsp chunky Seville orange marmalade
2 tbsp full-fat or semi-skimmed milk
FOR THE TOPPING:
3 tbsp chunky Seville orange marmalade
100g icing sugar
Method
Preheat the oven to 180°C, fan 160°C, gas 4. Grease a 20cm round springform or deep cake tin and line the base with baking paper.
In a large mixing bowl, beat the butter with a wooden spoon or electric mixer for 1 minute, or until creamy.
Gradually beat in the sugar for 4-5 minutes until very light and fluffy.
Add the eggs a little at a time, beating well after each addition; add 1 tablespoon of the flour with the last of the beaten egg.
Sift the remaining flour, a pinch of salt and the baking powder into the bowl and gently fold into the egg mixture using a large metal spoon. When combined, stir in the marmalade and milk.
Spoon the mixture into the prepared tin and spread it out evenly.
Bake for 50-55 minutes, or until golden brown and firm to the touch.
Run a round-bladed knife around the inside of the tin to loosen the cake, then carefully turn it out on to a wire rack.
For the topping, gently warm the marmalade and brush it over the top of the warm cake. Leave to cool completely.
Sift the icing sugar into a bowl, add 2 tablespoons of warm water and mix to a smooth, runny icing.
Spoon the icing over the cake and let it run down the sides – the chunks of marmalade will stick up through the icing. Leave until set before cutting.
Store in an airtight container and eat within 5 days.
Don`t miss

---