Food
Foodie Wonderland at Taste of London
If you love food (and I do!), there was only one place to be last week – Taste of London. There were more exciting pop-up restaurants than ever before, giving people an opportunity to celebrate the delicious diversity of London's vibrant food scene and sample the signature dishes and flavours of the city's best restaurants.
Cutting-edge flavours

Jamie Oliver's steak restaurant, Barbecoa, has long been on my hit-list. Their slow-roasted pit beef with New York slaw, ketchup and beef-dripping crumble was possibly my highlight of the whole event. It was mouth-wateringly good, with a really rich and smoky flavour. It seemed only right to dabble in the dessert option, too, and the salted peanut butter cheesecake with black cherries and sour candyfloss did not disappoint – the perfect indulgence.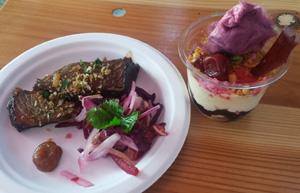 I also really enjoyed the tempura soft shell crab from Spice Market. The chilli sauce, kaffir lime salt, herbs and spices served up in steamed buns really took the dish to another level.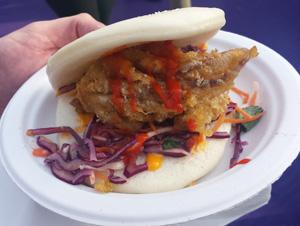 Head chef at Bluebird Chelsea, Matthew Robinson, was busy serving up some of their flavoursome specialities, including steamed pork buns. Again, it was the accompaniment – a sticky cider barbecue sauce – that elevated this to a very special dish. Their Eton mess ice cream was also a delight – really creamy, with lots of fresh seasonal berries.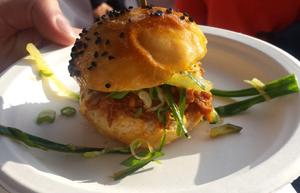 I couldn't resist trying the 'devil dog' at Bubbledogs (a really popular Champagne and hotdog-based choice for Friday nights) – it was utterly filthy, but delicious, with a real chilli kick. Special mention goes to their potato tots – deep-fried salty nuggets of potato goodness.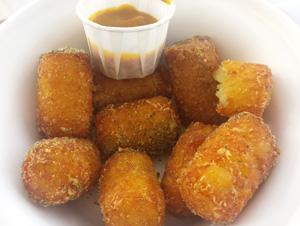 Drinking in the atmosphere

I had the good fortune of stumbling across an excellent prosecco and cheese tasting masterclass at the prosecco DOC tent. Neil Phillips, aka The Wine Tipster, guided us through two lovely proseccos and some accompanying grana padano cheese. He also allayed our fears about the reported prosecco shortage, saying: 'Don't panic! There's still some lovely fizz around – including some for under £10. I recommend the Canti Prosecco DOC Millesimato and Sainsbury's Taste the Difference Conegliano Prosecco.'
Another excellent summer wine available at Sainsbury's is the Giesen Estates Sauvignon Blanc. I sampled this at the Giesen stand, and was guided through the whole range by Georgina, a bona fide member of the Giesen family! Is there anything more satisfying than a refreshing glass of crisp and fruity sauvignon blanc in the summer months?
The festive Taste of London event takes place in London's Tobacco Dock in November – early bird tickets are available now!
About the author