Food
Fishy business; London's best fish restaurants
by Sarah Randell
Eating seafood just feels so decadent. It has to be sustainable and incredibly fresh, which takes love and care from sea to plate. There's something of a fish frenzy in the capital right now and we've been eating our way around the new openings (all in the name of research, obviously) to give you our round-up of the best. Do you have a favourite fish restaurant? Tell us about it in the comments box below.
Angler, South Place Hotel, London
South Place Hotel is a hop and a skip from Moorgate tube station, and its Angler restaurant is designed for the suited and booted – think starched white tablecloths, smart service and city slickers. Choose from Cornish crab (£13.50), oysters (from £6 for three), Angler & lobster pie (£21) or, if it's pay day, the mixed grill (£26.50 per person) – a generous platter of langoustines, scallops and red mullet.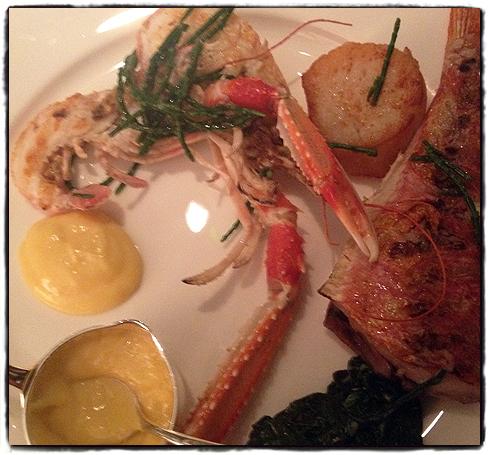 Bentley's Sea Grill at Harrods
A taste of Richard Corrigan's renowned Piccadilly restaurant, Bentley's, in one of the country's grandest food halls. Perch at the bar and tuck into Rockefeller oysters (£22 for six), a 'proper' shellfish cocktail (£24) or half a grilled lobster (£35) and the best soda bread, served with seaweed and organic butters. Heavenly decadence.
Fish Market at The Old Bengal Warehouse
Bringing a taste of the seaside to the City, Fish Market showcases British seafood in a relaxed and informal setting. Nibble on winkles and whelks (£6 for half a pint) or share a fish board of cod's roe, potted mackerel and smoked salmon with horseradish cream and pickled cucumber (£10.50). If you want to push the boat out (sorry!), oysters (from £7), langoustines (£7.25 each) and lobster (from £17) all feature on the extensive Crustacean Bar menu.
Simply Fish, Camden
Freshest fish and seafood, caught sustainably and daily in Cornwall, at affordable prices. Create your own dish for £12.50 by selecting a fish, a method of cooking, a sauce and an accompaniment.
Just opened... Nathan Outlaw's Seafood & Grill at The Capital Hotel in Knightsbridge and coming soon The Bonnie Gull Seafood Shack in London's Foley Street.
Don`t miss

---