Food
Dinner with Donna Hay
by Sarah Randell
I'm a bit of a Donna Hay groupie. I've got a zillion copies of Australia's food styling queen's Donna Hay magazine in my cupboards at home (much to my husband's despair), not to mention her books.
New and inspiring cookery books come on the market every week but Donna Hay is more than that, she is a global brand (that now encompasses homeware, too). Donna's signature, inspirational food styling set a new benchmark in the world of food photography when she launched her magazine in 2001 – white and clean with artistically constructed dishes and minimal props, the recipe images represented the fresh approach to cooking that was emerging Down Under.
We have met a few times before and last week I was lucky enough to be a guest at the launch of Donna's gorgeous book 'Fresh And Light' at the Charlotte Street Hotel.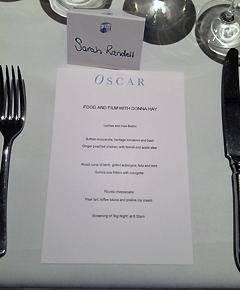 My menu
The menu showcased dishes from the book. This was my starter – ginger poached chicken with fennel and apple slaw.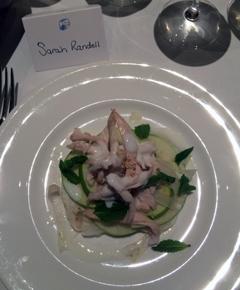 Starter from Donna Hay's latest cookery book
For my main course, I went for the vegetarian option – quinoa (the grain of 2014) pea fritters with courgette.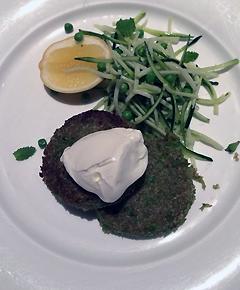 Meat-free main
And to finish, the pear tart, which had a deliciously crunchy biscuit-like crust.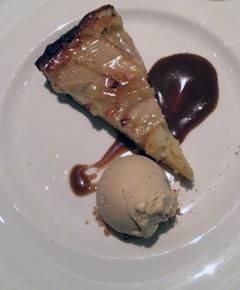 Pear pud
And then we watched one of Donna's favourite films in the private cinema – Big Night. It's the story of two Italian brothers who run a restaurant together, the struggle to succeed and their sibling bond, poignant to Donna who works daily with her sister. I can highly recommend it but watch out for the ending, you might just shed a tear...
Special Offer
Fresh and Light By Donna Hay, published by Hardie Grant is available to purchase at the special rate of £16.99 FREE P&P in the UK (international P&P charges will apply) (RRP £18.99)
To order please call 01903 828503 and quote ref 50468
The offer is open from 25th April to 16th May, 2014
Don`t miss

---