From cosy to opulent, some of the UK's top foodies share their must-visit spots for a romantic Valentine's feast.
Whether first daters or longer-term lovers, Valentine's Day is a chance to show someone special you care. And for us, that means a chance to share some seriously fabulous food and drink, from a dazzling Michelin-starred meal by candlelight to hearty gastropub grub beside a roaring fire – and everything in between. Here, we asked some of the UK's best chefs, mixologists, restaurateurs and foodies to reveal their picks for a seriously hot 14 February.
El Pirata, London: for "PRETTY PLATES OF GOOD FOOD"

Fred Sirieix, maître d' of First Dates on Channel 4 and general manager of Galvin at Windows recommends El Pirata, London.
'El Pirata is one of my all-time favourite restaurants and is a great spot for a relaxed first date. It has consistently good food and the team is friendly and accommodating – nothing is too much trouble. Gaze into each other's eyes over pretty plates of Ibérico ham and octopus with paprika. With food that's designed to share, it's perfect for Valentine's Day.'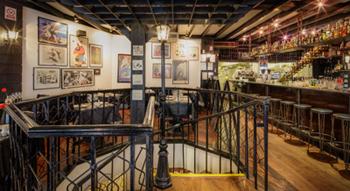 El Pirata
Lime Wood and The Pig, Hampshire: for "ROARING FIRES, FANTASTIC COCKTAILS"

Jasmine and Melissa of Hemsley and Hemsley recommend Lime Wood and The Pig, both Hampshire.
'Both Lime Wood and The Pig have just the right ingredients for a heartwarming meal with your beloved. Roaring fires, locally sourced food, fantastic cocktails, relaxing spas, and lots of outdoor space in which to enjoy the fresh country air. Make a night of it by booking a room to retreat to after dinner is done.'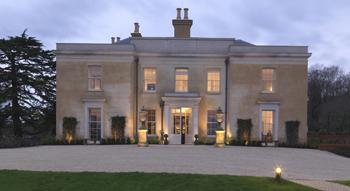 Lime Wood
Timberyard, Edinburgh: for "VERY COSY SCANDI-SCOTTISH VIBES"

Paul Ross, co-owner of Scottish pop-up restaurant and catering company Dram & Smoke recommends Timberyard, Edinburgh.
'Timberyard is different from the usual historic castles and stately homes that prove popular for Valentine's celebrations. The restaurant itself is all Scandi-Scottish vibes, exposed beams, wood-burning stove, low lighting and tartan blankets – very cosy indeed! Get to know each other better over the six-course tasting menu with paired drinks. Foraged ingredients abound and dishes include the likes of mackerel with beetroot, horseradish, buttermilk and sorrel.'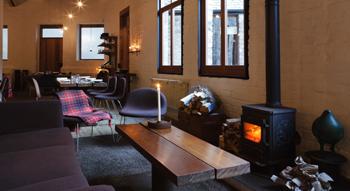 Timberyard
The Park Restaurant, Wiltshire: for its "BEAUTIFUL AND PEACEFUL SETTING"

Vivek Singh, owner and executive chef of The Cinnamon Collection recommends The Park Restaurant at Lucknam Park, Wiltshire.
'The Park Restaurant at the five-star Lucknam Park Hotel in the Cotswolds is a beautiful and peaceful setting that will transport you and your significant other to an era of elegance and sophistication – if only for the day! Try the loin of Bwlch farm venison, which is served with fondant winter vegetables, chocolate jelly with Bannerdown squash and cumin. It's sure to stoke the flames of passion.'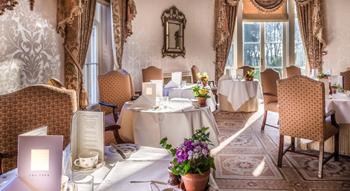 The Park Restaurant
Driftwood, Cornwall: for "AN UNFORGETTABLE EVENING"

Jeff Galvin, one part of the Michelin-starred chef brothers behind Galvin Restaurants recommends Driftwood at Driftwood Hotel, Cornwall
'Nothing says that your relationship is serious like a seaside retreat. Located outside picturesque Portscatho, Driftwood Hotel is home to Chris Eden's Michelin-starred restaurant, with its menu that serves a true taste of Cornwall. Upon arrival, you are whisked up to a room with a view before returning downstairs for an unforgettable evening in the hotel's namesake restaurant. The mackerel tartare is a must.'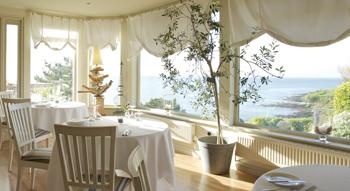 Driftwood
Wheelers Oyster Bar, Kent: for "DINING ON DELICIOUS OYSTERS"

Jacob Kenedy, owner and chef of Bocca Di Lupo, VICO and Gelupo recommends Wheelers Oyster Bar, Kent
'Book a night beside the seaside in Whitstable then dine at Wheelers (below) on delicious oysters. The fun will be working off the aphrodisiacal effects afterwards...'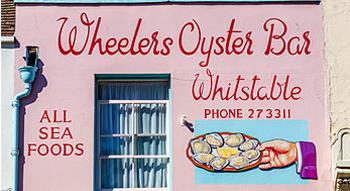 Wheelers Oyster Bar
The Fat Duck: for "DAZZLING YOUR COMPANION"

Aiden Byrne, owner and chef at Manchester House recommends The Fat Duck, Berkshire.
'Dazzle your dining companion at legendary The Fat Duck. Upon making a reservation for my wife and I, they asked if it was a special occasion. It was actually our wedding anniversary, and the attention to detail delivered on the day brought my wife to tears. They even hand-delivered us a postcard at the table with an image of the exact spot where we got married in Mauritius to congratulate us.'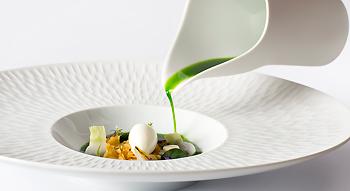 The Fat Duck
The Star Inn, Yorkshire: for "PURE ESCAPISM"

Nigel Haworth, owner and Michelin-starred chef of Northcote recommends The Star Inn, North Yorkshire.
'The Star Inn, with its low ceilings and flickering candlelight, is one of the most romantic gastropubs in the country. It's in a small village in a beautiful part of the world that offers pure escapism – and the food is great. Reserve a room for Valentine's Day and enjoy homemade cookies in your room.'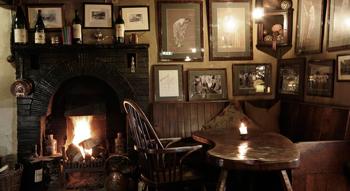 The Star Inn
Red Lion Freehouse, Wiltshire: for "AN EXQUISITE EXPERIENCE"

Sandia Chang, co-owner and sommelier of Bubbledogs and Kitchen Table recommends Red Lion Freehouse, Wiltshire.
'Brittany and Guy, owners of the Red Lion Freehouse, welcome you into their restaurant as if you're a guest in their home. They have gorgeous guest rooms to stay in after an extravagant yet humble meal in their pub. Go for their tasting menu with wine pairing – an exquisite experience for Valentine's Day.'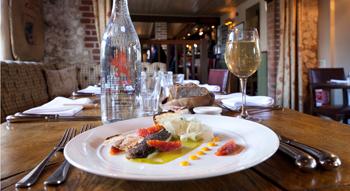 Red Lion Freehouse
The Pointer, Buckinghamshire: for 'A TRADITIONAL FEEL'

James Thompson, founder of @food_feels recommends The Pointer, Buckinghamshire.
'For a romantic getaway, head to the village of Brill. Grab a table at The Pointer, a gastropub with a traditional feel, and order anything meaty. They grow their own veggies and rear their own meat down the road at their farm.'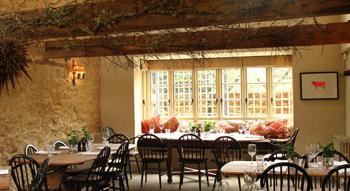 The Pointer
About the author