Food
Chickpea meringue, anyone?
Have you heard about the new ingredient that could be set to revolutionise vegan baking? Well, it turns out the watery dregs from the can of chickpeas stuffed at the back of your kitchen cupboard could be the magical new replacement for eggs in your meringues. Yes, really!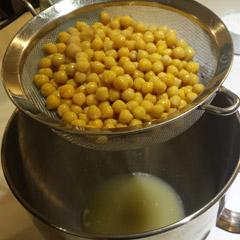 Aquafaba (its posh name) – usually thrown down the sink – is said to have been discovered by a plucky cook called Goose Wohlt, provoking a whole Facebook group dedicated to experimental cooking with the hot new ingredient. The page is full of exciting new chickpea water recipes for chocolate brownies, ice cream, macarons, cake, mayonnaise, French toast, burritos, waffles – you name it. Some of the mixed reviews include:
'I made the most glorious, yummiest, scrumptious, awesome meringues today! Thank you. It's been 20 years since I ate meringue! I'd given up the thought of ever eating them again!'
'Yuck. I followed a YouTube whipped cream recipe and it tasted so much like beans, I had to keep adding flavours to cover up the taste. What went wrong?'
'I know it's been a couple of decades since I last had a meringue, but I don't ever remember having one this light and melt-in-the-mouthy.'
The aquafaba method

With the whole office consumed by the idea of making meringue from chickpeas, we decided to put it to the test. We whisked the brine, slowly adding the cream of tartar, then icing sugar and vanilla extract as normal, until it reached the 'stiff peaks' stage.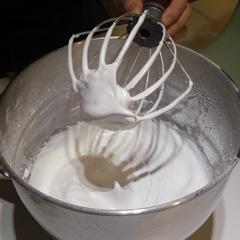 We then piped them into mini-meringues and baked them in the oven for 2 hours at 90 degrees, and then left them to cool in the oven.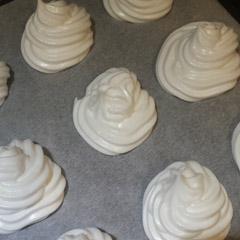 The process was exactly the same, and the aquafaba took just as long to whisk. There was a slight beany taste to begin with, but that soon subsided as the process went on. The texture was light, almost like a very creamy foam. And the finished result, after baking? Chewy, soft, crisp, delicious meringues! No one seemed to be able to find any real difference in taste. It's a foodie revelation.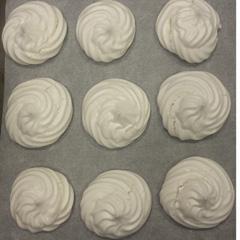 Recipe (adapted from Wallflowergirl.co.uk)
Ingredients
Water drained from 1 x 400g can of chickpeas
½ tsp cream of tartar
125g icing sugar
(optional) ½ tsp vanilla extract
Method
Preheat the oven to 110c / fan 90c / 230f and line a baking tray with greaseproof paper.
Add the water drained from the can of chickpeas into a large bowl and use an electric hand-held or stand mixer to whisk for approximately 5 minutes until it's more than doubled in size, white and foamy.
Add the cream of tartar and whisk again for another minute. Slowly add the sugar, whisking until the mixture forms stiff, glossy peaks. Stir in the vanilla extract.
Transfer the meringue mixture into a icing bag with a large star-shaped nozzle and pipe into nests or cup shapes.
Bake for 2 hours. Do NOT open the oven! After 2 hours, turn the oven off and leave them to cool in the oven for at least another hour.
Chickpea water meringues from Sainsbury's magazine on Vimeo.
Have you tried aquafaba yet? Let us know in the comments below, or by tweeting us @Tried_Tasted.
About the author