Food
A real foodie escape at The Gallivant
Michelin-starred food right next to the sea... yes please! The Gallivant hotel in Camber, East Sussex, is hosting a series of Gourmet Events featuring some of the country's best chefs, including the king of seafood, Mitch Tonks, and the youngest-ever British chef to be awarded two Michelin stars, Tom Aikens. Last week I was lucky enough to enjoy a delicious four-course meal there, cooked by amazing guest chef Marcus Eaves of Pied à Terre and head chef at The Gallivant, Danny Perjesi.
WELCOME WELCOME...
After an initial welcome with sparkling English wine and canapés (wild mushroom beignet and beetroot cured cod), Marcus and Danny cooked two courses each.
MACKEREL BY MARCUS
Marcus kicked off with seared south coast mackerel, which was incredibly fresh. Around 95% of the food here is sourced within a 15-mile radius, including fruit, vegetables and meat – so the fish is from Dungeness, just a short drive along the coast. The fish was mixed with pieces of squid and Israeli couscous.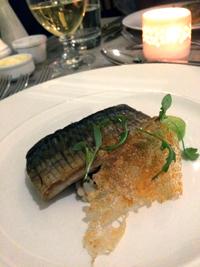 QUAIL BY DANNY
This was followed by a quail crépinette, pickled mushrooms and mixed leaves – it was a perfect sized portion and expertly cooked by Danny.
VENISON BY DANNY
Next up was my favourite dish – Danny's Kentish venison. It was served with artichokes, cabbage and jus diable. It was soft and tender, and came with a glass of 2011 Crozes-Hermitage Grand Vin Dauvergne Ranvier – a brilliant pairing.
CARAMEL PARFAIT BY MARCUS
And, finally, we enjoyed a dessert of caramel parfait, toasted oats, whisky crème anglaise and caramel popcorn that was surprisingly light, refreshing and full of flavour. Well done, Marcus!
DON'T FORGET THE WINE!
In keeping with their local ethos, The Gallivant have kept their sparkling wines to English vineyards only – but with companies such as Chapel Down producing such incredible sparkling wines, why go further afield?
WHO WAS THERE?
It was great to see a real mix of people at the event, ranging from locals to those who'd travelled up from Hastings or down from London, and some Pied à Terre regulars.
BED, BREAKFAST AND BEACH
There's no need to drive or take a taxi home when a bed is just a few feet away. The Gallivant has 20 rooms – all beautifully decorated, cosy and with gentle reminders that you really are by the coast. In the morning I tucked into a delicious breakfast, including homemade banana bread, granola, bread and jam, followed by a great cooked breakfast. Just over the road is the expansive Camber Sands beach, so there's no excuse not to walk it all off afterwards – especially as the hotel is dog friendly. If I had my way, I'd have booked in for another night and explored nearby Rye (possibly for afternoon tea, hunger dependent!).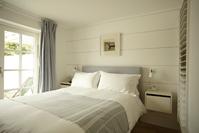 MORE GOURMET EVENTS...
The next event is with Pierre Koffmann and Éric Chavot. Keep an eye on the website for dates! The gourmet events are £75 per person and include a four-course dinner, canapés and paired wines. Events start at 6.30pm and bed & breakfast is available from £100.
About the author