Food
6 things...to eat in Berlin
It's hard to know where to eat and drink on your first trip to a new city, but thankfully Sarah Alcock had some pretty good tip-offs and ate like a queen for four days last week in Berlin. From traditional German fare to burgers, beer and Thai food, Germany's fine capital turned out to be a fine foodie destination.
1. Traditional German dinner at Oderquelle – Prenzlauer Berg
After an early flight and a long day of walking in the rain, we wanted some hearty German grub. There isn't much in the way of decoration at Oderquelle but boy oh boy was the food good. I ordered pork with Brussels sprouts and potatoes (not exactly a fancy description), and not only was the plate a very decent size, but the food was absolutely delicious. The pork was melt in the mouth, the gravy was rich and delicious, the potatoes were buttery and smooth and the sprouts with bacon were crunchy. I couldn't resist the apple strudel (pictured above) for pudding (when in Berlin...) Once again, it was a very sizeable slice with crisp pastry and plenty of sweet apple and cinnamon.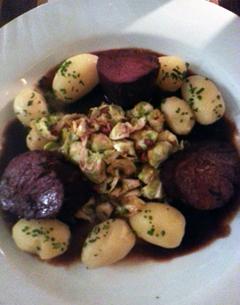 2. Break for a coffee at Café Tasso - Frankfurter Allee
Café Tasso caught my eye when walking down Frankfurter Allee with its tables of books for sale and bustling café life spilling out into the street. Everyone had a book in one hand and an espresso in the other; you felt cultured just looking at the place! Inside is a whole library of books, eclectic paintings and a piano – we just had a nice espresso and a bitter lemon, but the homemade cakes looked pretty tasty too.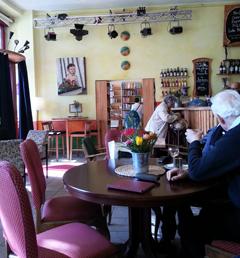 3. A big juicy burger at Burger AMT – Boxhagener Platz
Burgers are everywhere in London but I haven't had anything as tasty as this one. Burger AMT is in the cool, hip East Berlin with a burger menu as long as your arm. We went for the traditional Spezial Burger with pommes (chips) and slaw. The burger (with homemade cocktail sauce) was beautifully seasoned and juicy with mountains of salad and a hidden supply of crispy onions. A great way to refuel in the middle of a busy day of walking!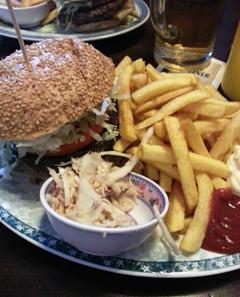 4. Stop for a proper German beer at Dicke Wirtin – Savigny Platz
Tucked away off Savigny Platz in West Berlin is Dicke Wirtin (which means fat landlady), serving giant plates of German food (the schnitzel looked bigger than my head) and proper German beers. We spent a couple of hours in the afternoon sat in the out in the sunshine sipping refreshing Berliner Pilsener and watching the locals pour in. Definitely worth getting off the beaten track for this gem.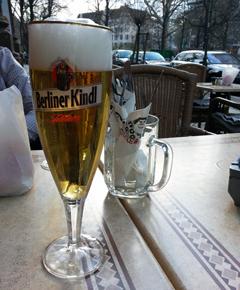 We were on our way to another Thai restaurant when we walked past this one and decided to pop in. Good thing we did too – we ordered a starter of papaya salad (which Rick Stein raves about) and it was delicious – crunchy and sweet with a powerful chilli finish. The red curry I had for main was packed full of colourful vegetables and once again, a very big portion!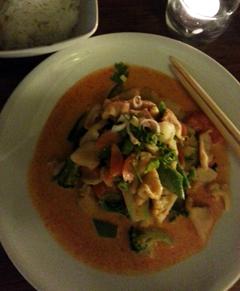 6. German breakfast at Bakerei - Prenzlauer Berg
Just a stone's throw from our apartment was a very busy bakery – Bakerei. The place was so crowded with locals waiting to bag their breakfast that we couldn't even see what was on offer at the counter. We chose a big brioche bun, a sesame bagel and an absolutely delicious pastry treat, which was filled with crème patissiere and cinnamon and topped with a hard sugary top. Wowsers is the only way to describe it -German bakeries are amazing.
About the author