Food
6 places...for an afternoon tea with a twist
by Beth Young
From tea sweetened with jam, to sandwiches served on vinyl records, we've scoured the country to bring you our pick of the best alternative afternoon teas.
1. For a taste of Russia - Mari Vanna, London
If you're seeking an introduction to Russian cuisine, look no further than the exceptional afternoon tea at Mari Vanna in Knightsbridge. With its magical atmosphere, stunning Russian-inspired décor and impeccable service, you're guaranteed to leave feeling like a tsarina. Highlights include tea served in a glass, which can be sweetened with jam instead of sugar (yes, jam!), beautifully thin blinis and a selection of delicious pierogi (little dumplings of unleavened dough). Prices from £24.75.
Wellington Court, 116 Knightsbridge, London SW1X 7PJ; www.marivanna.ru/london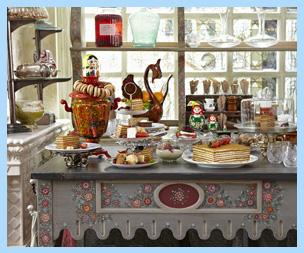 Russian tea
2. For tea and tennis - Greywalls Hotel, East Lothian
Home to the highly acclaimed 'Chez Roux' restaurant, opened under the direction of legendary La Gavroche co-founder Albert Roux, the Michelin-quality afternoon tea at Greywalls can't fail to impress. Just a 30-minute drive from Edinburgh, the stunning hotel offers a variety of Scottish and French-inspired treats including Dundee cake and highly technical entremets (multi-layered mousse-based cakes), not forgetting the spectacular views of the Firth of Forth. Afternoon tea diners are also invited to enjoy a complimentary game of tennis or croquet on the lawn. Game on! Prices from £18.50.
Greywalls Hotel, Muirfield, Gullane, East Lothian, EH31 2EG; www.greywalls.co.uk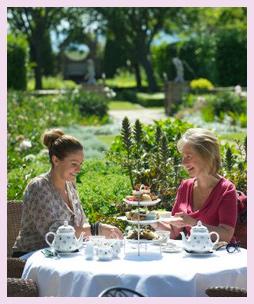 Afternoon tea alfresco
3 . For duvet days - Delimann of Devon, nationwide
If you want the afternoon tea experience but are too lazy to get out of your pyjamas, be sure to check out the award-winning Delimann fine food and gift emporium. This Devon-based company delivers delicious delicacies throughout the UK within 24 hours, perfect if you're having a duvet day. The afternoon tea for two includes freshly baked scones, jam and clotted cream, chocolates, Dartmoor tea bread and Westcountry teabags – not bad for £27.50. Prices from £15 (plus £4.95 postage).
43 Fore Street, Bovey Tracey, Newton Abbot, TQ13 9AD;www.delimann.co.uk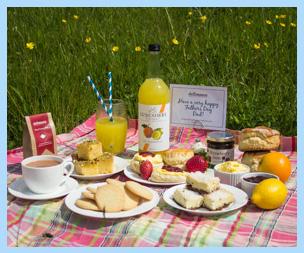 The laziest of afternoon teas
4. For gluten-free eaters - 2 Oxford Place, Leeds
Calling all coeliacs, your prayers have been answered in the form of gluten-free café, 2 Oxford Place. Opened this year by coeliac sufferer Victoria Hall, the cosy 50-cover restaurant offers all the hearty treats usually denied to gluten-free eaters, including scones, treacle tart, Battenberg, quiche and éclairs. And yes, it really is all 100% gluten-free. Hurrah! Prices from £14.95.
2 Oxford Place, Leeds LS1 3AX; www.2oxfordplace.com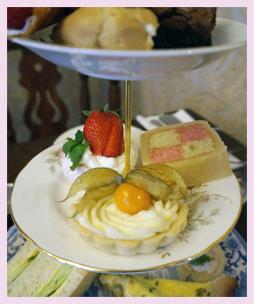 Too good to be true
5. For tea on the sea - Titanic Belfast, Belfast
Experience afternoon tea in the opulent Titanic ballroom suite. With a stunning replica of the iconic Grand Staircase (DiCaprio fans get your cameras ready!) and live jazz, the quirky menu offers creamed rice pudding with caramelised plums, Titanic fruit cake and the same marque of Champagne served on the original ship. Sundays only. Prices from £24.
1 Olympic Way, Queen's Road, Titanic Qr., Belfast, BT3 9EP; www.titanicbelfast.com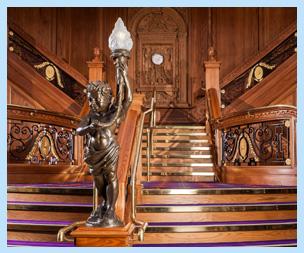 The iconic Grand Staircase
6. For rock and rollers - W London, London
If you've got an appetite for rock and roll, and are peckish for a sprinkle of star spotting, head to celebrity hangout W London. Celebrating the rich music heritage of Soho, W's Rock Tea is served on three-tier cake stands made of original vinyl records. Music-inspired goodies include the Rolling Stones' Sticky Fingers ('vanilla meringue & attitude') and Jimi Hendrix's Purple Haze (Victoria sponge with psychedelic marzipan). Prices from £25.
10 Wardour Street, Leicester Square, London W1D 6QF; www.wlondon.co.uk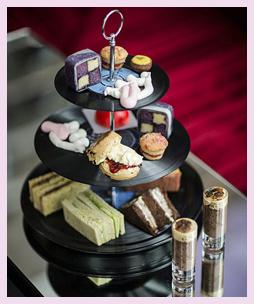 Rock on!
Fancy making your own? Get inspired with our afternoon tea recipes from Jo Wheatley.
Have we missed any? Leave your suggestions below.
Don`t miss

---