2018 is proving to be a big year for exciting new foods. Our food team outline the freshest taste sensations, from seitan to pink chocolate…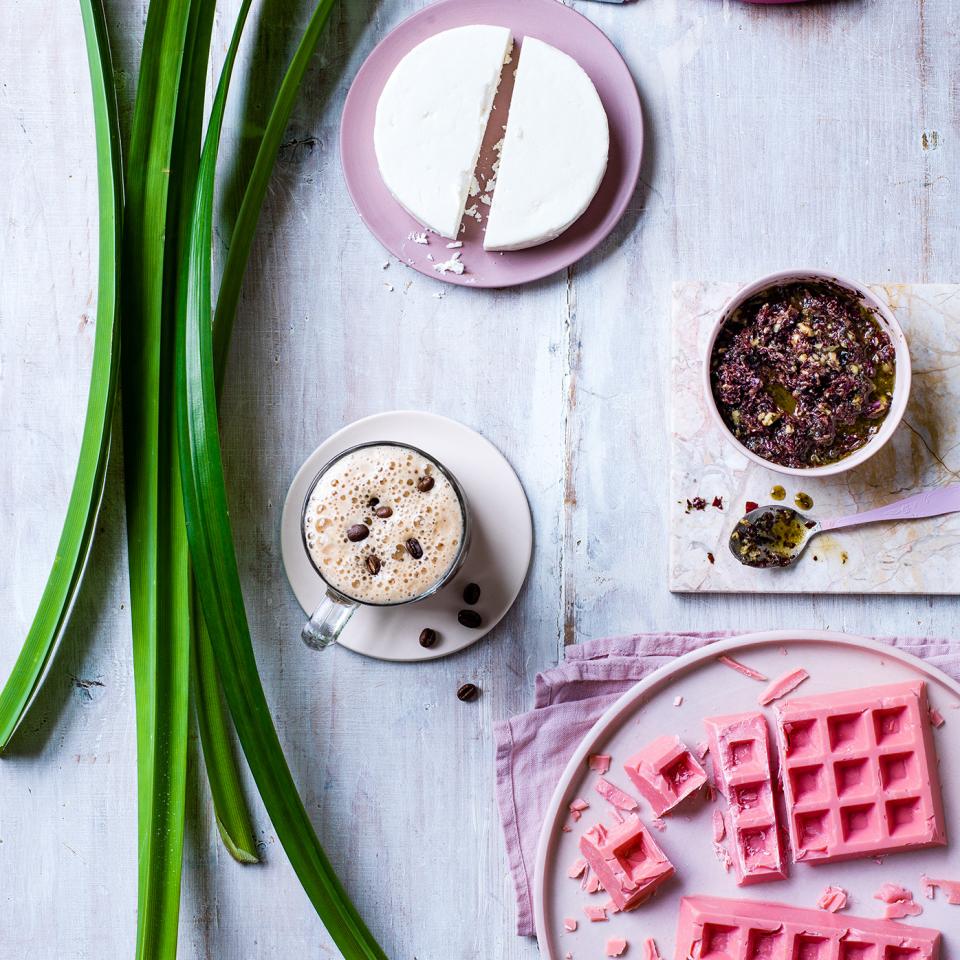 'It's always hard to predict what trends will take off, but there are some clear patterns emerging,' says food director Leah Hyslop. 'From rainbow bagels to unicorn cakes, the colourful food trend is continuing (it's all to do with what looks good on Instagram, of course). Asian food is also still a winner – Chinese dumplings are as popular as ever, not least thanks to the opening of the London branch of acclaimed Hong Kong restaurant Duddell's, while Spitalfields street–food stall Dumpling Shack wows locals.''
Get ready to try these other new arrivals on the foodie scene:
PANCAKE TACOS
'Fold American-style pancakes around berries, yogurt and other sweet fillings for a weekend breakfast,' says managing food editor Tamsin Burnett-Hall.
FRESH CHEESE
Have a go at making your own mozzarella at home (or indeed, other kinds of fresh cheese) – apparently it's really quite easy! And addictive… notonthehighstreet.co.uk has kits available.
BEER LATTES
London brewery Meantime recently launched beer-flavoured coffees in their tasting room. It can't be long before other brands hop on the trend…
SEITAN
AKA 'wheat meat'. 'My vegan friends swear by it! It's basically pure gluten… but has a texture much more 'meaty' than tofu, for example, and takes on flavours really well,' explains Tamsin.
SWEET STEMMED CAULIFLOWER
New to Sainsbury's, this is like a cauliflower version of Tenderstem broccoli. Its dainty leaves will look beautiful on your spring table.
CLASSIC RETRO PUDS WITH A TWIST
'Sara Lee-style gateaux, soft-serve ice cream and classic British puds are set to get a modern makeover this year on restaurant menus,' predicts creative food editor Anna Glover.
PURPLE PESTO
Italian restaurant chain ASK made headlines last year when it introduced this little-known version of pesto, made using purple basil leaves. Treat yourself to purple basil seeds from marshalls-seeds.co.uk.
FRIED FOOD WITH AN ASIAN TWIST
Japanese fried chicken, Korean barbecue, lots of frying and battering.
PANDAN
Nigella Lawson is a fan of these sweet, fragrant South-East Asian leaves. Stir them into a curry, or use the essence in baking – it turns your bakes a striking green colour! Available from theasiancookshop.co.uk.
PINK CHOCOLATE
You're not limited to dark, milk and white any more. Switzerland-based chocolate company Barry Callebaut has spent years trying to crack how to make pink chocolate using a natural compound found in cocoa beans. It's not commercially available yet, but watch this space…
MANOURI
'I think we're also going to see a renaissance in Greek food, particularly of the upmarket variety,' says Leah. 'Notting Hill restaurant Mazi has a cookbook coming out in 2018, while the family responsible for hit London restaurants such as Roka and Coya recently opened Meraki in Fitzrovia.' Anna adds that a delicious Greek cheese known as manouri is popping up on lots of menus, too... think feta, but less salty and more creamy.