Food
10 ways to enjoy Wimbledon in London
by Anne Robinson
Missed out on tickets to this year's Championships? There's still loads of tennis-themed fun to be had, including cocktails, afternoon teas and open-air screenings.
With strawberry gelato
Gelupo, the critically acclaimed gelateria in Soho, will be serving up a delicious Strawberries & Cream gelato – a refreshingly sweet strawberry sorbet and cream gelato with fresh juicy strawberries on top.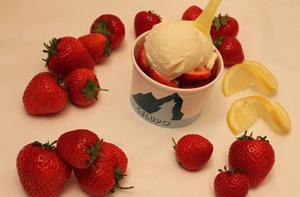 Watch the tennis above the city at Coq d'Argent
Rooftop restaurant Coq d'Argent will be showing the tennis in its upper terrace, sponsored by Moët. With two large screens available, themed cocktails and strawberry desserts, this is one not to miss!
Wimbledon-inspired cocktails
Sip on specially created cocktails inspired by the games at Plateau in Canary Wharf, including: Murray's Gin Fizz (fresh English strawberries, Bulldog London Gin, egg white, double cream, lemon juice and sugar syrup topped up with soda); and Game, Set & Match (fresh cucumber, mint, strawberries, ginger and orange, Pimm's No 1, lime juice, sugar syrup, topped with British sparkling wine).
Tennis-themed afternoon tea!
The Winter Garden in the Landmark Hotel will be serving traditional afternoon tea with a tennis twist - Pimm's jelly with cucumber foam, strawberry and cream meringue tart and chocolate mouse with Earl Grey, and mint cheesecake with lemon truffle are all part of the offering.
Serve up your own 'ace' treats
We have a whole Wimbledon-themed menu on our website, so why not invite some friends around for tea and indulge in buttery scones, strawberry and cream cupcakes, Pimm's jellies and pink fizz punch.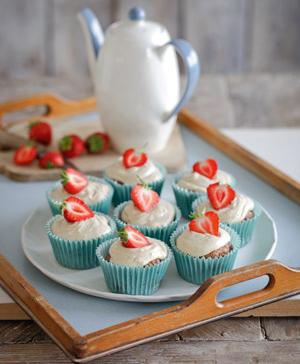 More grown-up refreshments!
Bankside bar The Refinery will be getting into the spirit by serving themed cocktails like the Cream Tea Martini (Gin, Pimm's, fresh strawberries and Earl Grey syrup) and the Robinson's Refresh (jazzing up the famous cordial with Cachaça and blood oranges). There's also a large alfresco area where you can enjoy all the action from Centre Court on a big screen.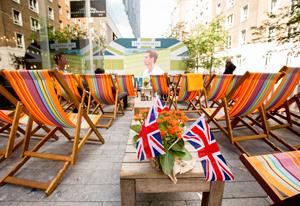 Outdoor screenings
Wimbledon screenings are popping up all over the city including at Cardinal Place in Victoria, King's Cross and Broadgate Circle.
Murray's mint macaroons
The sweet treats on the menu at the Royal Garden Hotel in Kensington this summer include Murray mint macaroons and Pimm's jelly lemon posset. Diners will also be able to nibble assorted finger sandwiches, raisin and cinnamon scones with Devonshire clotted cream - and strawberries-and-cream cheesecake.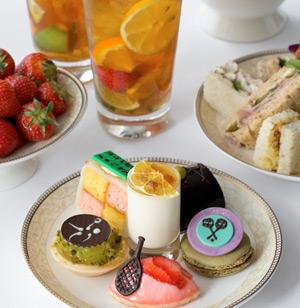 Join the queue
For the early birds among you, head down to SW19 and queue up for on-the-day entry. A grounds pass can be purchased from around £15, so you can enjoy the authentic Wimbledon atmosphere without breaking the bank. Head to Aorangi Terrace, more commonly known as Henman Hill, and enjoy the highlights on the big screen.
Get out your racket
Inspired to have a game yourself? You can hire tennis courts at Hyde Park, Hampstead Heath's Parliament Hill Fields, Regent's Park, Greenwich Park and lots more.
Don`t miss

---