Turkey schnitzel with lemon and caper butter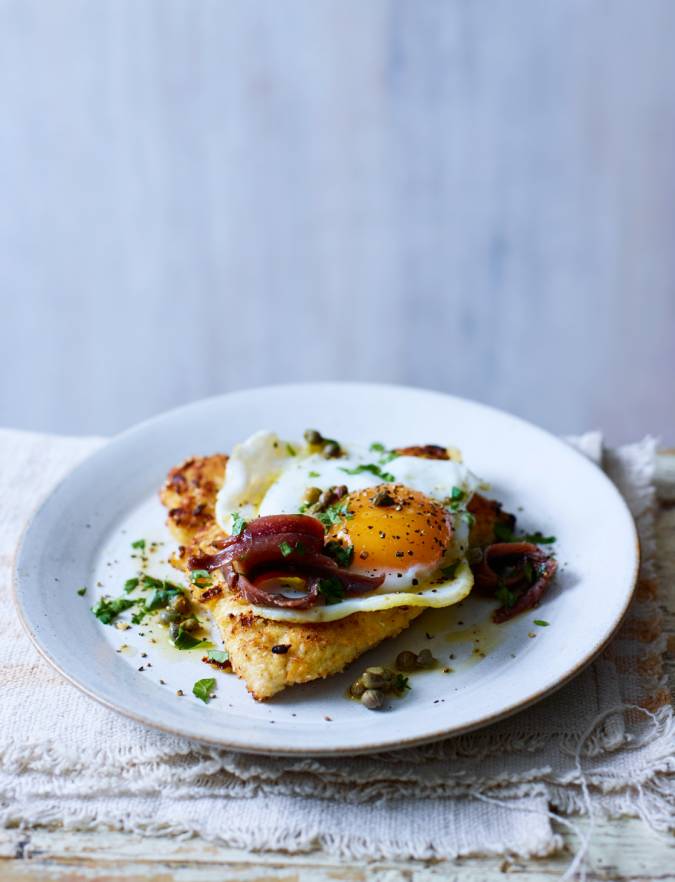 Nutritional information (per serving)
See more
Ingredients
2 turkey
breast fillets (about 200g each)

100ml buttermilk


40g Parmesan cheese, finely grated

30g dried onion flakes
(we used Whitworths Dried Onions)

30g coconut flour


20g sesame seeds

2 medium egg yolks

40ml milk

vegetable oil, for cooking

100g unsalted butter

some of the juice and the finely grated zest of 1 lemon

2 tbsp capers, drained

2 tbsp chopped parsley


2 duck eggs
(or you can use hens' eggs)

10 anchovy fillets in oil, drained
To serve (optional)
gherkins, green pickled chillies and marinated artichokes
Get ahead
Marinate the turkey fillets overnight
One at a time, bash the turkey fillets between 2 sheets of clingfilm with a rolling pin to flatten to an even thickness, about 1cm.
Put the turkey breasts in a bowl with the buttermilk and leave to tenderise for at least 2 hours, or in the fridge overnight.
For the coating, mix the grated Parmesan, onion flakes, coconut flour and sesame seeds together in a bowl and season with salt and pepper. In a separate bowl, beat the egg yolks with the milk.
Dip the turkey fillets into the egg mix and then into the coating, turning to ensure that they are covered all over. Warm a little oil in a nonstick frying pan over a medium heat. Add 40g of the butter; let it melt and turn golden brown. Fry the turkey fillets, one at a time, on both sides until browned and crisp. Set aside; keep warm.
Wipe out the pan with kitchen paper, then melt the remaining butter in the pan. Cook to a rich golden brown (the noisette stage); don't let it burn. Add about 1 tablespoon of lemon juice, taste and add more if you would like the sauce a little sharper. Add the capers and lemon zest. Season and stir in the chopped parsley.
While the turkey fillets finish cooking, heat a splash of oil in a frying pan and fry the duck eggs until the whites are set. Season with salt and pepper. Put the turkey fillets on warmed plates; top with the fried duck eggs. Garnish with the anchovies and spoon on the sauce. Serve gherkins, pickled chillies and marinated artichokes on the side, if you like.