Soy and ginger tuna with soba noodles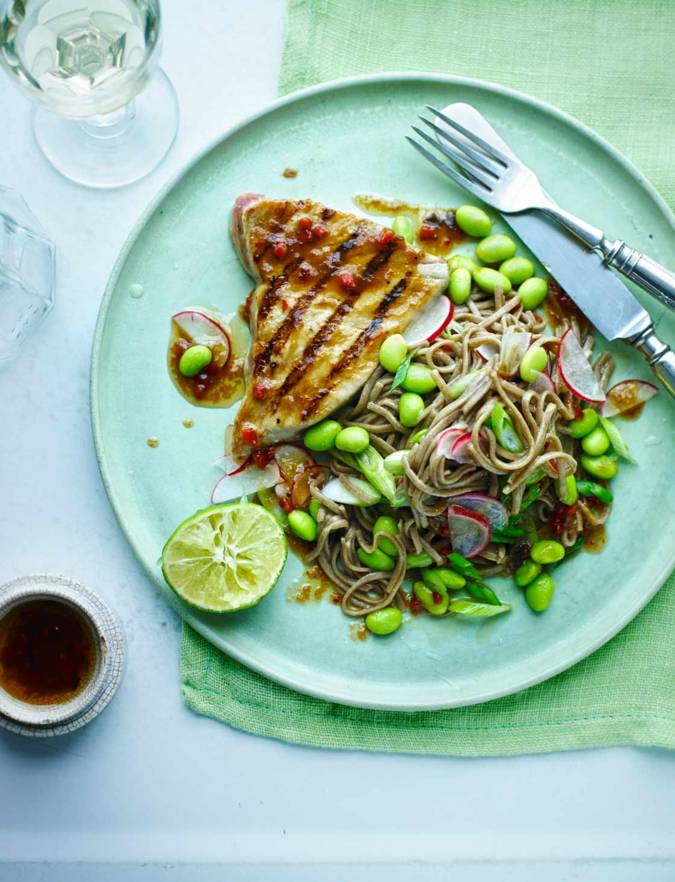 Nutritional information (per serving)
See more
Ingredients
100g frozen soya beans

100g soba noodles

6 tbsp sticky soy and ginger oven bake sauce (from a 190g jar)

1 tbsp toasted sesame oil, plus extra for drizzling

1-2 red chillies, deseeded and diced

juice of ½ lime, plus wedges to serve

2 tuna steaks (or use salmon fillets)

50g radishes, trimmed and sliced

4 spring onions, thinly sliced on the diagonal
Bring a medium pan of lightly salted water to the boil, add the soya beans, bring back to the boil, then add the soba noodles and cook for 3-4 minutes until both are tender.
Meanwhile, make the dressing by mixing together 2 tablespoons of the sticky soy and ginger sauce with the sesame oil, red chilli, lime juice and salt and pepper to taste.
Drain the noodles and the beans thoroughly then tip them into a bowl and toss with the dressing. Set aside. Preheat a ridged griddle pan until smoking hot. Brush the tuna all over with 3 tablespoons of the sticky soy and ginger sauce, then griddle for 5 minutes; turn once halfway through and brush with the remaining 1 tablespoon of sauce. Alternatively, you can brush the tuna all over with 4 tablespoons of the sauce and cook in the oven on a foil-lined baking tray for 8 minutes at 200°C, fan 180°C, gas 6.
Add the radishes and spring onions to the noodles and beans, toss briefly to combine, then serve with the tuna and lime wedges.