Travel
Staycation: The Sun Inn, Essex
by Corrie Heale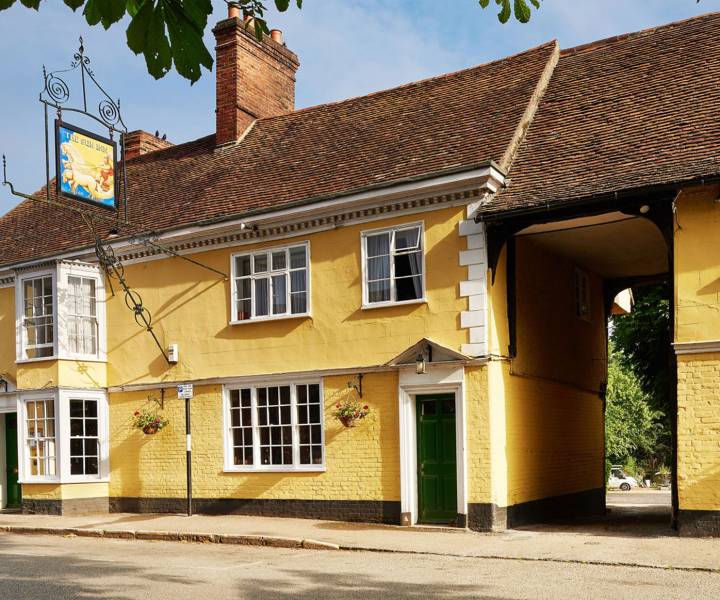 The Sun Inn
Sometimes you just can't beat a night in a traditional village inn complete with pints of ale, creaky floors and a resident (friendly) ghost, says Corrie Heale...
We're in the picturesque village of Dedham on the Essex-Suffolk border and bang in the heart of Constable country. 'Now this is what I call a proper pub,' says my boyfriend Jamie, as we step into the beautiful elm wood bar at The Sun Inn, with the warm afternoon sunshine bathing the room in a golden glow and friendly locals propping up the bar. There are exposed timbers, open fireplaces, chunky wooden beams, antique furniture and everything feels homely, familiar and comforting.
It's a lovely, warm evening so we decide to chill out with a drink on the terrace before making our way up to our room for a nosy around. There are seven intriguingly named bedrooms, all with their own stories to tell. Our room, 'The Wards', is what the pub was called in the 1500s. The name changed in the 1700s when it became a popular stopover for stagecoach travellers en route to London.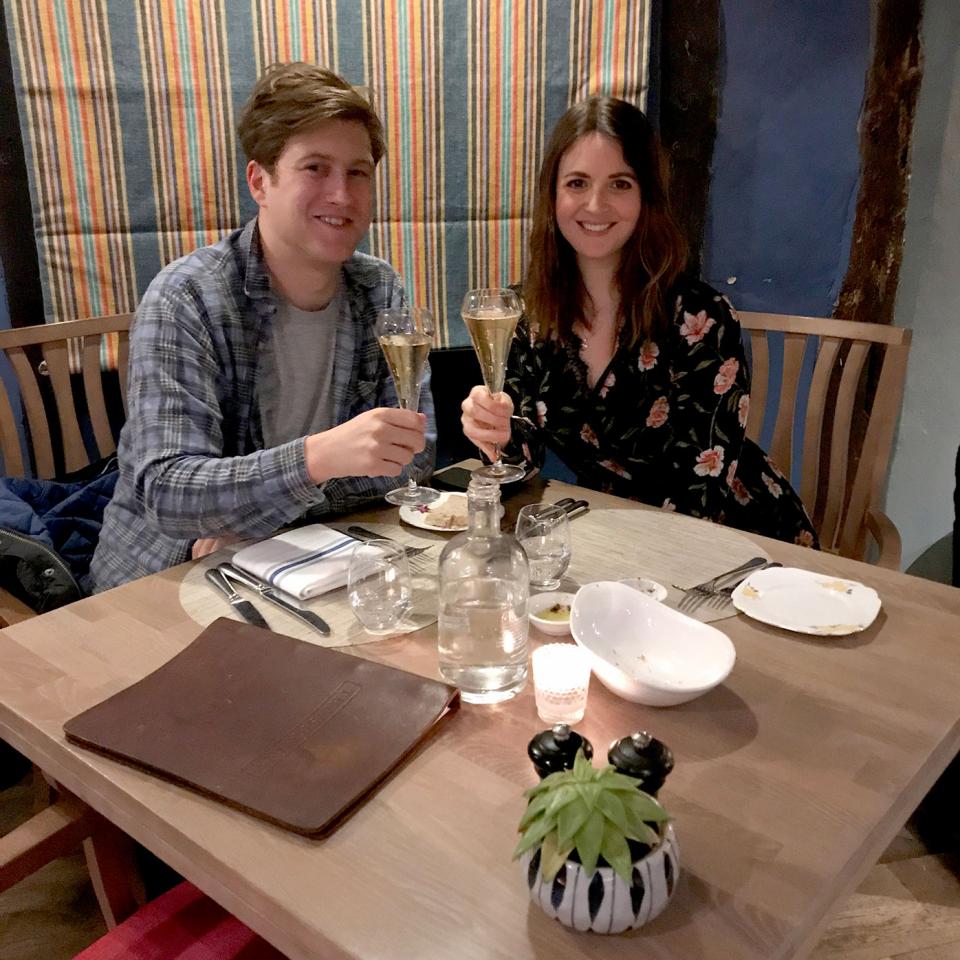 Corrie and partner Jamie at dinner
However, there's nothing old-fashioned about the bedroom, which is a great combination of interior chic and character. It has a wibbly-wobbly plaster ceiling, a stylish mix of old and new with a giant, sumptuous bed, beefy pillows and fine Egyptian cotton sheets. Our en suite shower room is large and loaded with lovely Bramley products and thick towelling robes.
Dinner in the unpretentious dining room sees us tucking into hearty portions of local, seasonal produce. I start with celeriac carpaccio, which comes with a Wigmore cheese fritter, cured egg yolk and pickled walnuts – delicate and indulgent. A melt-in-the-mouth rare-breed 42-55 day aged steak comes with wild-garlic butter and potato terrine. We just about manage to squeeze in a bowl of the caramel poached apples with whisky cream and puff pastry before talk among the guests turns to Elsa, the resident ghost. Legend has it that she worked as a 'bar wench' back in the days when witches were hunted and killed.
Poor Elsa caught the eye of many a farmhand, and the women of the village felt threatened by her beauty and invented stories of witchcraft. These lies led to Elsa being the last woman to be executed as a witch in Essex, and her 'friendly' presence is said to be felt by some guests, although the lovely brandies on offer might also contribute to the sensation.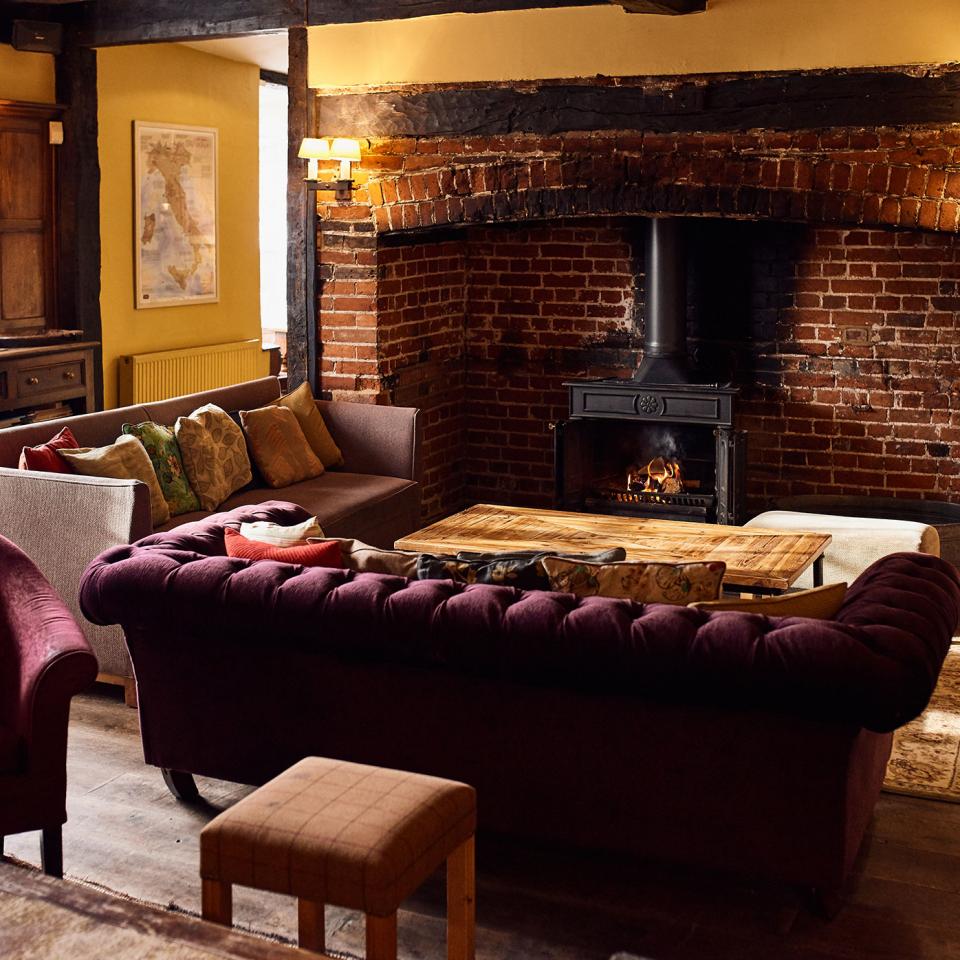 The bar is a 'proper pub'
The Inn is a 1.8-mile walk from Flatford Mill, made famous in Constable's masterpiece The Hay Wain, and a pleasant stroll along the River Stour. Another must-see for art lovers is the Munnings Art Museum at Castle House, with its beautiful collection of Alfred Munnings' paintings, including a special exhibition of his works from World War I. Keen gardeners should head straight to the Beth Chatto Gardens (bethchatto. co.uk) for inspiration, green-fingered shopping and a cup of tea and a scone in the tearoom. However, we're quite happy to stroll around the village dropping back into The Sun Inn to enjoy another pint or two and wait for Elsa... you never know, she might just show up one day!
How to book:
Bed and breakfast in a double room costs £150 per night; single occupancy costs £90 per night Sunday-Thursday and £130 Friday-Sunday; thesuninndedham.com.
Don`t miss

---