Travel
Staycation: Mullion Cove Hotel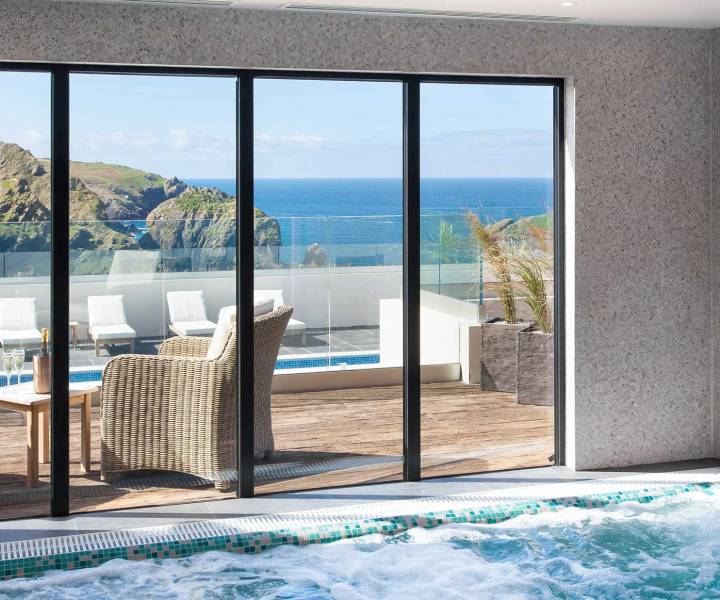 The state-of-the-art spa
The majestic Mullion Cove Hotel has stood on the Lizard peninsula for over 100 years. Nicola Smith checks in to enjoy its legendary hospitality.
There is no better day for me and Mum to arrive at the Mullion Cove Hotel than in near-cyclonic conditions, the wind tearing at your car door and screaming past your ears. For it sits just feet from the edge of the cliff top, waves thundering below, and, as you wind your way up the track, it is as if you have arrived at the end of the world.
But the welcome is instantly warm and the interior serene and we are led to our Premier Sea View Room and instantly wowed by its triple-aspect windows framing the theatre of the ocean as it explodes over the harbour walls below. No beach bathing for us today, instead we head straight to the spa. Opened in August 2019, the neighbouring spa – reached via a brief and bracing stroll from the hotel – is a triumph; there's a hydrotherapy pool, sauna, steam room and salt laconicum (great for the lungs), as well as an outdoor hot tub. It is part of an inspired multi-million pound development that is truly stunning.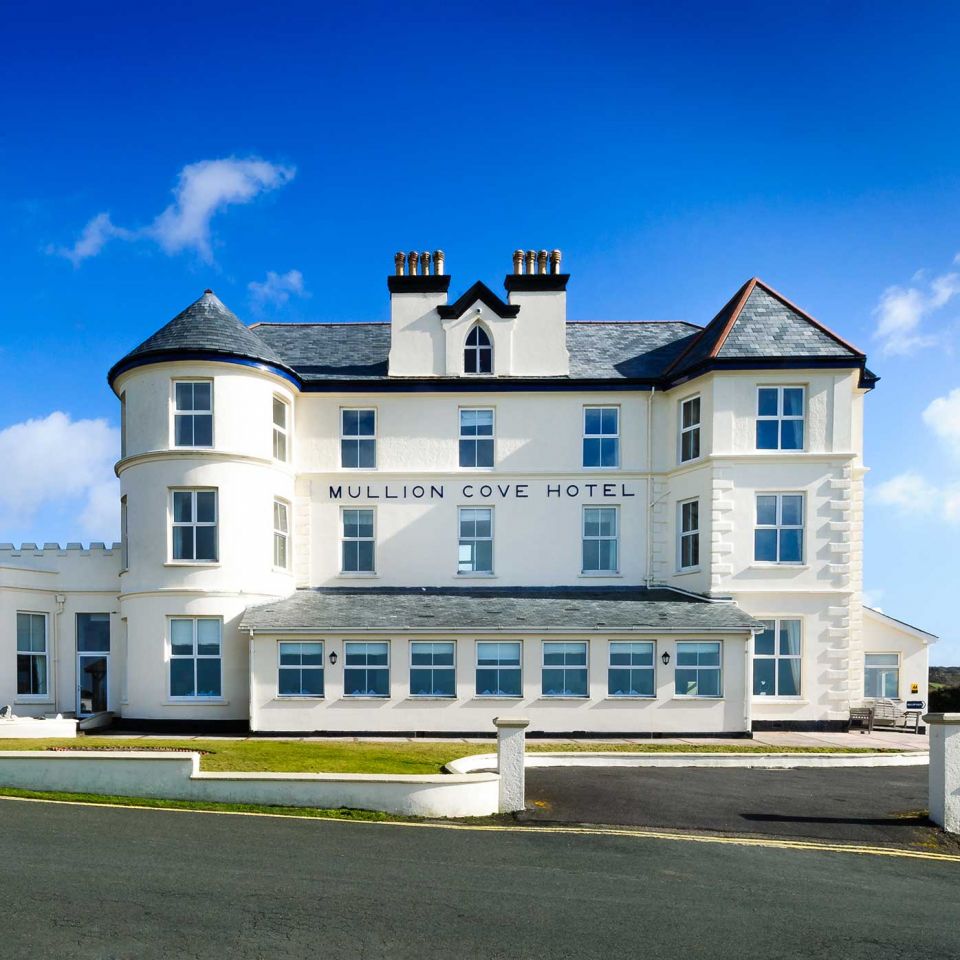 The exterior of the Mullion Cove Hotel
After some gentle pummelling in the hydrotherapy pool, I shower before a signature treatment. It is a top-to-toe treat, combining shiatsu techniques with hot stones (local Serpentine stone no less) and finishing with a Japanese scalp massage. I float into the relaxation room and recline on a day bed sipping red berry tea as the light fades over the horizon. Life doesn't get much better than this.
But of course, a rigorous massage does work up an appetite, so after a quick change, Mum and I head down the staircase to the cosy Glenbervie Bar for an aperitif. Dinner is taken in the more formal Atlantic View Restaurant (complete with two AA rosettes and crisp white tablecloths), and it's where food takes centre stage. The smoked haddock arancini causes Mum's eyes to widen in delight, while I start with the delicious John Dory, accompanied by a courgette and basil purée.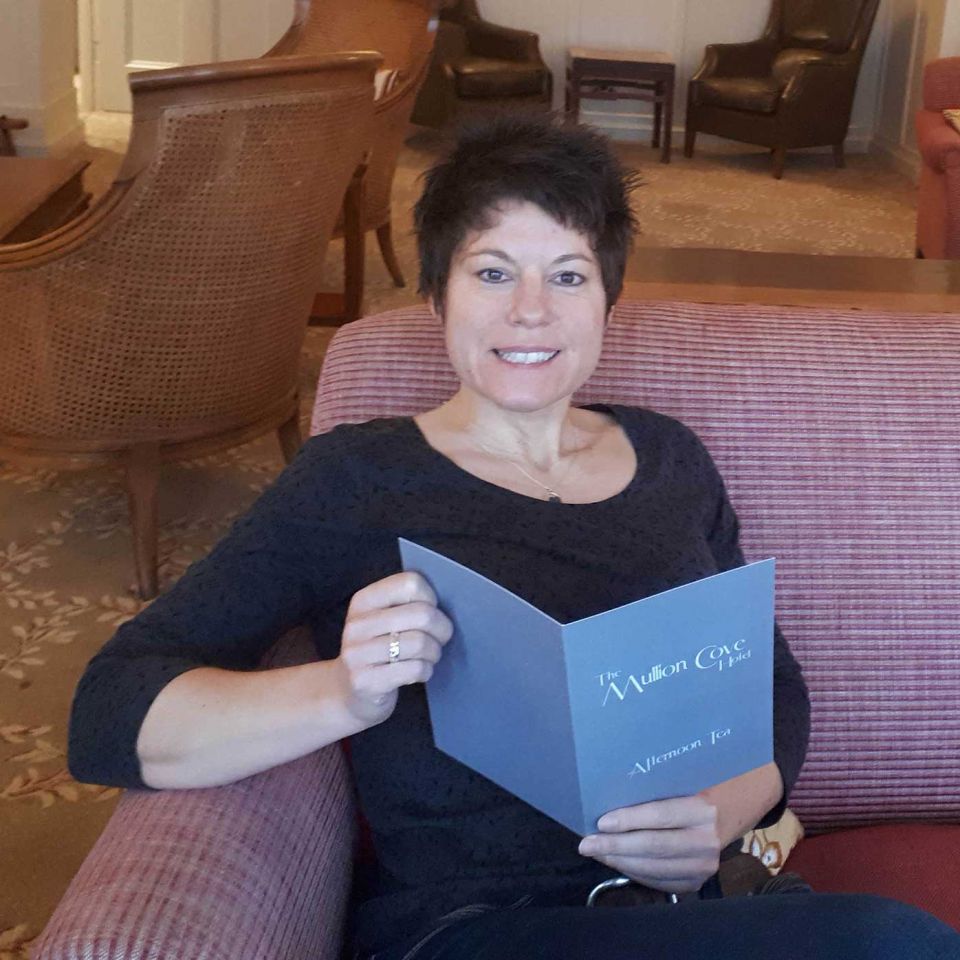 Nicola at Mullion Cove
Shortly afterwards, a palate-pleasing amuse-bouche of beef and onion arrives, served on an artistically curled spoon. My succulent Cornish beef fillet with red wine sauce is not far behind, while Mum savours the lamb shoulder, with its subtly minted mash and smoked aubergine purée. We both just have room for tangy spiced orange brûlée.
Drifting off to sleep serenaded by the pounding waves and circling winds, we feel warm, secure and cosseted. It takes a very special place to make you feel like this – and, in Mullion Cove, we found it.
How to book
The Mullion Cove Hotel is 43 miles from Newquay airport and 20 miles from Redruth train station. It has 30 bedrooms, ranging from Standard to Sea-view and Premier, and eight self-catering apartments. Bed and breakfast is from £155 per night; mullion-cove.co.uk.
Don`t miss

---