Travel
Staycation: Merchants Manor, Falmouth
by Christine Faughlin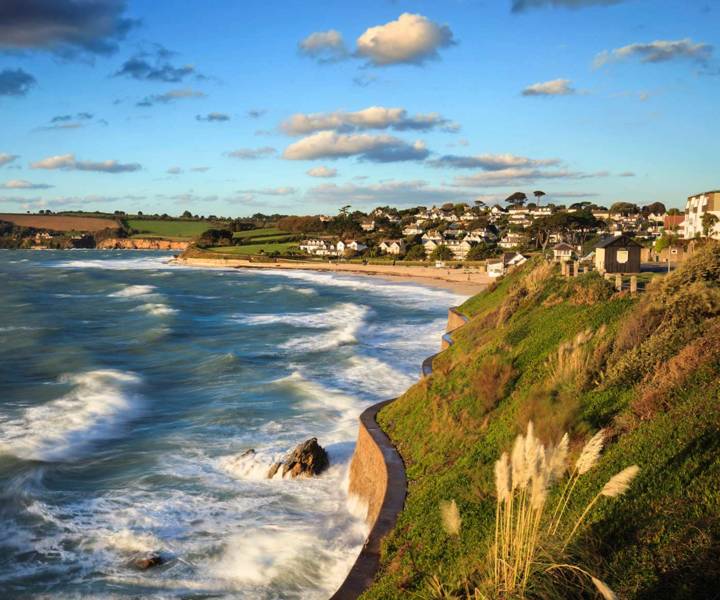 The picturesque Gyllyngvase Beach. Image: Getty Images
Grim weather is no match for the luxurious lodgings, beautiful beaches and culinary excellence of this Cornish hotspot
No matter how much I read about the health-giving properties and life-affirming benefits of cold-water swimming, you'll never catch me taking the plunge at any time other than the height of summer. So it's with a mix of admiration and total bewilderment that I watch an impressive number of people tip-toeing across the chilly sands of Gyllyngvase Beach and into the frigid late-November sea beyond.
But if I were ever to change my tune, I'd want to warm up directly afterwards, and Gylly Beach Cafe, with its heated, enclosed patio has the perfect answer. Here, I share hot, salty chips with my partner Anita, and watch those same brave souls emerge pink-skinned from the foaming waves, flicking seaweed from mottled ankles and making their way back up the beach to the shelter of the cafe.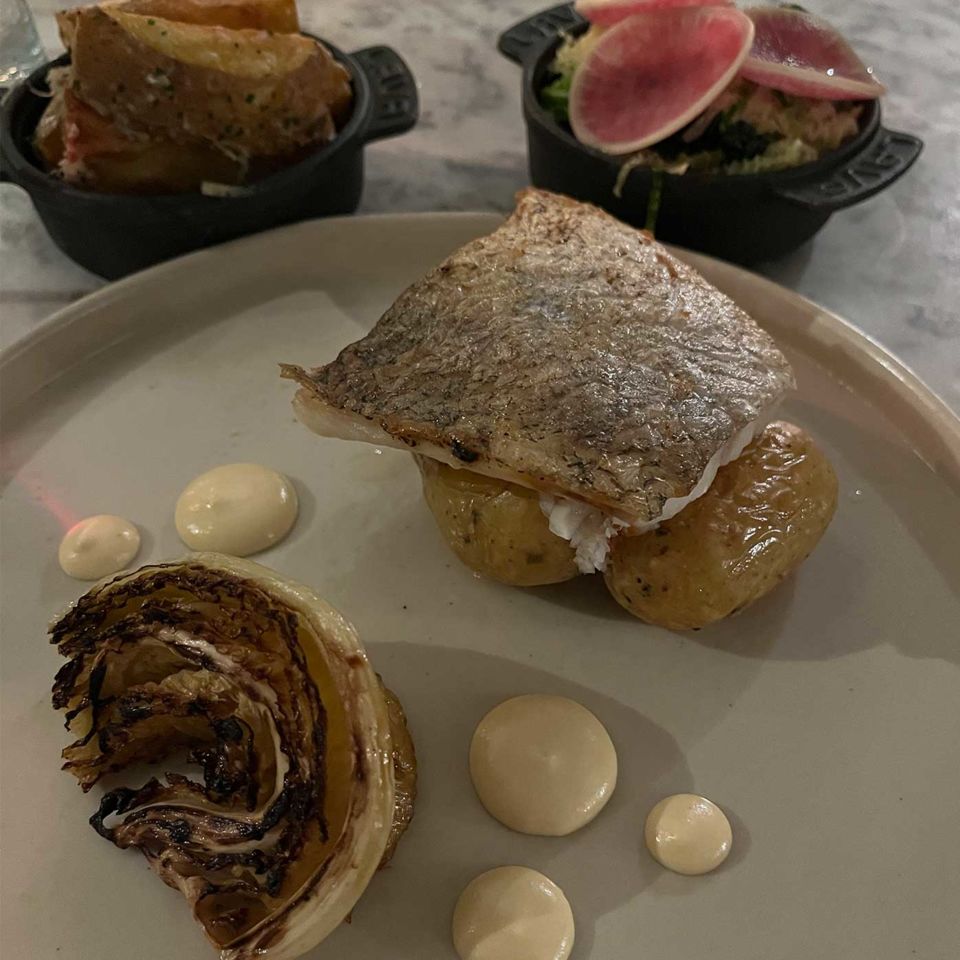 Rastella's Newlyn hake with charred cabbage
We have taken advantage of a very slim break in foul weather to meander along this stretch of coast. We clamber over rock pools and walk as far as we can along the coastal pathway, hoping to get to Swanpool, the next beach along, but are forced back where the path is closed for improvements. I'm glad we made the effort to get out and about – albeit briefly – because frankly, it wasn't easy to leave our luxurious lodgings.
Originally built as a grand Queen Anne-style manor house in 1913, Merchants Manor is now a boutique hotel and spa – with Falmouth's only AA 3 Rosette-rated restaurant. We're staying in 'Landlubber' – one of two self-catering residences that wouldn't look out of place in an interiors magazine – and are secretly thankful for the stormy weekend weather forecast that is more than encouraging us to stay put. An open-plan living area with striking geometric floor tiles and floor-to-ceiling glass walls has all we need (including underfloor heating), while the oak- clad bedrooms have roomy beds, plush drapes and luxe wet rooms with brass fittings and herringbone tiling. Every room opens out onto the private deck with hot tub that runs the length of the property.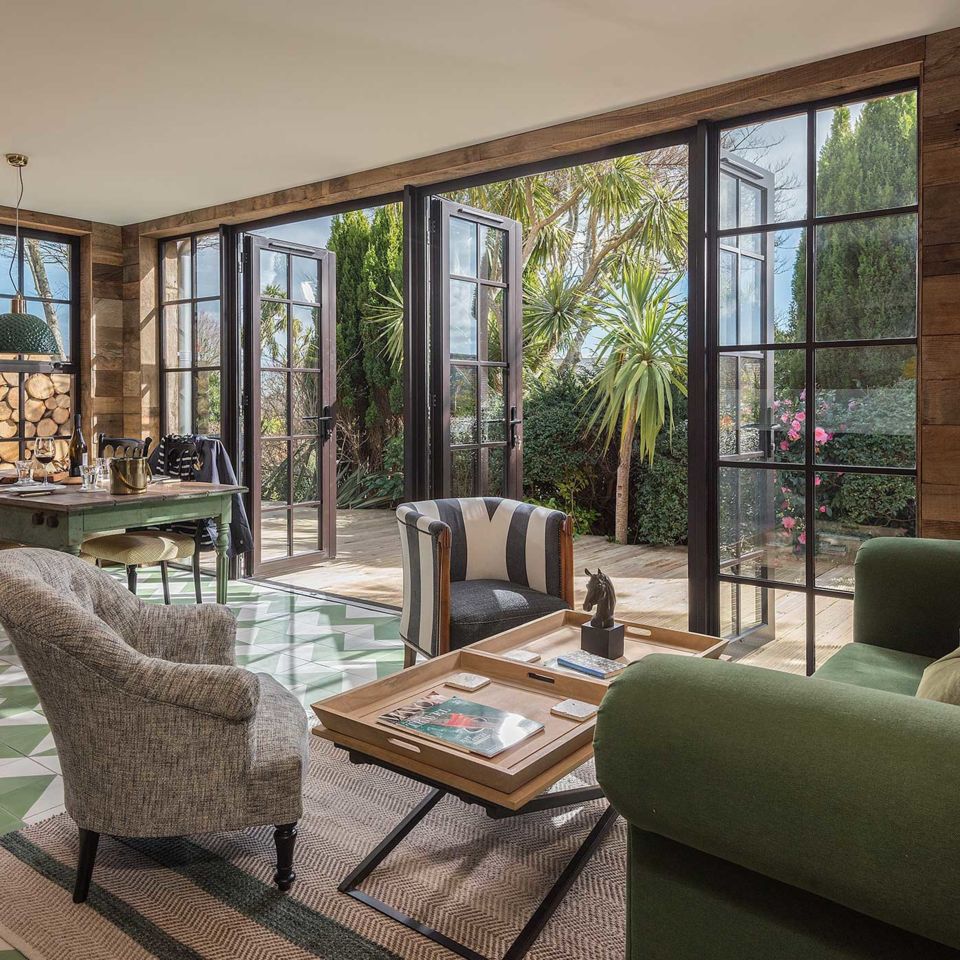 Landlubber's open- plan living area
It's the best of both worlds – we get the privacy, comfort and convenience of a self- catered space, with the added benefits of easy access to a top-notch restaurant, spa, sauna and pool. Popping up to the hotel's restaurant, Rastella – an old Cornish word for 'grill' – is a treat. It offers an ever-changing seven-course tasting menu, devised by head chef Aiden Blakely-May, and our server recommends an affordable red wine that really does go with every course. A dish of brill with Cornish mushrooms is our pick of the savoury courses, while a yogurt sorbet with blackberry sauce, served in teeny-tiny cones, takes the sweet course crown.
Next night, we order off the à la carte menu – the descriptions are just a word or three, so it's anyone's guess what we'll be getting. While the friendly staff are happy to explain each dish in detail, we enjoy our own fun guessing game. As is often the case, the simpler the menu description, the more complex the dish – no one is more surprised than me when 'Braised venison, beetroot, Trenow carrots' arrives as mini croquette balls with pretty pickled veg. As with the tasting menu, we enjoy a knockout fish main – crispy-skin Newlyn hake alongside a charred wedge of cabbage and served with black garlic sauce – as well as some ultra-fresh veggie sides.
We flirt with the idea of a nightcap by the fire in the manor's cosy lounge, but the lure of Landlubber is too great. Settled on the sofa, rain pounding dramatically against the windows and wind howling in the distance, we raise our last glass of red wine to the Great British holiday downpour. Rain that we are happy to say, pretty much stopped play.
How to book
A three-night B&B stay in Landlubber (3-night minimum stay) costs £300 per night, based on two sharing. A one- night B&B stay in a Comfy Shower Room costs from £118 for two sharing. To book, visit merchantsmanor.com
Don`t miss

---