Travel
Shore thing: winter sun on a Caribbean cruise
The nights are drawing in and the only thing to look forward to is Christmas unless you book yourselves the best gift of all – a Caribbean cruise...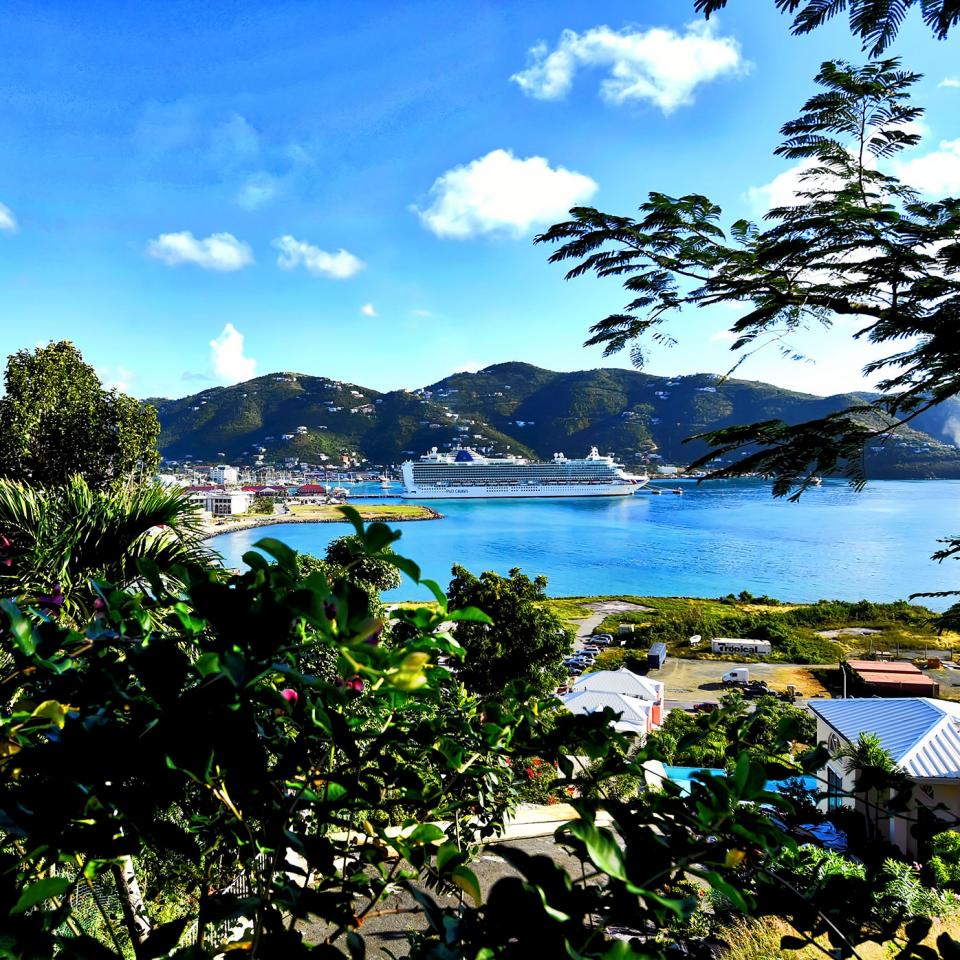 The Azura cruise ship at first stop Tortola
It seems like a distant dream now, but just two weeks after packing up the Christmas baubles in January my daughter, Georgie and I flew to Barbados and were on our P&O cruise ship, the Azura, with time to enjoy a swim and a cocktail or two the very same day. What bliss! Our balcony cabin had wonderful views of every sunset and sunrise – not that we actually spent much time in our room as, apart from the serious business of sunbathing beside one of the four pools, there's a dance floor to practise your Strictly moves, a theatre and cinema for those who like to sit and watch and a sports deck and gym for those who like to move around.
The hardest decision each day was deciding where to eat, as there are eight restaurants to choose from such as the informal Glass House where award-winning wine expert Olly Smith matches favourite wines from all over the world to the food – our Sicilian-style fish stew with a glass of chilled white Greek Gerovassiliou Malagousia was one of our favourite meals of the week. There's also an easy come, easy go buffet, a smart contemporary Indian restaurant – where we enjoyed spiced soft-shell crab, South Indian-style duck and a trio of kulfi ice creams – and a poolside grill and pizzeria.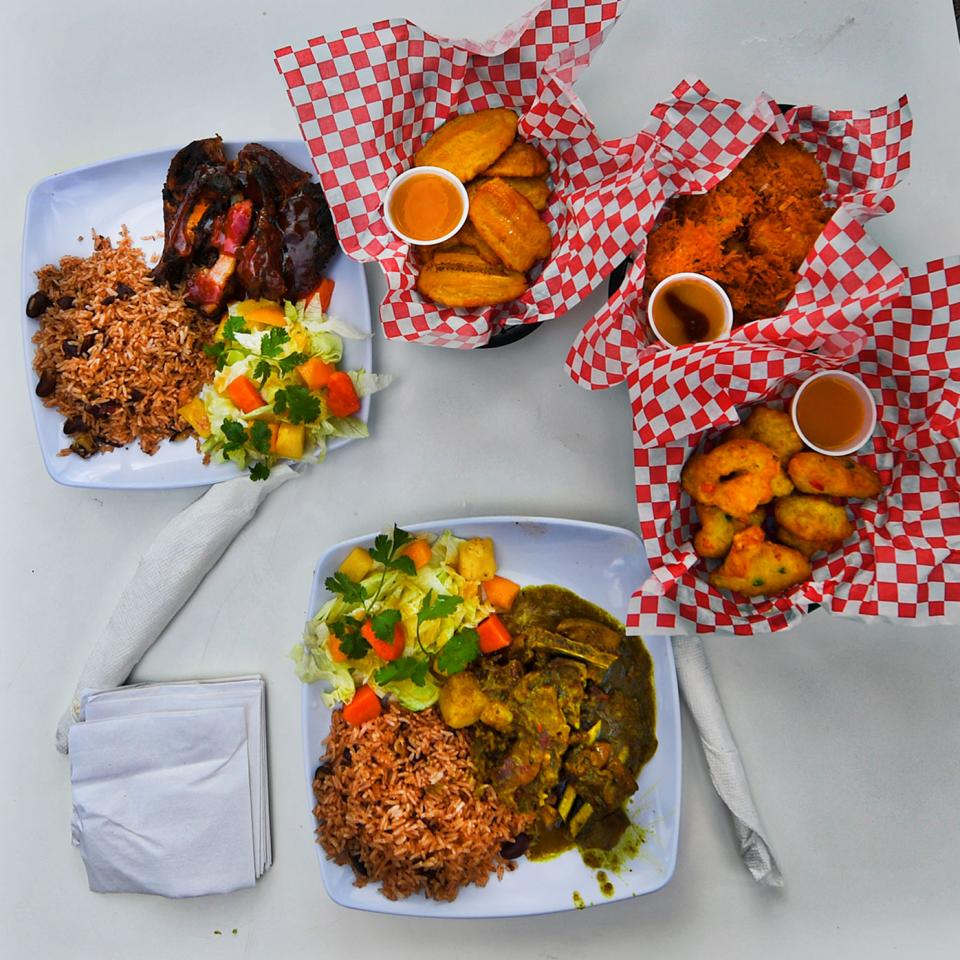 The culinary highlight was a black tie dinner at the fine dining Epicurean Restaurant sampling snow crab, langoustine and salmon caviar cocktail; maple-glazed saddleback pork T-bone; and Belgian chocolate Jaffa cake, followed by a drink or two while listening to the sounds of Motown in one of the lounge bars. With all this temptation on offer it's important to heed the warning that you could arrive as a passenger and leave as cargo – an average 8lb heavier – so we stuck to bircher muesli and fresh fruit for breakfast most days and only ate small portions!
For us, the whole point of being on board was to visit as many Caribbean islands as possible without the hassle of independent travel. It was wonderful to wake up at a new island most mornings, and hear the steel drums as the different ports prepared to welcome us (tourism is the main industry in the Caribbean and since Hurricane Irma in 2017, which caused so much destruction, the islanders were very pleased to see us return).
Arriving at the last port of call Antigua
Our first stop was Tortola, the largest of the British Virgin Isles, where we lounged on a fabulous white sand beach, swam in the clear turquoise water and snorkelled over colourful coral teeming with tropical fish. Next was the green and fertile West Indian island of St Kitts, and an excursion to the pretty 18th-century Fairview house and botanical gardens. As usual I hunted out the local baking – Caribbean rum cake: dark, sticky and dripping with rum!
Back in town we tucked into street food of spiced pork and Johnny cakes of unleavened white bread dough that is deep fried, golden and delicious. Days spent at sea included time for a massage in the wonderful spa and sampling the exquisite afternoon tea designed by patissier Eric Lanlard – with dainty treats such as curried crab and yogurt tartlets, mango and sweet saffron crème pâtissière verrine and orange blossom and bee pollen scones. We arrive early the following day at St Maarten, an island shared by two nations, I take a tour of both the French and Dutch sides of the island, visit a French perfumerie and watch a short cookery demonstration learning that the secret of Caribbean curries is a Columbo spice blend – equal quantities of ground bay, thyme, turmeric, anise and allspice used to flavour chicken, goat or fish.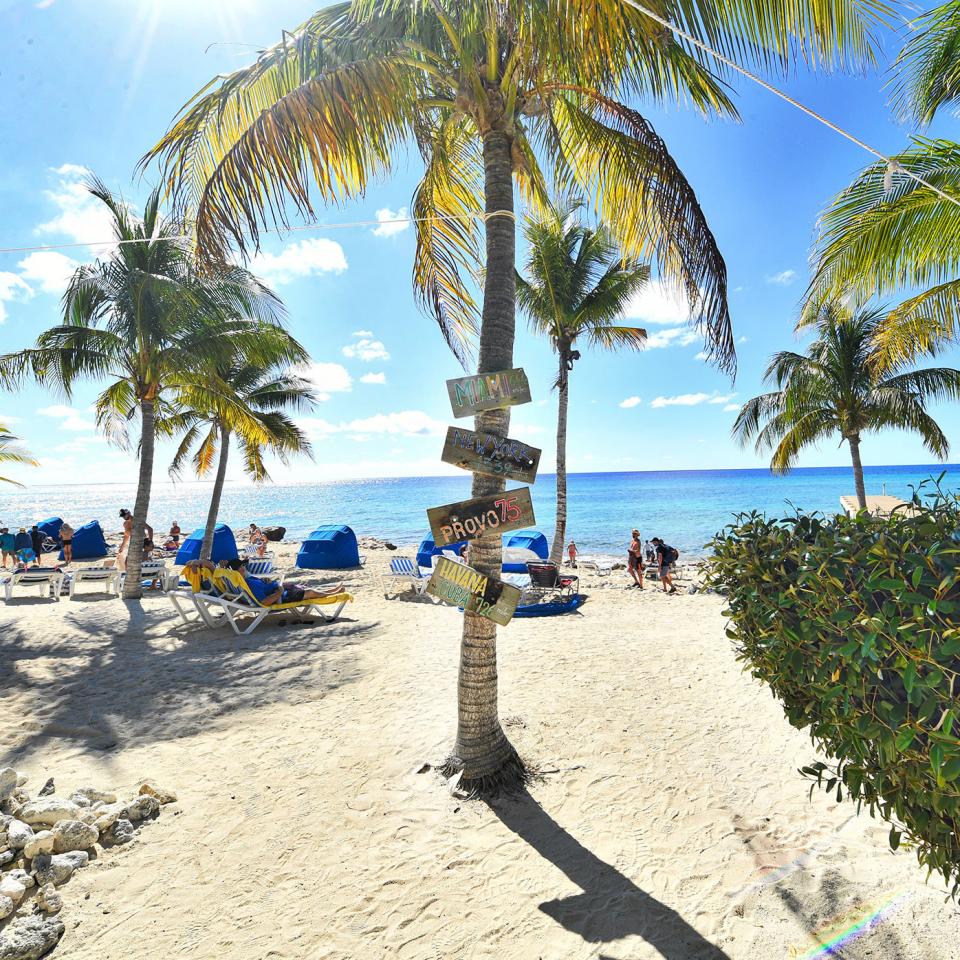 A fabulous white sandy beach
Philipsburgh, the capital of the Dutch side, is lively and bustling fronted by a long sandy beach. We enjoy lunch from one of the traditional barbecue drums sampling jerk chicken wings, barbecue ribs, conch fritters, coconut prawns, fried plantains and goat curry. On Grand Turk the following morning we hop onto a catamaran trip to visit the world's third largest barrier reef; the perfect place for another amazing snorkelling experience. We honestly can't believe how heavenly this is, particularly since we learn that there has been a few flakes of snow back in Blighty. It takes a day to sail to Antigua, our last port of call.
We are gutted to be flying home while the ship sails on to St Lucia, Grenada and Barbados. We had a brilliant week, and what's clear from this cruise is that no matter what your age or interests, there is something for everyone. Honestly, what's not to like? A cruise works out far cheaper than independent travel and the Caribbean must be the best possible place to be in January when that snow starts to fall...
How to book
P&O Cruises is offering a 14- night cruise on Azura (A001) from £1,489 per person for an inside cabin. Departing 10 January, 2020 the price includes flights from selected UK airports, kids' club, full board meals and entertainment on board. Departing from and returning to Barbados, ports of call are St Vincent, St Kitts, St Maarten, Grand Turk, Tortola, Antigua, St Lucia and Grenada. To book, visit pocruises.com.
About the author