Travel
Staycation: The Tawny, Staffordshire
by Joely Carey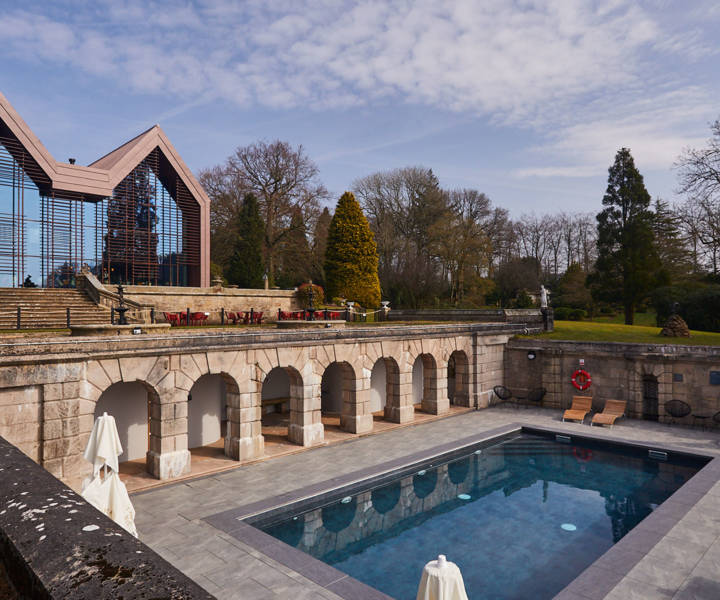 The Tawny's breathtaking swimming pool
A tranquil estate in beautiful woodland is just the place to revel in a break from the online world and enjoy this 'deconstructed hotel' with superlative views
After a longer-than-necessary drive (thanks, Google Maps!) across the moors from Yorkshire to The Tawny – a hotel complex near Stoke-on-Trent – I am more than ready to flop into a comfy hotel bed and tune out. At check-in, though, my room key is handed to me with an accompanying map and pocket torch. The idea of lugging my suitcase and bag up hill and down dale by torchlight doesn't appeal and my face must say as much as I am immediately reassured... 'We have transport buggies. Take a seat by the fire... it won't be long.' Out of habit, I reach to unlock my iPhone and connect to the wifi before pausing.
I am here to keep offline for 48 hours – the next two days are going to be all about staying unplugged from the digital noise and connecting to nature instead. Minutes later, my driver is waxing lyrical about the gardens that surround us – but I can't see a thing in the pitch black (low lighting is a rule here, to be kinder to the wildlife, I am told). 'It is a beautiful place,' he continues. But I'll have to just take his word on that for now.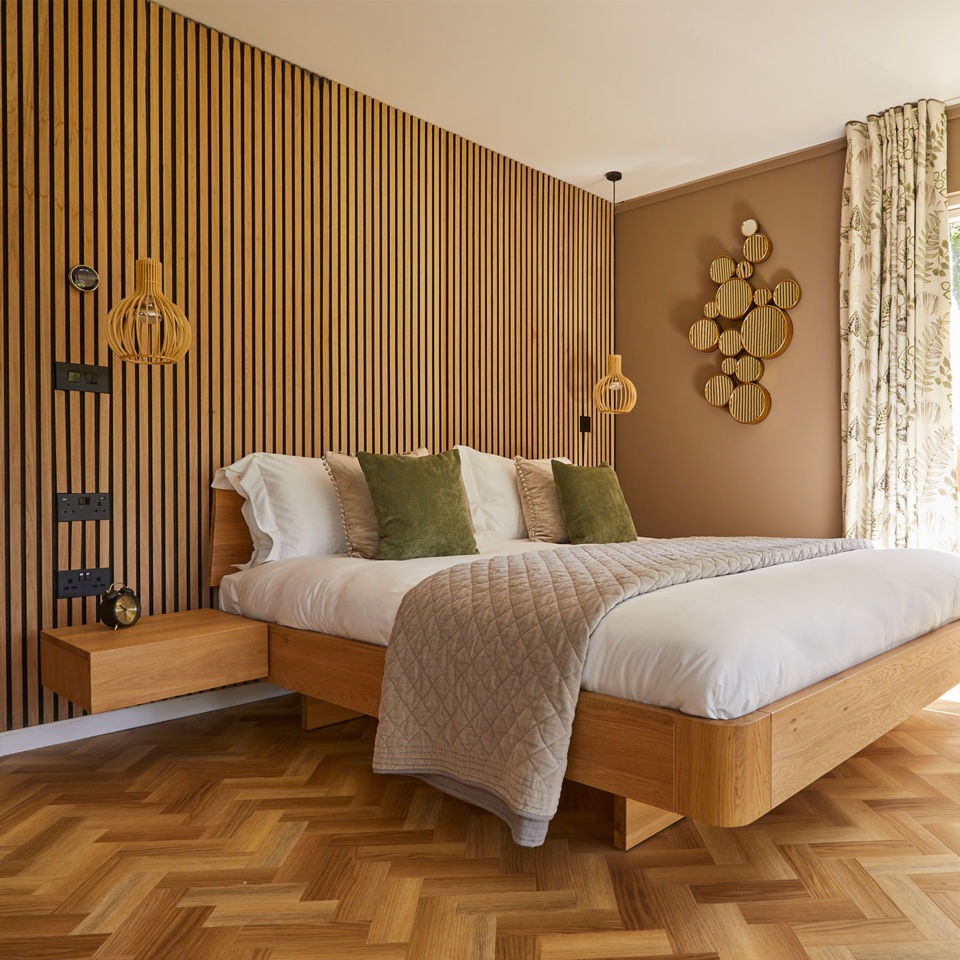 the clean lines of the chic bedroom
After a hellish start to the year, I want the next 48 hours to consist of nothing but reading books, taking long walks and maybe doing some yoga. One step inside my room – well, luxe cabin – and it's clear that a much-needed reset will be easily achieved. The Tawny is a woodland escape deep in the Staffordshire countryside just over the border of the Peak District National Park, offering mindfulness on tap alongside more than a touch of glam.
Inside my cedar-clad retreat, there is a lot to love – from the vast bed to the velvet sofa, crisp white bedding, floor- to-ceiling windows, enormous high-spec bathroom and in-room bath beneath a stargazing skylight. The tranquil living space leads out to a softly lit private deck that's home to a huge outdoor copper spa bath. With its nod to both contemporary private members' clubs and super-luxe country house escapes, the cabin certainly has the wow factor.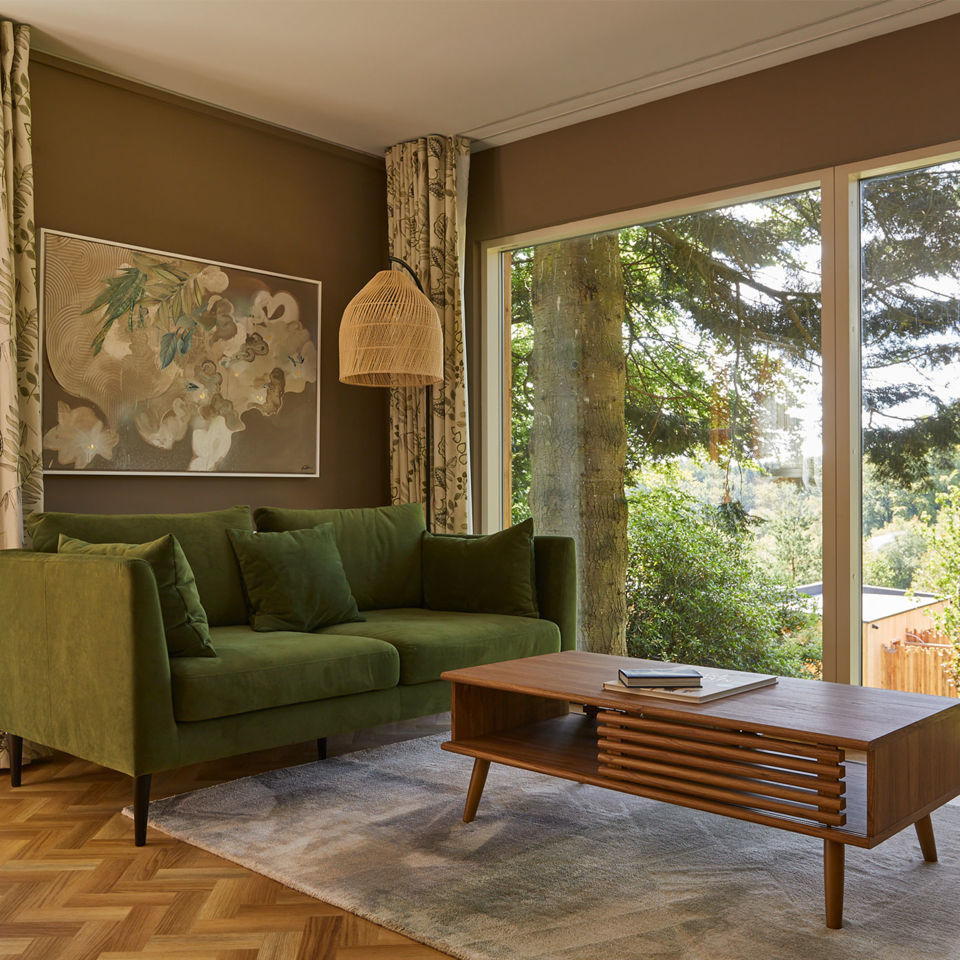 Stunning views from the cabin's living area
After a quick turnaround, my driver – Andy in the Landy – arrives to ferry me across the estate to The Plumicorn for dinner. It's The Tawny's destination restaurant, housed in a metal barn-style building and headed up by executive chef Andrew Watts. Andrew keeps seasonality and sustainability at the heart of his menus with locally produced and foraged ingredients featuring heavily as part of his garden- to-plate philosophy.
I opt for the six-course 'Taste of The Tawny' menu, which tempts with dishes such as quail egg Parmesan crumpet and venison with compressed pear, but I choose a sustainably sourced scallop dish. Cooked to softly seared perfection and served with a delicate shaving of celery, a dribble of chive oil and a scattering of celeriac crumb, they are a joy to eat. I pass on the locally sourced beef cheek and oxtail bourguignon for an interesting-sounding vegetarian option instead.
Food presentation is everything here, and my plate of artichoke, king oyster mushroom and pumpkin seed gnocchi arrives looking like a work of art, with delicately placed nasturtium flowersatop the gnocchi and artichokes. Light but tasty, it leaves me with just about enough room for a spoonful of the chef's coriander sorbet with a kick of chilli mango and then a double chocolate and tonka bean dessert – a wonder of salted dark chocolate with white chocolate crémeux – before my bedtime buggy arrives to ferry me back to my retreat for the night.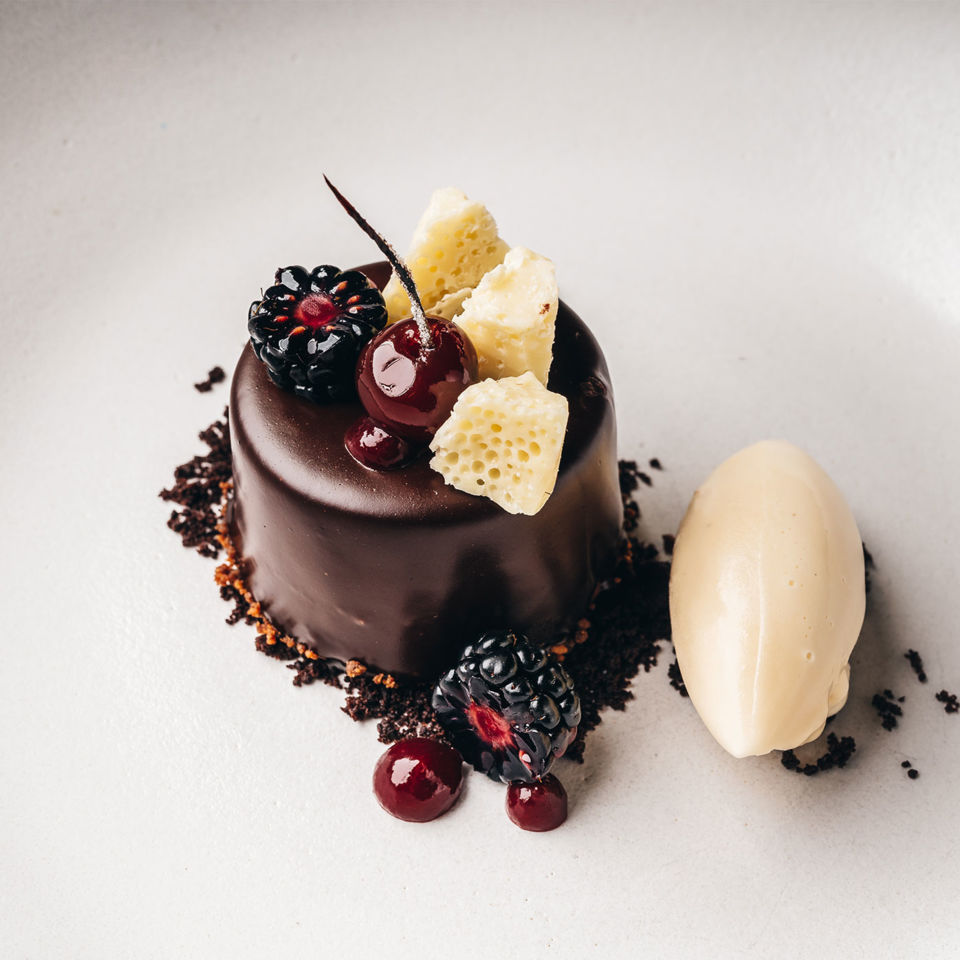 The double chocolate and tonka bean dessert
Next morning, the magic of this place really hits me. The Tawny has been created as a 'deconstructed hotel' with 'rooms' dotted around secluded spots in boathouses, treehouses, shepherd's huts and more, rather than being found in one central building. My cabin, The Poppy Resort, is one of two nestled into woodland overlooking one of the lakes, and offering stunning views out across the landscape. It's all set within the 70-acre grounds of the wonderfully restored wild gardens of Consall Hall Estate, gardens which were the lifelong work and passion of the celebrated late engineer William Podmore OBE.
These grounds and their multiple follies have now been reimagined for a new generation of country escape, which offers forest bathing, cycling, one-to-one yoga, spa treatments and the chance to seriously unplug. The Tawny leans heavily into its resplendent past and offers a totally unique slice of English countryside, which allows the wonder of the location to remain the true star. By spreading its accommodation around the grounds, all 'rooms' are positioned to allow maximum natural world wow-factor and privacy, and minimum environmental impact.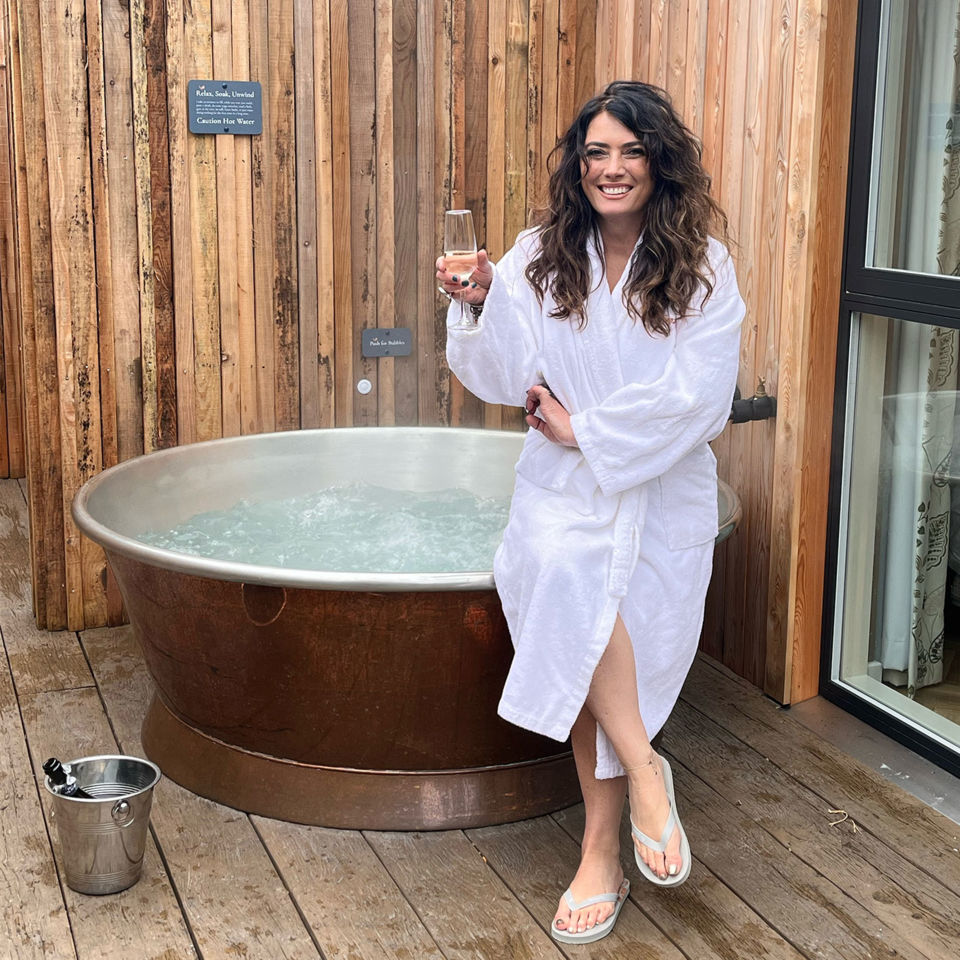 Joely enjoys some bubbles with bubbles on the outdoor deck
I force myself to take a sunrise swim despite a bitingly cold start to the day, but once I'm in the heated outdoor pool it is the view of the icy treetops that takes my breath away, and not the temperature. The next two days are spent wandering the grounds, sitting in different follies to take in spectacular views. At dusk, I walk the gardens to the sounds of birds before heading back to my cabin to order a selection of local hand-picked cheeses, which are promptly delivered by buggy.
I could stay here for two weeks, not just two days. I save the best till last, and as night falls on my final evening I fill the outdoor spa bath and pop open a bottle of bubbles to sip as I soak, staring up at the stars above. For those looking for a special place to unwind and recharge away from the distractions of modern life, but without losing those luxe treats that make any time away feel extra special, this hidden part of England needs to be on your wish list.
How to book
A one-night stay at The Tawny starts at £230 for a Wildwood Hut, £360 for a Lookout Lodge, £400 for a Boathouse, £420 for a Treehouse, and £560 for a Retreat (where Joely stayed), based on two people sharing and inclusive of breakfast. A selection of dog-friendly and family-friendly rooms are available. All accommodations have outdoor spa baths, and some have log burners. For more information, and to book, visit thetawny.co.uk.
Don`t miss

---