Food
Take one...pack of croustades
Our cookery assistant Emma has come up with three really special canapés to wow your guests this Christmas. Her kitchen secret? Use a few cheat ingredients – it'll make your life so much easier, and they'll never know...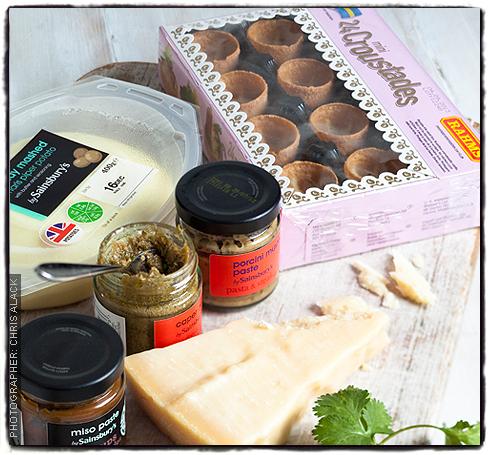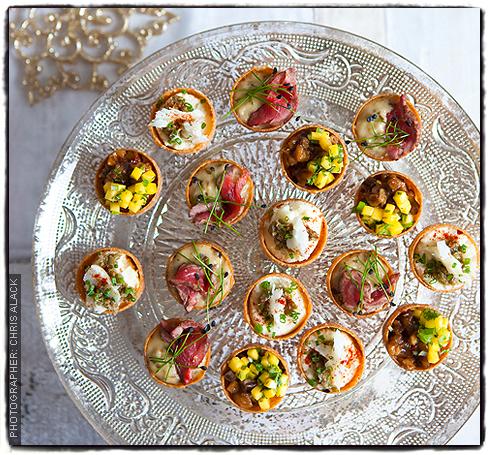 Miso aubergine and mango croustades
Makes 24
3 tbsp miso paste
3 tbsp mirin
1 tsp caster sugar
a large pinch of chilli flakes
3 slices chargrilled aubergines in olive oil
½ mango, peeled and finely diced
3 slim spring onions, finely diced
a small handful of coriander, finely chopped
24 croustade cases
1 Bring the miso, mirin, sugar and chilli flakes to the boil in a small pan and simmer until thickened.
2 Drain the aubergines and pat them dry with kitchen paper, cut into 5mm dice and gently toss with the miso glaze.
3 Stir together the mango, spring onions and coriander.
4 Divide the aubergine mixture among 24 croustade cases then top with the mango salsa.
Smoked cod and caper croustades
Makes 24
150g smoked cod loin
a knob of soft butter
100g readymade mashed potato, at room temperature
2½ tbsp extra-thick double cream
1 small garlic clove, finely chopped
a squeeze of lemon juice
1 tbsp chopped chives, plus extra to garnish
24 croustade cases
1-2 tbsp caper purée
smoked paprika, to garnish
1 Brush the cod all over with the butter and season with salt and pepper. Grill for 7-8 minutes until the flesh is opaque.
2 Meanwhile, in a bowl, mash together the potato, cream and garlic with a little seasoning and lemon juice to taste.
3 Allow the grilled cod to cool slightly, then flake into the bowl, add the chopped chives and stir gently to combine.
4. Divide the mixture among 24 croustade cases, top with a dab of caper puree and garnish with a sprinkle of paprika and a chive sprig or two.
Beef, porcini and parmesan croustades
Makes 24
150g sirloin steak
75g half-fat crème fraîche
2 tbsp porcini paste
50g parmesan, finely grated
24 croustade cases
a handful of garlic chives or cress
1 Trim any excess fat from the steak, pat dry and season on both sides with salt and pepper.
2 Heat a griddle pan until smoking hot, then brown the steak for 2 minutes each side or until cooked rare.
3 Set aside to rest for 5 minutes, then slice thinly.
4 Meanwhile, in a small pan heat the crème fraîche with the porcini paste and parmesan, stirring until the cheese has melted. Season to taste.
5 Divide the cream mixture among the croustade cases, top with a slice or two of beef, then finish with a sprinkling of garlic chives.
Tip
To keep the croustade cases crunchy, brush the insides with a little beaten egg, then bake in a medium oven for a few minutes until set hard before filling them.
About the author