Ghostly pavloooova
Serves
10
|
prep
30 mins
|
total time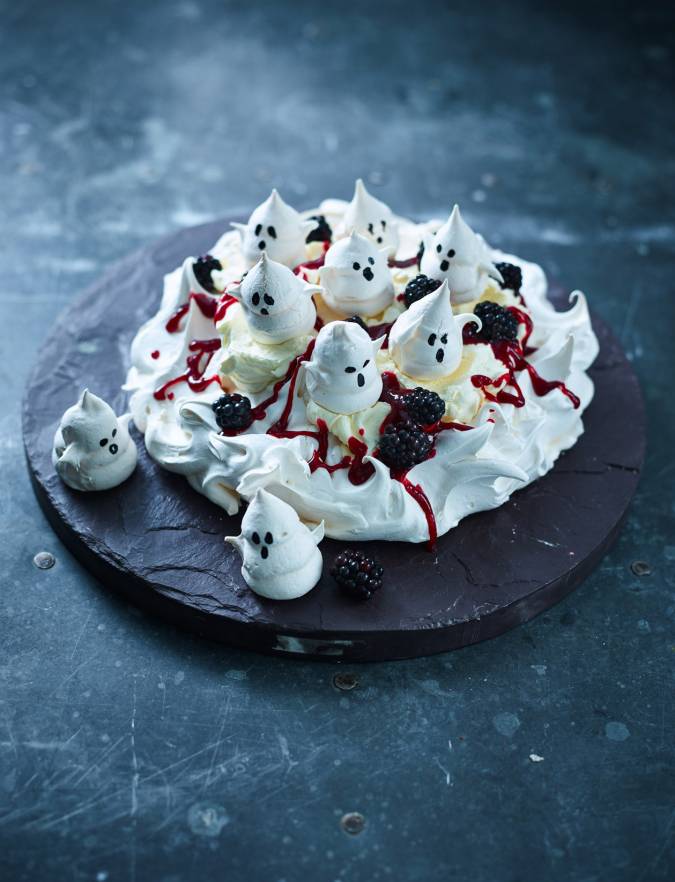 Nutritional information (per serving)
See more
Ingredients
For the meringue
6 large egg whites, at room temperature

340g caster sugar
For the coulis
200g blackberries (or frozen mixed berries)

50g caster sugar
To serve
1 x Black Food Colouring Gel

400ml whipping cream

1 tsp vanilla extract

10 blackberries, optional
Get ahead
The pavlova and undecorated ghosts can be made a few days ahead and kept in an airtight container.
Preheat the oven to 140°C, 120°C fan, gas 1. For the meringue, whisk the egg whites in the bowl of a stand mixer, or with an electric whisk, until soft peaks form, about 5 minutes. Slowly beat in the sugar, 2 tablespoons at a time, continually whisking until stiff peaks form.

Use a few dabs of the meringue mix to stick baking paper to 2 baking sheets. For the pavlova, spoon out about 3⁄4 of the meringue onto the first lined baking sheet, to form one big round, about 30cm in diameter. Use the back of the spoon to mould the shape of your pavlova, pop it in the oven and quickly move on to the ghosts.

Put the remaining meringue mixture into a disposable piping bag and snip a 1.5cm hole in the end. To pipe your ghosts on the second baking sheet, start with a wide base and thin out to form the head. You can use a skewer to shape arms, or experiment with different shapes. Put the tray of ghosts into the oven, on the shelf below the pavlova.

Bake the ghosts for 40 minutes or until set, and the pavlova for 1 hour or until set. When cooled, use a paintbrush or toothpick to draw eyes and mouths onto your ghosts with black food colouring.

Put all the coulis ingredients and 3 tablespoons of water in a medium-sized heavy-bottomed pan and bring to the boil over a gentle heat, stirring continuously. Reduce to a simmer and cook gently for 10 minutes, or until slightly thickened. Let it cool, then blend to a purée. Press through a sieve, discarding the seeds.

To assemble, whip the cream and vanilla until it just holds soft peaks. Put the pavlova base onto a serving plate and top with the whipped cream. Spoon over some of the coulis, letting it drip over the sides – the gorier the better. Dot with blackberries, if using, and top it with the meringue ghosts. Serve the rest of the coulis in a jug.