Fruit crisps
Makes
about 50 crisps
|
prep
20 mins
|
total time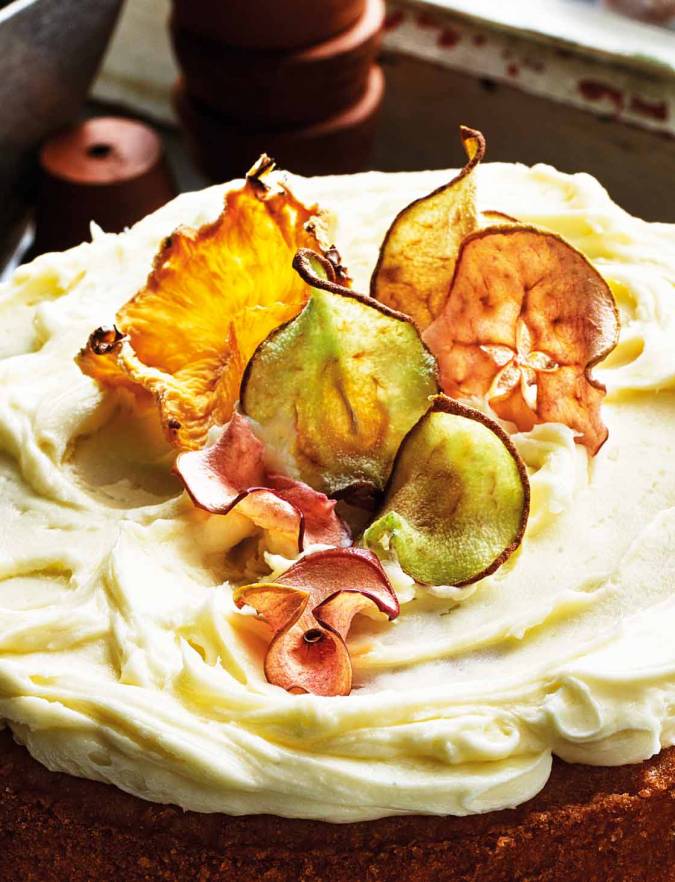 Nutritional information (batch)
See more
Ingredients
2 tbsp lemon juice

Dr Oetker green and red gel food colour

1 firm but ripe pear

1 red-skinned apple

½ small, firm pineapple - you need whole round slices
Preheat the oven to 120°C, fan 100°C, gas 2 and line 3 baking trays with baking paper. Take 2 shallow bowls and put 4 tablespoons of water and 1 tablespoon of lemon juice in each. Add about 12 drops of the green food colouring to one bowl and red to the other. Stir well to distribute the colour.
Using a mandoline, cut the pear and apple as thinly as possible, slicing through the core (vertically for the pear, horizontally for the apple). The slices should almost be transparent. Or, cut them by hand with a long-bladed knife; the cooking time will be longer for thicker slices. Add the apples to the pink water and pears to the green water, mixing to coat evenly. Soak for 5 minutes or so while you prepare the pineapple.
To make the pineapple crisps, peel and cut whole round slices from the pineapple, using a large sharp knife (not a mandoline) to cut the thinnest possible slices.
Drain the apple and pear and pat all the fruit slices as dry as possible on kitchen paper. Lay them out on the lined trays and bake until they feel dry and start to curl up at the edges, turning them over once or twice during the process. The apple and pear slices will take 1 hour-1 hour 30 minutes, the pineapple slices more like 2 hours. They will crisp up further on cooling. Put the apple and pear slices on a cooling rack; press the pineapple crisps into a cupcake tray to increase the curl, if you wish.
Store in an airtight container for up to 2 days, keeping the pineapple slices separate as they are softer. Refresh in the oven at the same temperature for 10-15 minutes if they soften during storage.