Rhubarb cranachan
---
Prep time: 25 mins
Total time: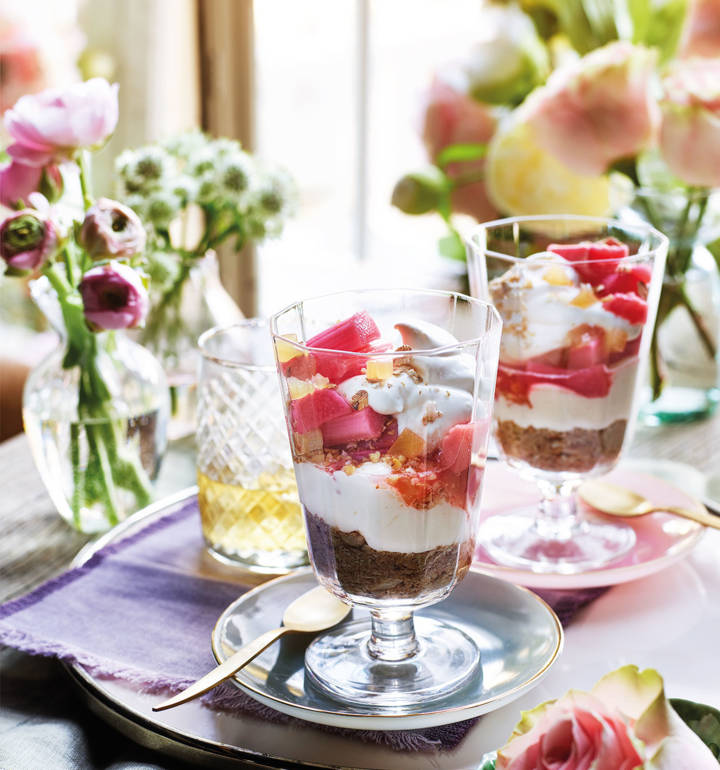 Recipe photograph by Kris Kirkham
Rhubarb cranachan
There is no other dessert more synonymous with Scotland than a cranachan, which means 'churn' in Gaelic. A wickedly indulgent blend of cream, fruit, toasted oats and whisky, it's traditionally made with raspberries, but a little hit of tart rhubarb works equally well. Recipe by Martin Duffy
---
Prep time: 25 mins
Total time:
---
See more recipes
---
Nutritional information (per serving)
---
Ingredients
300ml double cream
150g crème fraiîche
1-2 tbsp clear honey, or stem ginger syrup, to taste
40ml whisky or a whisky liqueur
For the rhubarb
400g rhubarb
40g caster sugar
50g stem ginger, finely chopped
For the oats
150g medium (or pinhead) oatmeal
100g hazelnuts
75g light brown sugar
Step by step
Preheat the oven to 200°C, fan 180°C, gas 6. Wash the rhubarb, cut into 3cm lengths and place in a single layer in an ovenproof dish. Sprinkle with caster sugar and the stem ginger. Roast for 10-15 minutes, depending on the thickness of the stalks. The rhubarb should be tender when pierced but still holding its shape.
Toast the oatmeal in a dry frying pan until it smells nutty, being careful not to let it burn. Remove from the pan, then toast the hazelnuts, keeping them moving around the pan until they turn shiny and take on colour. Leave to cool.
Reserve a few toasted oats for the topping, then put the rest in a blender with the hazelnuts and brown sugar and blend to a coarse breadcrumb- like consistency, making sure the mixture still has some texture.
Whip the double cream and crème fraîche together until lightly thickened, being careful not to over-whip, then fold in the honey and whisky.
Spoon into individual glasses starting with the oat mixture, then cream, followed by some rhubarb and any roasting juices. Top each glass with a dusting of toasted oats. The cranachan can be eaten straight away or left for 24 hours in the fridge, where the flavours will infuse. Remove from the fridge 30 minutes before serving.
Don't miss

---