Mulled wine glazed ham
Serves
14-16
|
prep
20 mins
|
total time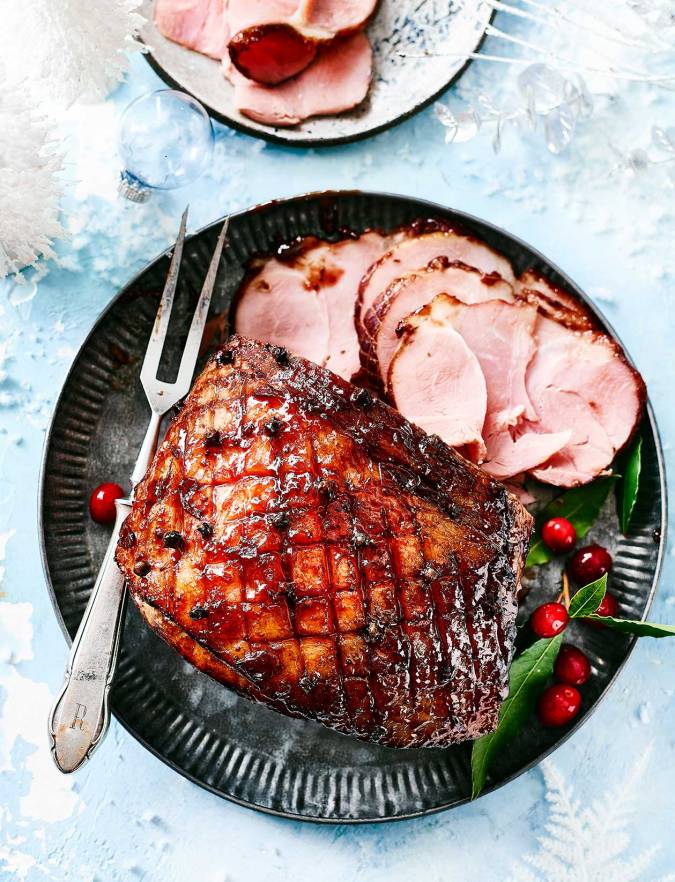 Mulled wine glazed ham
Subscribe to Sainsbury's magazine
Serves
14-16
|
prep
20 mins |
total time
Why not eat half the ham, freshly glazed and hot on Christmas Eve, perhaps with a dish of gratin Dauphinoise; you can still have plenty left over for slicing and serving cold after Christmas
Nutritional information (Per 150g cooked ham)
See more
Ingredients
1 large onion, thickly sliced

1 gammon joint, 2.25-2.5kg

100g light brown sugar

1 x 75cl bottle fruity red wine (eg Shiraz)

750ml orange juice (from a carton)

12 black peppercorns

3 mulled wine sachets

about 40 whole cloves
For the glaze
75g cranberry sauce

1 tsp Dijon or English mustard - see advice in last recipe step
Scatter the onion in the base of a large lidded pan that is big enough to hold your gammon joint. Add 75g of the sugar then sit the gammon joint in the pan. Pour in the red wine and orange juice to cover the gammon. If it isn't fully covered, but is mostly submerged, you will simply need to turn it a few times during cooking. Add the peppercorns, mulled wine sachets and 10 cloves to the pan. Bring to a simmer, skim off any scum, then partially cover the pan and leave to simmer for 11⁄2 to 13⁄4 hours (see intro for joints of a different size).
When the ham is cooked (it becomes known as ham when it's cooked), remove to a carving platter or dish and leave to cool for 15-20 minutes. Preheat the oven to 220°C, fan 200°C, gas 7. Measure 400ml of the mulled wine liquor (strained) into a pan and reduce until syrupy; about 15-20 minutes. Keep an eye on it, especially towards the end of this time, to make sure that it doesn't over-reduce and catch.
When the ham is cool enough to handle, remove the bindings and peel off the skin, leaving a layer of fat on the joint. Score the fat into diamond shapes and stud with the rest of the whole cloves. Sit the ham, fat-side up, in a roasting tin that's been lined with foil (for ease of washing up later).
Add the remaining 25g of brown sugar to the syrupy mulled wine glaze along with the cranberry sauce and mustard. Cook for 3-5 minutes over a medium heat, stirring, until thickened. Brush half the glaze over the ham and roast in the hot oven for 5-7 minutes. Brush with the rest of the glaze and cook for a further 5 minutes until sticky and starting to caramelise. Leave to rest for about 15 minutes before carving.
The cooled cooked ham will keep for up to 5 days in the fridge; slices can also be frozen, but this is best done when the ham is freshly cooked and cooled.

Use either Dijon mustard, or 1⁄2 tsp dried English mustard powder, if required for gluten-free; ready- made English mustard contains wheat.

Tip Use a smaller joint if you are cooking for fewer people or don't need the leftovers; calculate the simmering time based on 20 minutes per 500g, plus an extra 20 minutes if the weight is under 1.5kg.