Coffee swirl cheesecake
---
Prep time: 20 mins
Total time: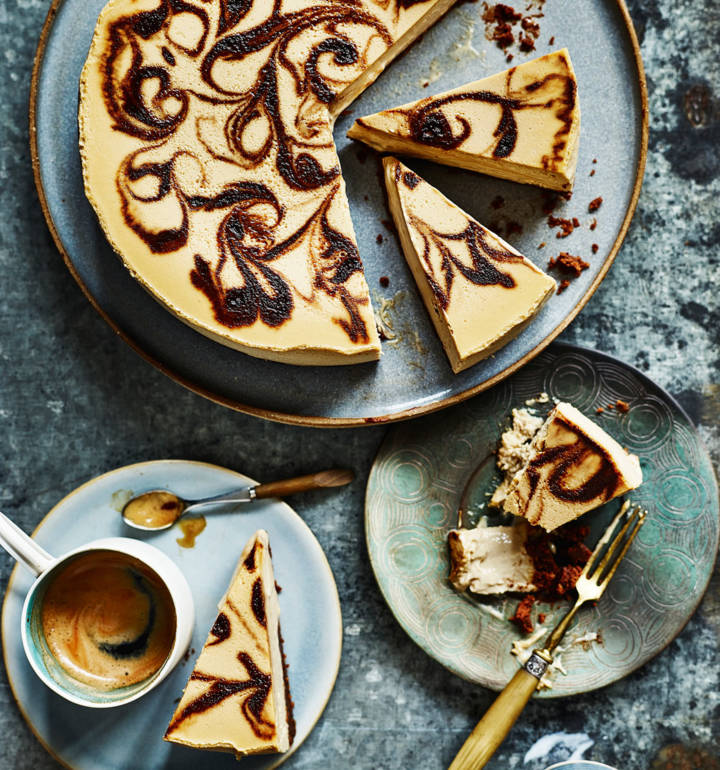 Coffee swirl cheesecake
---
Prep time: 20 mins
Total time:
---
See more recipes
---
Nutritional information (per serving)
---


Ingredients
275g dark chocolate digestives
100g unsalted butter, melted
1 tsp instant espresso powder
For the filling
1 heaped tbsp instant espresso powder
560g full-fat cream cheese (we used Philadelphia)
125g soured cream
125g mascarpone
150g caster sugar
1 heaped tbsp plain flour
3 medium eggs plus 2 yolks, beaten together
Step by step
The cheesecake will keep for up to 2 days in the fridge and can also be frozen.
Grease and line a 22cm springform cake tin. Wrap a double thickness of foil around the outside of the tin, using large sheets so that the water – which will be used during cooking – can't get in. Blitz the biscuits in a food processor to form crumbs then add the melted butter and espresso powder and pulse until it is all combined. Press into the base of the tin then chill for 20 minutes. Preheat the oven to 170°C, fan 150°C, gas 3.
For the filling, mix the espresso powder with 2 tablespoons boiling water and set aside to cool completely.
Clean out the food processor bowl then pulse together the cream cheese, soured cream and mascarpone with the sugar until smooth. Mix in the flour then gradually add the eggs until smooth.
Mix 1/3 of the espresso into the filling until combined then pour the filling over the chilled base. Tap the tin on the work surface to get rid of any air pockets. Now drizzle the rest of the espresso over the top of the cheesecake in a pattern of your choice and use the handle of a teaspoon to ripple it into the top of the cheesecake.
Put the cheesecake into a deep roasting tin. Pour boiling water around the outside until it comes half way up the sides of the foil-wrapped tin. Bake for 45-50 minutes until set but with a wobble. Remove from the oven and allow to cool for at least 2 hours in the water bath. Chill in the fridge for 3 hours before serving.
Carefully remove from the tin, transfer to a serving plate and cut into wedges to serve. Lovely with a drizzle of cold pouring cream.
Don't miss

---