Strawberry lemon cheesecake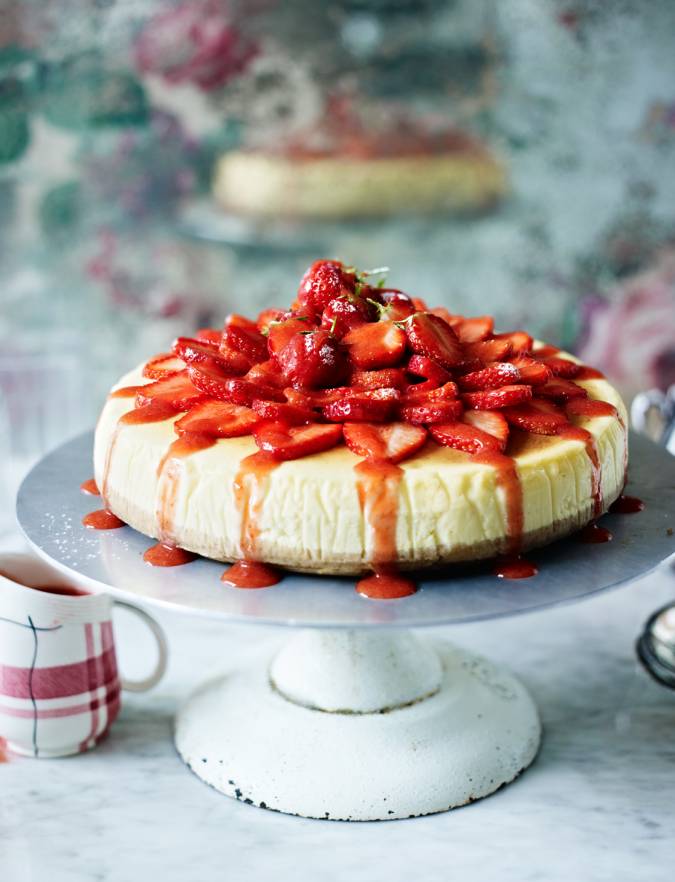 Nutritional information (per serving)
See more
Ingredients
For the cheesecake
a little sunflower oil, for greasing

300g digestive biscuits

100g unsalted butter, melted

2 x 250g tubs mascarpone

200g caster sugar

4 tsp cornflour

3 large eggs, beaten

2 x 300ml cartons soured cream

finely grated zest of 1 lemon

2 tbsp lemon juice
For the strawberry sauce
1 x 300g punnet strawberries, hulled and chopped

3 tbsp caster sugar

11⁄2 tbsp lemon juice, or to taste
For the strawberry topping
1 x 300g punnet strawberries, hulled and sliced

2 tbsp icing sugar

a few shredded mint leaves, to serve
Get ahead
Both the strawberry sauce and the cheesecake can be made and chilled the day before, leaving you free to top the cheesecake with strawberries at the last moment.
Preheat the oven to 180°C, fan 160°C, gas 4. Brush the base and sides of a 22cm diameter springform cake tin with sunflower oil and line the base and sides with baking paper. Set aside.
Place the biscuits in a food processor. Whiz until they form fine crumbs. Add the melted butter and whiz together. Tip into the cake tin and, using your knuckles or a spoon, firmly and evenly press them into the base. Chill while you prepare the filling.
In a large bowl,beat together the mascarpone, sugar and cornflour. Gradually beat in the eggs, followed by the soured cream, lemon zest and juice.
Bring a kettleful of water to the boil. Take a 80cm sheet length of 450mm-wide foil. Double it over so that it measures 40cm in length and make sure that there are no holes. Put the chilled tin in the centre of the foil and carefully wrap the foil around the outside (not over the top), so that the cake tin is in a double layer of foil to protect it from the water. Put the cake tin in a roasting tin and pour in the cheesecake mixture. Pour enough boiling water into the roasting tin to come halfway up the sides of the cake tin.
Bake it for 50 minutes, then turn off the oven. Do not open the door for 1 hour. Then remove the tin from its water bath and remove the foil. Put the tin on a cooling rack; when it's at room temperature, cover and chill overnight.
To make the strawberry sauce, purée the strawberries with the sugar and season to taste with lemon juice. Strain through a fine sieve and adjust the sweetness and lemon juice to taste. Pour into a jug.
Remove the cheesecake from the fridge and unclip and remove the ring. Peel off the paper from the sides. Gently run a palette knife between the base paper and the crumb base and slide the chilled cheesecake onto a serving plate. Toss the sliced strawberries in the icing sugar and pile onto the cheesecake, spooning over some of the sauce (serve the rest alongside). Decorate with a little shredded mint to serve.
Strawberries taste amazing when eaten with this rich, creamy cheesecake. For maximum creaminess, the cheesecake is slowly cooked in a water bath and then left to gently cool in the switched-off oven.