Upside-down breakfast
Serves
4 or 2 large servings
|
total time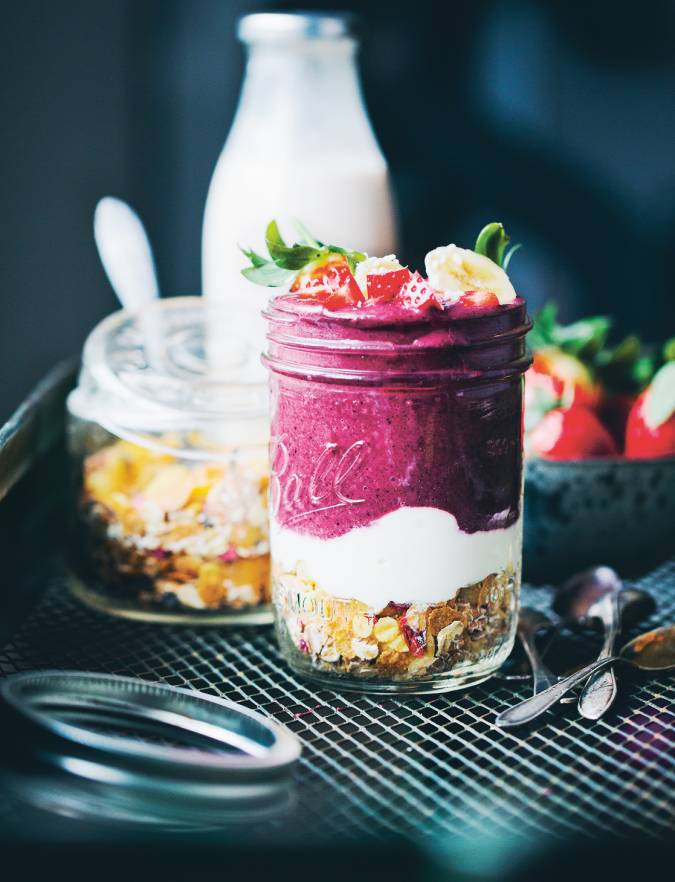 Nutritional information (per serving)
See more
Ingredients
For the berry and spinach smoothie
6 cardamom pods

1 ripe banana, peeled

1 handful (15g) of baby spinach leaves

75g frozen or fresh strawberries

75g frozen blueberries

250ml unsweetened oat or almond milk

extra chopped fruit, to serve
For the base layers
150g muesli (see below)

250g full-fat natural Greek yogurt
For the Muesli
180g rolled oats or a combination of rolled and jumbo oats

150g raw seeds, such as hemp, pumpkin, sunflower, linseed

150g unsweetened dried fruit, such as raisins, cranberries, chopped apricots, dates, apple slices or banana chips

90g raw wholegrain flakes, we used Rude Health Multigrain flakes

50g puffed wholegrains, such as puffed wheat or puffed brown rice

50g desiccated or flaked coconut

1 tsp ground cinnamon

½ tsp ground ginger
For the Muesli put all of the ingredients in a large bowl and stir until well mixed. Pour into a large sealable glass jar and store in the cupboard. The muesli can keep for months if in a sealed container.

Split the cardamom pods in a pestle and mortar, extract the seeds, discarding the husks, then grind them to a powder. Roughly chop the banana and add to a blender along with the cardamom and the rest of the berry and spinach smoothie ingredients. Blend on a high speed until completely smooth.

Divide the muesli between 4 medium-sized glass jars or 2 large ones. Spoon the yogurt over the muesli in each glass jar. Pour the berry smoothie layer on top of the yogurt, top with chopped fruit of your choice.

Recipe from Green Kitchen Smoothies: Healthy and colourful smoothies for every day by David Frenkiel & Luise Vindahl (Hardie Grant, £15.00).

Tip Frozen berries give the best colour here; don't add too much spinach or the smoothie loses its vibrancy.
This is a favourite method of ours where we place toppings (muesli, granola, rolled oats, puffed grains or nuts) at the bottom of a glass jar and then cover them with a few spoonfuls of yogurt, followed by a smoothie